The Fashion World
Charles Frederick Worth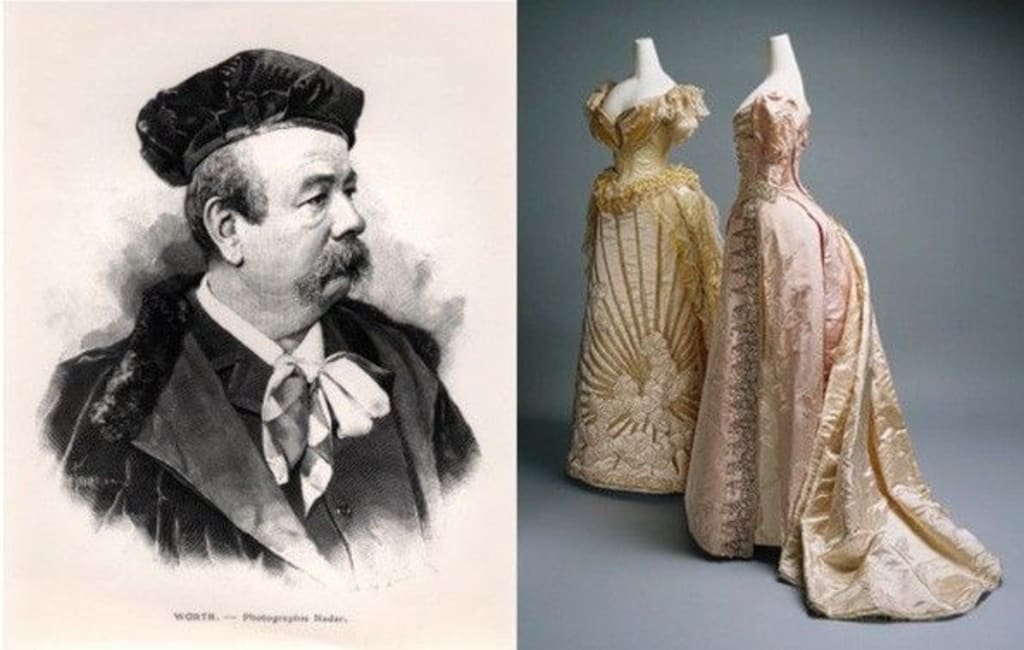 Who is Charles Frederick Worth? Have you ever heard of him? How is he connected to "The Fashion World"?
Charles Frederick Worth was born on 13th October, 1825, in Bourne, Lincolnshire, to William and Ann Worth. William was a solicitor who was described as a "dissolute" and who ruined the family finances, eventually leaving Ann without financial support and impoverished. Charles went out to work at eleven years of age at a printer's shop. When a year had gone by, he moved to London to become an apprentice at Swan & Edgar department store in Piccadilly. Seven years later, the leading British textile store, Lewis & Allenby, employed Charles.
Charles moved to Paris in 1846 with just £5 in his pocket and speaking no French. He became employed as a sales assistant at Gagelin-Opigez & Cie in 1852, the same year his mother, Ann, died in Highgate, London. Gagelin-Opigez & Cie was a prestigious Parisian firm that sold silk fabrics to the court dressmakers and they also supplied cashmere shawls (which was an ubiquitous accessory) and ready-made mantles. Here Charles met his wife Marie Vernet in 1851. Charles started to sew dresses to complement the shawls at Gagelin. His expert tailoring impressed the store's clients and eventually Charles was allowed to open a dress department and this was Charles' first official entrance into the world of dressmaking.
An article in The Times stated: "The young Worth, full of ideas, was having such a success at Gagelin's that it was felt necessary to restrain his rashness." (1858) Charles also helped to build the company's international reputation by exhibiting prize winning designs to both The Great Exhibition of 1851 (London) and the Exposition Universelle (Paris) four years later. At the Paris exposition he had displayed a white silk court train embroidered in gold.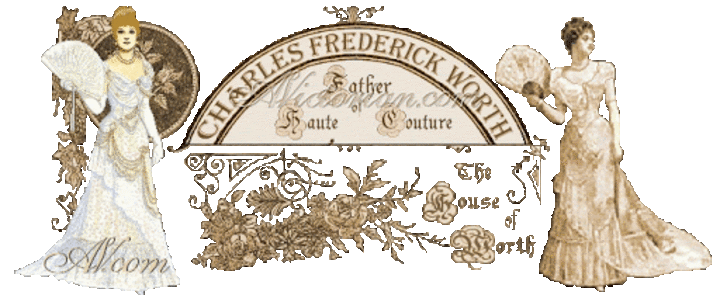 Now married with two sons (Gaston Lucien 1853 and Jean Philippe 1856), Charles now wanted to establish himself. Joining up with Otto Gustaf Bobergy in 1858, the two set up business at 7 rue se la Paix, and the establishment was named "Worth and Bobergh." Charles' wife, Marie, now played an important part in the business by selling the clothes and introducing new customers. As she was once a model for Gagelin, Marie knew how to wear her husband's dresses in 'Society' and this caught the attention of the Empress Eugenie, who appointed Charles Worth the Court Couturier in 1860. Due to the political unrest in France, Bobergh decided to retire and the partnership with Worth was dissolved in 1870-71.
Now that he was the official couturier to the Empress Eugenie, Worth realized the need to keep up with demand, so he introduced a new way of creating an outfit. He pioneered the concept of creating matching skirts and bodices, instead of designing a complete dress, and this made sure that the ladies did not appear at a function in look-alike attire.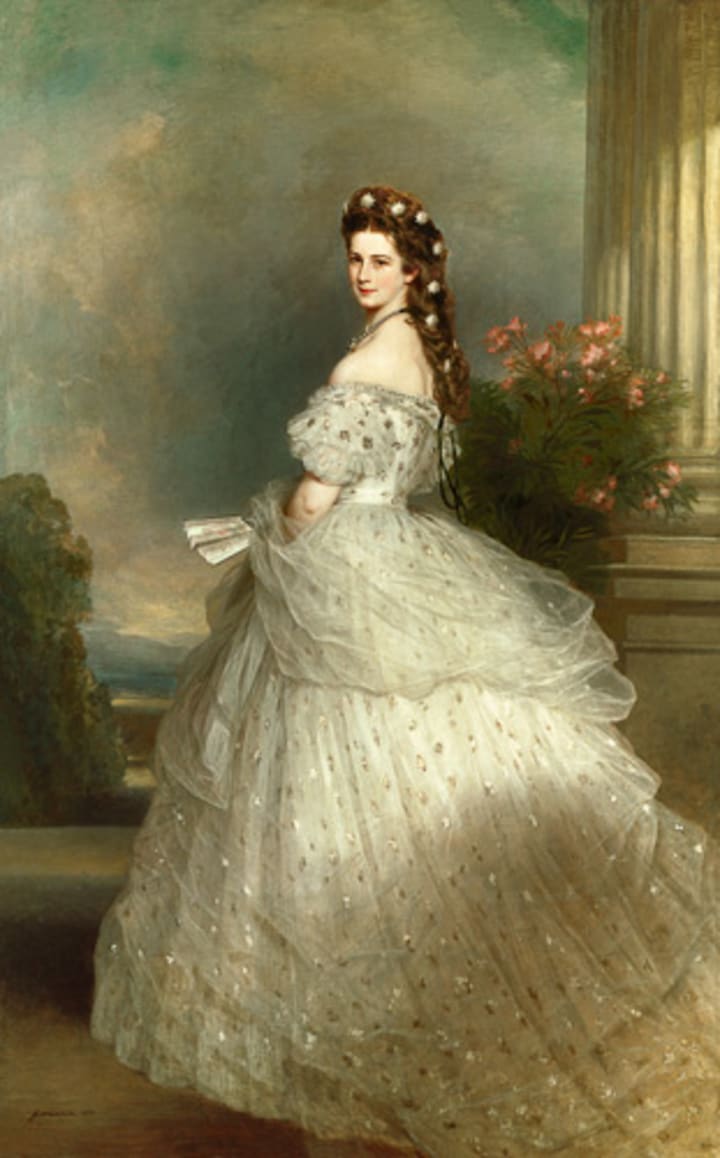 At the "House", the rooms were lit up with various forms of light which included natural light, candlelight, gas lamps, and electric bulbs. As well as having the usual fitting and modelling rooms, there were also rooms for fabric selection that were distinguished by colour. This was one of the most enduring achievements of the House, having an understanding of the play of colours and textiles, and this was successfully passed from generation to generation. The fashion House started with 50 staff, but this soon swelled to over 1,200. The work was a painstaking attention to detail, finesse and craftsmanship. For example, a Worth bodice might have up to 17 piece of material so that it was always a good fit. Most of the sewing was done by hand, which showed great skill, and when the sewing machine was invented, some of the main seams were stitched mechanically.
Being the Empress Eugenie's official dressmaker, Worth was now given the majority of her orders for the extravagant evening wear, court dresses and masquerade costumes that the Empress loved to wear. For the opening of the Suez Canal in 1869, the Empress wanted 250 dresses created by Worth. Another Royal client Worth had was the Empress Elisabeth of Austria. Eventually, Worth also had wealthy and socially ambitious women clients and this included many American women. As Worth himself put it, these American women: "have faith, figures and francs --- faith to believe in me, figures that I can put into shape, francs to pay my bills." These wealthy American women would have their entire wardrobe made by Worth. Worth was now also designing wedding dresses. The popular "Stars" of theatre were also Worth's clients, Sarah Bernhardt, Lillie Langtry and Jenny Lind who shopped at the House for both performance and private wear.
Prices for a dress designed and made by the House of Worth made for dizzying reading --- a bill issued to the Princess de Metternich was for the sum of 2,247 francs --- and this was for one lilac velvet dress! The House of Worth catered mainly for the rich. The garments could be ordered from afar with no personal fittings required, either by magazine or (when it was invented) the telephone. The House eventually advertised in Harper's Bazaar and The Queen magazines, as well as in La Mode Illustree (France), and, of course, in Vogue. These adverts started in black and white and then progressed to colour hand-drawn illustrations, until eventually the photograph took its place.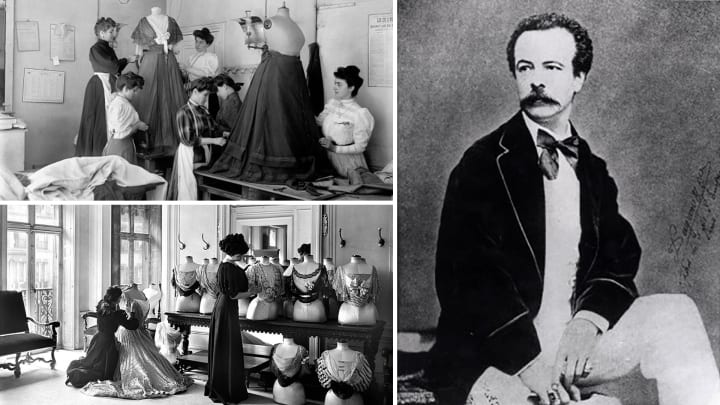 Talking of his father's 'eye' for women's fashion, Jean Philippe recalled: "His practised eye discerned the colour and style of robe that would most completely enhance the woman's charm, and with complete serenity she might leave the matter to him and give her mind to the contemplation of home affairs, her children and philanthropies."
Worth's designs were known for their lavish fabrics and trimmings and for incorporating elements from period dress. Among his key innovations in women's fashion were to the line of garments and their length. He reformed the highly popular trend, the Crinoline. Listening to his clients, Worth wanted to design a more 'practical' silhouette for women, so he made the Crinoline narrower and gravitated the largest part to the back, freeing up the front and sides. He eventually abandoned the Crinoline and created a straight gown shape without a defined waist which became known as the "Princess Line." Worth also created the rather shocking "Walking Skirt" for the Empress Eugenie, who loved to walk but found the dresses of the time too cumbersome. It was shocking because the skirt was ankle length, but because of its practical benefits this design was adopted --- overtime. In the archives of the Metropolitan Museum of Art, there is an 1885 example of Worth's "Walking Dress."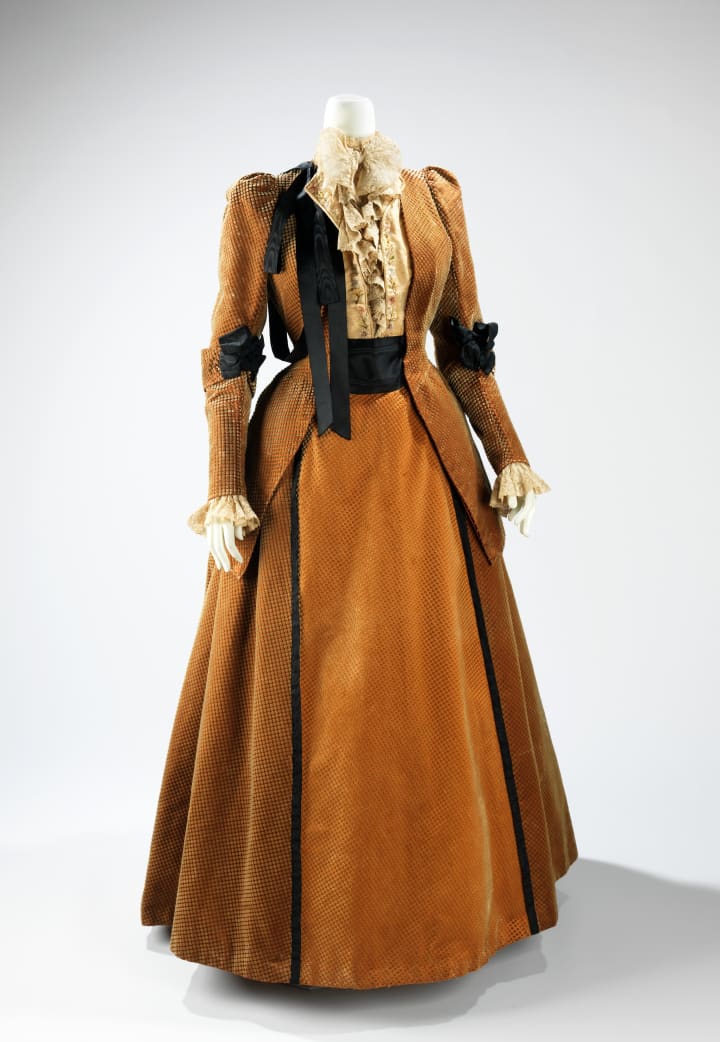 During the many 'adventures' of the House of Worth, one stands out when, during the Siege of Paris (1870-71), Worth turned the salon into a military hospital. By the late 1880's, Worth had established characteristics of a modern couture House --- twice annual seasonal collections and brand extensions through the franchising of patterns and fashion plates.
Worth's sons joined the House in 1874. Taking over from their father so that he could rest in his later years. At sixty-nine, Charles Frederick Worth died of pneumonia: "he was to the last a constant frequenter of the establishment."
Today, the House of Worth is still going and now produces perfume: Dans le Nuit / Je Reviens and Je Reviens Couture being amongst its most popular scents.
Personally, I have found this research interesting as I had only heard the name Worth in period dramas. The pictures of his designs are beautiful and I can see how Charles Frederick Worth became the 'father of couturier.'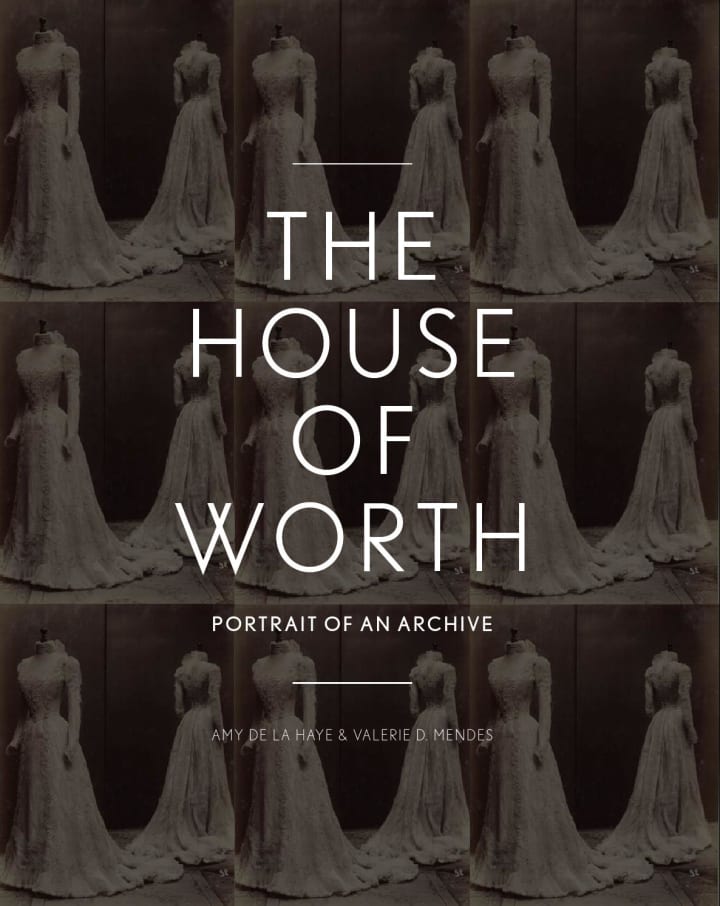 (My research for this comes from: Wikipedia, Britannica and Lovetoknow Beauty and fashion.)