Perfect Guide to Kurta for Men
Let us first look at some of the different types of kurtas on the market...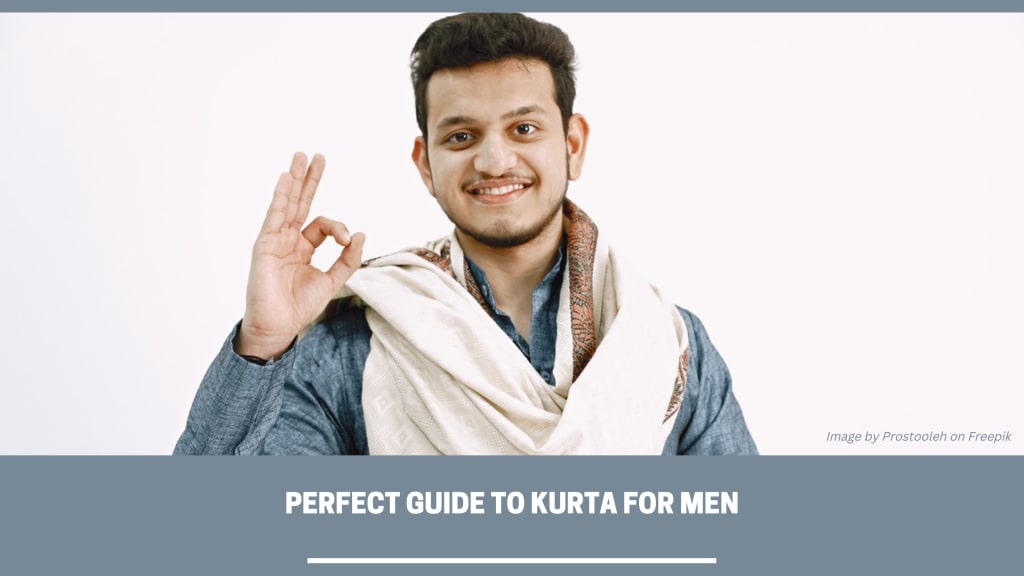 Image by Prostooleh on Freepik
Kurtas are highly valued and recognised in India and other South Asian countries as one of the go-to outfits for anything casual, religious, or wedding-related. Kurtas are both comfortable and simple to wear. Kurtas are particularly popular among both men and women in India. You can dress up your kurta in any way you want by using the right designs, fabrics, and accessories. However, for weddings or parties, men and women typically prefer more colourful and vibrant designs. Here we will discuss some of the different types of kurtas for men paired with handloom lungi online and how to wear them.
Let us first look at some of the different types of kurtas on the market:
Cotton Kurtas For Men With Salwar:
A two-piece kurta set can completely transform your look in seconds and provide you with the desired finish. Furthermore, the cotton fabric can be comfortable enough that you can do your work without difficulty. If you decide to give it a shot and ultimately choose it, be prepared to receive compliments.
Half Sleeves Striped Kurtas:
These kurtas can add a different charm to your look with their distinct style. The half sleeves are there to provide you with extra comfort, while the stripes are your day's hero. These kurtas will be more appropriate for casual occasions where you can meet up with friends or family and enjoy your day without feeling uncomfortable. If it's cotton, you can relax for the rest of the day, and don't forget to check the fabric before purchasing any of these.
Asymmetrical Kurtas:
These kurtas can be a mix of traditional and modern styles. It adds a touch of class and variety to your ensemble. This kurta will look great without any heavy accessories or embellishments, and if you want to look like a star and stand out from the crowd, this is the one for you. These types of kurtas are ideal for any occasion or ethnic party where you want to look stunning with your style. Wear them with a pair of simple juttis and a matching churidar.
Plus Size Casual Kurtas For Daily Wear:
Being a person who needs to purchase plus size items does not imply that you must sacrifice your style or desires. Everything is at your fingertips with a single click of your fingers. There are numerous plus-size clothing options available to you. Simply put forth the effort to search as thoroughly as possible, and you will undoubtedly find the ideal kurta for your occasion. With such kurtas, a brooch can add a touch of ethnicity to your perfect look.
Denim Kurta With Chinese Collar:
Are you someone who enjoys both traditional and denim outfits? Kurtas, on the other hand, can provide you with both. If you're going to an ethnic or casual party, these kurtas will come in handy. You'll be fine if you wear the appropriate shoes or sandals.
Bandhani Kurtas:
Give this desi look a shot; you will not be disappointed. These kurtas are typically made of cotton to provide that extra touch of comfort and satisfaction. It will look great paired with the appropriate ethnic footwear.
Indo Western Kurta For Men:
The Indo western kurta will provide you with the perfect balance of modernism and traditionalism. Celebrities typically wear these kurtas over cotton vests to special occasions. These are ideal for weddings, receptions, and private parties. Depending on the style and colour of your kurta, a good pair of mojaris and churidar pants will complete the look.
Shirt Kurtas For Men:
If you want to stay cool all day, shirt kurtas are ideal for a long summer day. They are the ideal combination of an Indian kurta and a western shirt. It is similar to other kurtas, but the length is the only difference. It is available in a variety of colours such as white, blue, and others, with a wide range of combinations. Pair it with a good pair of sandals, denim, or trousers, as desired.
Some Of The Kurta Styles For Men:
Pathani Kurta:
Pathani kurtas are those that have a collared neckline and fall below the knee. These kurtas can be both comfortable and appealing, so don't pass them up. Apply a strong perfume before going out, and you'll look amazing.
Men's Printed Kurta Pyjama:
If you want to give your outfit a traditional yet stylish look, printed kurtas are the way to go. You can mix and match as much as you want for your day, and don't forget to add a contrasting pair of pyjamas to complete the look. Accessorize with the right sunglasses and kolhapuris to complete the look.
Bandhgala Kurta Pyjama:
Bandhgala blazers are buttoned up to the neck and can be worn with a simple kurta underneath. This kurta is well-known for keeping you warm and out of the cold during the winter. These are ideal for winter weddings, but you can wear them anywhere you want as long as you keep the heat in mind.
Churidar Kurta Pyjama For Men:
These kurtas are paired with a hip-length tailored waistcoat to complete your look. Pair it with a Nehru jacket over a nice pair of silk set to make a lasting impression. Don't forget to match it with the appropriate pair of mojaris, sunglasses, and a watch based on the style and colour of your outfit. Remember to keep your hair natural and to go out after applying a light fragrance.
Hope this was useful. Enjoy!!
Reader insights
Be the first to share your insights about this piece.
Add your insights