Macramé Queen
Wearable Art by Numina Gypsy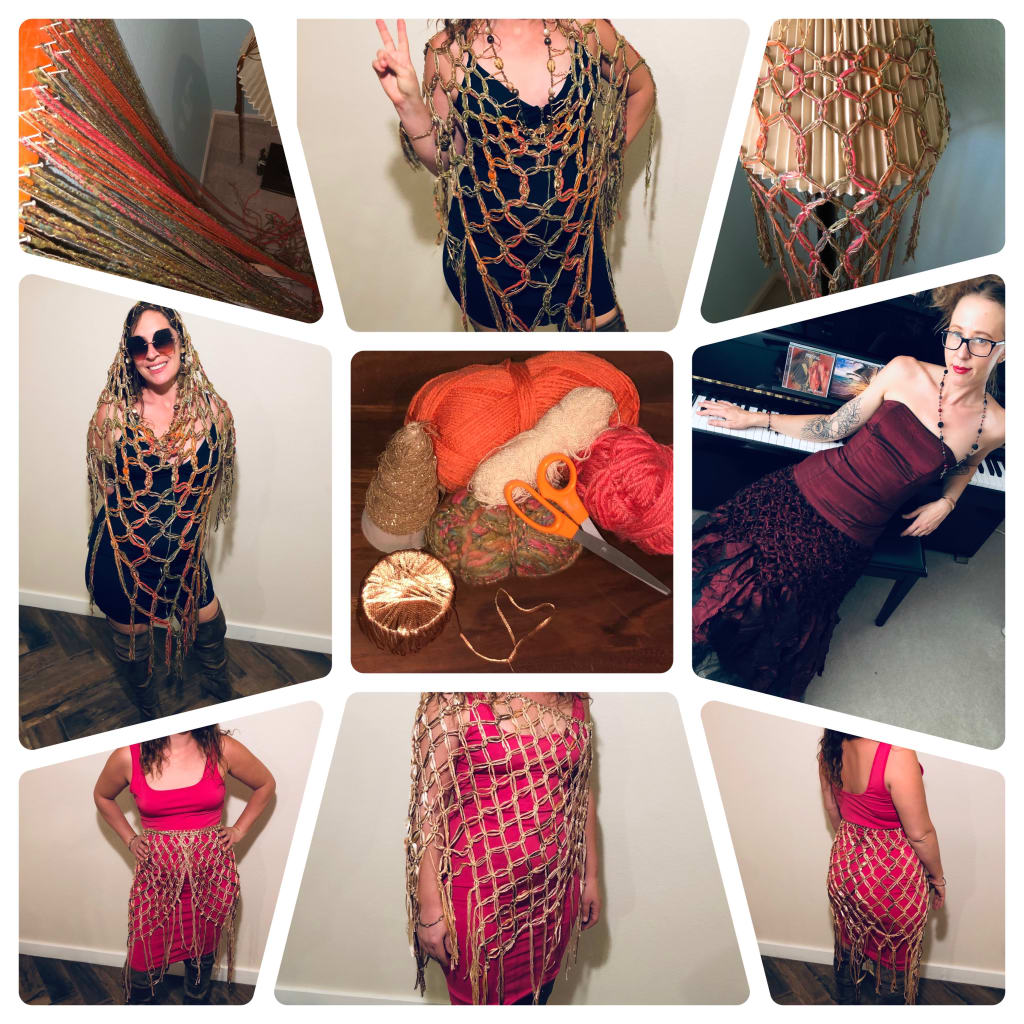 2021 Design Variations
"Let's start at the very beginning…" It is 1998 and I am ten years old. The school system I grew up in is consists of two suburbs on the East side of Cleveland, Ohio; South Euclid and Lyndhurst. In the fifth grade, six elementary schools merged together at Greenview Upper Elementary. Perfect time to make more friends! This is where I met Emily. She was on the playground one day playing with string and I asked what she was doing. I loved making friendship bracelets and was really into lanyard at the time; so, her actions interested me. Emily taught me the art of macramé (square and spiral stitch) right there on that playground. I felt like this was an inherent gift that she merely brought back to my memory. It came naturally to me. Emily did not become an everlasting friend in my life but she will forever have a place in my heart for introducing me to this art form. Over the years I have come up with a way to use these techniques in wearable art! I began my journey making bracelets and now I make shawls, sarongs, and dresses.
These macramé designs are for the fun, flirty, or elegant alike who are looking to spice up any plain-old outfit. Most creations feature a necklace, which inspires the colors of the string, yarn and ribbon used in the design. The necklaces range from shells, beads, or chains (some with beads); allowing each creation to have a unique personality of its own. I have also been known to cut up and enhance long dresses, skirts and window curtains…I joke that I am like Maria (Julie Andrews) in "The Sound of Music." Most materials are purchased at thrift shops to keep costs low and to up-cycle.
One-of-a-kind and hand-made; these couture items take A LOT of time to make. The shawls range from about 8-10 hours, while sarongs and dresses can take anywhere from 8-20+ hours. People often wonder and ask how I have the patience and willpower to practice my trade. My answer is always… "It is my form of meditation. It allows my mind to relax, shut off, and create beautiful designs that no one has ever seen."
I didn't start creating past the bracelet stage until around 2013. My inspiration was J-Lo from the movie, "Monster-In-Law," (2005). J-Lo's wardrobe in that movie is extremely bohemian and colorful. Eye-catching and beautiful. I knew I could create garments to reflect this style for myself. I had no intention of selling these designs when I began (I just wanted to dress like J-Lo's fine self). There was a problem though...every time I would string up one of my necklaces to make a shawl with the perfect colors for ME, a friend would come over and want to buy it! Once I realized how many women were loving these creations, I decided to do some shopping…stocking up on supplies to make an assortment that did not just reflect my personal color palate. Production was beginning and I needed to figure out a way to cut down on time and keep the strings and yarn from getting tangled through the process.
The tools I have come to use over the years are very important to me. I painted a wooden board orange and hammered it with 32 nails to hang the string and yarn. You must be wondering...why 32? In macramé, you use 3-4 pieces of cord to tie a knot and I need 32 pieces minimum to create the shawls. I produce more shawls than any other item. The next tool that I use is a tall lamp and lampshade. I use the lampshade as my mannequin as it offers many benefits to this process. It gives a one-size-fits-most measurement, allows for turning of the lampshade as I create, and I can usually find a thrifty one right along with my other supplies when I am traveling and creating on the road! The last tool I use to create are sharp scissors. The size does not matter as long as they are SHARP! When measuring and cutting handfuls of string in the beginning, I need my scissors to slice through without any tension. Have you ever used dull scissors trying to cut yarn? It is NOT fun! Scissors are always my last tool to use as well. How excited I get when I am finished with a design and I get to grab those scissors and do the finishing touch of trimming each string and piece of yarn to the perfect size.
My designs are meant to be "show-stoppers." It is exciting to wear unique apparel and accessories unseen by any other. These artistic creations do not have to be used solely to uplift a pair of jeans and tank. They can also be worn as a sexy spider, gypsy or mermaid costume or as intimate apparel. I tend to wear my personal creations at music festivals, weddings, on the beach, or at social gatherings, such as BBQ's. Anywhere that I choose to be "walking art."

Numina Gypsy
My craft includes Macramé designs and jewelry. I love this art form because it initiates mediation and relaxation within me. My passions also include cooking, singing and dancing. My favorite place hands down is the beach.
See all posts by Numina Gypsy →