How to Wear Platform Sneakers
If you're going to wear platform sneakers, you gotta do it right.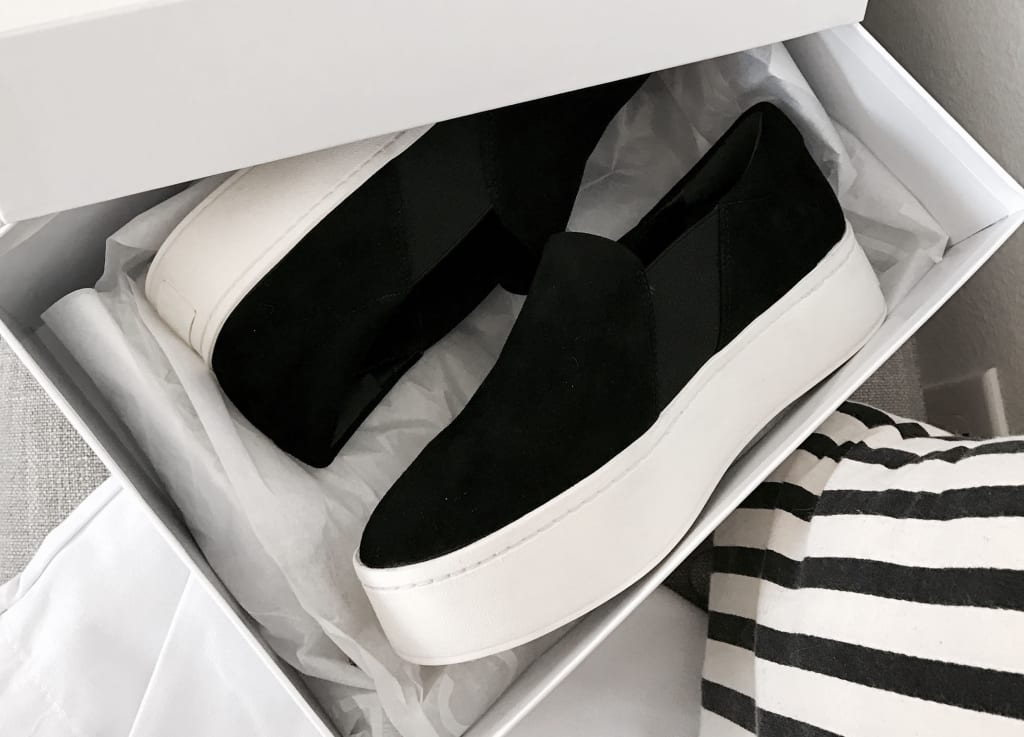 Let me tell you a little story of the me that existed back in 2005. It was a year that was the height of Jersey Shore-esque fashion, a time where wearing "boots with the fur" alongside Applebottom jeans was a thing. It was a time when anything could happen in fashion.
Ed Hardy was king, and that should tell you volumes about the era. For fashion, it had to be loud, tacky, and stupid to win. Then, there was me. I was a different type of tacky and stupid.
I was in college, I was kind of a walking fashion disaster. I was at the height of my Gothic Lolita phase, and I was inspired by Mana's beautiful appearance. I wanted to be like him, but, well... it just wasn't really a style that suited my looks or budget. Like, at all.
I dyed my hair black at the time, and used cosmetics from foreign countries to bleach my skin. In lieu of having enough money to spend for actual Moi-même-Moitié, I had to make do with very poorly made Hot Topic shirts and Halloween costumes.
Yes, I wore this every day. Yes, you may cringe hearing it, but it's true. But the worst thing about my outfits weren't the pitifully flat "poofy doll" dresses or the frumpy lace accents. It was my platform sneakers.
I wasn't able to afford a pair of platforms that actually suited by sense of style. So, I ended up with giant, five-inch-high, square-shaped monstrosities that would have looked far better on a cybergoth. As you can imagine, the looks I got were pretty bad—and at times, I'd just get laughed at to my face. (It probably didn't help the bullying I dealt with at college, either.)
Over the years, I learned how to wear platform sneakers the right way. Here are some tips for those who do not want to make the same fashion mistakes I did.
Just like with clothing, there are certain styles that are far more flattering on some frames than others. So, you're going to need to buy the kind of platform sneakers that will work with your figure.
Low platform sneakers, such as the ones offered up by Converse above, tend to be a much better option for people of all walks of life. They add a little bit of height, a little extra "chunk" but not so much that you would end up getting stares.
Extremely high platform sneakers tend to fare best on slender frames, muscular frames, or boxy builds. The thing you have to remember is that the platforms will give your legs a visual extension. If you're very bulky, those shoes will look really bizarre on you and will just add to the bulk.
Nothing is cringier than seeing someone wear platform sneakers that they can't walk in. Extremely high platform sneakers that are totally flat often will cause you to change your gait into something that's a bit more aggressive-looking, awkward, or just "clompy."
If you want to wear flatforms correctly, make sure your gait remains light in them. With ultra-high ones, a little extra heel can make a huge difference in how well you walk in them. Rounded shoe tips can also help you "roll" your foot in a way that appears more natural.
Lower platform sneakers have a lot more "give" in them, which makes them easier to walk in without losing the normal walking style you have.
Nothing quite is as visually jarring as wearing shoes that don't really match your outfit. For example, you really should never wear platform sneakers with a business suit. You also shouldn't wear frilly platform sneakers with an outfit that looks very dark-futuristic.
In many cases, it's a good idea to match the color of your shoes to the outfit you're wearing. An all black outfit with matching black platform heels will look a little more dramatic. That's not to say that you can't add a splash of unique color to your outfit using your sneakers. Adorable red ones would make a simple "jeans and white tee shirt" look pop.
Some platform sneakers are a little bit hard to fully acknowledge as platform sneakers. They walk the line between ankle boots and sneakers, which actually looks pretty cool with the right style.
These shoes tend to be dark, chunky, and ever so slightly goth. The thing that you want to make sure to do with these fusion sneakers is to wear them like a fashion statement—because they are.
These kinds of sneakers cannot stand well on their own unless you're making them a focal point. So, a lot of people choose to wear platforms with a plain outfit to flaunt them.
If you want to get gutsy, pairing them with bold athleisure (a la Kendall Jenner) or statement-making shirts (a la Gigi Hadid) is a good way to go.
Fashion is a thing of subtlety for most of us. That's why adding flair in a subtle way is so important. In most cases, the platforms alone are enough flair to make a statement without actually having to add anything extra.
Vince Camuto's simple suede shoes show this sticking point really well. They make a nice statement without having the shoe seem over-the-top in any sense of the word.
Don't ask me why, but platform sneakers are much more impressive-looking on camera than they are in person. It's a weird thing I've noticed, and it's something that can't always be explained away with normal stuff.
At times, shoes make for a good focal point in photoshoots that are fashion-oriented. In other words, your Instagram will thank you for them. With shoots, you can definitely wear things you normally wouldn't and get away with it.
For people who are looking to wear platforms as part of a fashion photography shoot, getting extremely glitzy shoes is a good life decision. Go for a high platform. Get some holographic material, add some sequins, the sky's the limit.
Metal studs and platform sneakers are pretty impressive, even when paired with classic casual wear. Since they have become more socially acceptable, people are now starting to incorporate them into daily wear—even at work or at upscale lounges!
To get a nice, low-key way to improve your look, just wear platform sneakers that have a low platform, made of black leather with a bunch of metal studs on them. They're comfortable enough for a natural walk, but also will give you an added "oomph" to your fashion.
This is one of the coolest sneaker trends to watch for, in my opinion.
The lacing on your shoes matters a lot, especially when you're dealing with platform sneakers. Poorly laced platform sneakers can easily become clunky or even a health hazard. I ought to know; I failed to lace up my sneakers well once and almost broke my ankle.
If you're really bad with lacing your shoes, then I strongly suggest getting HICKIES. These neat little gadgets allow you to turn almost any sneaker into a slip-on. They also look pretty good on platforms.
Unless you're naturally 5'11 or above, you probably want to experience a little increase in height. Choosing to wear platform sneakers with an obvious platform is a pretty good way to do it, but why not try something a little different? Hidden heel platform sneakers look like regular sneakers, but have a platform that allows you to stand a little taller.
footwear