10 Fashion Photography Coffee Table Books
Every fashionista's living room will not be complete without these fashion photography coffee table books.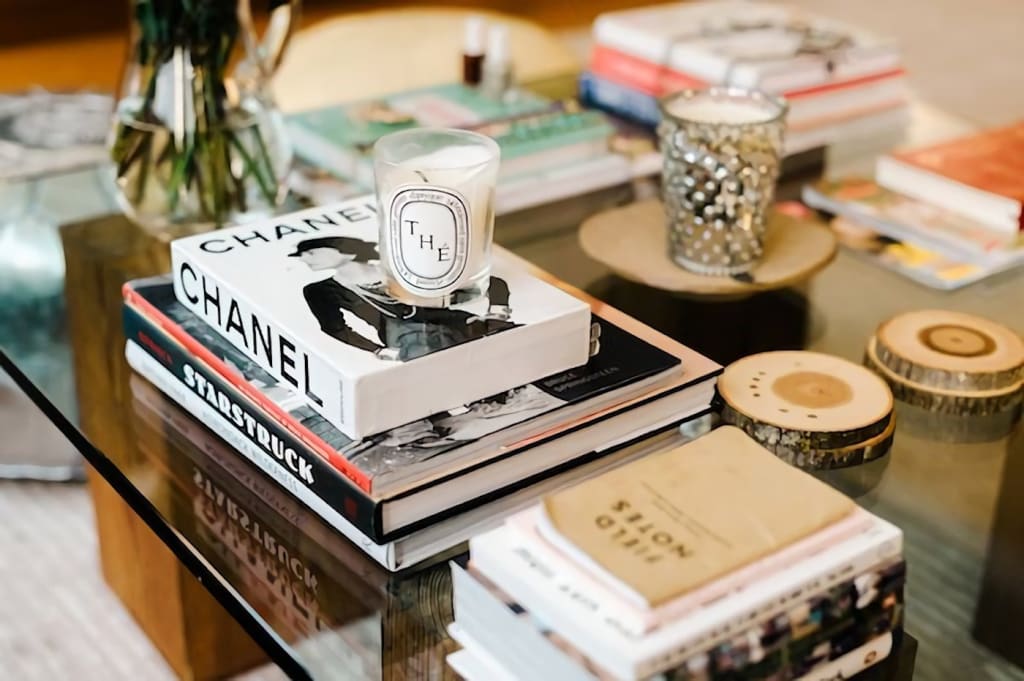 Every fashion lover knows that their coffee table isn't complete without a book. And as some of the best fashion photography coffee table books, these pieces of decor will not only look beautiful, but are great to flip through whenever you please.
Featuring books that will be the focal point of your interior design, each book tells a story of the most celebrated fashionistas of the world, from Oscar de la Renta to Louis Vuitton. Be inspired by your decor by adding one of these coffee table books.
To start off our list of the best fashion photography coffee table books is by the Phaidon Press, titled The Fashion Book. Newly updated, the fashion book is a detailed timeline of the history of fashion.
Spanning over 200 years, the book has some of the biggest names in the fashion industry, from photographers to designers to style icons and models. Illustrated with an image of the work or style of that icon, each page is filled with a short text detailing the information and context of the illustration. Coco Chanel, Richard Avedon, and Helmut Newton are just some of the designers featured.
Vogue: The Covers is a classic and successful book that features just what you would expect: the photographs featured in that year's Vogue covers. As one of the best fashion photography coffee table books, 2017's edition of the book pays tribute to the most spectacular cover art of not only this past year, but the magazine's 125-year history.
This book focuses on the covers since 2010, featuring each and every one from the seven-year span. Featuring covers with Lena Dunham, Kim Kardashian West and Kanye West, and Michelle Obama, the book is perfect for every fashion and photography lover.
Images of Dior fashion feature some of the most iconic work in the fashion industry. Some of Richard Avedon's most impeccable work can be traced back to 1947, and this book has some of the best photographs done by the mastermind.
Featuring celebrities such as Dovima, Carmen Dell'Orefice, Dorian Leigh, Capucine, Lauren Hutton, Anjelica Huston, Barbra Streisand, Marlene Dietrich, Suzy Parker, and Sunny Hartnett, Dior by Avedon will sit elegantly on your coffee table.
"You are buying a masterclass in design, photography and fashion history — you will not regret it." —Business of Fashion
Next on our list of the best fashion photography coffee table books is Giorgio Armani Deluxe Edition by Giorgio Armani himself. Focused on featuring the important milestones of the Italian designer, Giorgio Armani's book follows the timeline of his career and success.
Including text from Armani, the coffee book is especially known for its way of taking the reader into the mind of such a creative. With photography by Craig McDean, Aldo Fallai, Peter Lindbergh, and many other fashion icons, the book represents the style of Giorgio Armani and what grew his empire.
Oscar de la Renta: His Legendary World of Style by André Leon Talley is yet another great book that would look fantastic as a final piece of decor on your coffee table. Allowing the legacy of the one and only Oscar de la Renta to live on, this book is a way to travel the life of the fashion icon. After he passed in 2014, the book was created to memorialize his success.
The fashion designer not only dressed celebrities such as Sarah Jessica Parker and Beyoncé, but first ladies from Kennedy to Obama. An incredibly motivating one read, and a beautiful one to display, this book is one of the must-have coffee table companions.
Gloss: The Work of Chris von Wangenheim is the monograph of the photographer Chris von Wangenheim of the 1970s. With a body of work from 1968 to 1981, his photography shocked the industry, and the world, with photographs of violence, danger, and sex.
High fashion was his niche, and he set the tone for those to come. As a great representation of his work and of the mark he left on the fashion industry, this is one of the best fashion photography coffee table books for anyone to be impressed by. From publications in Vogue Italia, Interview, Vogue, and Harper's Bazaar, his campaigns made history.
Becoming By Cindy Crawford with Katherine O' Leary is yet another one of the best books to display in your living room for many reasons. As the story behind what made the international superstar so successful, this New York Times bestseller follows her career path, best lessons learned, and most memorable images.
From MTV, to Playboy, to Super Bowl commercials, to the runway, Crawford's life is nothing short of incredible. The book follows her earliest modeling years where Crawford was self-conscious in front of the camera, to now, as the supermodel star she is today, along with how she became a wife and mother, and what that means for her path.
Grace: Thirty Years of Fashion at Vogue is a celebration of the work of the legendary stylist Grace Coddington, written by the fashionista herself. Featuring her first 30 years at Vogue, in both the UK and the US, Grace: Thirty Years of Fashion at Vogue has both illustrated and autographed letters by Grace, telling her story.
And of course, featuring some of her great work as a stylist, the book is complete with over 400 pages, a visual reminiscence of her time as a Vogue stylist. As one of the best fashion photography coffee table books, this is certainly not just a piece of decor, but a read you're not going to want to put down.
Simply featuring the storefront windows of Louis Vuitton, this book is an incredible one to flip through. Vannessa Friedman, the New York Times fashion director and critic, opens the book with her introduction, and the rest of the book speaks for itself.
Windows were created by the talented Ansel Thompson and Faye McLeod; some of the most iconic images were hot-air balloons, a universe of polka dots, and even a gigantic roller coaster. Featuring some of the most celebrated piece of art, this coffee table book will fit in great in any creative's home.
To finish up our list of the best fashion photography coffee table books, we couldn't forget Tom Ford by Tom Ford. Following his incredible influence on Gucci, his transformation of the brand, as well as the success of Tom Ford himself, allows his supporters to understand the path of the fashion icon.
A catalog of his design work for Yves Saint Laurent and Gucci from 1994 to 2004, the book features his clothing, accessories, and his ultimate vision for the design of the brand, including advertising, design, and even architecture. With over 200 photographs, photographers include Helmut Newton, Herb Ritts, Terry Richardson, Craig McDean, Todd Eberle, Richard Avedon, Mario Testino, and Steven Meisel.
art
About the author
Completely invested in the makeup industry. Find me on the couch watching YouTube tutorials and drinking wine.
Reader insights
Be the first to share your insights about this piece.
Add your insights