Fashion Icon, Oscar de la Renta Has His Own Fashion Exhibition
Oscar de la Renta is certainly a fashion house name on the tip of all women's tongues, but what exactly drives his extraordinary designs? Take a look at the breathtaking work of this fashion mogul!
On October 8, the Museum of Fine Arts, located in Houston, opened the glitz and excitement of Oscar de la Renta, an exhibition that showcases the fashion designer's life and his career in the world of fashion. The exhibition came into play with the merge being with Oscar de la Renta, LLC. The exhibition has close to 70 pieces taken from de la Renta's collection of designs on display.
The exhibition has been on show from October 8, 2017 and will continue through to January 28, 2018. The curator is de la Renta's good friend and previous Vogue editor, André Leon Talley.
From the beginning of his illustrious, successful career, as can be noted to have stretched across two continents in 50 years, he made the most of his career and aimed to create stunning garments for every event a woman attends.
The exhibition by Oscar de la Renta features running themes that took place during his years of work; this includes the impacts of Spain, Russia, China, Japan, and a garden on his creations. These ensembles are showcased with paintings and art collections.
We gain perspective into the world of de la Renta's creations that offer unique looks from classy daywear to dramatic evening dresses.
"The delicate designs that are on set displays Oscar de la Renta's inbred talent and his eye for creativity, which he gets from a sophistication of cultures globally that keeps him a step above others in the fashion world," says Gary Tinterow, director of the Museum of Fine Arts in Houston."
Exhibition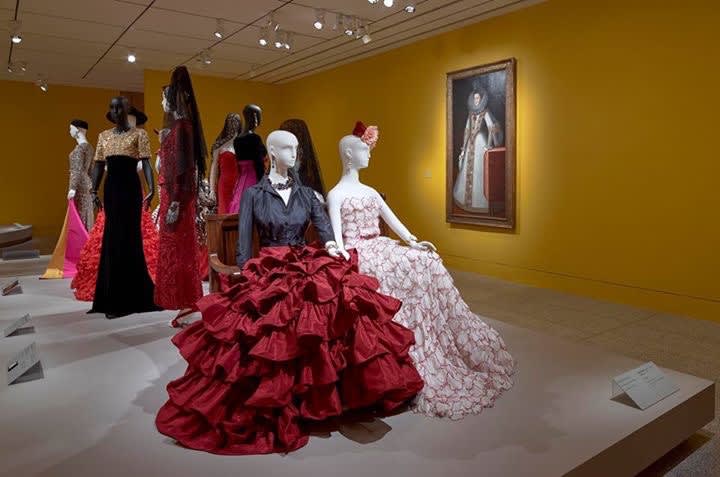 The pieces that are on display are set out into four themed spaces. Every section has a different set of visual effects that include pictures of de la Renta's Connecticut gardens. Art collections and crafts add artistic effects to the designs that are exhibited.
Spain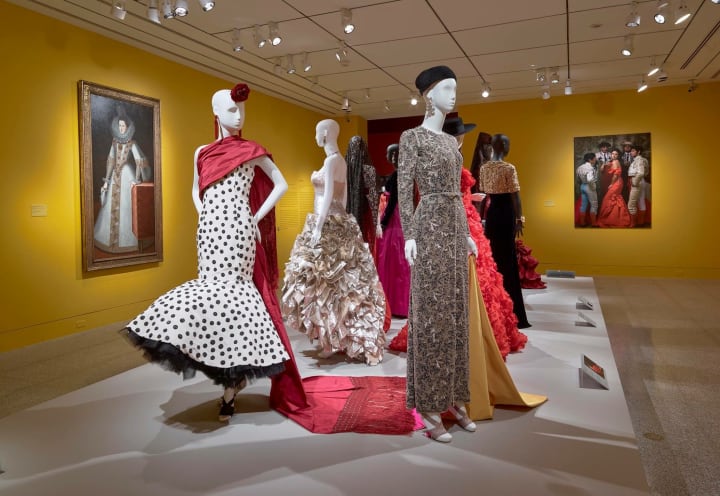 The exhibition makes a way to gain insight into the most important aspect of de la Renta's work: Spain, his place of career. In Madrid, 1952, de la Renta gained his first exposure to fashion by being hired by the all-famous couturier, Cristobal Balenciaga. The fashion icons have a similar interest, that being Spanish culture.
De la Renta's knowledge of Spanish dance, culture, traditions and celebrations have sculpted his foundation of his collections that place emphasis on tassels, embroidery, and overly dramatic ruffles.
The East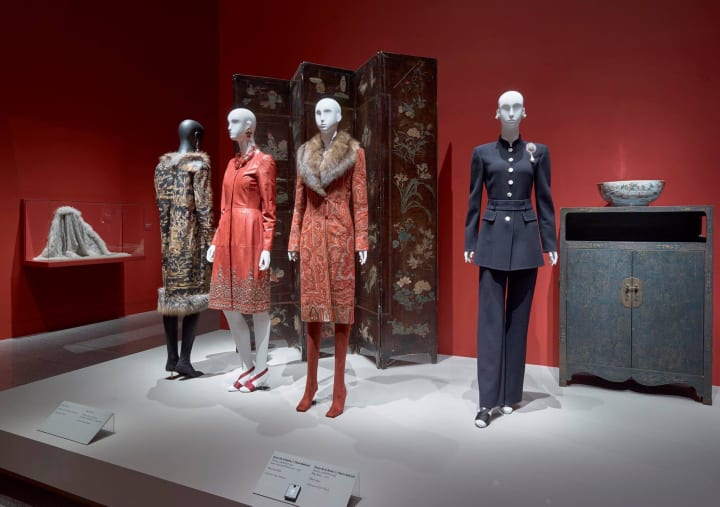 The next area of the exhibition focuses on inspiration from the Middle East to the Far East, which includes Russia, North Africa, and Turkey — all that can be shown on de la Renta's iconic designs. Designs by de la Renta in this section have a touch of passion and romance. The collection includes silk garments, robes, caftans, and harem pants. The combination of the middle eastern theme is further added with Russian-themed embellishments, fur, and jeweled patterns.
The Garden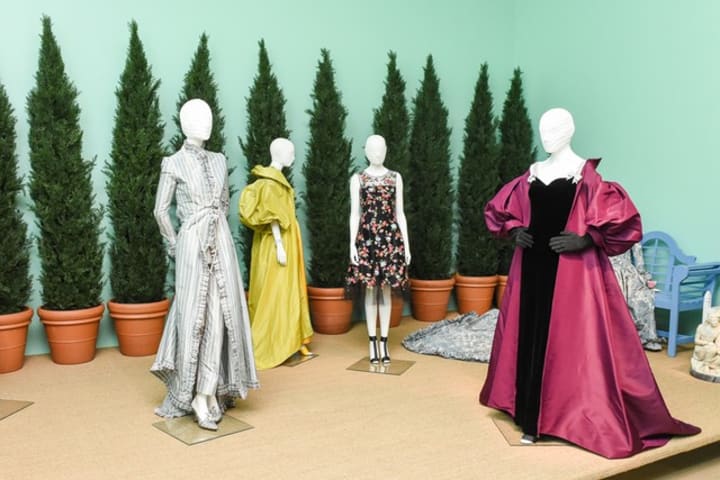 De la Renta had a great interest and love for his garden. He appreciated the greenery, ever since his childhood, and was surrounded by it, while growing up in the Dominican Republic. Of course, this passion follows him and he has his own private garden at his home in Connecticut. This section features rich colors, delicate flower appliqué and maxi skirts decorated with petals to create the horticultural atmosphere through his work.
Icons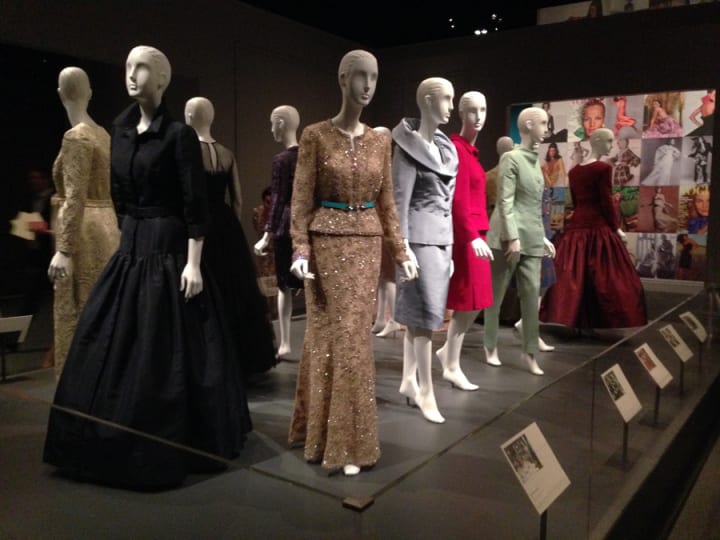 For many years, women have always had their eyes on de la Renta's designs when it comes to special occasions. A choice to wear it in style was what de la Renta has always achieved, especially when it comes to wedding and banquet attire. The exhibition features prêt-à-porter and custom-made designs. Gowns previously worn by celebrities and world leaders are also on view.