Best Skinny Jeans for Curvy Women
So you got curves in the right places and wanna show them off? These skinny jeans for curvy women will help you do that effortlessly.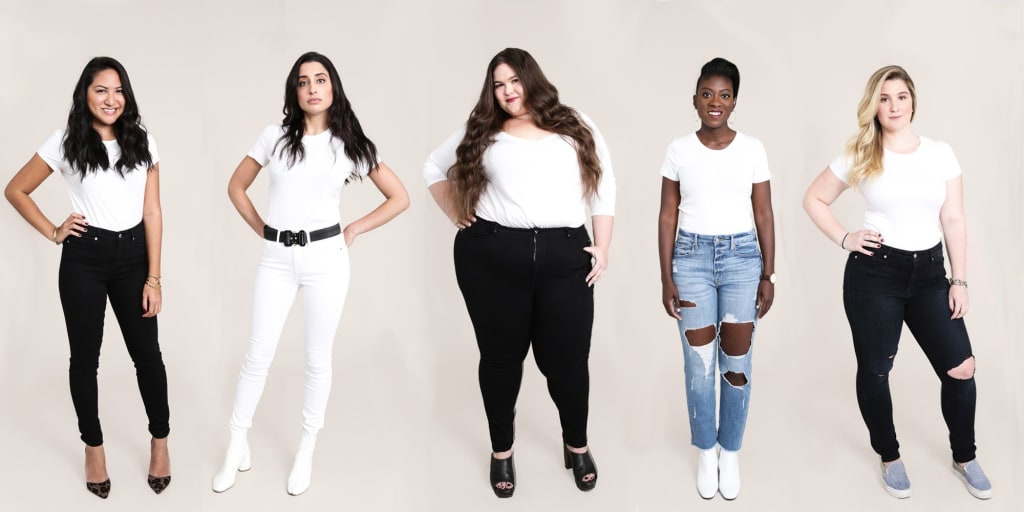 For many men and women out there, nothing is quite as sexy as a good pair of jeans. Jeans, when cut correctly, are some of the most flattering clothes money can buy. They can be sexier than lingerie, more appealing than an upscale dress, and better for nightlife than your favorite stiletto heels.
If you're curvy like I am, then you already know that finding a good pair of jeans that actually flatter your behind is pretty rough. In fact, it can be downright brutal because designers simply don't know how to make flattering clothes for curves.
Plus size shopping isn't easy, especially when you are trying to do it online. That being said, some designers managed to get it right; it's a plus size start. Here are some skinny jeans for curvy women that don't suck.
You'll definitely be feeling lucky if you check out these Lucky Brand skinny jeans made for curvy women. Their skinny black jeans are perfect for lifting up your booty, keeping your legs looking slender, and also keeping your body looking picture-perfect.
Durability, too, is what make these jeans pretty awesome. These jeans run fairly true to size, but still keep a little extra looseness for ladies who want to have some flexibility in their clothing.
Finally! Some jeans that are universally flattering! No matter what size you are, you will be able to find a nice fit through Good American's ultra-flattering Good Legs line.
With both straight sizes and plus sizes represented, this jean line is designed to be flattering, and to be perfectly paired with just about every type of outfit you could have.
Among a lot of women who have plus-sized figures, stomachs are a major issue. Sadly, a lot of the skinny jeans for curvy women on the market ignore this fact. This leads to a lot of bulges that shouldn't really be there at all, or just really unflattering clothing.
Wit & Wisdom came in clutch with an Ab-Solution Stretch jean that is meant to help flatten (and flatter) tummies of all sizes. We definitely approve.
One of the hardest things to find in plus sizes is a pair of jeans that actually has some kind of personality to them. Fans who enjoy the distressed jean look will love this classy, yet rebellious, design by Slink Jeans.
It's "straight size" style with a curvy fit. It's comfortable and runs perfectly true to size. What more can you ask for?
The collaboration between Rebel Wilson and Angels has created a slew of awesome skinny jeans for curvy women, but few are as awesome as these. The Looker Skinny Jeans come in a gorgeous dark wash, and have seams that help slenderize and elongate legs.
The end result? A fabulous look with a versatile, yet casual design.
Eloquii is one of the best places to shop when you're a curvy girl, and not just because they know how to design flattering jeans for plus size ladies. They also happen to make a point of creating unique clothing items that reflect women's individuality in plus size.
Their Lace Up Skinny Jeans are a perfect example of this concept in action. They're sexy, slightly goth, and just versatile enough to be a must-have item for the trendsetter in your group.
There's something visually striking about bold blue denim, isn't there? We sure think there is! This bright blue wash isn't the only eye-catching part of these pants.
The slimming fit is designed to help women look a size smaller by lifting the butt and gently compressing the stomach in. Expect to flaunt your curves in the best way possible with these picks!
Trying to find a pair of skinny jeans for curvy women that have an urban style to them is seriously difficult, especially if you love distressed patchwork jeans. Thankfully, the folks at City Chic's plus size department managed to make it possible without forcing you to spend a fortune.
These jeans are the perfect pick for women who want to have a flattering cut that makes a fashion statement. You'll feel like a model and look like one too!
If you haven't been paying attention to Instagram lately, let me clue you in: Camo is back, baby! Finding plus-sized apparel that comes in camo print isn't easy, though, especially when it comes to finding skinny jeans that actually give your body a flattering look.
Sanctuary offers curvy women a sanctuary by giving them camo jeans that are flattering, comfortable, and, yes, stretchy too.
Finally, there's something awesome about being able to wear jeans that come in a bold, beautiful color. Celebrity Pink has a very nice selection of skinny jeans for curvy women that are all dyed in a nice range of different colors.
Ladies who are looking for wardrobe staples that flatter, but also add a nice pop of color, need to check out their Jayden Colored Skinny Jeans. They are also bright enough to work for plus size cosplayers, if you need help sourcing pants that work with your outfit. They are amazingly stylish and surprisingly affordable.