Best Jeans for Women to Buy in 2018
With so many styles to choose from—straight leg, mid rise, high rise, the list goes on and on—it can sometimes be more confusing than fun when it comes to shopping for jeans for women.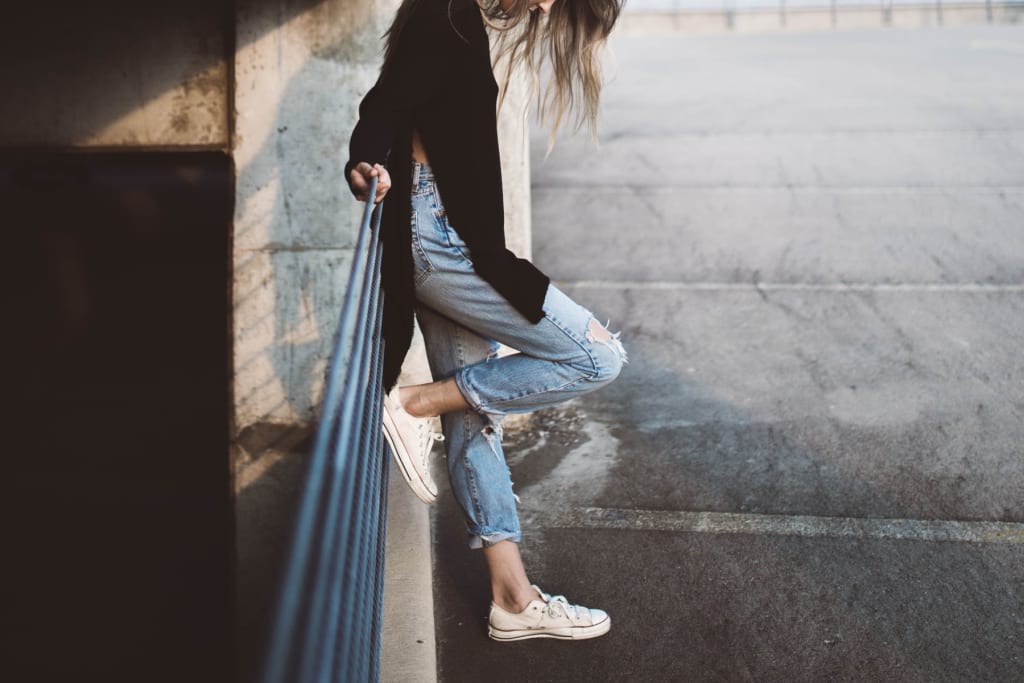 Jeans have been a staple piece of any wardrobe since their invention. Originally created for the working man, women began adopting men's fashion pieces for their own. Eventually jeans for women became an absolute must and designers soon jumped on the trend, creating almost endless options to choose from.
This is both good… and bad. Lots of options, but which one is right for you? Do you go with the straight leg, skinny jeans, boyfriend jeans? What looks best on your body type?
Grab a big pile of denim from the women's jeans section and you might end up more perplexed than perfectly satisfied. The best thing you can do is to know what denim options look best with your figure and best assets. Then, stick with that cut and wash, and you'll do fine. Here are some of our recommendations, based on body type and more.
These jeans for women deliver everything you want, all in one easy package. The DL1961 Coco Curvy Slim Straight Jeans give you just enough room where it matters (think hips, butt and upper legs), but are also stretchy, giving you the ease of movement that you sometimes struggle to find without specifically buying stretch jeans. These mid rise jeans are straight leg as well, for several great features in one fantastic cut.
Who are these jeans perfect for? Anyone with curves that need hugging, but who still wants a slim cut that's breathable and not skin tight.
If you've got long legs that go on for days, you may already know the power of pairing your favorite skinny jeans with some high heels and watching the heads turn. To truly accentuate your best features, go with the Stiletto Jeans by Current/Elliott.
These skinny jeans for women are a great option, because they not only look good in casual settings, but also when incorporated into dressier options. These jeans work best for women with, as noted, long, long legs and slim hips. Rather than a mid or high rise, these jeans are strictly low rise, so they work best when you've got a thinner midsection. Plus, if you don't have too much junk in the trunk to speak of, the wide back pockets give a little bit of an illusion that you've got everything you need stowed away in cargo.
It's truly a rare find when you come across a brand of jeans for women that really work for every single woman, but these skinny jeans do the trick.
Warp + Weft is a brand that offers skinny jeans for nearly every size under the sun, from 00 to 24. The skinny jeans range in wash and style, so that you can even get down further into what looks best for your body type, whether you're trying to show off your awesome calves that you worked oh-so-hard to achieve, your booty that only evolved after just about a million squats or those runway-ready legs. So, whether you like distressed, destroyed, colorful or cool, you can find it with this brand of jeans for women.
If it's skinny jeans built to fit a curvier body you're after, you might want to go with the Liverpool brand. These skinny jeans are created so that they flatter regardless of what size you buy them in, and are tested to truly ensure they fit a diverse customer base.
The Abby Skinny can be found at the link above and the white wash will look great for all your summer outings. The mid rise jeans are stretchy, but durable, so you never have to worry about them completely wearing out in the wash! (A seriously scary proposition.) In fact, some women wearers have compared these skinny jeans to jeggings, a sad fad that's gone, but that left us with one resounding impression — jeans should be comfortable, just maybe still made out of denim.
If you've had a flat buttocks for the majority of your life, you've probably already given up hope that the puberty fairy would somehow, some day make a reappearance and give you a healthy dosing of curves. Fortunately, there's a solution to your flat bum problem, in the form of MOTHER's High Waist Looker. These babies are high rise skinny jeans that give you lifts and perkiness in all the right places, perfect for creating the optimal shape for you, no booty implants required.
These boyfriend jeans by 7 For All Mankind have the classic boyfriend jeans look, but with an added element of class, so you can go out looking great with your "jeans and a nice top" look, without fearing you'll be giving off an air of sloppiness by breaking out the boyfriend jeans.
These are perfect for ladies with thicker thighs, because they give you lots of room, without being stretch jeans and without making your jeans look almost too big, as if they were oversized. They're just the right level of roominess to make them an appealing purchase when shopping for jeans for women.
Women, you know what we're talking about. You wake up in the morning, you're getting dressed in the mirror. You look slim, scrumptious. Then, after two cups of coffee and one pastry, you're like a Buddha baby, a little bloat-y chub escaping around the waistband of your jeans. You know it'll be gone in the morning, but does everyone else?
Thankfully, the ASOS offers a super high rise skinny jeans for women option that addresses this issue. The high rise waist paired with the sculpting technology means that you're nipped and tucked in all the right places. So whether you're heading to the best places to brunch or scarfing down a breakfast burrito in your cubicle, you can be sure it won't make an extra appearance later on in the day.
While skinny jeans and straight leg cuts have been a big deal for the past several years when it comes to jeans for women, boot cut jeans are on the rise, and, with a little help, even the most petite of us can pull off a smart boot cut. Check out this petite curvy bootcut from New York & Company. The cut is particularly made for petite women, and the subtle boot cut flair makes for a great illusion—that you're taller, thinner and shapelier in all the right places. Pair these jeans with a nice top and a pair of heels and you're good to go in your business casual for women outfit that can double for happy hour after work.
These gorgeous skinny jeans for women have a little something extra. The distressing in the black jeans says that you're here to have a great time, but the sleek look and super-thin fit says you can also keep your cool. The cropped bottoms add just a little bit of the unexpected and you can pair them with just about anything. Casual flats are good for a concert or festival vibe, while heels (like the ones seen at the link above) make for a truly sexy look great for going to the bar or a night out with the ladies.
Lastly, here's a pair for the totally comfy—because, after all, why even bother with a great pair of jeans if you aren't going to love living in them just as much as you do your favorite pair of yoga pants for every body? (Did we just go that far? Yes, yes, we did.) These frayed jeans for women have a mid rise and a loose fit, so that you can easily lounge about the house, head out to buy something from the nearest bodega, go to the park or even on a casual date, all while looking stylish, fit and fabulous in all the right places. Not quite boyfriend jeans, not quite skinny jeans, these may just become your new go-to.
About the Creator
Proud mom of three chinchillas, hard core Justin Bieber fan, watches Unsolved Murders religiously
Reader insights
Be the first to share your insights about this piece.
Add your insights