Life After the Military
Army Training Unavailable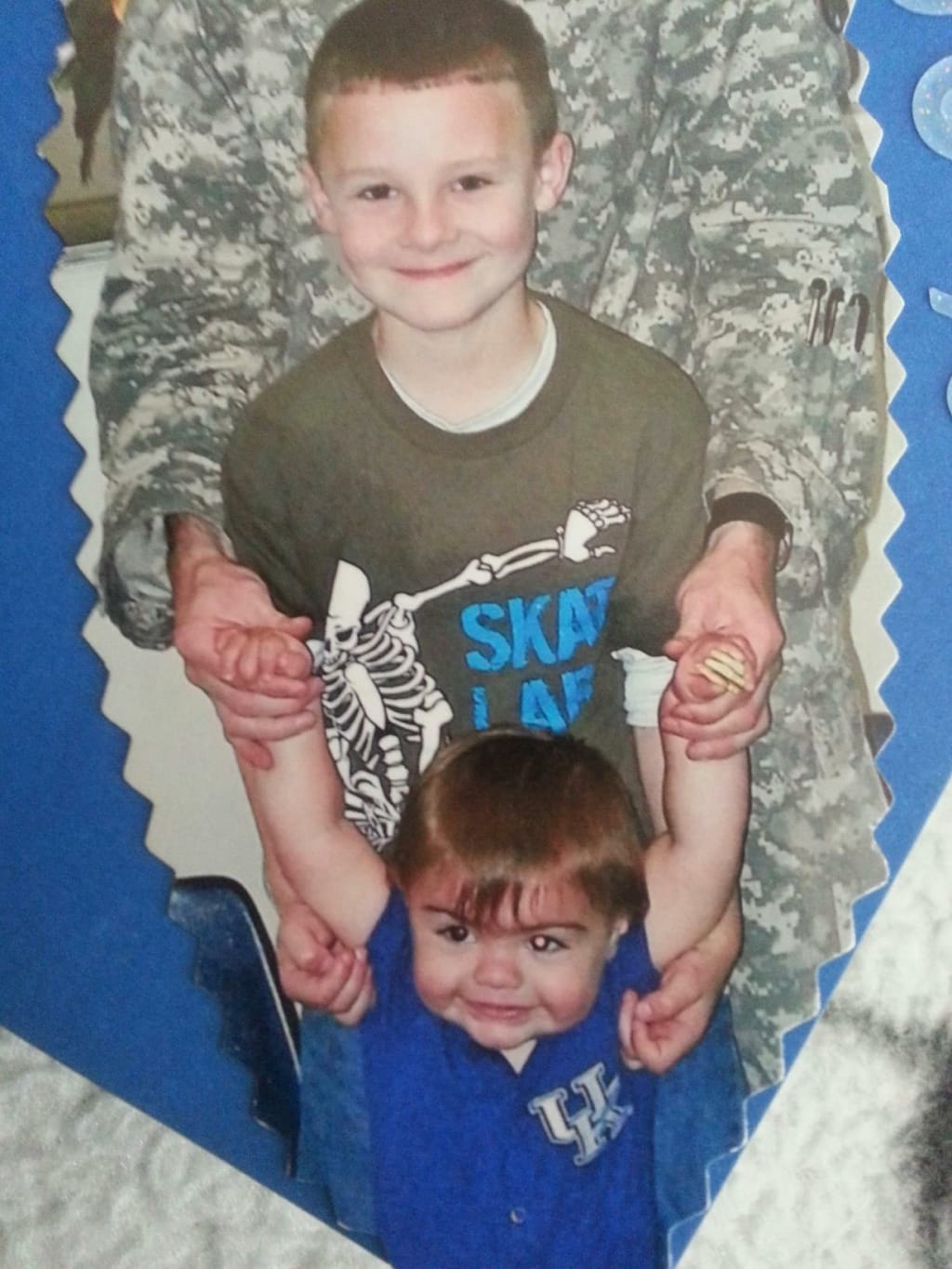 Father and sons
I was only eighteen when I enlisted in the United States Army. I decided to go army because Air Force took too long and I wasn't ready to go to college. I was the first in my family to join, and the black sheep, as well. I was known to skip class and quite often disrupt class if I was present. Even though I skipped a grade in elementary, growing up with peers older than I made it easy for peer pressure to take over.
My military training was fairly long. One station unit training (OSUT), the army calls it; five and a half months long to become an internment/resettlement specialist. A fancy title for a corrections officer in the army. My job training felt extremely efficient and I truly believed it'd benefit me in my civilian life once I returned. Having absolutely no idea what I was doing, I became a soldier working in military prisons. Being as young as I was, all I saw was a bonus of money that I wanted.
Physically, I had never attempted to be fit. Naturally, I got hurt the first day of training. The embarrassment, the shame, I felt it from all directions; drill sergeants, my battle buddies, and oncoming soldiers. I carried on either way. I had no other choice. The hardest thing I would endure alone for a while. Four days after training ended and graduation, I was sent to my first duty station. My first assignment was at a hardship duty station. I was moved into housing facilities where I lived with three other roommates. I went from being a young and lost teen to an adult with roommates and a full-time career. Those dreams were real, tangible, and at my reach. I was sent to my second duty station and married shortly after. At this point, my career, family, and financial situations were in line with my life.
My time in the military was cut short by a high risk pregnancy at five months. My injuries combined with my pregnancy and daily physical exertion created a painful situation for me. Standing, sitting, and laying were already a feat in themselves. The added pressure and weight made them worse. My discharge from the military was an effort on my behalf to keep my son healthy enough to reach the end of gestation. Four months after my military discharge, I gave birth to a healthy baby boy. Although it'd been thought that my family would be my most important ambition, it wasn't.
A part of me felt empty after his birth. I felt as if I hadn't accomplished anything. Stationed several states away from my family and feeling misunderstood, I fell into a severe depression. A broken marriage later, that emptiness persisted. I wanted nothing more than to be successful. I missed the army but was incapable of rejoining due to the injuries I obtained during service.
February 2018 will be ten years since I was honorably discharged. I've held numerous jobs that felt mediocre to my ability and shortcoming of a career I desired. In my attempt to find myself, I have expended my entire GI Bill and still haven't completed my degree.
Life after the military is hard—disheartening, for some. It can also make us feel less than able to accomplish anything. Next time you see a veteran struggling, or hear them speaking encouraging words to others, realize that the battles they faced continued after their service. Take into account that they, too, have survived life after the military. I've only scraped the surface. I didn't speak on the challenges that being in the military brought myself and others; PTSD, military sexual trauma (MST), or substance abuse, all consequences of events that occurred while serving.
Believe the hype.
Reader insights
Be the first to share your insights about this piece.
Add your insights