How to Become an Army Recruiter
When you become an Army recruiter, you play a key role in the United States army, making sure all ranks are filled with proficient men and women who are willing to serve their nation during war and peace.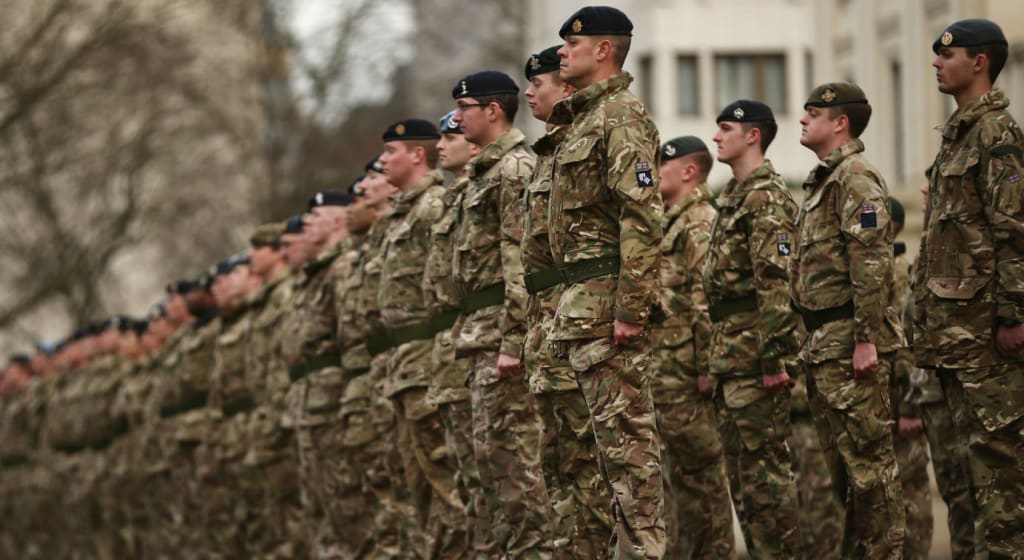 The United States Army Recruiting Command's (USAREC) motto is "Provide The Strength;" and to do this, the army demands aspiring recruiters to meet set high standards before they can become an Army recruiter.
Army recruiters are members of the Army specifically trained to help citizens with their journey towards joining the Army. By default, Army recruiters should be disciplined, highly motivated, and have outstanding communication skills. As a representative of the United States Army, the recruiter needs to be exemplary in judgment and presentation, but the benefits of being an Army recruiter far outweigh any of the difficulties associated with the role.
Join the Army.
It goes without saying that you must first join the United States Army in order to become an Army recruiter in the future. To join the Army, you have to be between 18 and 34 years of age, be a US citizen or legal resident, have a high school diploma or GED, be in sound physical and mental health, meet weight and height standards, be able to pass the ASVAB exam (a minimum score of 31 is needed), and have no major criminal conviction; including domestic violence or felonies; but do note, however, that having been convicted of a felony in the past does not automatically prohibit you from joining the Army. All you need to do is apply for a felony waiver and you're good to go.
After joining the army, all recruits will need to participate in a 10 week Basic Combat Training (BCT). This Basic Combat Training provides practice and instructions in different aspects of military duty; including, but not limited to, weapons training, marksmanship, field exercises, and teamwork.
Basic Combat Training takes place on domestic military bases, so recruits will have to live on the base while attending the course.
Attend the Warrior Leader Course (WLC).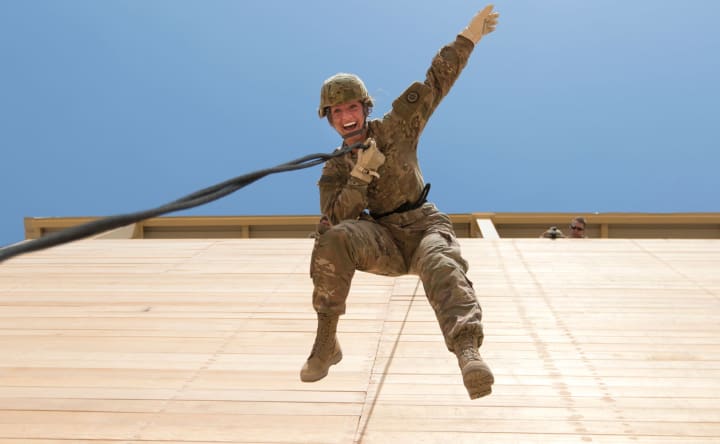 Once potential recruits have showcased that they are more than able to master mental sturdiness and self-discipline, they are sent to a more advanced training course where they'll start specializing in what they will eventually be tasked to work on as soldiers for the United States Army.
Recruiters aspiring to become Army recruiters will need to be selected to the month long course. This course allows an individual at the rank of a Private to rise to the rank of Sergeant. Just like the Basic Combat Training, Warrior Leader Course is taught at officer academies, which means that all trainers must live on the base while attending the course.
The course teaches an amalgamation of field study, as well as classroom study, and also teaches about land navigation, map reading, leadership skills, war fighting, and drill and ceremony procedures. After the physical training, all soldiers undertake a leadership assessment, and are also required to pass a sequence of written examinations before they can complete the course requirements.
Meet all recruiter requirements.
To become an Army recruiter, one must be aged between 21 and 35 years of age, and hold a rank of Sergeant, Sergeant First Class, or Staff Sergeant. In addition, the recruiter must have successfully finished at least one tour of service, have served at least four years in an Army Career, and have three years remaining on a present term after completion of recruiter training.
Since the Army recruiter will also represent the Army, he or she must also meet certain physical requirements. These requirements include meeting Army body fitness standards like weight ratio, height, endurance capabilities, and body fat percentage. This also means that the recruiter in question cannot boast offensive marks such as gang-related tattoos, or be pregnant during the time they undertake the recruiter training course.
You must understand all the job duties of Army recruiters.
As an army recruiter, you'll be serving as a diplomat to the public. You will serve 300,000 individuals, or a field of 73 square miles. You'll also function as the link between civilians and the army in the area, reaching out to religious leaders, civil functionaries, school administrators, and other community members serving in leadership capacities.
Complete the application.
The application process involves an interview worksheet, as well as two interview and assessment forms from company commanders and the soon-to-be-recruiter's battalion. Aspirants then need to submit their photo IDs, forms documenting their personal finances, and their lists of preferred duty locations, along with their Warrior Leader Course certification.
The officials will also require an explanation of any offensive tattoos you may have on your body, as well as proof of mental health evaluation. After completing the application procedure in its entireness, you're required to mail it to Fort Knox, South Carolina; after which, the waiting duration for a response may take more than five months.
Attend recruiter training.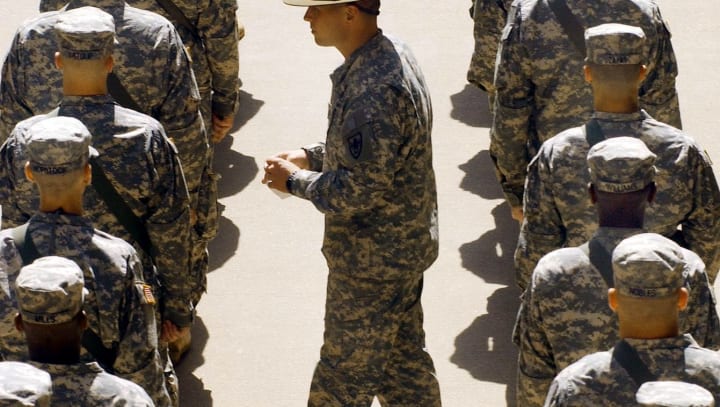 Once you have passed the application procedure and background screening, you will be eligible to partake in the Army Recruiting Course (ARC) at the Recruiting and Retention School in Fort Jackson, South Carolina.
You will learn recruiting duties during a six week long program, which educates new recruiters in topics such as time management, Army programs, interpersonal communication, technology systems, interviewing and qualifying candidates, enlistment requirements, and all the things a military recruiter won't tell a potential cadet (just kidding).
Training eventually ends after you finish an online course—Advanced Training Program—as you wait for potential work assignments. This extra online course is designed to ensure you retained everything you learned to the point of pursing a career as an Army recruiter, and keep everything fresh in your mind while you are awaiting an assignment,
Start recruiting.
Hopefully, you have completed all the strenuous steps and found the perfect assignment. Maybe the assignment location is close to your hometown or perhaps it's the furthest thing from it, but either way, you are an Army recruiter now, and that calls for celebration.
Now that you have become an Army recruiter, it's your role to identify the traits recruiters look for in potential soldiers and tell those people what it means to truly be a member of the United States Army. It is a position that is not something easily done, nor is it for faint of the heart, but it will lead to bolstering the strongest fighting force in the world!