FIRST WOMAN YEOMAN IN U.S. NAVY
First Woman to enlist in the Navy Not as a Nurse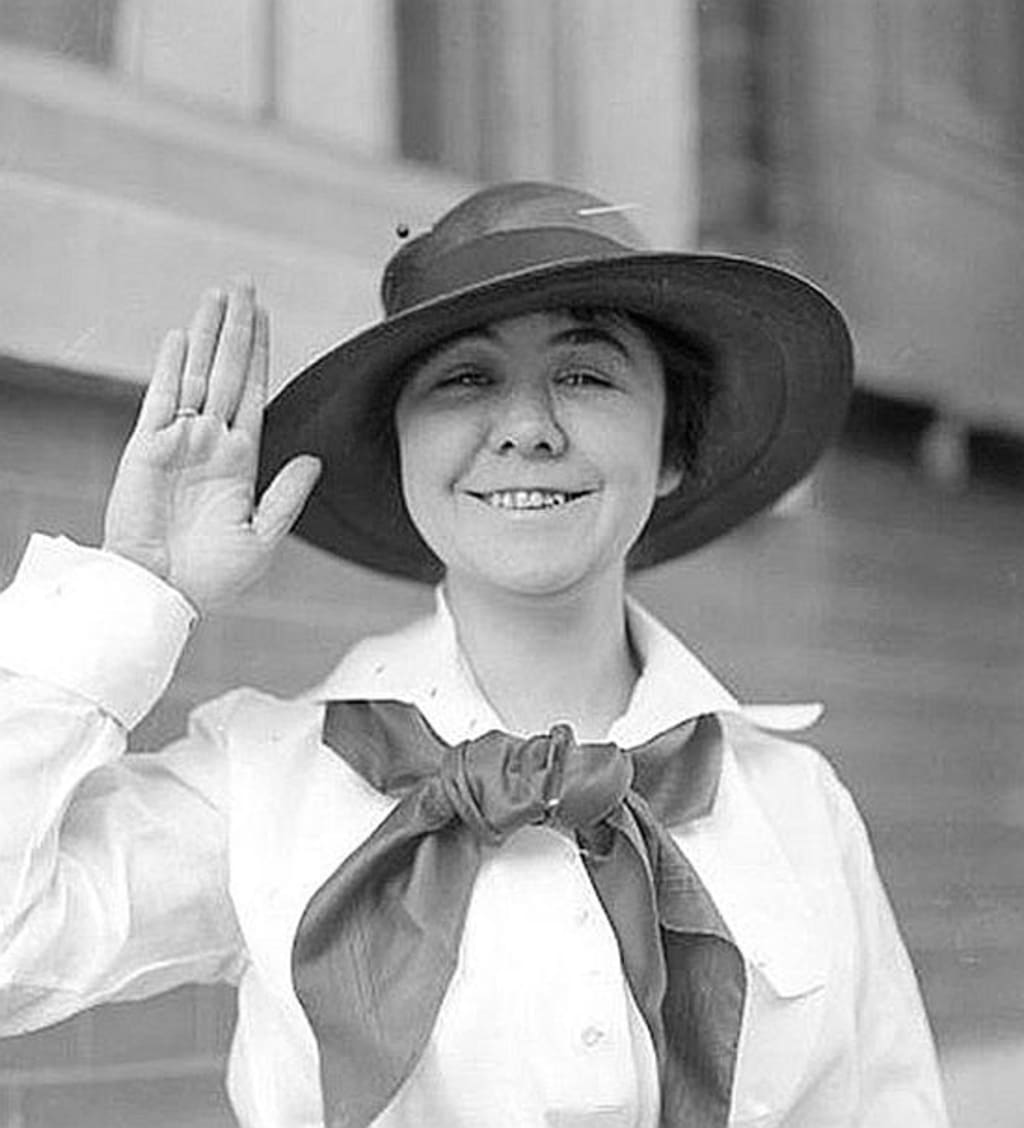 By Unknown author - U.S Navy Memorial, Public Domain
First Woman in the Armed Forces other than a Nursing Assignment
First Woman Yeoman in U.S. Navy, Loretta P. Walsh
Born April 22, 1896
Died August 6, 1925 at just 29 years old from tuberculosis. She caught, but survived the Spanish Flu in 1918 and was then diagnosed with tuberculosis at the age of 26 and died in 1925 at age 29.
Tuberculosis was on a steady decline throughout the 1800s. However, it spiked for several years after the 1918 influenza pandemic likely due to the impairment on the lungs, making those who were sickened with the Spanish Flu virus to be more vulnerable to diseases like TB.
Under President Woodrow Wilson The Naval Reserve Act of 1916, nicknamed the "Big Navy Act" was an effort by the government to substantially expand the U.S. Navy.
The act did not specifically state only men could enlist as in previous acts; "shall be composed of male citizens".
Instead, the Naval Reserve Act of 1916 stated,
"all persons who may be capable of performing special useful service for coastal defense"
….creating a question for some commanders if women, were in fact, allowed to enlist. Due to the 'vague' nature of the language, a letter was sent out on March 19. 1917 to all commanders informing them they could, in fact, recruit women into the Naval Coast Defense Reserve to be "utilized as radio operators, stenographers, messengers, chauffeurs, and in any other capacities in the industrial line."
Ultimately women were not only recruited for those specific jobs, but were also recruited as mechanics, truck drivers, cryptographers, telephone operators and munitions makers.
It should be noted that like now, women were paid the exact same amount as the men. That is because the army, unlike some businesses still today, had a pay scale based on the job. So many businesses still, in 2020, want to determine pay on what you made at your last job, regardless of the job they are hiring you for, and based on their personal prejudices of you. With so many still biased on gender and race this is a problem. Basing a pay scale on the job, like the armed forces, and then hiring people who are qualified for that job, regardless of gender or race, like the Armed Forces apparently has from the beginning, is how you avoid pay gaps. (but I digress…)
It is approximated that about 13,000 women enlisted, after the enlistment of Loretta Walsh made news, which included the first black women to serve in the United States Navy.
While I have not found out the name of the first black woman to enroll I did find the first 14 black women that enrolled and they are:
Armelda H. Greene of Mississippi
Pocahontas A. Jackson of Mississippi
Catherine E. Finch of Mississippi
Fannie A. Foote of Texas
Ruth A. Wellborn of Washington, D. C.
Olga F. Jones, Washington, D. C.
Sarah Davis of Maryland
Sarah E. Howard of Mississippi
Marie E. Mitchell, Washington, D. C
Anna G. Smallwood, Washington, D. C.
Maud C. Williams of Texas
Carroll E. Washington of Mississippi
Josephine B. Washington of Mississippi
Inez B. Mcintosh of Mississippi
The last surviving woman from this initial enlistment was Charlotte Winters who passed away on March 27, 2007 in Maryland.
As for our first woman to enlist, Loretta Perfectus Walsh!
After her enlistment on March 17, 1917, at age 20, Loretta Walsh became the first woman U.S. Navy Petty Officer.
Loretta was born in Philadelphia in 1896.
World War I had begun three years before her enlistment in 1914. Walsh, like many Americans, had been paying close attention to the events of the war. As the war began its fourth year she felt compelled to enlist when the opportunity presented itself.
Her courage to enlist was swiftly followed by approximately 13,000 women, black and white, to enlist.
I found this newspaper article from The Day Book, Chicago, Illinois, March 23, 1917 that reads in part:
NEW YORK: "With word received from Philadelphia that Miss Loretta Walsh had enlisted as a yeoman there, women flocked to enlistment places here. Miss Walsh was the first woman taken in by the U.S. Navy under Secretary Daniels order to recruiting officers to enlist women as yeoman."
Her enlistment made her a sort of celebrity for some time. Every major newspaper across the country printed a story or at least a picture with a caption celebrating her enlistment as the first woman to do so.
There was a significant difference in actually enlisting under the Naval Reserve Act and the nurses who had served previously. Army and Navy nurses were civilian employees who did not enjoy the full benefits as an enlisted person and they lacked the benefit of equal pay, ranks, disability pension if injured in the line of duty and retirement pension. However, under the Naval Reserve Act, women like Loretta Walsh enjoyed the same benefits of the enlisted men.
I was able to find out that Loretta was working as a secretary to the commander of recruitment at a Philadelphia field office when she enlisted. She was sworn in as a Chief Yeoman and served on active duty at the Philadelphia Naval Shipyard. Though the war ended a year later in 1918, Walsh continued on inactive reserve status for the length of her four year enlistment, ending March 1921.
Loretta fell ill with the Spanish Flu of 1918. She survived, and returned to work but this illness left her vulnerable to tuberculosis, which she contracted later. This took her life in August of 1925. She was just 29 years old.
In honor of Loretta Walsh, the Navy Department Historical Center celebrates March 21, the day she was sworn in as the first woman yeoman, every year with a wreath laying ceremony at her grave.
Further Reading:
"Crossed Currents: Navy Women from WWI to Tailhook" was published in December 1994 documenting the story of Loretta Walsh.
Researched and written by U.S. Navy lieutenant, Jean Ebbert and Mary Beth Hall, followed by a second book:
"The First, the Few, the Forgotten: Navy and Marine Corps Women in World War I" which also includes details about Loretta Walsh.
#CommissionsEarned
Check out my other articles like this one here on vocal:
FIRST WOMAN AMBASSADOR https://vocal.media/theSwamp/first-woman-ambassador
FIRST BLACK WOMAN TO RECEIVE WHITE HOUSE CORRESPONDENT CREDENTIALS https://vocal.media/viva/first-black-woman-to-receive-white-house-correspondent-credentials
ANNIE OAKLEY https://vocal.media/viva/happy-birthday-annie-oakley
STATUES OF REAL WOMEN WHO LIVED https://vocal.media/viva/statues-of-real-women-who-lived
JUDY GARLAND https://vocal.media/viva/june-22-is-judy-garland-day
HATTIE MCDANIEL https://vocal.media/geeks/happy-birthday-hattie-mc-daniel
ANNE FRANK https://vocal.media/viva/we-celebrate-the-birthday-of-anne-frank
BOOKS WRITTEN BY THE FIRST LADIES https://vocal.media/viva/books-written-by-all-of-the-first-ladies
FIRST WOMAN ON THE FBI MOST WANTED LIST https://vocal.media/criminal/first-woman-on-the-fbi-mosted-wanted
Or, bookmark my main author's page for all of my published articles: https://vocal.media/authors/paula-c-henderson
I appreciate your support. I am in the middle of a series on "First Woman" celebrating the women who were first in spite of the obstacles so please bookmark my page and come back often for the newest article. You can follow me on facebook to be notified when I have published a new article. https://www.facebook.com/paula.henderson.LV/ All articles are published here on Vocal.