June 22 is Judy Garland Day
Mother, Singer, Actress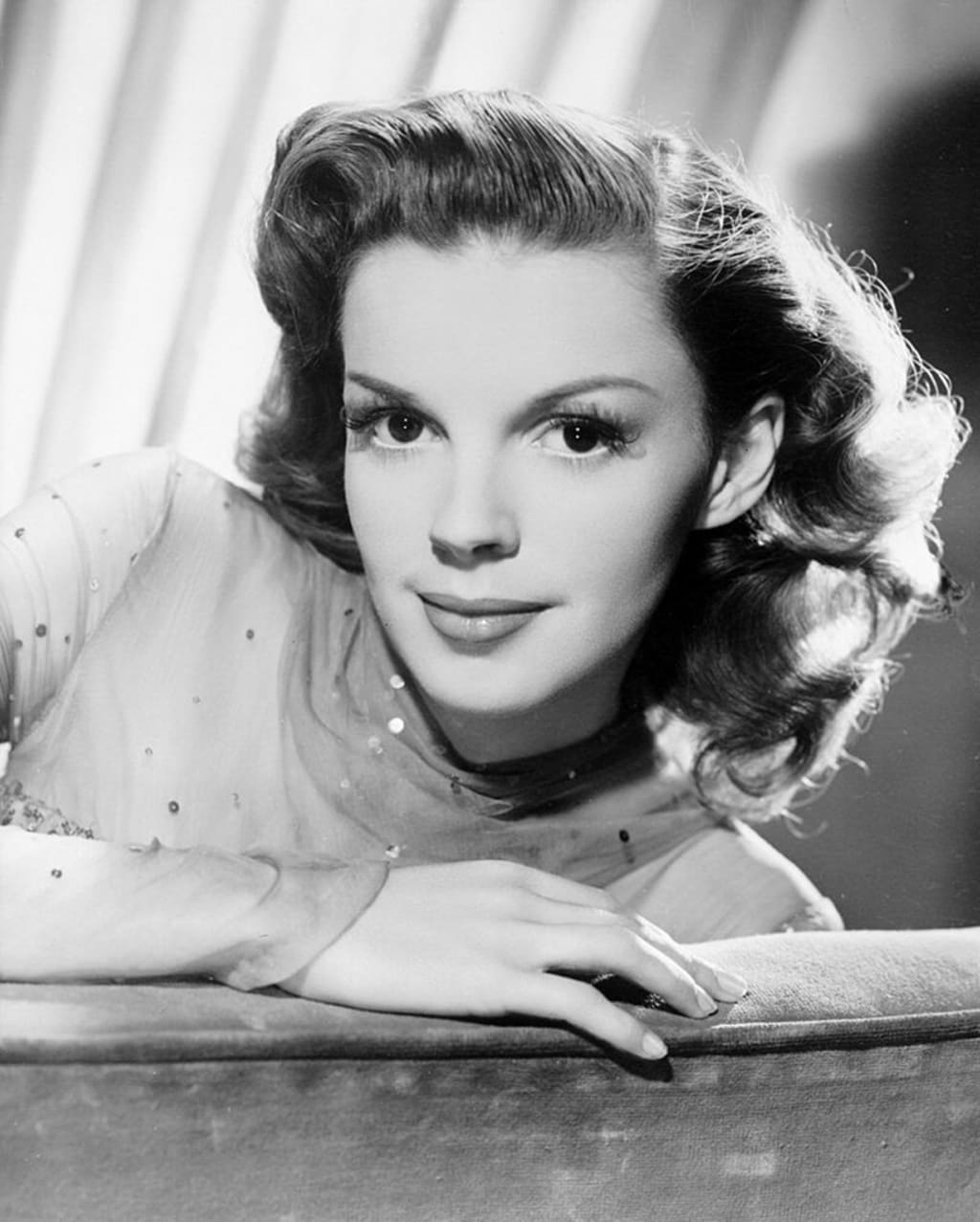 Public Domain, https://commons.wikimedia.org/w/index.php?curid=11004218
Judy was born in the month of June and also died on June 22.
Judy Garland will forever be remembered as Dorothy from the iconic film The Wizard of Oz. She was so much more than just that film! Born on June 10 in 1922 Frances Ethel Gumm lost her life to an accidental overdose while in London on June 22 in 1969. She had just turned 47. It seems hard to believe it has been more than 50 years since her passing.
This future star was born in Minnesota and started performing as a child in her parent's theater in Grand Rapids, Minnesota. The family moved to California when Frances was six years old where they opened another theater. Much of her early years was spent touring with her two older sisters as a singing group. It was during this period the changed their stage names to Garland.
In 1935 her older sister married and Judy was signed with MGM after an audition by herself. She was just 13 years old.
In November of 1935 Judy's father passed away having been hospitalized with meningitis. He was just 49 years old.
Judy Garland was cast in her most memorable role in 1938 as Dorothy Gale in the Wizard of Oz which was released in 1939. The film was based on a book by author L. Frank Baum. Interesting backstory on the naming of the main character Dorothy later in this article.
It is rumored that originally the character of Dorothy would wear a blonde wig. I personally cannot even imagine that!
Garlands first marriage at age 18 was to musician David Rose on July 27 1941. They divorced in 1944.
Her second marriage was to Vincente Minnelli on June 15, 1945. Their daughter, Liza Minelli was born March 12, 1946. They divorced in 1951.
Her third marriage was to Sidney Luft in 1952. They had two children: Lorna and Joey Luft. They divorced in 1965.
We are all somewhat familiar with Judy Garland's struggle with depression, medications and alcohol. In a 1964 interview Judy shared that during an extensive stay at the Peter Bent Brigham Hospital to be weaned off years of being over medicated she shared how she was changed by meeting the disabled children that were also at the hospital. She said it was a profound help to her recovery to engage with the disabled children. How delightful, loving and good they were. It allowed her to get her mind off of herself and focus on them.
It is reported that Garland was an advocate of the Civil Rights Movements donating her time, money and support to the movement and that she heavily supported John F. Kennedy and Robert F. Kennedy. In September of 1963 Judy, along with other celebrities joined together in a press conference to protest the bombing of the 16th street Baptist Church in Birmingham, Alabama that killed four young girls.
She married her fourth husband, Mark Herron in 1965. Divorcing in 1969.
Judy married her fifth husband, Mickey Deans, in London, in 1969.
Judy passed away in London on June 22, 1969 at the age of 47. She is buried at the Hollywood Forever Cemetery in Los Angeles, California.
Judy Garland had a fabulous career. She won a Golden Globe, A Tony Award and two Grammy Awards.
Her childhood home in Grand Rapids, Minnesota is now a museum.
The Judy Garland Museum , 2727 S. Pokegama Ave , Grand Rapids, MN
Website: www.judygarlandmuseum.com
The town of Grand Rapids holds an annual Judy Garland Festival every June and have proclaimed June 22nd as Judy Garland Day.
You can find two statues of Judy Garland as her character Dorothy from the Wizard of Oz in the United States. One is located in the Lincoln Park neighborhood of Chicago, Illinois in what is known as
Oz Park , 2021 N. Burling St , Chicago, Illinois.
The second statue is in Wamego, Kansas at the
Oz Museum, 511 Lincoln, Wamego, KS
Website: www.ozmuseum.com
The United States Post Office commemorated Garland with a 25cent postage stamp released in 1989 and then again in 2006.
Judy Garland has two stars on the Hollywood Walk of Fame:
1. 1715 Vine Street, Hollywood, California
2. 6764 Hollywood Blvd, Hollywood, California
Garland is profiled in the book Statues of Real Women, profile 244 which profiles women who have statues and museums that honor them in the United States:
Statues of Real Women:
267 Statues of Real women Who Lived
Plus 62 Museums that honor Women
https://amzn.to/3155sJ8
ISBN: 9798650314684
In this book, "Statues of Real Women" you will also find profile 128 of Dorothy Louis Gage. Dorothy was born in June of 1898 in Illinois and passed away at just five months old in November of that same year. She was the niece of author L. Frank Baum who wrote "The Wizard of Oz" and of whom the character Dorothy was named after. There is a statue of Dorothy and a marker telling the story at her grave in Evergreen Memorial Cemetery, Bloomington, Illinois.
Judy Garland Films:
1. Pigskin Parade 1936
2. Broadway Melody 1937
3. Thoroughbreds Don't Cry 1937
4. Everybody Sing 1938
5. Love Finds Andy Hardy 1938
6. Listen, Darling 1938
7. The Wizard of Oz 1939
8. Babes in Arms 1939
9. Andy Hardy Meets Debutante 1940
10. Strike Up the Band 1940
11. Little Nellie Kelly 1940
12. Ziegfeld Girl 1941
13. Life Begins For Andy Hardy 1941
14. Babes on Broadway 1941
15. For Me and My Gal 1942
16. Thousands Cheer 1943
17. Girl Crazy 1943
18. Meet Me in St. Louis 1944
19. The Clock 1945
20. Ziegfeld Follies 1945
21. The Harvey Girls 1946
22. Till the Clouds Roll By 1946
23. The Pirate 1948
24. Easter Parade 1948
25. Words and Music 1948
26. In the Good Old Summertime 1949
27. Summer Stock 1950
28. A Star Is Born 1954
29. Pepe 1960
30. Judgment at Nuremberg 1961
31. Gay Purr-ee 1962
32. A Child Is Waiting 1963
33. I Could Go On Singing 1963
Concerts:
1. 1943, Philadelphia – Her first solo concert.
2. 1951, London – two shows nightly at the London Palladium
3. 1951, Dublin, Ireland – 14 sold out performances
4. 1951, New York City – Palace Theater for 19 weeks breaking all box office records at the time.
5. 1956, Las Vegas, Nevada – highest paid entertainer to date at $55,000 per week at the New Frontier Hotel
6. 1959, New York City – a seven night performance at the Metropolitan Opera House.
7. 1960, Paris, France – at the Palais de Chaillot
8. 1960, Paris, France – at the Olympia
9. 1960, Amsterdam – broadcast live on European radio
10. 1961, New York City – Carnegie Hall
11. 1961, Los Angeles, California – Hollywood Bowl to a sold out audience
12. 1964, Australia – her first unsuccessful concert with much controversy.
13. 1964, London – London Palladium with her daughter Liza Minnelli. The performance was recorded and made into a two record album.
14. 1967, New York City – a four week, sold out performance at the Palace Theater.
15. 1967, Boston – a free outdoor concert at the Boston Common to more than 100,000 people
16. 1967, New York City – Madison Square Garden
17. 1968, Philadelphia, PA – her last concert in the United States. Held at JFK Stadium.
18. 1969, Copenhagen, Denmark – Her final concert at the Falkoner Centre.
Television:
1. 1955: Ford Star Jubilee: the first full-scale color telecast on CBS
2. 1956: General Electric Theater
3. 1962: The Judy Garland Show
4. 1963: Judy Garland and Her Guests
5. 1963-1964 season: The Judy Garland Show
6. 1964: Judy and Liza at the London Palladium
7. 1968: The Merv Griffin Show
8. 1969: Sunday Night at the London Palladium
Awards:
Academy Juvenile Award 1940 for The Wizard of Oz and Babes in Arms
Best Actress 1955 for A Star is Born
Lifetime Achievement Award 1962
Album of the year 1962 for Judy at Carnegie Hall
Female Solo Vocal Performance 1962 for Judy at Carnegie Hall
Grammy Lifetime Achievement Award 1999
Inducted into the Grammy Hall of Fame
Named among Greatest Female Stars of All Time in 1999 B=by the American Film Institute.
Over the Rainbow sung by Judy Garland was included in the 2001 Songs of the Century by the Recording Industry Association of America and the National Endowment for the Arts.
Judy at Carnegie Hall was selected in 2003 by the National Recording Preservation Board for preservation in the National Recording Registry.
Inducted into the Minnesota Music Hall of Fame in 1991
The Best of Judy Garland 20th Century Masters is available on Amazon: https://amzn.to/3hPEOd3
By Paula C. Henderson