Adventurous routine of Rashtriya Military Schools cadets teach us a great lesson.
Rashtriya Military Schools are the places where the lessons of courage and valour never ends.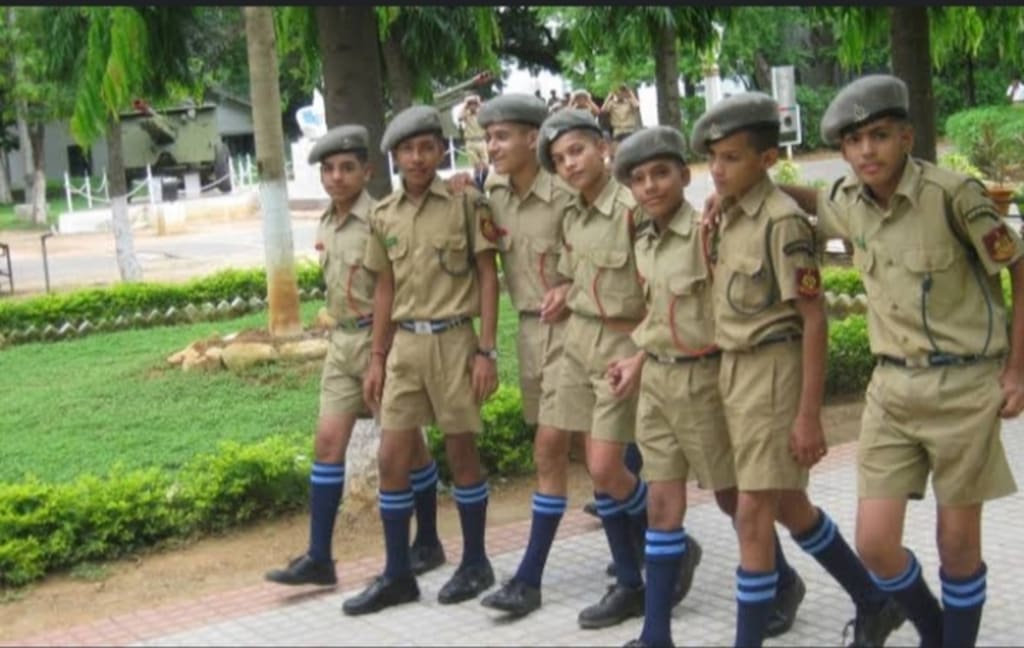 Cadets of Rashtriya Military School, Bangalore, India.
Friends, today I am going to share the adventurous routine of the cadets of Rashtriya Military schools in India. First of all it is not easy to take admission in these schools. A student had to burn midnight oil to pass the CET (common entrance test) and then the interview conducted by the school and medical also and after all these things the school would publish final merit list and if your name is in the merit list the you are the lucky chap. These schools' primary aim is to inculcate officer like qualities in the young students so that they can be responsible officer in future. Rashtriya Military schools and the sainik schools are the feeder schools to NDA (national Defence academy). These Schools have many excellent officers to Indian armed forces and many other famous personalities. So let's talk their daily routine...
All the cadets are waked up by the hostel superintendent at 5:30 AM. Then at 6:00 AM all cadets go to the main PT field. After the PT roll call seniors of the respective houses would come forward and with the permission of principal they would take their house for physical training which includes 5 km running, upper bend,push ups, chin ups,rope climbing, sit ups, maharaja and many more. During the PT no one should be found bunking the PT and if someone gets caught by any senior he and his whole class would be having bad day on the particular day. In Rashtriya Military schools or in any Military institutions in India punishments are known as ragada. So every defaulters would have to face ragada including his class or house.
By the end of PT it was 7:00 AM, all those juniors go to the senior dorm who were invited during the PT. And others also go to the senior dorm but to filling water bottles from RO (Reverse osmosis). This work has fixed by seniors that everyday juniors would fill their water bottles from RO after PT roll call, after lunch and after night roll call. And in between juniors can be called anytime for various other works like bringing tea from the mess, eatables from the wet canteen, bringing books from the prep room e.t.c.
So all the juniors had to reach in front of the dormitory by 7:40. Actually the timing was decided based on their class like cadets of 7th class must report before 7:35 AM, eighth class by 7:40, ninth by 7:40 and likewise for other classes. So if the cadets of seventh report after eighth class then eighth class would punish seventh like that if the candidates of class 8 come after the dates of class 9th then 9th class would punish eighth class. And if a many cadets of different classes come late then mess captain would punish the whole school.
After the breakfast all the cadets move to the auditorium for the morning assembly. There cadets had to maintain high order of discipline. If anyone do not follow properly then whole school used to be punished by school captain.Then all cadets move for the normal classes. So at 11:40 AM tea break was there. All juniors request teacher to leave early for the tea beak whereas seniors bunk the the forth period. When juniors come they serve seniors with tea. Juniors wouldn't take tea until and unless all the seniors drank tea. If any junior found drinking tea and any one had not got tea then the whole class of that junior would be punished at the tea break, and there would be no snacks and tea for the whole class.
So after the tea break all the cadets go to the classes and there they study till 2 o'clock then go for the lunch.
Then after lunch the cadets get some time as a free time but seniors never left juniors free so most of the time this time was used as ragada time. Many fallins were scheduled after lunch. Many juniors can be seen going to dhobi (washerman) or to the tuck shop to do the various work by seniors. Every Saturday after lunch time was used as shramdaan ( cleaning our surroundings).
After that there is games followed by games roll call. Games time was the favourite time of the cadets, they play hard and enjoy this time.After games period juniors had to deposit the ball which seniors had issued from the PT store to play.
After that it was again the tea time and this seniors can be seen standing in front of the waiting for juniors to fill their cups. While many juniors have the antidote for this, they come early or they come by running in groups.
After the games time all the cadets take bath and go to the prep room for self study. During the prep hours every cadet studies very hard and all the cadets remain silent in the prep room.At 8:00 o'clock cadets go for the dinner and after dinner seniors were allowed to take a walk while juniors had to go their respective classes by running.

So the cadets would study till 9:45 PM then they have to move for the night roll call.After the roll call it was again the ragada time. All cadets who had been caught in doing any indiscipline activity, it was harsh time for them. They just pray to God.... Everyday atleast ten defaulters caught by different seniors and they get punished by them.
That's the daily routine of the cadets of military school...
Rashtriya Military schools' motto
'Sheelam Param Bhushasham' a Sanskrit sloka which means character is the highest virtue and this can be seen in the young cadets when you visit the school. Discipline is maintained in every aspect of cadets life otherwise seniors are there to punish and teach you. 'One for all and all for one' if a single cadet makes mistake then whole class or whole house is punished.
What their routine teaches us?
Till now, after reading the post you had seen how busy routine they are having. So if you are also making a similar routine like this and started following that routine regularly then you can accomplish all your goals. It makes you disciplined. And also teaches that character is the highest virtue and everyone must have it, those who don't have kindly start inculcating.