Write Here, Write Now: Fake Meat by Madoka Mori
In Season 2 of Write Here, Write Now: A Vocal Podcast, host Erica Wagner interviews winners of the Vocal+ Fiction Awards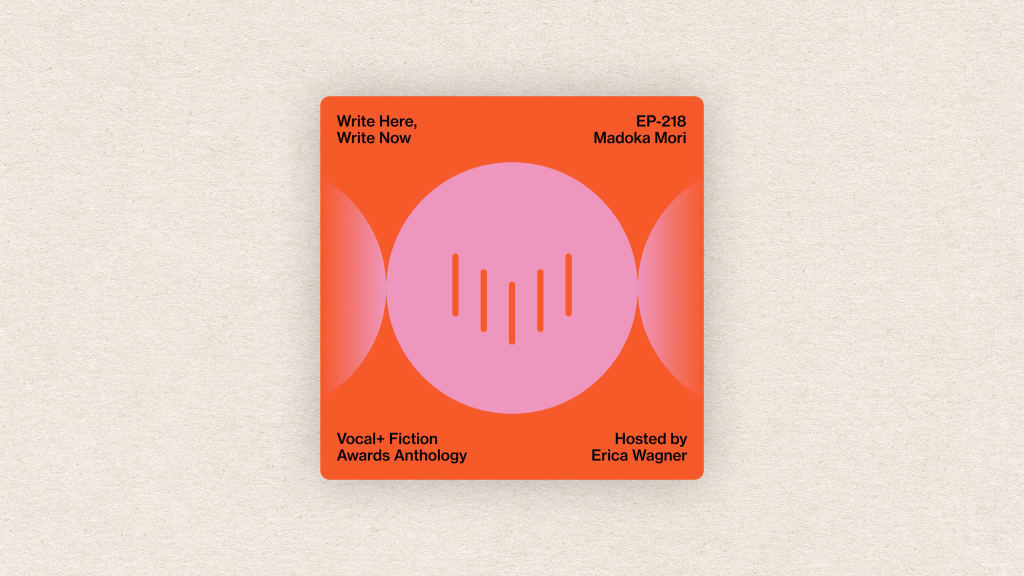 In a new pandemic world, brain fog seems to be affecting us all. That phrase takes on a whole new meaning in Madoka Mori's unnerving "Fake Meat." Perception is a slippery beast for this protagonist, causing his world to swiftly unravel in a way that is humorous and eerie all at once.
What was the impetus for your winning story? Walk us through your initial act of creation.
The core idea for the story came from me changing careers over the pandemic. I've just started in tech, and every time I get stuck on a problem I ask the senior devs for help and without fail get told to "read the docs" - like a chant, or mantra: read the docs, read the docs. So I'll toddle off and read the docs, and they're always full of sentences where I know every word, but don't have the faintest clue what the sentence means. Tech re-uses vocab in novel and frustrating ways -it's a blend of jargon and marketing-speak and people trying to sound clever and professional rather than, you know, explaining the complex thing clearly. So I would sit there reading and re-reading these sentences, and trying to figure out how to make these words (which I ostensibly knew) deliver the information I knew they contained, and get a creeping feeling of dread and despair - what if meaning itself was slipping away from me, my brain trying and failing to catch concepts that slide through its grasp all the quicker for me trying to hold on to them? What if - shudder - all life was like technical documentation?
What does it take for a story to grab you? How do you grab your audience?
Something short stories need over novels is a strong, engaging structure. Think about how impatient you feel over the slow start of a movie compared to, say, YouTube. You'll give a movie a bit of time to make its case, but if a youtube video is still in the hi guys like and subscribe phase after one whole minute then you're going to be hammering the back button like a cop on a door. A solid structure to a short story keeps the reader engaged, taking them by the hand to usher them through the few scant pages you have to make your point. This structure can be very clean and simple, or you can get a bit more artsy with it. The rules of Fight Club, for instance, were originally created as a way to break up the short story that novel grew from. Or look at how EJ Ferguson used time notation in her fantastic story Until the Rain Stops. The structure doesn't always have to be so front-and-centre, but I feel a short story needs a stronger skeleton than long-form fiction if you want it to survive in the wild.
Who are your favorite writers and why? Do you have any favorite Vocal Creators?
I love lots and lots of authors, but of those the ones which have had an influence on my writing style would be JG Ballard (my favourite short story of all time is The Overloaded Man, and I think you can see that story's fingerprints all over Fake Meat), Abe Kobo, and Brian Evenson. My favourite Vocal writers include Made in DNA, the aforementioned EJ Ferguson, as well as everyone on the Vocal Social Society and Great Incantations Facebook groups.
How has sharing your writing in life and on Vocal affected you as a Creator?
It's helped a lot! I've written as a hobby for a long time, but always struggle to get anything finished. Vocal challenges got me on-track and focused with a combination of writing prompt, deadline, and motivation (yeah, I mean prizes). Putting my writing up where I know it will be seen is a good motivator to put in an extra bit of spit & polish rather than just getting something to the 'good enough' level, too.
What advice do you have for other Creators?
Far be it from me to dispense wisdom from my lofty perch of getting exactly one (1) thing published! Instead, I'd like to share the best writing advice that I've read so far: this essay by Chuck Palahniuk. I pass this link on all the time; everyone who's dabbled in fiction knows to 'show not tell', but this clearly lays out both what that means and gives practical tips on how to fix it in your own writing.
About the Creator
Sex, death, relationships, nature, families... If you like to stop, think and consider things a little differently, join host Erica Wagner as she introduces a new Vocal creator's story each week.
Reader insights
Outstanding
Excellent work. Looking forward to reading more!
Top insight
Expert insights and opinions

Arguments were carefully researched and presented
Add your insights