Write Here, Write Now: Apartment Complex by Vivian R. McInerny
In Season 2 of Write Here, Write Now: A Vocal Podcast, host Erica Wagner interviews winners of the Vocal+ Fiction Awards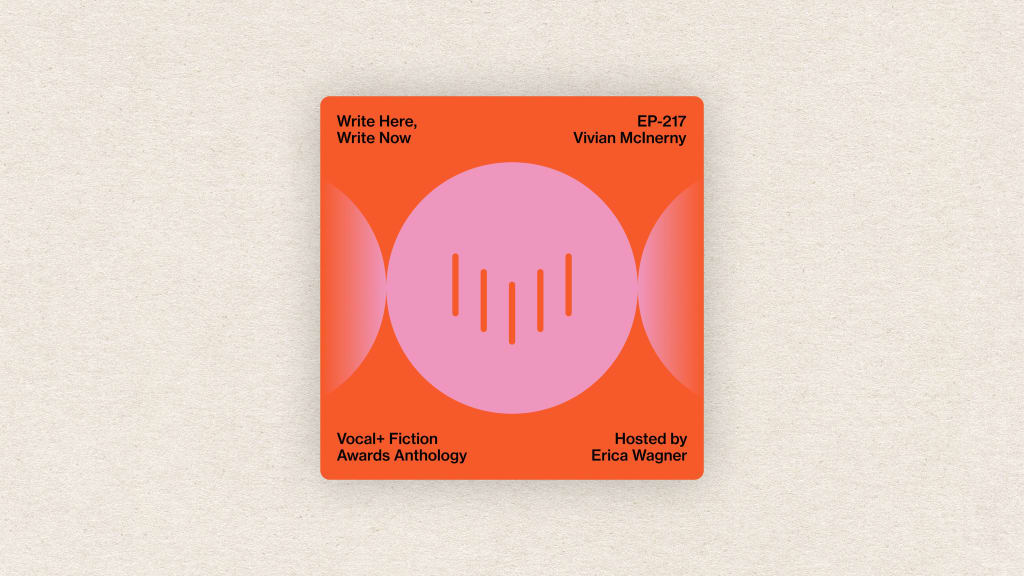 There's nothing quite like a mother's love - but there's nothing quite like her disapproval, either. Vivian R. McInerny's "Apartment Complex" is a story that's as comedic as it is relatable: life sure takes a different turn when Mom moves in.
What was the impetus for your winning story? Walk us through your initial act of creation.
I read or watched several social media posts that were quite sweet and touching about adults dealing with elderly parents or grandparents. Call me evil but I was intrigued by the challenge of writing the opposite.  The challenge for me was to write a believable relationship between a single woman busy with a demanding career and her glass-half-empty  mother. The MC needs to navigate a challenging relationship and remain a decent human being.
What does it take for a story to grab you? How do you grab your audience?
In reading, I usually favor character-driven stories. Every action the characters take relates to what's going on internally. I like feeling as though I am discovering pieces to the puzzle of who this character is in the moment of the story.
Who are your favorite writers and why? Do you have any favorite Vocal Creators?
So many! I still remember how I felt reading John Irving, Gabriel Garcia Marquez, A.S. Byatt, John Fowles, Toni Morrison and Leo Tolstoy  for the first time. When something stays with me through the years, an image, an idea, the emotion, or the lushness of the prose, I feel like the book has helped shape how I see the world --- I love that!
How has sharing your writing in life and on Vocal affected you as a Creator?
For many years, I was a staff writer at a daily newspaper, specializing in feature stories rather than breaking news. I  also freelanced articles for magazines (still do on occasion) and wrote personal essays. I liked the feeling of putting something out into the world and having readers interact with it. There was a sense of being part of the community. I loved that. Now that I'm focusing more on fiction, personal essays and memoir, I'm inside my head a lot. Probably too much. Instead of going out into the world and interviewing people, I'm having long conversations with my imagination and memory --  for better and worse! Vocal creates that sense of community I crave. The Vocal groups on Facebook are great for feedback so that you know you aren't shouting into the void. But more than an audience, it's a sense of being part of something bigger that I like.
What advice do you have for other Creators?
The only advice I have for writers is to keep writing. If it is your way of processing the world, the act of writing will bring you satisfaction whether or not you make big money.
Stay tuned for new episodes of Write Here, Write Now Season 2 launching weekly.
About the Creator
Sex, death, relationships, nature, families... If you like to stop, think and consider things a little differently, join host Erica Wagner as she introduces a new Vocal creator's story each week.
Reader insights
Outstanding
Excellent work. Looking forward to reading more!
Add your insights