Vocal Verified—Holiday Recipes
A curated selection of fall and winter recipes to help get you in the spirit—and make it through the post-holiday slump.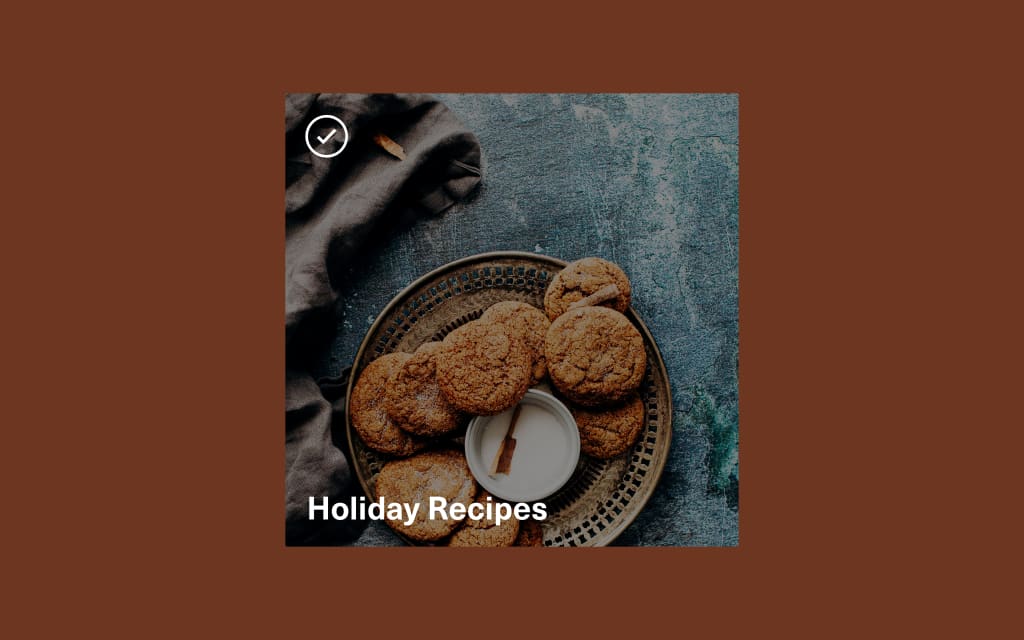 For those of us in the United States, Thanksgiving is fast approaching; and for the rest of the world, the holiday season isn't far behind. Whether you're busy prepping a turkey feast or just getting yourself into a festive mood for the coming months, it's an exciting time of year to be a food lover.
There's nothing I look forward to quite as much as the flavors associated with fall and winter—warming spices, woodsy herbs, and overindulgent desserts—and thankfully, it seems that a lot of Vocal's creators share my passion for chilly weather treats. As the head of content curation here at Vocal, I'm lucky enough to see all of our creators' seasonal recipes submitted year round, and to get myself in the holiday spirit (read: cope with our first snowstorm of the year) I've rounded up some of the best of their cold weather food guides and recipes to get you excited for the season, too.
Give them a read, leave your favorite stories a tip, or get inspired and share a fall family favorite or holiday tradition of your own.
If you're not already a creator, you can sign up here to get started.
For more recipes, tips, and kitchen hacks, explore Feast, our community for all things food.
For more seasonal drink recipes, explore Proof, our community for liquors, cocktails, and all holiday spirits.
Ayah Elbyali has found a way to make even your morning smoothie a little more festive.
Glen Warren shares his simple step-by-step to turn your autumn surplus into apple butter using a slow cooker.
Olivia Knibbs shares her recipes and tips for preserving autumn fruits (and they make the best DIY holiday gifts).
Lindsay Parks shares a complete guide to the best fruits to eat in the dead of winter, when it feels like nothing's in season.
Paulina Slusarczyk shares three hot drinks perfect for filling a mug and curling up by the fire.
Peter Moody's bone broth is a perfect filling breakfast on its own, but is great for stock in soups and recipes too.
This lemon chicken soup from Ashlee Greenlee is a great alternative to classic chicken noodle when you're under the weather.
Dana R focuses on making food that the whole family—even the pickiest of the bunch—will love.
Jessie R shares her love of the Japanese comfort food with six unique iterations of classic ramen.
Denitsa Pencheva supplements a classic recipe with the history of pho, along with a few regional variations.
Frequent contributor Mackenzie Z. Kennedy is an expert in slow-cooked recipes, and this weeknight chicken chili is no exception.
Elizabeth Hall knows how important budgeting is when planning a meal. This comforting soup costs well under $20 to make ten servings—even less if you take her suggestion and use up holiday leftovers.
John Hatakana, half of the creator duo Mountain Sage, shares a vegan curried veggie and lentil recipe that's simple to make and tastes even cozier when eaten out of a mug.
Brittney Hudkins created a roasted fall veggie hash that's a great side dish, but filling enough to be a meal on its own—and she included some tips on knife work, too.
Jasmine Smoot has compiled every recipe you could possibly need to tackle a Thanksgiving feast with confidence, from appetizers to turkey to cocktails.
Bella Rose's herby roasted potatoes make an easy side dish for a winter get together.
Pamela K Conoly wants to change your mind about this Christmas classic with an undeserved bad rap...
...But she's submitted too many cozy, family-inspired recipes to only include one. Pamela also shares a recipe for crock pot mulled cider and peanut butter cookies—one of my personal fall favorites.
Ella Zombies developed a festive one-bowl dough for those of you who hate doing dishes just as much as she does.
Sehrish shares a delicate almond tea cake, plus a few helpful general baking tips we can all use.
Meghan T has a dessert recipe here for your next holiday gathering, all simple enough for even the inexperienced baker to perfect.
Bethany Gordon's beautiful carrot cake is drizzled with maple and garnished with florals, making it an impressive centerpiece for a holiday party.
Lynn Wheeler is a self-taught chef, and his culinary experience shows in this recipe for possibly the most decadent dessert ever dreamed up.
There's a cider cocktail on this versatile list from Paul Barker for any occasion from September through December.
With a background as a writer and a bartender, Lorna Buckingham takes a unique approach to winter drinks by channelling all the tropical vibes.
Joseph D. N. Kendrick takes us from the cozy-and-expected (a PSL Irish coffee) to the festive-but-confusing (pumpkin spice margarita???).
About the Creator
Collaborative, conscious, and committed to content. We're rounding up the best that the Vocal network has to offer.
Reader insights
Be the first to share your insights about this piece.
Add your insights