Invest $500 and Get Five Years of Vocal+ for Free
Unlock five years of Vocal+ on us with an investment of $500 or more.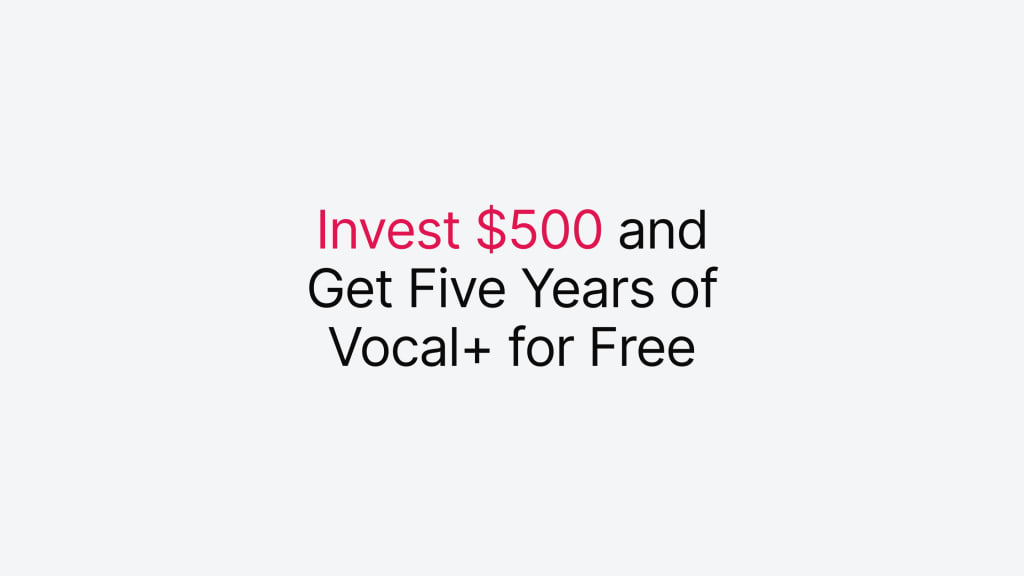 We've been blown away by the incredible show of support in Vocal's Reg CF Community Round. Thank you to each and every one of you who now proudly owns a piece of Vocal, and to those who took advantage of those early investor perks.
Over the last couple of weeks, we've been reviewing your email responses, diving into your comments, and really taking the time to understand how Vocal's Reg CF was received by our community, because we wanted to know what perks would be most beneficial for our core creator base.
Based on your feedback, I'm excited to announce that we've updated our Investor Perks. For anyone who invests $500 or more (Tier 2), you'll now enjoy 5 years of Vocal+ membership on the house. You'll also receive your Vocal shares, an Investor Badge recognition on your profile, an invite to the Vocal Group Advisory Committee Slack Channel, and a limited-edition Vocal Investor T-Shirt.
If you've already invested $500 or more, rest assured, these benefits will apply to you retroactively. And for those already enjoying a Vocal+ membership, we'll seamlessly extend your subscription by an additional five years.
Upon finalization of the investment round, all perks, including the five free years of Vocal+ membership, will be applied. Please note that the deadline for new investments is set for 12/15/2023. Following this date, we will allocate a few weeks for the completion of closing paperwork and finalizing the process.
Vocal+ is more than a subscription—it's the lifeblood of our mission. Vocal+ enables us to celebrate and elevate the creators who are the essence of our vibrant community, providing rewards through Reads, Challenges, and Bonuses. Every new Vocal+ member helps us increase the rewards and recognition we can offer to the remarkable creators who make Vocal a place of inspiration and creativity.
When considering an investment in Vocal, remember to only commit what you're comfortable risking.
To dive into the details and explore more about Vocal's Reg CF, please visit: https://invest.vocal.media
About the Creator
Founder of Vocal. COO/President of Creatd ($VOCL), the parent company of the Vocal platform.