Creator Spotlight: Farmer Nick
"Nature isn't perfect, and it certainly can be slow, but you can find tremendous beauty in the process; trusting that your efforts will lead to new growth opportunities." - Farmer Nick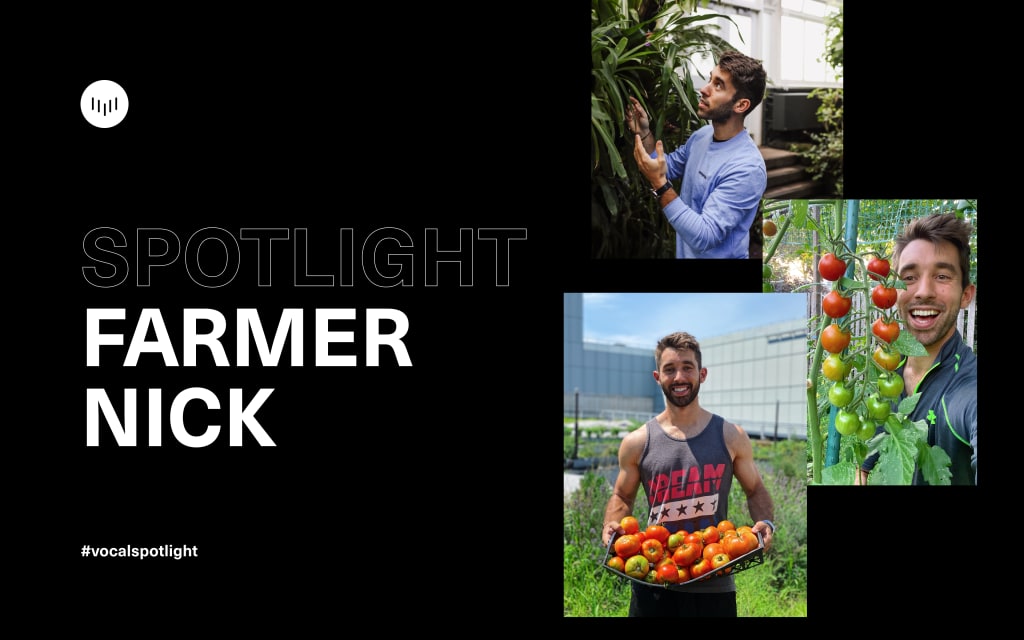 Nick Cutsumpas, or "Farmer Nick," is an L.A.-based Plant Coach, Urban Farmer, and Environmentalist dedicated to creating inviting and informative content for plant parents and soon-to-be plant parents alike.
As someone who wasn't always a member of the green community, Nick understands how gated and self-righteous the vegan/environmentalist lifestyle can seem. With this in mind, Nick continues to stifle green-madonnas and lower the barriers to a greener planet in an increasingly urbanized world.
If you're not already familiar with Farmer Nick's work, you might remember his second-place-winning piece, "Gifts for the Earth," from the Vocal+ exclusive "Mindful Gifting" challenge. We're beyond thrilled to feature Nick in this #VocalSpotlight! Enjoy!
On His Background and Mission:
I am a "plantrepreneur" who is passionate about all things green. As a full-time plant coach and apartment farmer, my mission is to give people the knowledge and confidence they need to create their own green spaces in the pursuit of regenerative environmental action.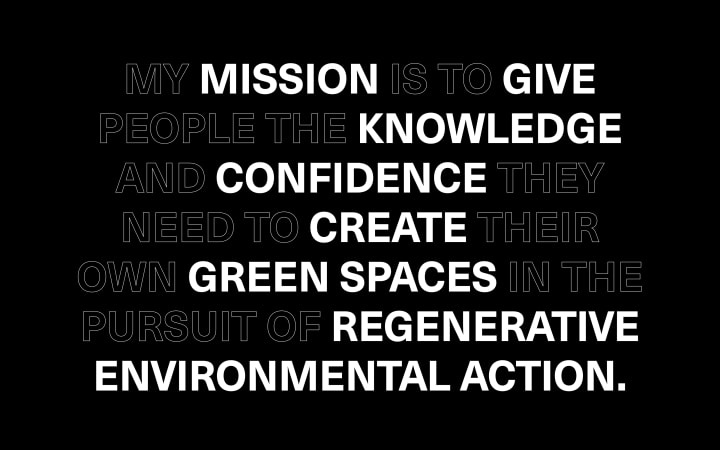 Plant parenthood and growing your own food is a stepping stone to living a more eco-conscious lifestyle, and the more you are connected to nature, the more likely you are to act with its best interest in mind.
I've always loved writing but didn't really have an outlet for it before starting Farmer Nick.
I was working a corporate job and the most writing I ever did was for client proposals. Once I launched my business I created the blog to write about plants and sustainability.
On What Inspires Him to Create:
I am inspired to create relatable and attainable content that is accessible to people wherever they are on their sustainability / plant journey.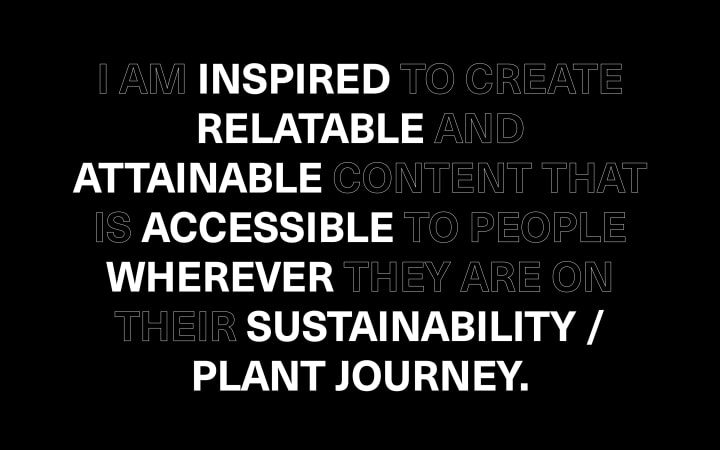 Content that exists in this space can often be overwhelming for the average person, and my goal has always been to give people knowledge AND confidence. Sometimes that means making funny plant videos, other times it means writing an article about ditching plastic at the grocery store.
Whatever the subject matter, I want more people to feel like they can do it too without feeling anxious.
On His Progression to a More Sustainable Lifestyle:
It took me 25 years to start caring about the environment and sustainability, and that initial interest was sparked by growing my own food. Since then, I've looked to incorporate a new eco-friendly behavior each year, master it, and then move on to the next one. It started with farming, and then moved to thrifting clothes, buying in bulk and becoming a nearly plastic-free consumer.
On His Goals as a Sustainability Activist:
I have many short term goals now that I am in LA but the top priority is to grow as much food as possible and donate it to food insecure communities.
Long term, I'd love to have my own land and facility to teach people about sustainability, plant-based diets, animal rights and regenerative agriculture.
On Advice and Actionable First Steps Toward Sustainability:
Get comfortable asking the awkward sustainability questions.
Can you package this without plastic? Can you put this in my mason jar? Can you please refrain from putting utensils in my to go order?
They may feel awkward and pushy at first, but you'll be surprised by the reception.
Also, buy a set of reusable produce bags and tupperware. No matter where you are, you'll have a plastic-free option to cut down on your waste at the grocery store, farmer's market or even your favorite restaurant.
A Day in the Life of a Plant Coach & Urban Farmer:
Wake up
Practice piano for 30 min to get the creative juices flowing
Check in with my plants to make sure everyone is doing ok
Create content for the week and write
Make a healthy lunch
Plant coaching clients and partnership calls in the afternoon
Garden maintenance on my rooftop and in my garage
Workout or run
Dinner with fresh veggies harvested from the roof
On What Tending to Plants Teaches Him Personally:
The parallels are endless. More than anything, nature and my relationship with my plants has taught me patience.
In this fast-paced, social-media driven world, plants have helped me slow down and appreciate the imperfections. Nature isn't perfect, and it certainly can be slow, but you can find tremendous beauty in the process; trusting that your efforts will lead to new growth opportunities.
"I will forgive myself when some of my plants inevitably struggle.

Let's be real. We've all struggled in 2020, we have plants that are currently struggling and we've all killed a plant or two (or twelve). Give yourself a break and remember that plants require persistence and patience. Just keep an open mind, learn as much as you can, and don't beat yourself up if your plants look a little unhappy. It happens to the best of us (myself included) so keep at it young plant parent. You got this."
On Being a "Rational Vegan" and Promoting the Lifestyle Mindfully:
"I know how intimidating vegan messaging can be. In fact, I myself have issues with the vegan movement because it can be too "all or nothing" and overly combative in its syntax."
Creating a more friendly, fact-driven tone when speaking about these polarizing issues is ESSENTIAL. Do I want to talk about the ways everyday humans are blindly supporting a form of consumerism that destroys the environment, violates human rights of marginalized groups and cruelly slaughters animals? Of course I do, but language like that does little to convince someone to switch up their habits.
In fact, they might further retreat into their comfort zone and never change. There is a big difference between wanting someone to change their behavior and wanting to make yourself feel self-righteous and moral by proving them wrong.
"'Hi my name is Nick and I am not zero waste but I try my best to be an environmentalist."

Almost everyone: "Hi Nick! Thank you for doing your best for the environment and inspiring others to make eco-conscious steps of their own."

Sustainability Shamers on Instagram: "Screw you! How dare you profit off of the guise of wanting to protect the planet. I am passing a motion to cancel you forever. All those in favor say, 'microplastics'!'"
On Meeting People "Where They Are":
"I recognize that you have to meet people where they are. People love new gifts, and if I can convince them to make a purchase that is better for the environment and the people who made it, I'm going to do it."
Gift-giving and receiving is always tricky because it involves your family members, many of whom may not understand your environmental values. Telling my mother that I didn't want anything new for my birthday was hard for her to hear, and when I did give her a list of my favorite sustainable companies, she balked at the prices. High quality, eco friendly products are an investment, and I did my best to explain that to her so she could see the future cost-benefits.
Instead of refusing to buy my family gifts or new things, I either a) buy from my list of sustainable companies that meet my environmental standards b) thrift them something unique and vintage or c) purchase an experience that we can share together
On Other Creative Outlets He Enjoys Besides Writing:
I just started learning how to play the piano. I haven't played music since band class in high school (I played the french horn) so this is flexing a muscle I haven't used in a while.
I also love vegan cooking and get pretty crazy in the kitchen haha
On How Becoming a Vocal Creator Has Helped Him Develop His Online Presence:
I love being a Vocal Creator because the longer-form content allows me to develop new forms of thought leadership in different domains.
There is only so much you can say on platforms like IG and Tiktok, and with content trending shorter and shorter, it is refreshing to really flesh out ideas and take them to the next level.
Join Farmer Nick and Become a Vocal+ Member Today
On How He's Staying Sane During These Crazy Times:
Running helps as does some creative poetry writing. The pandemic has definitely encouraged more people to reflect on their creative process, and the isolation has given me time to manifest and design the impact I want to have long term.
Before the pandemic, I was running around like a mad man 24/7 but now I appreciate the slowness and extra time to think and reflect.
On His Favorite Story He's Published on Vocal:
Definitely The Almanac.
It is a fictional, dystopian story that depicts a world brutalized by climate change and it was my first time writing a short story.
Don't think about it—first thing that comes to mind:
What is one thing you couldn't live without?
My Lettuce Grow farm stand
Favorite Musical Artists at the moment?
Cats or dogs?
Dogs
Favorite travel destination?
Italy (all of it)
Day or Night?
Day
Favorite local restaurant?
Favorite house plant?
Philodendron pink princess
What's your go-to late night snack?
Dried mango
What are you currently binge watching?
Billions
What are you currently reading?
If you could speak a new language, what would it be and why?
The language of plants so i can know exactly what they need at all times
Favorite story you read on Vocal by another creator?
My Strained Relationship with Being a Morning Person by Leigh Fisher
Thanks for talking with us, Nick! Your entertaining and fact-driven content serves as valuable inspiration to home horticulturists everywhere. Creators like you help to bridge the gap between environmental interest and environmental impact. From all of us here at Vocal, we give you two green thumbs up – keep up the great work!
Stay up to date on the lively and budding career of Farmer Nick here on Vocal, Instagram, TikTok, and LinkedIn. Not to mention, if you're looking for ways to upgrade your living space, book a 1-on-1 coaching session with Farmer Nick! This session includes a virtual assessment of your space, plant recommendations and inspiration, plus diagnostic and plant care tips for current plants.
Thanks again, Farmer Nick!
spotlight
About the author
Vocal Spotlight aims to highlight standout creators who are changing the world one story at a time. We're getting to know the storytellers who inspire us the most, and we can't wait for you to meet them.
Reader insights
Be the first to share your insights about this piece.
Add your insights