Celebrating One Year of Challenges
We're excited to continue building upon a feature that helps our community stay inspired, get rewarded, and give back.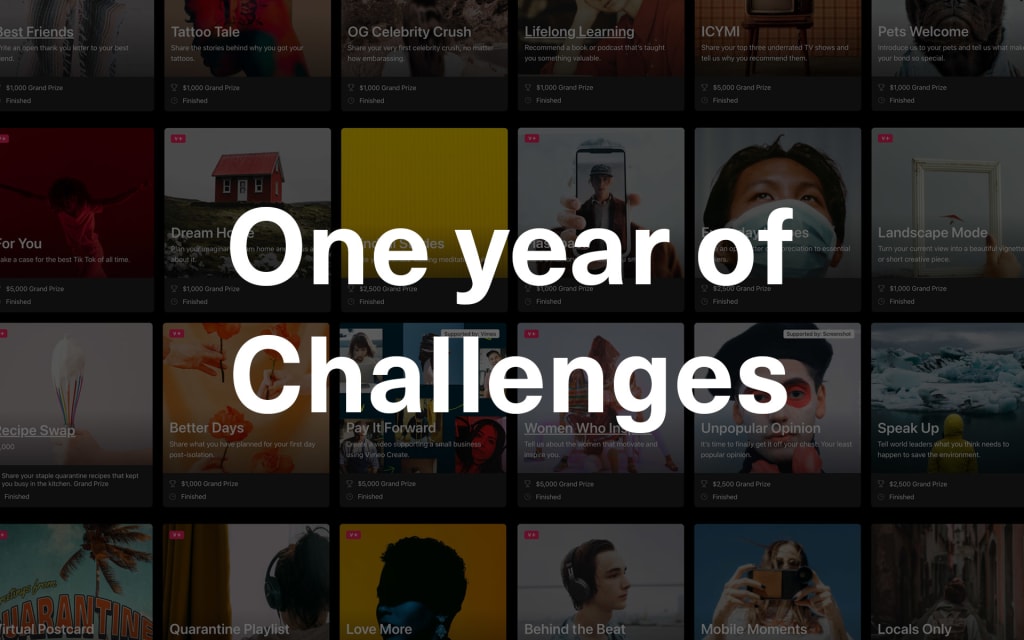 When we launched Challenges one year ago today, we could never have anticipated the milestones we'd reach. What started off as a new way to encourage creativity and reward creators to think outside the box and participate in competitions across topics and interests, quickly evolved into so much more—thanks to you.
When I first joined Creatd as COO in the summer of 2020, I quickly realized how much inspiration the Vocal team draws from our creators to inform decisions and launch new Challenges. Through Challenges, we've listened to your feedback, learned from what Challenges the community seemed to truly enjoy, sought inspiration through creative partners, and gained so much knowledge about Vocal itself, and about our community. Here are some of the things that we've learned from Challenges over the past year.
Partnership is everything.
Over the past year, through Vocal for Brands, we've completed some incredible partnerships with brands we believe in who wanted to reward your stories. You may remember the Pay It Forward Challenge from March 2020, in which we teamed up with Vimeo to do some good and make a difference. In partnering, we sought to help those struggling through the pandemic, whether that meant small business owners who were forced to close, or creators who had just lost jobs and had fallen on tough times.
The Challenge encouraged creators to use the Vimeo Create tool to highlight small businesses and the positive impacts they had on their communities. Six weeks and 645 submissions later, three creators were awarded and received prizes totaling almost $10,000.
First place winner, Meghan Navoy, highlighted her own small shop, Rosemarine Textiles, a zero-waste textile studio focused on handmade sustainable textiles, which redirected efforts to making face masks at the start of the pandemic.
This Challenge was particularly unique in showcasing how small businesses, creators, and brands can work together to create something amazing—but it was far from the last.
We've proudly partnered with many brands since that time who have shared our values of championing your creativity, and we plan on continuing to do so. We believe in the power of branded Challenges because they offer an opportunity for you to connect with the brands you love—our partners read your stories, they get inspired by your work, and they genuinely believe in what we're creating together.
You can learn more about how Vocal for Brands connects creators and brand partners here:
Challenges inspire great stories.
Through another 64 Challenges and counting since last January, over 18,000 engaged creators have participated in Vocal Challenges—but that number alone isn't what really surprised us. What's surprised us was how powerful and unique each of your stories were, and that they challenged new ways of thinking creatively.
In return, your stories in response to Challenges helped us reach some momentous and humbling milestones, and it's been a gift to see how much our creators have gained from the feature.
Through Challenges, you've used your voices and platforms for encouraging change, supporting small businesses, spoke out on civil rights and climate change, and encouraged communities that rewarded each other. You've shared your stories that are open and honest; hilariously useful; wildly artistic; and determined and purposeful. Taking the time to explore your Challenge entries has been one of the most genuinely rewarding parts of 2020 for our entire team.
And, in return, you've let us know how much Challenges have meant to you, how much you look forward to them and appreciate them as creative inspiration. And that, more than anything, has made it so worthwhile.
Together we can make a difference.
Thanks to all of you who participated in Challenges for causes, you helped us donate $25,000 to charities featured in Challenges. Featured Charities that benefited from Vocal Challenges included:
- National Resources Defense Council, Speak Up Challenge
- Crisis Aid International, Everyday Heroes Challenge
- NAACP Legal Defense Fund, Voices for Change Challenge
- The Okra Project, Food for the Soul Challenge
- Spread the Vote, Beyond the Vote Challenge
- Fair Fight, Goodbye Donald Challenge
- World Central Kitchen, the Good Deeds Challenge (Active through January 28, 2021)
We're so glad that you support our mission to use Challenges as a tool to make a difference for causes larger than ourselves. Giving back to the global community is something we really believe in, and are proud to stand for.
To say thanks for a year of creativity, we're launching our biggest Challenge yet.
To celebrate Challenges' first birthday, we've teamed up with Moleskine to keep the creativity going. The Challenge offers a Grand Prize of $20,000, with complete cash and prizes totaling over $27,000.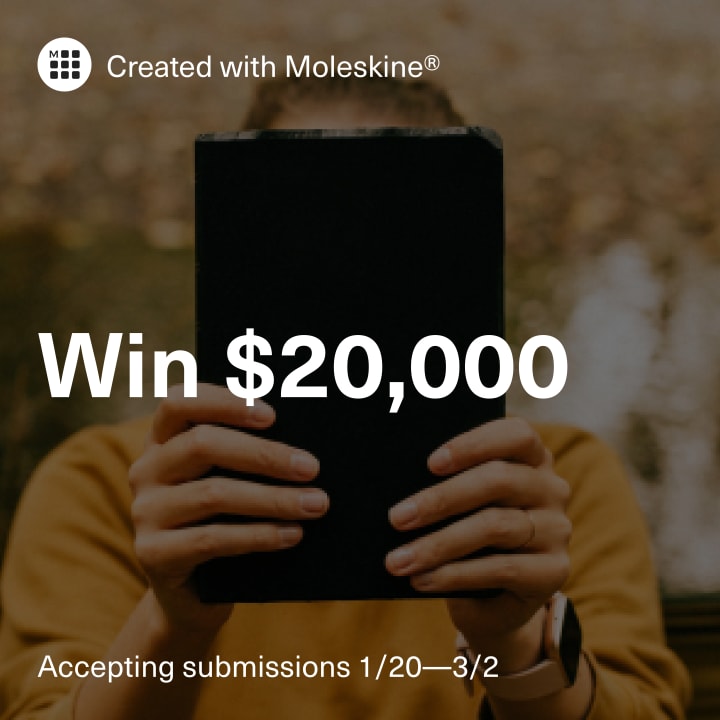 Fittingly, the Little Black Book Challenge prompts creators to submit a fictional story about a character who comes into $20,000 unexpectedly—the only requirement is that your story includes a little black notebook somewhere in your narrative.
The Challenge is open to our dedicated Vocal+ members, whose membership grants them access to Vocal+ exclusive Challenges and increased opportunities to earn money on reads and prizes, premium creation tools and features, and additional perks. You can learn more about a premium Vocal+ membership here.
For a list of all open Challenges, recent winners, closed Challenges and more, visit our Challenges page.
We've fostered a community we can really be proud of.
You've spent the last year supporting and championing each other, helping us at Vocal learn and grow, and creating stories more inspiring than we ever could have imagined. We look forward to seeing what Challenges has in store for us this year, and we thank you for all of the passion and work behind each of your stories.
Challenges
product updates
About the author
CEO of Creatd (NASDAQ: CRTD) and Vocal. A mother first, media executive second and finally a lover of the oceans and nature.
Follow me on Linked In: https://www.linkedin.com/in/laurie-weisberg/
Reader insights
Be the first to share your insights about this piece.
Add your insights