A Transparent Look into How Vocal Curates Top Stories
The art and science behind Vocal's Top Story selection process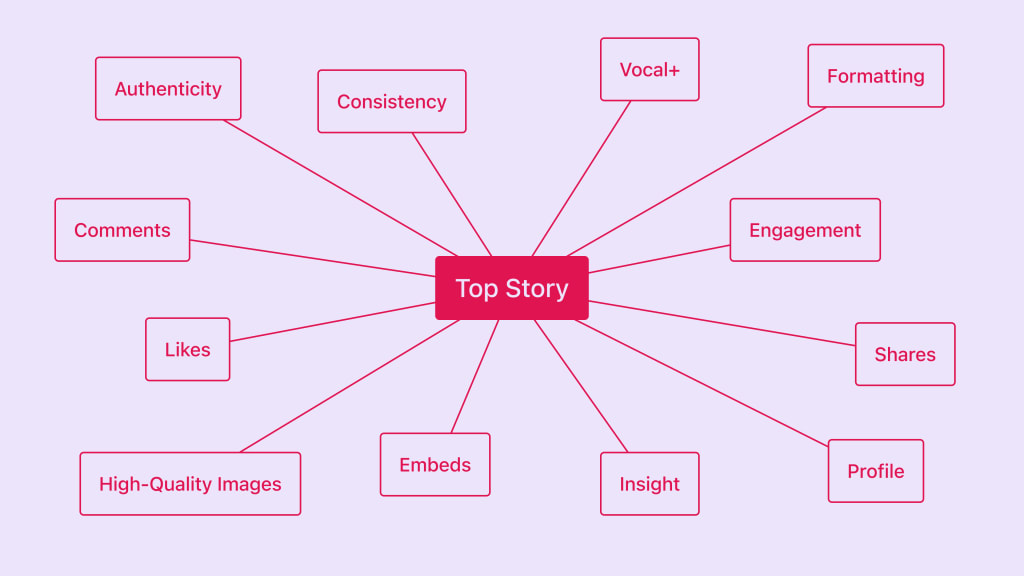 Thousands of stories are submitted to Vocal daily. This continuous flow of creativity is truly inspiring. As we navigate through millions of words everyday, our primary mission is to elevate and champion great storytelling.
Over the years, our team has hand-selected nearly 10,000 Top Stories on Vocal, uplifting and reaching millions of people. But like with all art, quality can be subjective, especially on a platform as expansive as Vocal. The most common question we hear from our community is, "How are Top Stories selected?"
In an effort to be as transparent as possible, we're lifting the veil on what our team looks for in selecting Top Stories on Vocal.
Quality over Quantity
We value quality over quantity. Here's what we look for:
Originality and Authenticity: We champion stories that bring fresh perspectives to the table. Authentic voices and unique narratives are not just encouraged; they're celebrated.
Rigorous Research and Insight: Depth matters. We champion stories that not only inform but enlighten, offering readers a deeper dive into topics.
Mastery of Craft: Beyond just correct grammar and punctuation, we look for storytelling finesse. Cohesive structure, compelling narrative arcs, and a clear voice are hallmarks of standout pieces.
Relevance and Timeliness: Stories that resonate with current dialogues or trends showcase a writer's pulse on the world's heartbeat.
Diversity of Topic: Vocal is a vast ecosystem of ideas, subjects, and experiences, and we aim to reflect this diversity in our Top Stories. We intentionally showcase the best stories from each community. Writing across the communities gives your stories an edge.
Engaging Presentation: Visuals and layout matter. Relevant multimedia, crisp images, and a reader-friendly layout amplify a story's impact.
By adhering to these standards, we aim to curate a collection of stories that inform, inspire, entertain, and elevate the art of storytelling on our platform.
Consistency
While our primary emphasis is on the quality of the content, consistency in publishing does play a role in visibility on our platform. Authors who produce content regularly are naturally more present in our feed and, as a result, have an increased opportunity to catch our curatorial eye.
This consistent engagement with our community, combined with high-quality storytelling, increases the likelihood of being recognized. Therefore, while quality remains paramount, a steady rhythm of publishing can augment an author's chances of having their work selected as a Top Story.
Engagement Metrics
We closely observe how the community engages with stories. High engagement is a strong indicator that a story strikes a chord with our audience.
Here are some of the metrics that contribute to being selected for a Top Story:
Read Engagement: It's not just about how long someone spends on your story, but whether they complete it. A high completion rate signifies captivating content.
Shares: The number of times your story is shared reflects its broader appeal.
Comments: Active discussions, feedback, and interactions from the community. An active comment section often means your story has sparked interest or debate.
Likes / Reader Insights: The number of positive reactions or upvotes your story receives. This is a direct measure of how much readers appreciate your content.
By optimizing for these metrics, you can increase your chances of being selected as a Top Story on Vocal.
NOTE: It's important to note that while these metrics are influential, they're not the sole criteria. They help bring your story to our attention, but our team considers a broader spectrum of factors during the curation process.
Visual Appeal
A picture is worth a thousand words. Here's what we look for:
High-Quality Images: Clear, relevant, and copyright-compliant images.
Formatting: Proper use of headers, bullet points, and paragraphs for easy readability.
Embeds: The use of multimedia (videos, podcasts, article links, etc) can bring a story to life.
Relevance to Current Events and Trends
We keep an eye on trending topics and current events. Stories that offer timely insights or fresh takes on popular subjects often catch our attention.
Diversity and Inclusion
We're committed to showcasing a diverse range of voices and perspectives. Stories that highlight underrepresented voices or shed light on lesser-known topics have a special place on our platform.
Community Recommendations
We value your feedback. If multiple members recommend a particular story or if a piece gains traction in Vocal's Discord, we take notice.
Profile
Your profile is your calling card on Vocal, and it serves as the first impression for many readers diving into your stories. We give a special nod to profiles that are complete with avatars and informative bios. Complete profiles not only lend credibility and authenticity to their stories, but also signify an author's commitment to the platform and their audience. We have found that creators with full profiles are more likely to connect with the community and build a loyal base of subscribers.
Vocal+
Being a Vocal+ subscriber strengthens an author's likelihood of being selected for a Top Story. Vocal+ subscribers often contribute to our platform more extensively, by participating in Challenges and consistently crafting engaging narratives. Their dedication to both their craft and our community results in a more robust body of work that naturally gains visibility.
Choosing Top Stories is both an art and a science. While metrics and guidelines play a role, we're also moved by passion, emotion, and the power of storytelling. We encourage all our writers to continue sharing their voices, honing their craft, and engaging with the community.
Thank you for being a vital part of Vocal. Together, we create, inspire, and elevate stories that matter.
About the Creator
Founder of Vocal. COO/President of Creatd ($VOCL), the parent company of the Vocal platform.
Reader insights
Outstanding
Excellent work. Looking forward to reading more!
Top insights
Expert insights and opinions

Arguments were carefully researched and presented

Easy to read and follow

Well-structured & engaging content

On-point and relevant

Writing reflected the title & theme
Add your insights