2019: A Year in Review
Looking back on a year of growth and change at Vocal.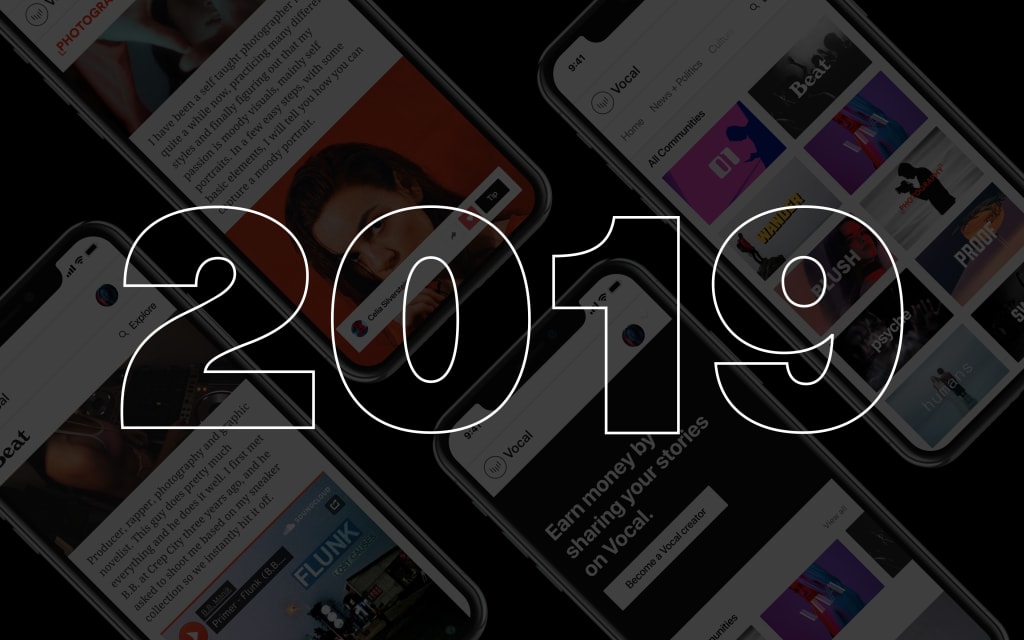 We've always said that you, our creators, are our partners—you're the ones who make it possible for us to continue to build a community and platform for storytelling. Writers, musicians, podcasters, videographers, bloggers, and creatives of all types have shared their stories with us this year, and pushed us to work hard to make Vocal a better home for your stories.
2019 was a pretty big year for us, so we're taking some time to look back on where we've come and where we're headed—this year, we've achieved pretty significant milestones:
Vocal by the numbers
Our community grew a lot this year, so lets put things into perspective:
Number of creators on Vocal: 521,014
Total number of stories published to date: 108,764
Total reads in 2019: 25,000,000 (so far)
Total earned from reads in 2019: $100,000 (so far)
Most tipped story in 2019: Why I Quit My Job & Haven't Looked Back
Game Changers: Vocal 2.0
We've introduced a whole new editor, given you a new home for your stories, brought our communities closer together, and more.
To recap, here are all the things that we updated with Vocal 2.0:
Vocal's new editor is based on "content blocks," which makes it much easier for you to add images, videos, and embeds of any kind to your stories.
All of Vocal's communities are now consolidated under one single Vocal domain.
Creator profiles are now a single destination to showcase all of your work across the entire Vocal network.
We have upgraded our integration with Stripe to the latest version.
We rebuilt our admin and moderation architecture—in other words, your stories get published faster.
We upgraded our systems to provide platform stability.
Read all about Vocal 2.0 here:
Monthly subscriptions
One of the things we were the most excited about this year was introducing Vocal+, a premium membership for creators. With this, creators receive:
A Vocal+ Member badge on their profile
$6.00 / 1000 reads
A reduced 2.9% transaction fees on tips
A $20 payout minimum
Early access to new features
This membership really gave creators the chance to make connections with each other, earn more for their stories, and help our community grow and constantly update—thank you to our Vocal+ members for helping us to improve the platform.
Join Vocal+ today to access creator perks and earn more from the stories you create and share.
Likes
Likes are everywhere, and they finally made their way to Vocal. We introduced our own version of likes earlier this year to help champion creators and continue to share the love. We don't want to focus on the number of likes, but rather want to give you the opportunity to more easily support your fellow creators, and receive support yourself.
Gives likes a try if you haven't already, and if you want to explore some more about this new feature, read below:
Stories you shared and we loved
There are truly too many to count, but here are a few that caught our attention:
Anna Gooding-Call reassured us that the kids are alright in her powerful coverage of this year's climate strike.
Some of you opened up about overcoming obstacles, like when Elizabeth Bert candidly shared her struggles with her health.
Some of you, like Whitney Alese, reflected on the icons we lost this year, like Nipsey Hussle and Toni Morrison.
Katie Anderton called attention to the issue of sustainability in the fashion industry.
And let's not forget to revisit the winners of some of the contests we ran in 2019—like Topaz Winters, who was the grand prize winner of our National Poetry Month contest with her poem "Points of Faith."
The list could go on and on, so check out the 19 Lessons Our Creators Taught Us in 2019 below:
On to the next: Creator Challenges
These are coming up very soon—but we're too excited to keep quiet about Challenges any longer, so we'll give you a sneak peak. Challenges are a new way for creators to get inspired and join the rest of the Vocal community in some friendly competition. Creators will be able to participate in various Challenges across a range of topics and interests for the chance to win cash prizes, experiences, and much more.
Challenges will be an exciting way to encourage creativity and some out-of-the-box thinking, but they will also be a way for creators to create with brands and organizations they admire—brands that value building community and rewarding creativity just like we do.
Here's a little preview of what you can expect Challenges to look like: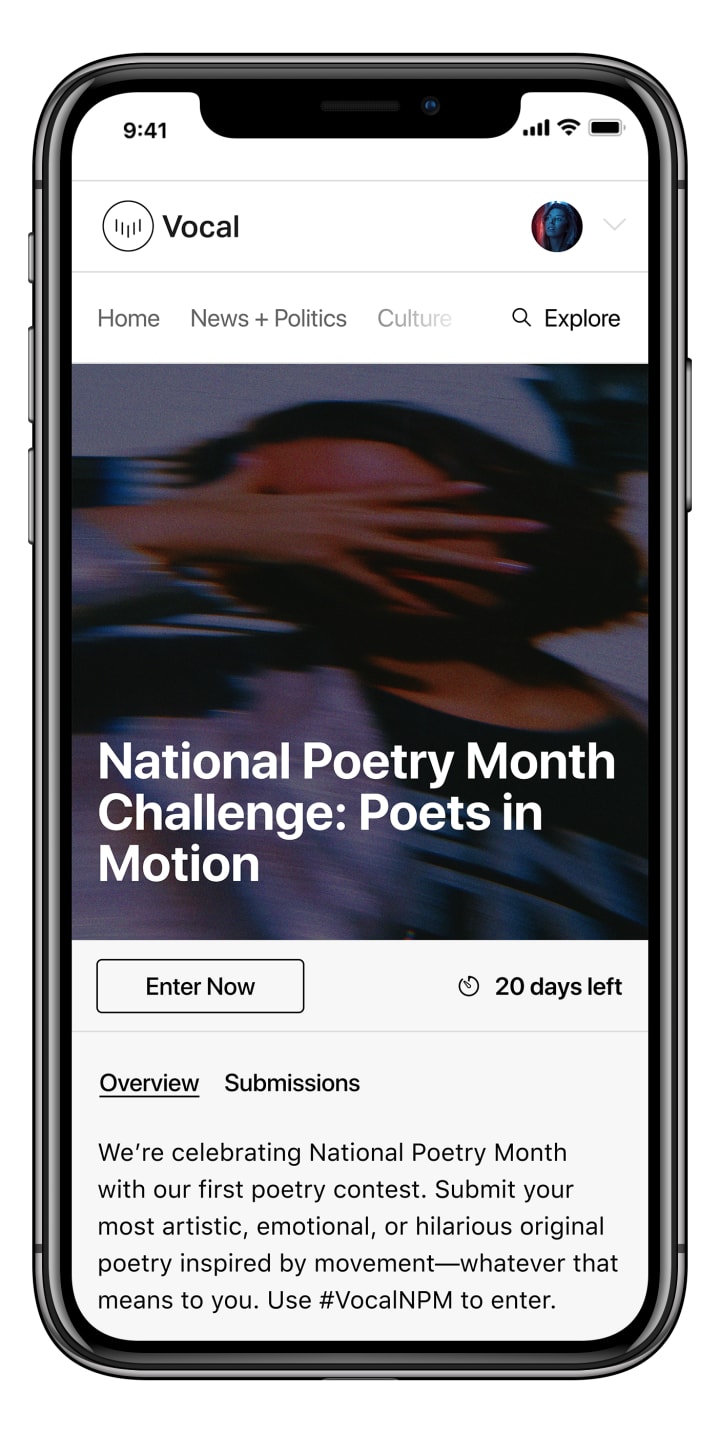 We can't give away much more, but stay tuned for more updates on this in the new year—trust us, you won't want to miss it! As we reflect on what you've created this year, we're excited to see what you create next. Thank you for continuing to inspire us with your stories.
About the Creator
Founder and President of Creatd (Nasdaq: CRTD), the parent company of the Vocal platform.
Reader insights
Be the first to share your insights about this piece.
Add your insights