Dedication
Remembering Nipsey Hussle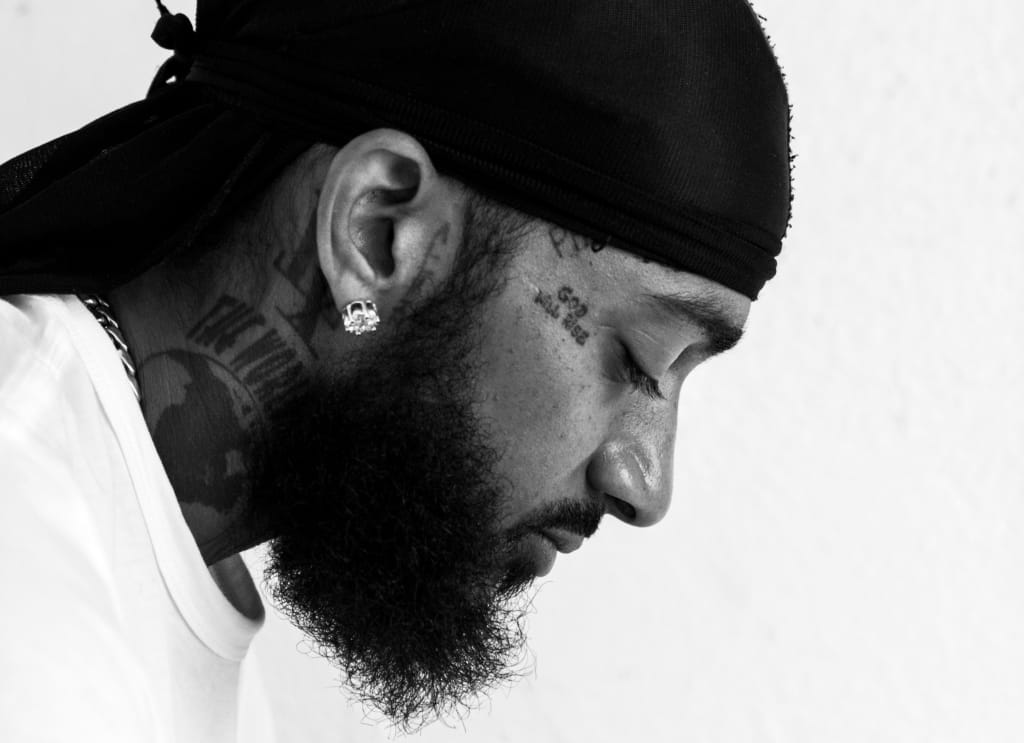 Ermias Davidson Asghedom (Nipsey Hussle)
"Having strong enemies is a blessing." As if taken straight from the closing chapter of an autobiography, the chilling statement would soon become the late rapper's final Tweet.
Though Hussle previously publicly acknowledged his association with one of Los Angeles' largest street gangs (Complex, 2016), he'd recently become more involved in efforts to enrich the community. Admitting that he had succumbed to the "ignorance and self-destructiveness in the narrative that was pushed on [him] through music," in his youth, he decided to gather a better understanding of his platform and use it to "redefine the lifestyle" and "what was viewed as important." Joining forces with a team of artists and entrepreneurs, a museum designed to pay homage to African-American achievement in the arts, Destination Crenshaw, was soon brought to life. Hussle was also an investor in Vector 90, a facility offering courses in science and mathematics among other subject matters (Mitchell, 2018).
Many speculate that Nipsey Hussle's murder was orchestrated in an effort to put a halt to the documentary he planned to release this year, which details the 1987 and 1993 trials of Honduras-born herbalist and healer Dr. Sebi who claimed that he could cure AIDS. It has since been alleged that Dr. Sebi's death was the work of US Medical Corporations in fear that such a cure would have a direct, negative impact on the multi-billion dollar industry. Arrested and charged with money laundering in 2016, Dr. Sebi was later diagnosed with Pneumonia while in police custody in Honduras. It has been inferred that Dr. Sebi was not provided with proper attention and treatment, ultimately resulting in his death due to complications.
Public figures and friends of Hussle have begun to speak out, vowing to ensure that his documentary is released as intended. In an Instagram post, Nick Cannon states, "It's a MARATHON, so I'm picking up the baton! Because they can't kill us all! ...Now, Your message is my message! Your work is my work!" In a tweet from The Pharcyde, "Before people blame it on gangs and haters... Please understand what the man was fighting and making people aware of..." Steve Soboroff, President of the Los Angeles Board of Police Commissioners, expresses remorse, "We were meeting with him and RocNation to discuss ways he could help stop gang violence and help us help kids. I'm so very sad."
I first met Nipsey Hussle in Los Angeles at Budweiser's Made In America festival in 2014. I had just moved there from Sacramento and was performing with Rita Ora. His dressing room happened to be near ours, and I had to pass his in order to get to mine. He was standing just outside of the entrance to his room, and I smiled and waved as I passed by. He asked who I was performing with, and a bit about who I was and what my goals in music were. He was pleasant and professional, which I very much appreciated, and he wished me well on my performance.
Though the exchange was brief, I could tell even then that he cared deeply about being a part of the positive change he desired to see in the world. Years later, we would work out of the same recording studio and share a handful of mutual friends. Just this February, I attended an event held in celebration of his Grammy award nomination. Today, I am very saddened to learn of his untimely death—the mark of an abrupt end to his fight against gentrification and strides of progress toward creating generational wealth. But like many others, I too am committed to carrying the torch.
In an effort to honor his legacy, I've curated a Spotify playlist containing 33 of my favorite Nipsey Hussle selections. May he, through his works and music, forever live in our hearts.
References:
Complex. (2016, October 20). Interview: Nipsey Hussle Talks African Roots, Snoop Dogg Co-Sign, and Rappers Reppin' Gangs. Retrieved March 31, 2019.
Johnson, A., & Blankstein, A. (2019, March 31). Rapper Nipsey Hussle killed in shooting outside his LA store. Retrieved March 31, 2019.
Mitchell, J. (2018, April 04). The Art of Being Self-Made: A Conversation with Nipsey Hussle. Retrieved March 21, 2019.
Reader insights
Be the first to share your insights about this piece.
Add your insights