11 Reasons Why You Should Share Your Stories on Vocal
It's more than just a place to publish your story—Vocal provides you with a suite of tools and a creative community to help you get your voice heard.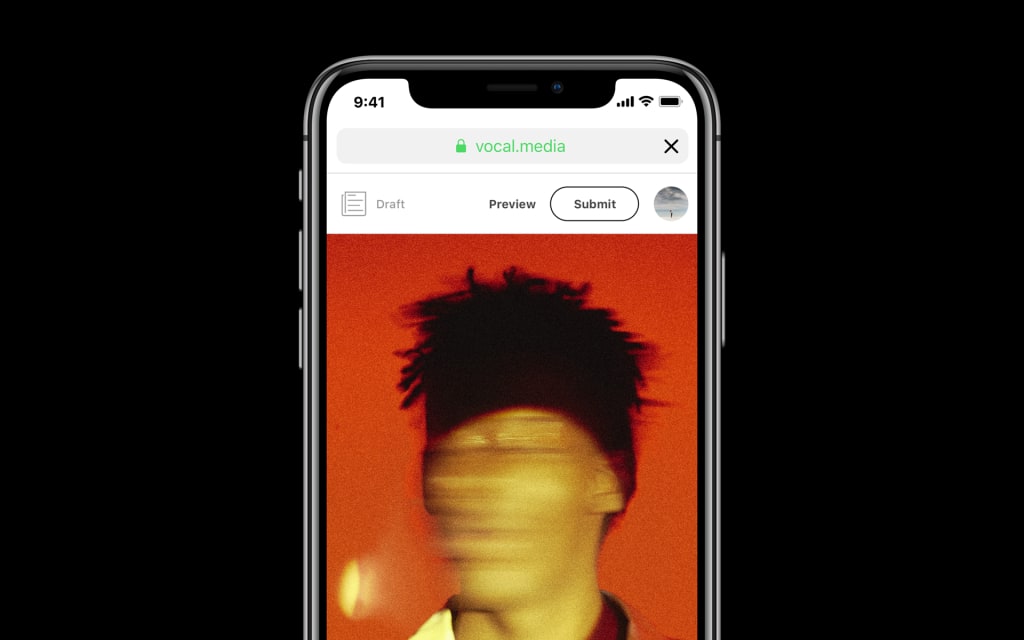 It's hard to be a creator. Hard to stay inspired, hard to manage your own site, hard to get people to actually see what you've created when you finally get it out there. That's why we made it easy.
We believe that no matter what you create—whether you're a blogger, writer, musician, podcaster, photographer—you shouldn't have to be a coder, web designer, and social media guru on top of it. That's why Vocal provides you with all the tools you need to simplify the creation process, share your work, and make some extra money, without any hassle. Sharing your story on Vocal is the simplest way to bring an idea to life without wasting precious creative energy on all the steps that can bog you down along the way.
Whether you're a musician who's just released your next chart-topping track or you're a YouTuber who's just uploaded your weekly vlog, Vocal was built to allow you to share your hard work and amplify your reach.
Using the modules in Vocal's editor, you can include almost anything in a Vocal story—images, products, YouTube videos, playlists, ebooks, and more. Modules can be inserted by clicking the plus sign icon at the bottom left corner of the editor, and selecting which type of module you'd like to use: the small camera icon to insert a photo, the magnifying glass to search Unsplash's extensive image library, or the <> icon to easily embed just about anything. Adding media lets you be as creative as possible and keep your readers engaged—and on Vocal, there's no complicated coding required to do just that.
When it comes to publishing stories, Vocal was built for all kinds of artists and creatives—not just people who are already writing or blogging. If you're a comedian with a podcast, or an aspiring DJ, or even a digital artist trying to promote your work, storytelling can help all creators boost the chances of getting discovered by the right person. Adding text just to describe what inspired you, or to tell the story behind the podcast guest you're interviewing, or what other artists do that you look up to, are all ways to connect with your fans and show them a new side of yourself.
Your story won't get lost in all that clutter.
It's pretty easy for your hard work to get lost in the internet void and not really reach the right audience—or much of an audience at all. Vocal's niche communities allow your stories to live surrounded by only other stories that are relevant to your own, and be delivered directly to readers interested in the same things as you.
From Blush to Horror to Geeks to Beat, there's a community for everyone, covering topics from relationships and love to news and politics—perfect for organizing your stories so your fans can find them with ease.
You're free to explore your creativity.
Once you publish a story on Vocal, you're never limited to just one community. Access to Vocal's entire network of communities lets creators explore their creativity to its fullest potential.
For instance, if you're a musician, it makes sense to focus on creating stories for Beat to promote your creative projects—but too much of a good thing can lead to burnout that you definitely don't need. Give yourself a fun break without bringing your creativity to a halt by sharing your thoughts on the new Star Wars movie, or your advice for beginner photographers. Don't feel limited to just one of your passions!
This works the other direction, too; if you're feeling uninspired, one of the best ways to get yourself out of a creative rut is to push yourself out of your comfort zone. Take a look through communities you may be less familiar with, push yourself to learn something new and create something you normally wouldn't, and you'll be a better creator for it.
Sharing your stories can be scary at first—opening up and putting your hard work out there for strangers to see is intimidating. But doesn't it feel great once you see your story out there for others to find and relate to? One of the amazing things about Vocal's community is how supportive creators and readers are of one another. Creators put their heart and soul into the stories they create, and readers are able to send tips as a way to say thanks, congrats, or simply to encourage you to keep creating.
You'll continue to earn on your stories.
Once a story is published, you can start earning from reads. Creators on Vocal start monetizing right away—there's no minimum read count to meet, or criteria to make you eligible. Once a story is published, it starts collecting earnings from the very first read, and will continue to do so for as long as it's published on the platform.
We understand that things come up—people get busy, life gets in the way, and sometimes creative projects get put on the back burner, whether we like it or not. That's why, if you're going to have your stories live anywhere, it's great to choose a home for them where they can keep earning you money, even when you're not quite able to give them the attention they deserve.
You'll amplify your engagement.
So you've uploaded your YouTube video or shared your Instagram post—what's next?
Embedding them in a Vocal story is a great way to double dip on your earnings and boost those posts. Don't worry—every view, listen, and like you get in a Vocal story will translate to your platform of choice, so you're never missing out on any engagement!
Vocal also encourages creators to include and link out to their social handles in their Creator Page bios as a way to direct readers to get to know them and follow along. This makes it easy for all kinds of creators to share their portfolio of work and their social presence at the same time—when all your creative self lives in one place, it makes it even easier for you to get discovered.
You can find like-minded creators.
Finding creative people to work with, or creators who might have skills you need to accomplish your next project, can be hard. That's why Vocal was built to bring all types of creators together.
Vocal's communities and niche audiences really help you find what you're looking for—and put you on the radar of those who share your passions. By reading other creator's stories, you might be on your way to finding the next brand or person to collaborate with.
Knowing what you did well and what could be a bit better is sometimes hard, so seeing some data can be super helpful—and there are few things less helpful than obscure algorithms determining how much your work is worth compared to the next creator's. Vocal's Stats page gives you insightful information to see which stories are performing best, what people are loving the most, and where your earnings are coming from.
This includes the number of reads you've had in total, the number of reads you've had in the last 30 days, and how your readership has changed over the last month. Keeping an eye on what works for you will help you continually improve, and will let you know if you need to shift your focus.
You don't need to spend time making things look pretty or professional.
Vocal was built to help you create beautiful, engaging stories—it's a tool that wants to make your life easier, not more complicated. The editor is intuitive and complete, which lets you focus on doing what you do best: creating. In addition to how easy it is to incorporate rich media in your Vocal stories, the simplified layout and easy-to-use editor means that every story looks polished, clean, and uniform once it's published. No fuss, no weird coding bugs, and no tough design decisions.
Your stories will live on.
A great story is timeless. You'll not only continue to see engagement and earnings on your work over time, but just as importantly, you'll have a place where your stories will live, be accessed, found, and shared by readers for as long as you have a Vocal account. Whether you're a writer, musician, photographer—Vocal offers a chance for you to get in front of an audience that's waiting to hear your story.
Reader insights
Be the first to share your insights about this piece.
Add your insights