Writing While Psychotic
While suffering with psychosis I wrote a lot of my thoughts and worries into a notebook. Here is the Intro and cover writing in that book. For anyone interested in this condition please watch the documentary. I will release more of the book at a later date if people are interested.
Surreal Reality - Documentary on psychosis
I will begin by saying time is going to jump around a lot in this post. You are currently reading the words of 2019 Tyler. The quotes I mention are from 2016 Tyler, and also 2017 Tyler manages to sneak in. To make it worse, my whole first draft did not save so 2019 Tyler is currently experiencing a lot of de ja vu. I should also prepare you for spelling and gramma mistakes as I am trying my best to correct old spelling mistakes from 2016, while still being rubbish at spelling in 2019. (My usage of first and third person in this paragraph is staying in because if you find that annoying you may end up smashing your screen later. You have been warned!)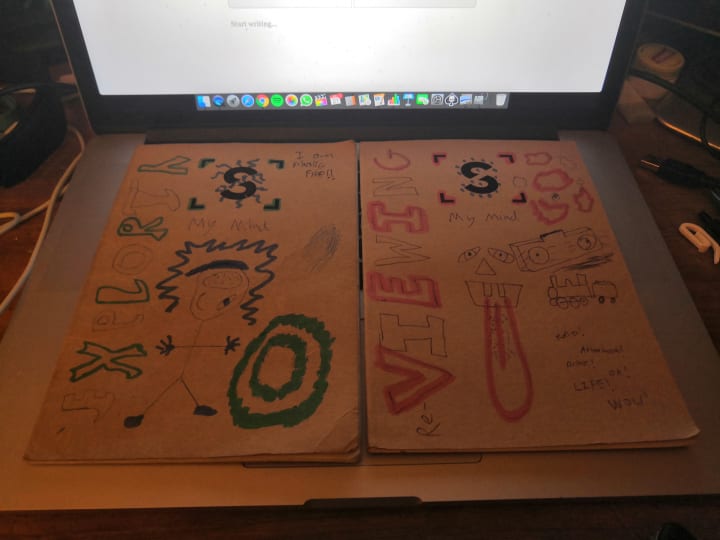 Exploring My Mind (Left Book)
Writing on back cover:
"This is not a diary."
"To be read by people I have given this to personally."
"Or if I have died please feel free to read."
"P.S. I hope the film about me wins the Oscar for Best Picture. Best Director if not. Best Actor please no, they're not me and therefore can not portray me well."
Before you wonder how much of a narcissist I am, I am certain this was meant to be read with a massive pinch of salt. Even with my delusions I never believed I was important enough to have a film made about me. Instead I simply enjoy finding humour in hard times.
The Double Introduction:
When I started writing in my notebook, I wrote an intro, and when I finished writing ,I wrote another intro to go in front of the first intro I wrote. Told you this would get confusing.
"As humans we learn so much in such a small amount of time. I finish this notebook having only written for a couple of months. Yet here I sit knowing how much has changed in me. It's not on the level when I couldn't function if I went back 2 months. I am clearly different though. Not for better or worse I hate that idea I have just changed and yet I am still the same. Anyway I kind of stole the intro from old me so please take it away 2 month younger Tyler..."
"I have always thought of my mind as a place. This is a place only one person can visit. That person is me. While it is only me this place can feel crowded, empty, lonely, cold, terrifying, exciting and a range of other experiences, some I am yet to see. This is most likely why I love the film 'Inside Out' so much. I feel it is the best way I can explain my mind............. When I say explain that means NOTHING! As much like me trying to explore someone else's brain the experience is personal to them."
Modern day outro
What follows after this introduction is random thoughts, stories, sketches and simple things I wanted to get off my chest. A few months after this book was finished I was referred to Early Intervention. This would be the first time I would learn about psychosis. I went through a couple of years struggling with anxiety and coming on and off medication afterwards but despite this I feel this book was vital in my time of need and was the beginning of my recovery.
Stay tuned if you want to hear more and if you're interested in my modern day stories check out my youtube channel 'Psychotic Movie Database.'
youtube.com/psychoticmoviedatabase