Worthy Hearts
My Tattoo Story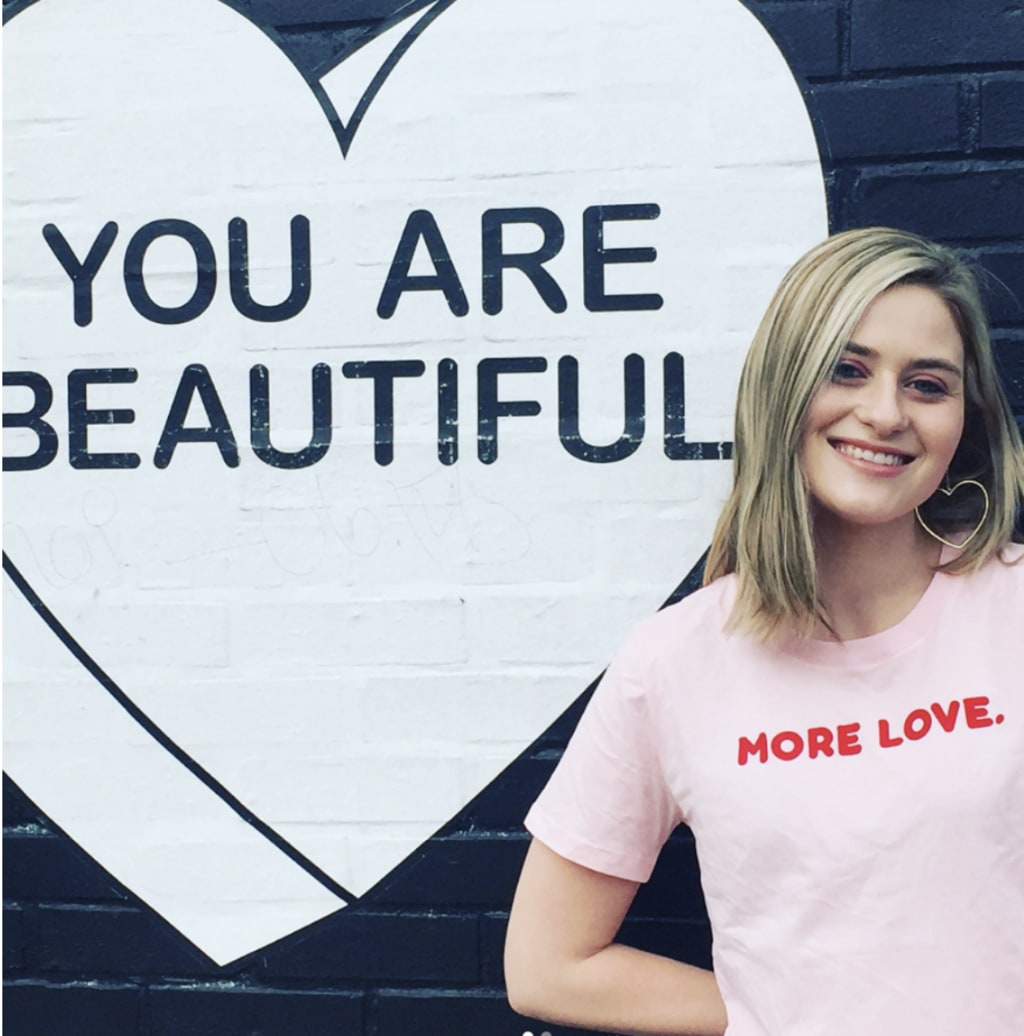 Philadelphia is an art-filled city, from the 3,600 murals to the plethora of thought-provoking street art, the walls tell the story of a very unique urban culture, and I personally can't get enough of it. I grew up in the suburbs, not visiting the city nearly as much as I would have liked. Now I commute to Temple University and try to spend as much time as possible wandering the streets and getting lost in the visual narratives.
Last spring, I decided I was ready to paint my own body with a second tattoo. My first tat was a whimsical, unexpected decision I made when I was 20. I don't regret it, but I wanted to do something a little more calculated this time. I searched Instagram for some art that resonated with me but nothing stuck out as "the one." I started feeling agitated until the idea of the "worthy hearts" arose in my mind. These hearts can be seen all over the city, from South Street to Center City to Fishtown, created by an artist named Amber Lynn.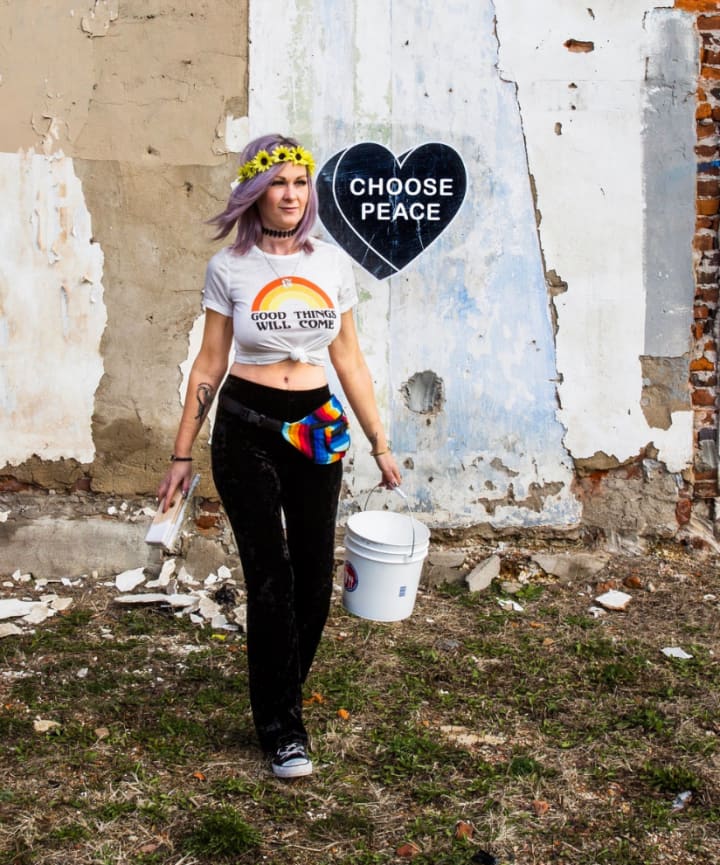 The "Worthy Hearts" series is a collaboration with artist Mariel Herring, and it was made to honor those who have been killed by acts of domestic and sexual violence. Mariel loved Amber's goth hearts with the positive messages and knew she would be perfect to work with.
This is how Mariel describes her work: "I would argue that this is a domestic war. In this war, the people who are fighting are not soldiers. The enemy isn't obvious or even known, and in fact we all are implicated in their actions, as they are born of our own failings as a society.
We perpetuate the violence by not radically changing the way we combat it. Statistically, one in five women are raped. One in three experience domestic violence. We need to do better by them. Some say that bravery is acting out of fearlessness. I disagree. I think that bravery is acting in spite of incredible fearfulness. We need to be brave enough to fight for and with them.
My hope is that the worthy hearts can become a platform from which to generate more discussion of sexual and domestic abuse. The more we can talk about these issues, the closer we will become to eradicating them."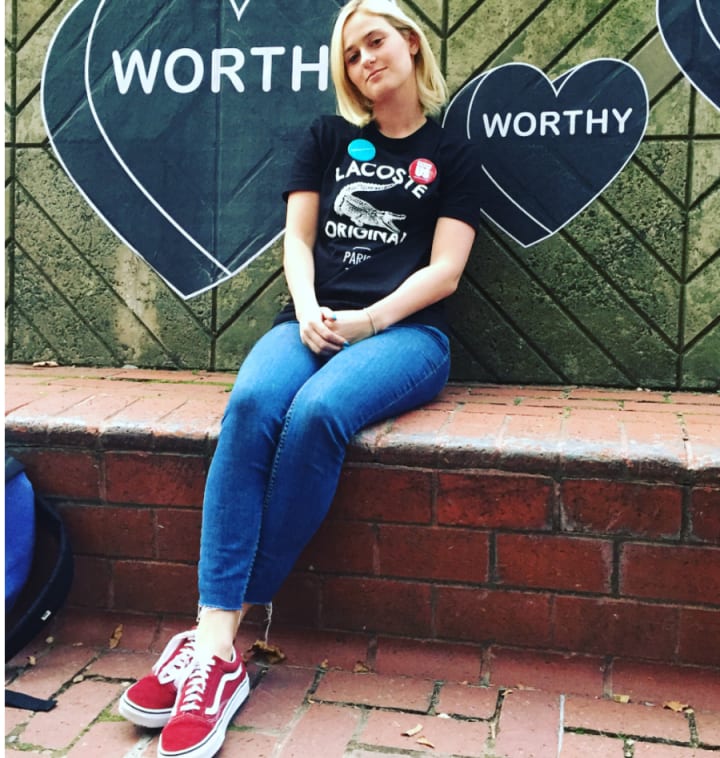 On July 9th of 2017, I drove to my local tattoo shop for my 1 PM appointment, excitement flowing through my veins. This was the day I was going to permanently brand myself with a commitment to self love. I declared my worth, as something that I was born with, as something that cannot be taken away, as something that does not dissipate when I make a mistake. My worth is an ever-present pillar of truth, and no matter how hard my mind tries to convince me otherwise, it is always there. This tattoo is my reminder.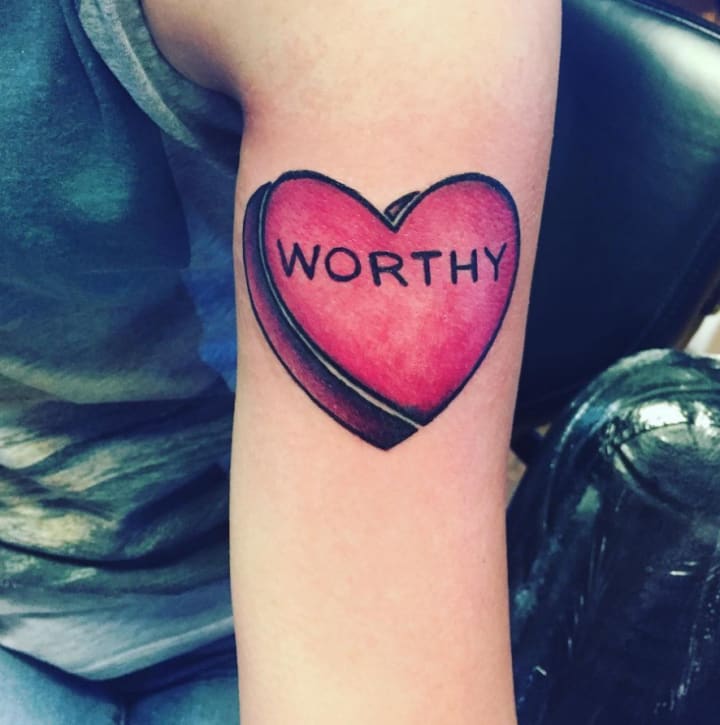 art credit to Amber Lynn & Mariel Herring. tattoo by: Cassie McAndrews
When I posted this picture to Instagram, I wrote my own poem as the caption.
"Worthy. a simple word. and to some, its meaning doesn't hold that much personal weight. but to me, it is like an anchor. but instead of keeping me from drifting off, it drags me down. the haunting reality of feeling like my existence doesn't measure up is so isolating. I know I'm not alone, but I'm the only one wiping away these tears. most days the darkness is dormant and silent. but when it erupts, every part of me gets burned and I'm tired of cleaning up the wounds. worthiness is a birthright and I'm stepping up to claim it. my soul is now fire and the lava can't touch me anymore. I. am. worthy."
I tagged Amber in the photo and she was very excited about it, but it wasn't until September 2017 that we got to meet in person, at an event on Temple's campus. I had no idea she was going to be there, and I could feel my heart fluttering at the sight of this artist that contributed to such a milestone in my mental health journey. I mustered up the courage to walk over to her and I told her who I was and showed my tattoo. We hugged and cried and took several pictures.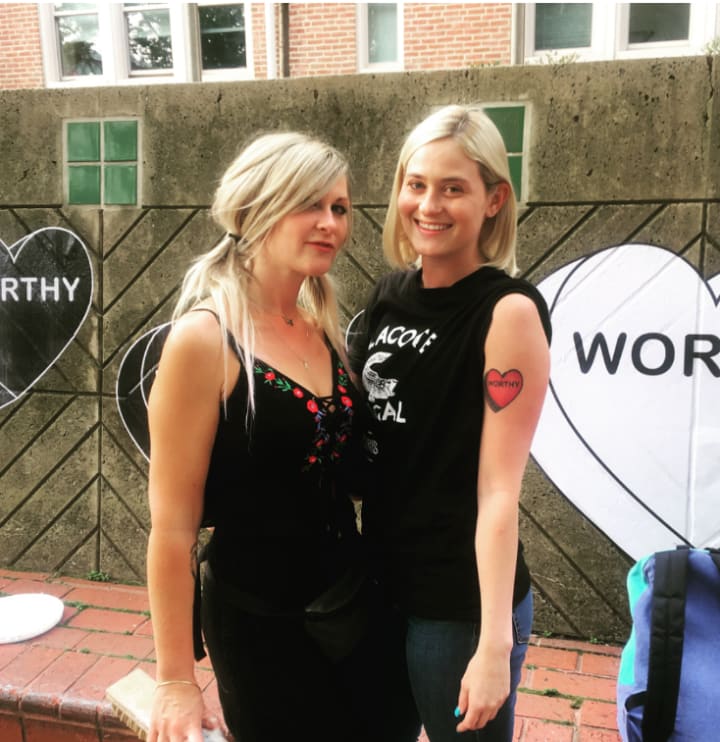 Prior to writing this, I did not know the story behind the Worthy Hearts. I did not even know that it was a collaboration with another artist. I just knew that I loved these hearts enough to make them a part of myself, and I wanted to commemorate this charming story. My worthy heart also represents a battle I didn't want to fight; a battle with my own mind. I am still grappling with self harm urges, debilitating insecurity, and the unpredictability of bipolar disorder.
But I am worthy. I am worthy. I am worthy. Thank you Amber & Mariel, and thank you Philly. You're really something special.