World Mental Health Day
Taking this important topic on a serious note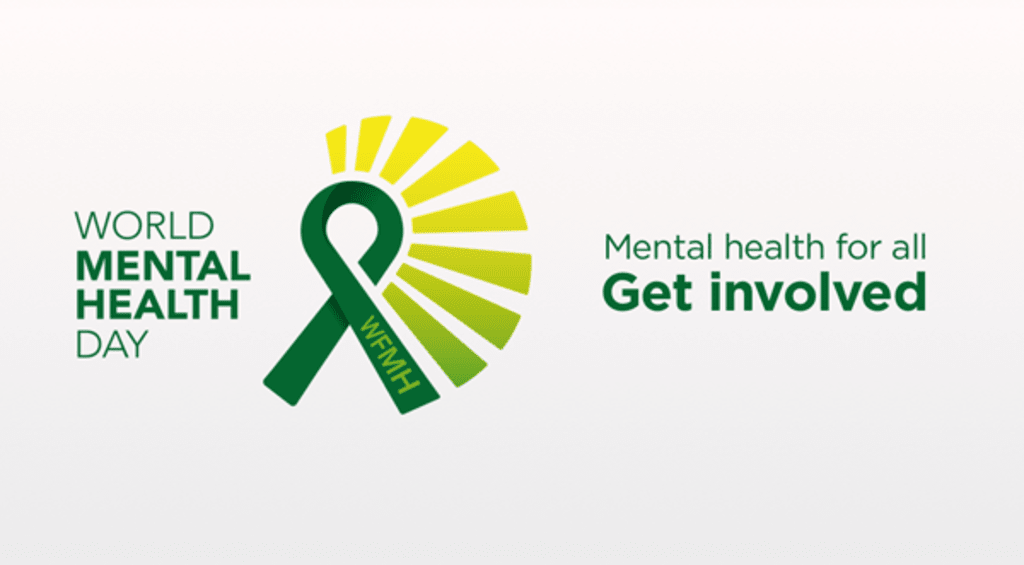 Today, October 10th, is World Mental Health Day, and I have not one, but two personal stories to share with everyone. It's observed every year on this day to spread awareness of mental health issues worldwide. Before I tell them to everyone, I want to share some important stats about mental illness:
450 million people currently suffer from some sort of mental illness.
62% of teens who experienced an episode, didn't receive any treatment.
One in five adults has a mental illness every year and can begin at any age and through adulthood.
So what are the signs that someone might be going though a mental episode? Some examples are thoughts of suicide, a change in eating habits, less interests in hobbies, and problems with alcohol and drug use.
Over the years, we've lost so many celebrities and even musicians to mental health related issues, such as the deaths of Robin Williams and Chester Bennington of Linkin Park. At times, people tend to sweep mental illness under the rug and refuse to discuss it. There are some TV shows and movies that address mental illness, such as Silver Linings Playbook, Inside Out, and the comedy-drama Girls. With that being said, I have two personal stories to share with everyone, so be sure to grab a box of Kleenex.
In December 2010, I was on Christmas break spending time with my family and I got a message on Facebook from a good friend and classmate I haven't seen in over four years. His name was Tyler, and we were catching up and chatting away. He was in good spirits and unfortunately, that was the last time I talked to him. Over a year and a half later, in May 2012, I was on Facebook and what I saw on my feed broke my heart: Tyler passed away. I was heartbroken and in disbelief. I learned from other people that he killed himself by overdosing on pills. He was depressed and went through a lot of issues. To this day, I've always felt guilty and wish I could've spent more time with him. It's been over seven years since his death, but at the end of the day, I know he's looking down on me and wants me to live my life to the fullest.
October 11th, 2017: the day that changed everything. I was let go from my job as an administrative assistant at a non-profit after working there for almost five years, because my bosses felt like my performance wasn't up to par like they wanted it to be. I was not only devastated, but distraught. It was a job that I loved so much, and I enjoyed working with everyone. I was still in tears when I got home that day. I felt defeated and broken, worrying about getting another job. A few days after Thanksgiving, I started working at a call center. The first couple of weeks on the job went well and I felt like I was back in the thick of things. However, there was yet another setback I've experienced. On December 20, I went into work around 10 that morning and that day was our Secret Santa party. My boss asked me and a few others to stay at least a couple more hours to work, which I agreed to do. We finished at around three that afternoon and I proceeded to head home. The day after Christmas, I was eager to get back to work, so I arrived there and waited for almost an hour for people to arrive, but no one showed up. I went home and around noon, I made numerous attempts to contact my boss, but got no response. Finally, after a couple of days, my boss finally responded and I asked him when I would be able to get back to work. He told me he was unsure, but wanted me to come by and pick up my paycheck. 2018 arrived and I was out of work for almost a month. I didn't come back to work until the beginning of February. I worked at my job for about two more weeks until I had a mental breakdown towards the end of one of my shifts. I worked 10 hours and was so stressed and overwhelmed. The next day when I was scheduled to work, I decided that I wasn't going to return. Being out of work for nearly two months and the stress of the job were major factors of me quitting. Things got even more worse for me. About two months later, I got evicted from my apartment and was homeless. I was homeless and jobless for nearly six months. There were times I blamed myself, cried, and attempted suicide numerous times, because I was concerned about my future. I made the huge step to see a psychiatrist every month and was on medication for a while. I've received so many messages from my friends and followers on social media, sending me well wishes and words of encouragement. Most of my friends actually came to see me and checked to see how I was doing. That meant the world to me and they felt bad and were concerned for me. I was determined to get back on my feet. I started my new job after Labor Day and moved in with a roommate through another friend soon after. I'm glad to announce that I've been working at my job as a shipping clerk for over a year and doing well. My roommate and I are getting along well and I got myself back on track. I'm glad to have such amazing people, including my fiancée, who support me. My main focus is to live my life well and surround myself with people who want me to succeed.
Mental illness is something that needs to be taken seriously and talked about regularly. It's okay to not be okay. Never assume that people who are depressed or suicidal are "crazy" or "looking for attention." They're crying out for help and it's important that they need support and love instead of passing judgment. I share these personal stories to encourage others to not give up on themselves and there's always a light at the end of the tunnel. Always think positive thoughts and remember that you do matter and are important. Here are some things you can do to improve your mental health:
Eating a good meal.
Listening to music
Exercise.
Get help when needed.
If you or someone who is going though depression or have suicidal thoughts, please seek help. I'll provide the phone numbers and websites to the National Suicide Prevention Lifeline and The Trevor Project at the end of this article. They might end up saving your life and others.
I'm on social media, so please make sure you follow me on the pages indicated in my bio. In the meantime, if you like the articles I've written and like my content, feel free to send me a small one-off tip, that's located towards the end of every article. Your support is greatly appreciated. Your tip not only helps me, but also helps other Vocal content creators create outstanding content. Be sure to support them and read their articles. Also, I encourage everyone to join Vocal+, a premium membership for Vocal content creators like me to write better stories, connect with creators, and a lot more. So, be sure to sign up for that membership and support your favorite Vocal content creators.
National Suicide Prevention Lifeline
800-273-8255
suicidepreventionlifeline.org
The Trevor Project
866-488-7386
thetrevorproject.org