Today, I Would Rather Pull the Covers Over My Head
How to move forward when your heart is not in it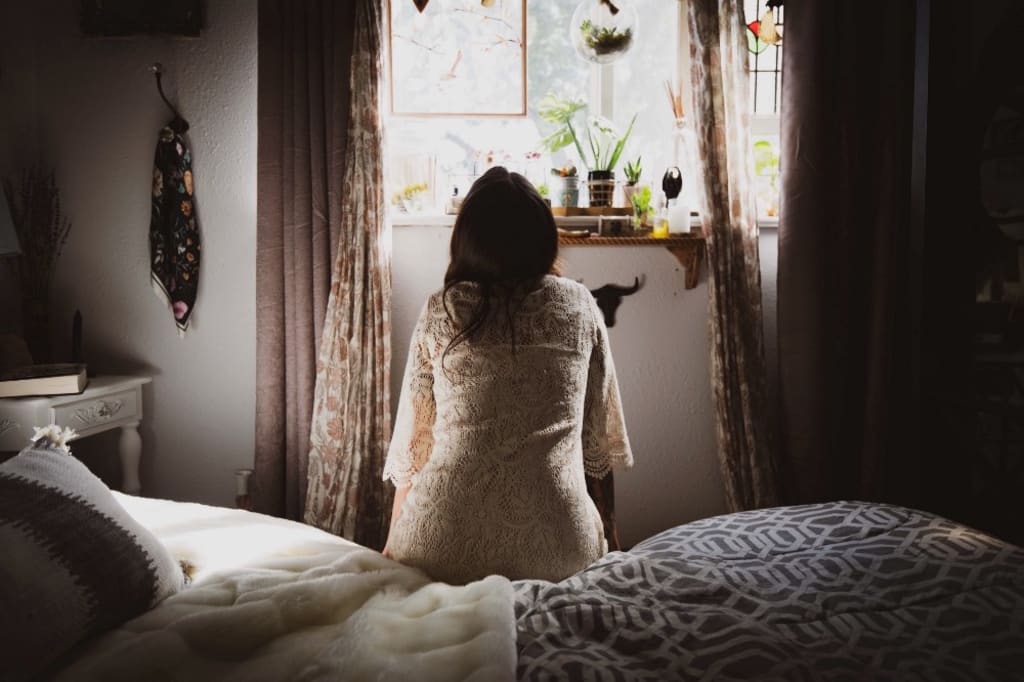 Photo by DeMorris Byrd on Unsplash
Today I would rather pull the covers over my head and wait out my funk. I don't know why I woke up feeling this way. There is no clear-cut reason to point at and say,
That, that is the cause of my gloom, my sadness, grief, despair, or what-have-you.
Perhaps it is the pandemic news, maybe it is menopause hormones, overall I feel overwhelmed.
I give myself some grace to ponder these questions as I lounge in bed. Yes, under the covers.
I give up on trying to decipher a reason for my melancholy. It is what it is.
Sliding my feet out from the tangle of covers, I plant them on the floor. I do not jump out of bed but allow myself to rise slowly, letting that be my pace for the day.
There are many hours ahead of me before I lay my head back down on my pillow and pull my covers up. Here is how I faced them.
Hot coffee in the morning
I always start my morning with a hot cup of coffee. The aroma of freshly ground beans awakens my olfactory senses as I feel my mouth water. The first sip of steaming java is a little slice of heaven on earth.
This morning I tap a dash of nutmeg into my coffee and cream adding a whole other layer of aromatic goodness. This little additive transforms an ordinary coffee drink into a delightful taste surprise with every sip. The decadent flavor lifts my spirit so I may move on to the next part of my day.
Wearing real pants
I have always considered wearing clothes much like wearing a costume. Certain clothes help us feel a certain way. That little black dress hanging in your closet, for example, probably assists you in feeling sexy whereas the button-up blazer may be what you need to feel powerful when in the workplace. But what if you are working from home?
My usual work-at-home attire is a pair of black yoga pants, a t-shirt, and a long cardigan layered over top. Very comfortable wardrobe. This became even more commonplace during the pandemic when every day turned into a work from home day.
Today, I intentionally put on a nice pair of bootleg jeans to match my white camisole covered by a pin-stripe, button-up blouse. My daughter commented,
Wow, mom, wearing your real pants today. You must have a Zoom call.
I did have a Zoom call and yes my real pants helped me face my meeting. On the outside, I looked the part I was to be playing while on the inside my heart was not in it. Perhaps my passion for today will be found on the outside of me and work its way inside.
A daily walk and moving my body
Another spillover from pandemic life is my daily walk. On days when I work from home, I like to take my stroll before I settle into my daily activities. I find this helps me clear my head. I may mutter to myself as I walk, working through a problem, or perhaps a new idea to write about.
Moving my body centers me into the here and now, helping me focus on the tasks ahead of me. On days I do not walk, I may do yoga or turn up some music and just dance. Movement gets me out of my head and into my body. Plus the exercise and endorphins produced are both good for me.
Feeding my body feeds my soul
On days when I feel like hiding under the covers, it is essential I remember to eat and eat nutritiously well. I generally consume a very healthy, plant-based diet but on woeful days it is easy to settle for a bowl of popcorn as comfort. And the cup of coffee, of course.
This does nobody any good. Eating a healthy meal keeps hormones in check plus it is rather uplifting to prepare food that is not only good for my body but also my soul.
Music lifts my spirit
While I am cooking or doing other chores, I switch on some tunes. The easy listening of ballads by Eva Cassidy may match my melancholy or an upbeat, oldie but goodie by the Go-Go's or Tears for Fears could switch me right out of my mood.
Songs hold this ability to transform us to another time and place. Combine that with what I said earlier about movement getting me out of my head and we have a winner. Dancing with myself! Or around the kitchen.
Turning off social media
The daily dose of unhealthy news certainly affects my outlook. The coronavirus numbers rising, racial inequality, an upcoming election, and global warming are just the beginning. Add in partisan divides and borders closing to create a sense of impending doom.
It becomes too much!
Time to turn off social media and fill my mind with inspiring, stimulating, and productive thought.
Reading as a mental health
Reading is not only relaxing but I consider it beneficial for my mental health. I am speaking about opening up a book versus reading on my phone.
Books sweep me away to new places.
A book, too, can be a star, a living fire to lighten the darkness, leading out into the expanding universe — Madeleine L'Engle
During these unprecedented times, I need a star to light my way and a fire to lighten my darkness. Yes, I certainly do.
The stories I find between the pages become an inspiration and the characters, new friends.
As a writer, I look upon reading as my homework, becoming elated when I discover a literary style I wish to emulate.
Reading brings me joy. Especially when I share it by reading a favorite story or a good book aloud. Every night, just before we turn off our lights, I read aloud whatever current novel is on my bedstand as my partner listens. It is our favorite time of day and ends our day, happy.
Freewriting as therapy
A mental funk can lead to a mental block which in turn is unproductive. A vicious cycle of berating oneself ensues.
I should be writing more. I should be a better writer. If I was better I would be more successful.
When I feel this happening, the best approach for me to snap out of my spiraling funk is to free-write. I set my timer and commence my pen to paper, writing whatever comes to mind. Even if it is, I don't know why I am in a funk.
Eventually, some sort of form or answer takes shape and if I am very lucky a nugget of an idea will present itself.
The entire exercise is to get me out of my head and moving my mental energy forward. I can say this with some certainty, when I begin to feel productive I, in turn, begin to produce more. A cycle that feeds my self-esteem.
The end of the day
I may not have solidly produced a finished piece or anything of merit by the end of my day, but that is not my reason for moving forward. My reason is to get to the end. Each of these action steps brings me joy. And as I am pulling the covers up once again, this time it is not to hide. It is to slumber, knowing I am ok, I am satisfied and happy.
Tomorrow will be a new day.
____________________________________________________
Stay in touch. MaryRose is a writer living between mountains and water; she is a traveler, massage therapist, a vegetarian foodie, and mom to two amazing grown kids.
Contact her via her website MaryRoseDentonWriter, @maryrosedentonauthor on FaceBook, or on Twitter.
She believes in Meraki, which is what happens when you leave a piece of yourself, your soul, creativity, or love, in your work. When you love doing something, anything, so much that you put something of yourself into it.
selfcare
MaryRose Denton lives between mountains and water.
She believes in Meraki. That thing that happens when you leave a piece of your soul,in your work. When you love doing something, anything, so much that you put something of yourself into it.
Receive stories by MaryRose Denton in

your feed