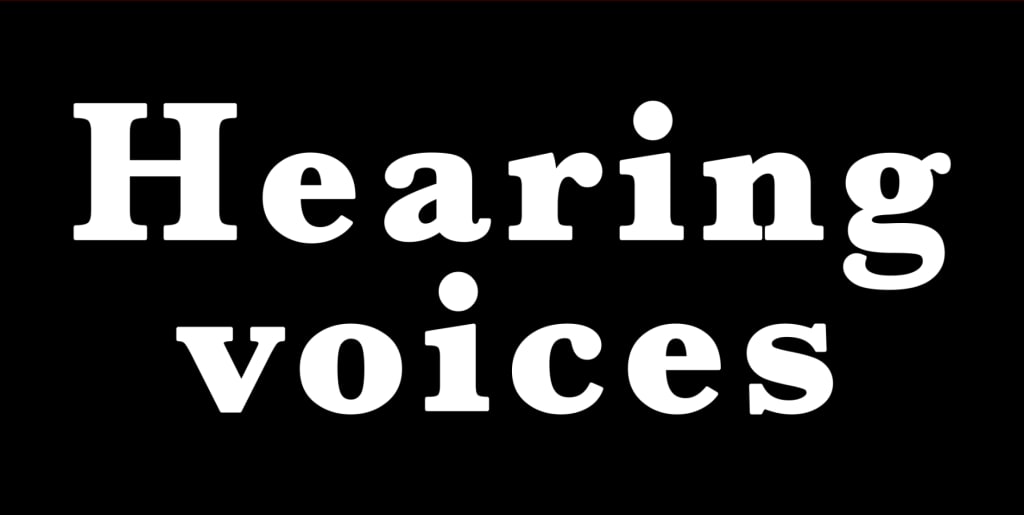 They began when I was 12, 2 years and 4 months ago. They first happened at school when I couldn't find my freind, who also struggles with anxiety and suicidal thoughts, so when I couldn't find him and began to panic due to the halls being crammed with people; that was where I first heard them. I finally managed to make my way to the stairwell to get upstairs to my class after the bell went but as I began to climb the stairs they were in my head talking. Unfortunately I can't give you exact words as it was like they were speaking an alien language but I could still decipher their meanings. At this point the multiple voices spoke as one mush of a voice all saying different things but with the same meanings. When I heard them I grabbed onto the bannister with a rock tight grip and my breathing became even more ragged. One of my favourite teachers, a pshe teacher who helped students with their mental health, saw me and helped me get to my science class. The rest of day passed as normal except for the fact that every now and again snippets of voices would pass into my head.
As i had told the teacher about the voices earlier that day she was required to contact home about what I had told her so my mum spoke to me when I got home. From there the voices worsened and I was put onto the waitlist for CAMHS; the child and adolescent mental health services.
It took a couple of months for me to get my introductory appointment and in that time the voices worsened and gained individual personalities.There was an angry one who would encourage harm to myself and others. There was a smartass one who was, well a smartass. There was also a hyper, childlike girl. And finally there was three others but I have forgotten what they were.
After my introductory appointment I went through a couple normal CAMHS appointments as my condition worsened, to the point of seeing things and the voices being able to kind of control my body almost, before being referred to a special program called "The Voices Clinic". After a few months with those appointments I was beginning to get better and on the third to last appointment I decided to do something. I led the conversation and tricked my therapist into thinking she came to the conclusion that I was trans. I had known this a few weeks earlier after she mentioned that the voice of the young girl might of been my representation of myself. I made her come to this conclusion as I wanted her to be the one to tell my mum and dad.
My voices clinic appointments ended 8 months ago and now I feel a lot better. I do have moderate anxiety and still hear the voices and see stuff when things get bad but it is an improvement. I also now feel more comfortable with my body, lots of thanks to that friend mentioned at the beginning who is also trans, and I do encourage you to seek help with your mental health and sexual/gender identity if you think the situation is right but do keep in mind your country and the political stances of your family before you do so.
In conclusion, hearing voices is a terrifying thing and can also often be linked to other mental issues making the situation worse but never think that it makes you a freak or that your going to be locked up. Also reach out to friends, family and other services if it is safe in your country. Voices and anxiety are scary but at the end of the day they are a part of me.
Have a nice day - Taz