Six Ways To Defeat Anxiety
methods to combat those plagued with anxiety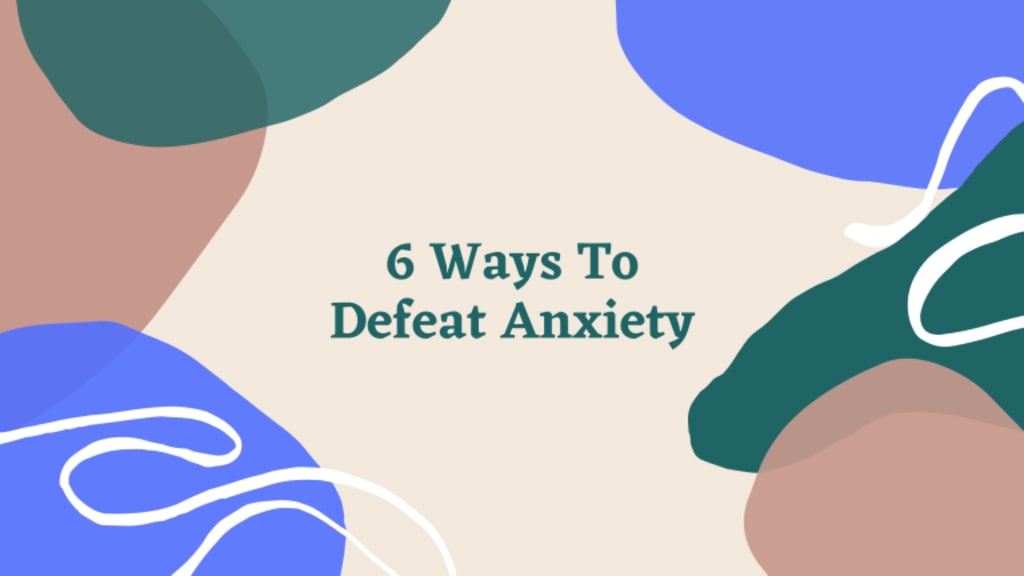 Are you someone who struggles with anxiety on the daily?
Does it plague your life and determine the choices you make?
If you focus on and heavily influence your day to day life with a spiritual mindset, you can overcome this struggle with a little bit of patience.
Like you, I suffer horrendously with anxiety and have done so for the last 20+ years of my life. It can have a severe impact on every aspect you can think of, but there are many methods we can implement regularly that will aid us in defeating it once and for all.
Whether your suffering with anxiety is constant or simply a minor inconvenience that pops up every once in a while, there are some very easy solutions that work immediately to make the battle a lot easier.
Meditation
If you are the sort of person who is capable of calming and quieting your mind long enough to sit somewhere peacefully and be mindful, this may well be an excellent practice for you. If you're already in the eye of the storm, however, this can prove difficult, but if you persist enough then you will be able to trigger meditation as a natural response to anxiety.
Music
This method is a lot easier to achieve when you're in the center of an anxiety or panic attack, providing that you have access to your favourite songs, or perhaps melodic pieces, at the time of the anxiety. Simply jump to your favoured media player and shuffle any playlist of your choosing that will hopefully help pull you away from the problem at hand.
Napping
While this won't work for everyone, taking a nap when you feel anxiety coming on is one of the most helpful things you can do for yourself as it halts the process from worsening. Simply putting a stop to it by laying down or sitting back somewhere comfortable, closing your eyes and letting your mind and thoughts slow considerably can be very beneficial.
Journaling
Put pen to paper or type your heart out for as long as it takes to vent your way to inner calm and peace. Often times, writing out your thought process in the middle of an anxiety outburst can prove useful if you want to get things off of your mind. Be sure to include absolutely everything that crosses your mind in those moments of struggle to send it off.
Triggers
If you are well aware of the things that target spikes in your anxiety and make it much more difficult to handle, be sure that you prepare yourself ahead of time. You can also accommodate management of your anxiety to choose a different scenario; if removing yourself from the trigger is necessary for removing the problem, never be afraid to do so.
Gladness
If you are able to do so, try to think of at least three things that are a part of your current anxiety-induced situation that you can feel glad about, as this will act as a barrier between yourself and the negative dread that looms when anxiety sets in.
Remind yourself of the positive aspects when an anxiety attack burdens your day, find a handful of happenings in those moments that make you happy and you're already halfway to where you want to be with anxiety.
Above all, remember that you are never alone when anxiety has its grip on you and that it will always pass, no matter how frightening it may feel.
Challenge it every step of the way and the more you do so, the more success you will have with being able to better manage it.
Which are your proven methods for tackling anxiety into the ground?
Share your own helpful tips below!
anxiety
A highly spiritual being by nature. My biggest dream in life is to change the world for the better and to help others on their journey of self discovery, as well as teaching them to remember who they are deep in their core.