Order of the Heart IV
Mr. Hurley's Parcel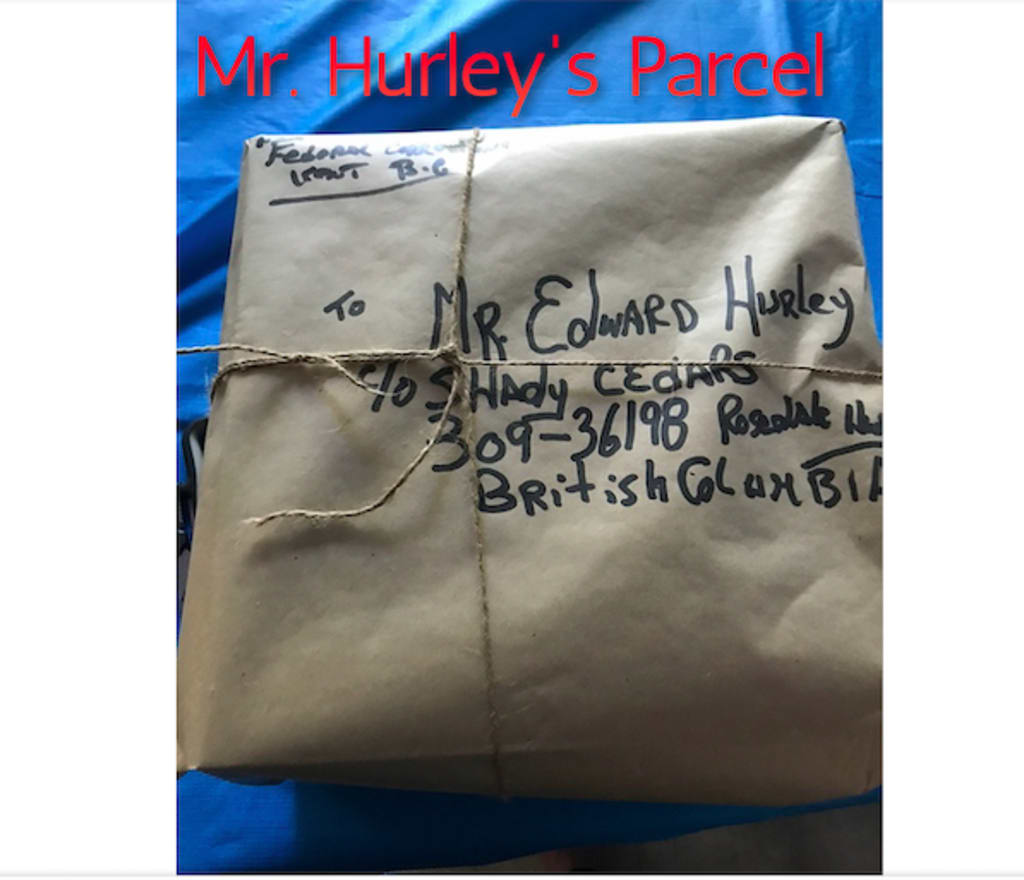 Mr. Edward Hurley had spent most of his life in either corrections or security. He worked his way from a grunt officer to senior Correctional Officer at the gate at a large Federal Prison in Kent, B.C. After retirement, he spent many years working for various security companies to occupy his time and feel like he was still an important member of society. Unfortunately, his beloved wife Beverly left him one day saying she was tired of being "Second Fiddle and to a uniform and badge." When she left, she ended up with half his pensions and "Havah," his favourite 38 revolver.
He sat on the third floor of the "Shady Cedars Retirement Home" in Agassiz, B.C. He moved out of his room, standing in the empty corridor as he had done so often. He walked down the silent corridor toward the television lounge. He passed the overturned carts, and chairs walked to the abandoned nurse's station, went to the right top drawer, removed the master set of keys, and moved to the pantry. He would select the usual breakfast of late, one box of powdered eggs, crackers and a juice box.
As he neared the pantry door, he saw another one of the brown paper boxes at the door, neatly wrapped with old-style twine around it with his name, address and suite number on it. He looked around before kicking the box out of the way, "I won't open the bloody things anymore," he shouted out loudly.
After selecting his breakfast items, he went to the dining area; each morning, he slowly set an overturned table and two chairs back into position. Edward had been doing this for so long it had become part of his daily routine; he placed his food on the table and moved back to the nurse's station, returning the keys to the proper desk drawer. Routine and order were essential to Edward, and he believed kept him insane.
After his breakfast, he dropped his empty food containers in the garbage outside of the Pantry. Edward knew someone was around as the parcel was gone and the garbage always was emptied. The floors and walls seemed dirty all the time, and he never saw footprints; this did puzzle him from time to time. He slowly returned toward his room, thinking about how good it felt not to have pills to take anymore. Somehow, he knew he never truly needed all that stuff.
He paused outside of old Mrs. Shoemaker's room; he glanced inside of the empty room. "Covid-19 is a fake a fraud," she would scream. One day she was wheeled out of the room, never to return. It seems she got the virus just as the pandemic started. Edward remembered her as an excellent chess player, Edward upon learning of her death, he turned over his king and never played again.
He went into his room and flipped the television on; it seemed like an eternity since any channels would come on. He remembered all the daily covid reports from the health officer, staff used to joke that Edward developed an obsession for the blonde-haired lady doctor on the daily reports. The truth was he only wondered if she could play chess. Edward turned the television off and looked out his room window at the overgrowing trees, long grass, and weeds in the flower beds.
"I shall speak to someone about this when he finds someone," he often thought.
A knocking on the wall outside of his room drew his attention away from the window. He wondered if the staff had finally returned, would he praise their return or give them hell for being away? He went into the hallway and saw no one, no prints except his own slipper marks, then he saw it.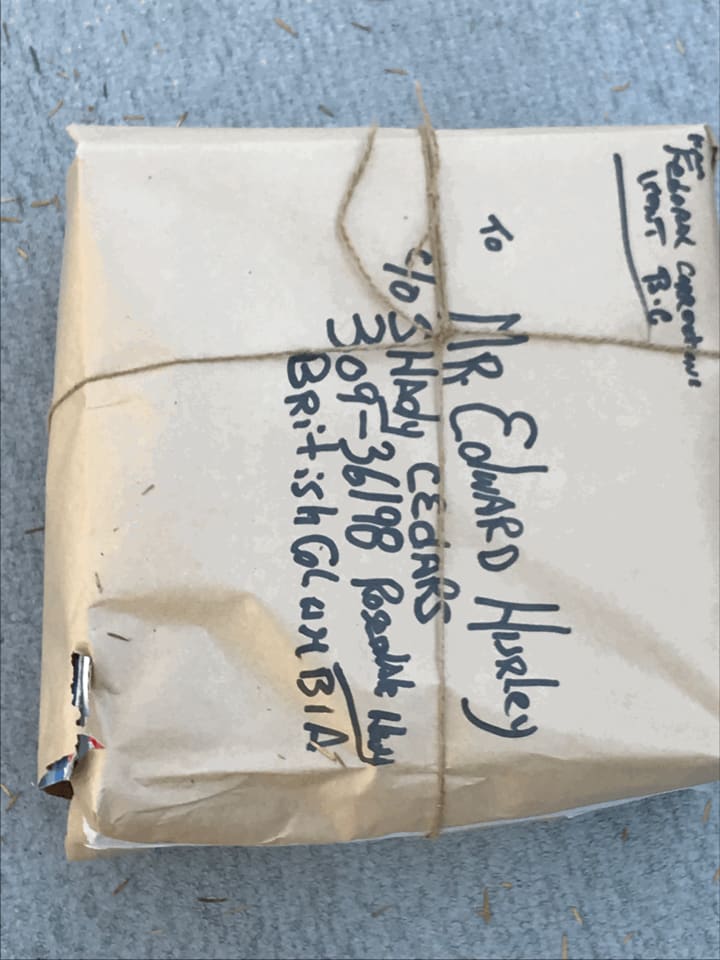 "Stop it," he yelled as he saw the brown parcel with the ageing twine, his name, his address on the outside and this time a red stamped word on it. "URGENT! Reply Required!" He picked up the box and went down the hall toward the pantry. "I won't play!" he said in a loud, angry tone.
As he moved past the television room, he remembered when the province's premier announcing the removal of restrictions for covid, making everyone feel like it was all over. He looked at the deserted nurse's station, remembering when flowers covered the top counter of the desk and families were all around once more.
He arrived outside the pantry door; he laughed loudly as he dropped the parcel in the garbage bin. He turned to go back to his room and saw another parcel almost at his feet. The same address, same red stamp on the package, and even a "Postage paid" mark on the side. Edward lifted this parcel and dropped it into the garbage bin, and turned back around to go toward his room.
He was more than annoyed at all the parcels that seemed to be appearing, no prints, no couriers to request a signature and the floors so messy. No sense of order at all seemed to be left in the entire world. The only benefit he saw was he no longer required a walker to move around the floor, no daily meds or annoying Jasminka trying to make sure he ate his entire meal of mushy food. He was feeling better and better, stronger, and stronger each day.
He turned the corner half expecting to see another annoying parcel outside of his room, but instead, he saw nothing. He sat on his bed and looked over at the photo of himself in his corrections uniform receiving the Lieutenant Governor's award for his bravery in 2002. For just a moment, he was back at the riots in Cellblock Alpha; inmates were burning toilet paper, mattresses were ablaze and injured inmates and staff littered the floor. He pulled out his baton as he watched three inmates pulling a much younger inmate into an open cell. He spun one of the three around and struck him in the stomach, and tossed him aside as he swung at the other two men forcing them away from the younger inmate.
A loud knocking on the outside of his wall brought Edward back to the present; this time, Edward moved much more quickly. He was quickly in the hallway and could see a young man pushing a cart away in orderly attire. He moved quickly behind and reached out toward the man silently, and spun him towards him. "Alright, who are you?"
The young man looked at him, Edward seemed to know him from somewhere in his past, but it was not this rest home. "I am Egan, dropping the daily parcels, Mr. Hurley."
"I know you, where is the rest of the staff, and why these parcels," responded Edward in a demanding tone.
"So many questions, so few answered permitted," he said with a smile that seemed more and more familiar to Edward. "I will say this open the parcel, the staff, and everyone is right here."
As the man pushed his cart away, Edward remembered the riot once more; he pulled the young man out of the cell while fighting off the three inmates. The young man looked into Edward's eyes as a knife struck him in the ribs. As the life faded from his eyes, Edward stared into his face.
Edward looked down the corridor, "Egan Willard Wright!"
The Orderly turned smiled," Egan Willard Wright 456789A thanks you always."
Edward tried to catch up to the man it was not possible; Egan Willard Wright died of his injuries on July 16th, 2001, despite his best efforts.
Edward went down the corridor but could not see Egan anywhere and assumed it must be old age catching up to him. Maybe his mind was starting to go; he went back toward his room and saw the parcel at the door. He was perplexed and tired; he walked into his room and want to lie down on his bed.
As he slept, his mind took him to the dining hall the day the first "Undead" appeared; it was a day like any other. The lunch menu was the usual sludge, and Jasminka was there trying to get him to eat. Mathew Rogers, a retired football coach and one-time Olympic medal winner, suddenly stood up from his table, knocking it over and holding his throat as black and red liquid came out of his mouth. Two staff members rushed over, but Mathew tossed one aside and started to pull the other to the floor with him onto her. Other staff appeared injecting Mathew with needles and eventually putting a restraint on him, but one staff appeared dead and another severely beaten.
Within two weeks, the news broadcasts were getting bleaker ad bleaker. States of Emergency became Martial Law Orders; outside of this tranquil home, you could hear sirens all the time, black clouds of smoke and the sound of vehicle crashes and gunfire. One day the television just stopped broadcasting with only a State of Emergency logo on the screen. The only thing broadcasting was something called "Oscar November Echo, Chilliwack One" on the radio from time to time.
Edward woke up suddenly and saw the familiar eyes of Jasminka looking down at him. Her long black hair was in a ponytail, and she was smiling brightly," It is time to stop the foolishness and wake up Mr. Hurley."
Edward's eyes slowly focused as she felled him sit up, "Where have you been," he asked.
"I have never left your side," she said as she turned around and took a parcel from his desk. "It is time to open this parcel and accept and remember what is and is not."
Edward suddenly felt a flood of emotion as he took the box and placed it on his lap. He remembered when the door alarm went off and the masked people arrived; he was in the dining area. He mustered up all his remaining strength, pushed his walker to one side and grabbed Hanson's cane. He struck the first man as man's weapon began to fire.
His hands opened the brown parcel, inside was a fine new pair of correction shoes, as he took them out, he could smell the scent of new leather. Jasminka took a show from him, removed a slipper, and placed the shoe on his foot, after which she did this with the other shoe.
She held his arm as they moved out of the room; the corridor had dried blood smears on the floor and walls, gunshot holes were all over the corridor. Edward remembered getting a weapon from one of these people and vowing to fight them to the death. He could not move well, but all his training kicked in as he fought as hard as possible to protect the staff and residents.
"Now, this will be difficult," she said as they went back to the nurse's station; Edward Hurley's corpse lay near the station with the bodies of Jasminka and two residents behind him. "You fought so bravely to safe us," she said as she kissed him on the cheek.
The two walked out of the ward and suddenly found themselves in the garden, "Where are we going," he asked.
The senior Nurse, Mrs. Maddley Thule, stood before them, "Thank you for joining us, Mr. Hurley; all I know is we need to go this way."
Jasminka held Mr. Edward Hurley's arm as they followed the other residents and staff onto a road filled with others moving toward Cheam Mountain.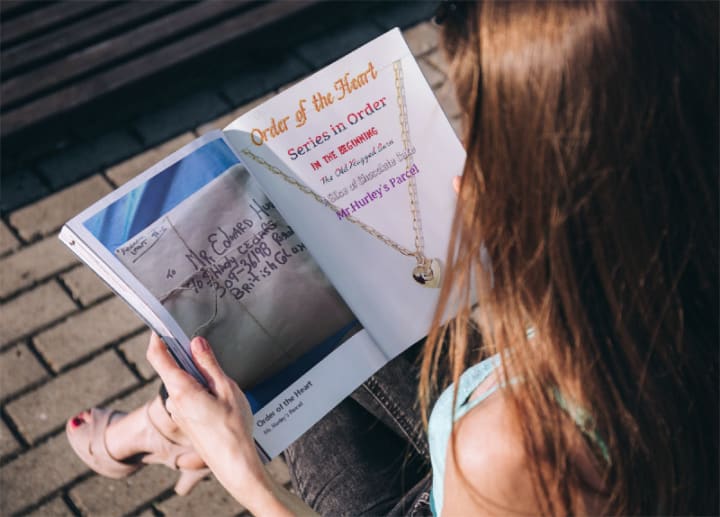 About the Creator
A Fifty something male that enjoys writing short stories, scripts and poetry. I have had many different types of work over my lifetime and consider myself fairly open minded and able to speak on many topics.
Reader insights
Be the first to share your insights about this piece.
Add your insights