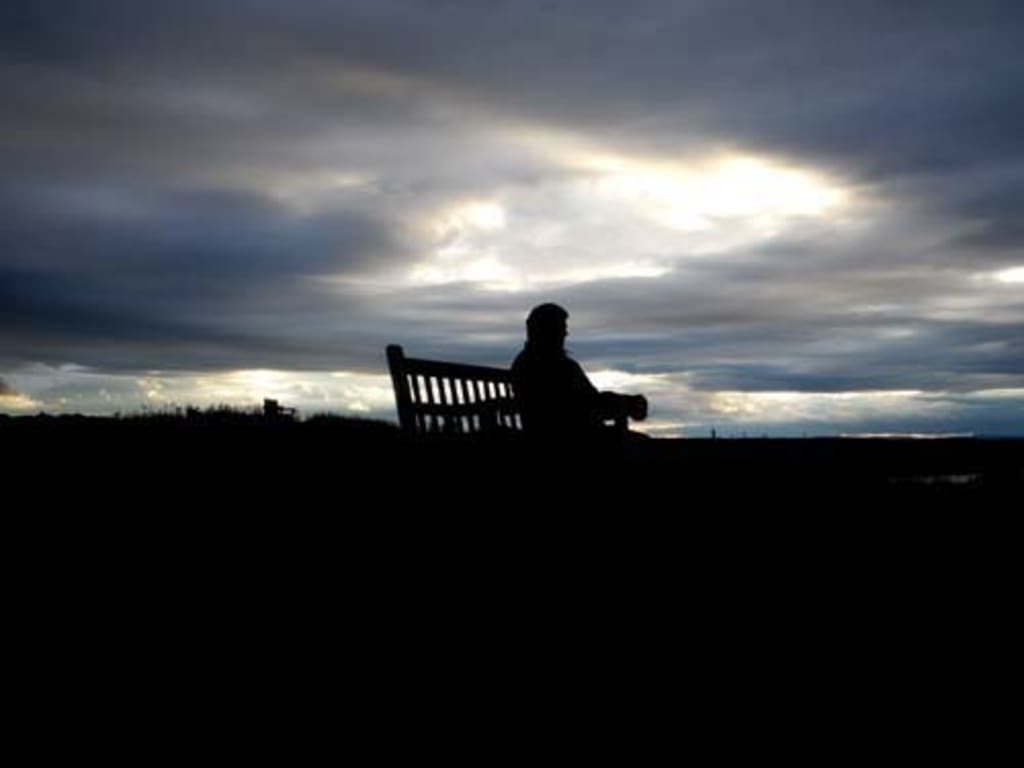 The author in solitude (My own photo)
What a lovely surprise to finally discover how unlonely being alone can be. (Ellen Burstyn)
In his book Borstal Boy, Brendan Behan gives a stark indication of how unpleasant enforced solitude can be for some. Alone in his cell inside Liverpool's Walton Jail, Behan hears activity outside; keys jangling and doors being banged shut. He hopes someone will come into his own cell, stating;
"Even if they were distributing nothing better than kicks or thumps, I'd prefer not to be left out, in my cold shroud of solitude. Fighting is better than loneliness."
I witnessed a similar dread of solitude at first hand several years ago, when I worked in a local bar. A customer, George by name, entered one evening in a state of some agitation. He ordered a beer, and as I poured it he told me that being home alone was driving him up the wall and he felt pressed to seek out company. I glanced at the clock on the wall, which showed ten past six. "But," I said, "if you were at work today, then surely you've only been home for an hour or so."
"I know," he said, mournfully.
A few weeks after that exchange, Covid 19 struck and the government announced its lockdown regulations, one of which was the immediate closure of all bars. During that period of restriction, I sometimes wondered how, or even if George was coping with enforced solitude. Through George's unease, I gained a perception of how unpleasant it must be to be deprived of the company one craves. But it was only ever a perception, because I didn't share George's anxiety over solitude.
I am never less alone than when alone. (Cicero)
Although I have a large circle of friends and acquaintances, as is common among bartenders, I'm not a gregarious person, and being alone has never been a concern for me. I got through the entire lockdown at home on my own without any issues coming to light.
To help me through those weeks of isolation, as well as the obvious distractions, long walks, television and social media, I could while away an hour or two with a book of cryptic crosswords, or write a blog post, or tinker with some recording equipment I have. There was always something to do, and when I tired of that, there would be something new to start. But those government restrictions hadn't suddenly thrown me in at the deep end to test my tolerance of solitude, I'd always been something of a loner.
If you're lonely when you're alone, you're in bad company. (Jean-Paul Sartre)
In my early teens, the lure of a day spent loafing alone on the streets of a nearby town was strong enough to draw me from lessons with my classmates. Of course, my absence from school brought repercussions from teachers and my parents. Yet, despite my daily promise that I would go to school, before I got to the gates I would be drawn to the freedom of the fields, and the unexplored town beyond.
That I would trade a day's education with classmates for a solitary venture, which was usually incredibly dull, puzzled the life out of those who had my interests at heart. I had friends at school, and I wasn't being bullied, so the consensus was that I was surrendering to some sort of overbearing wanderlust. Whatever the cause, the attraction of freedom was strong, and in the end everyone lost patience with me, and I was sent away for persistent truancy.
Whosoever is delighted in solitude, is either a wild beast or a god. (Aristotle)
I don't categorize myself as either of the above, but I have been known to delight in solitude. To return for a moment to my aforementioned job as a bartender, there came a time every week when I had three consecutive days off. Waking on those mornings, I experienced feelings that sometimes bordered on euphoria when I realised I had the day to myself, without plans, and with no-one to answer to. It was the schoolboy coming out in me again.

Me, myself, I. (Joan Armatrading)
I consider myself fortunate that I'm equally comfortable in a group, like a Trafalgar Square pigeon, or alone and brooding, like a heron in a stream. This adaptability was demonstrated whenever there was a televised football game on at the bar where I worked. There would always be a raucous atmosphere, with much shouting and roaring, not least from yours truly. At the end of my shift, I'd walk home, lock the front door, draw the curtains and relax in blissful solitude.
And I'm in good company. The late, great actress Audrey Hepburn also liked regular periods of solitude. She said, "I have to be alone very often. I'd be quite happy if I spent from Saturday night until Monday morning alone in my apartment. That's how I refuel."
I agree. To my mind, solitude is the best way to recharge the batteries, so to speak. In that regard I'm a bit like my mobile phone; the battery will charge all the better when the device is switched off.
(Originally published in Medium)
Reader insights
Be the first to share your insights about this piece.
Add your insights