Mindset Editing
Nobody needs to be perfect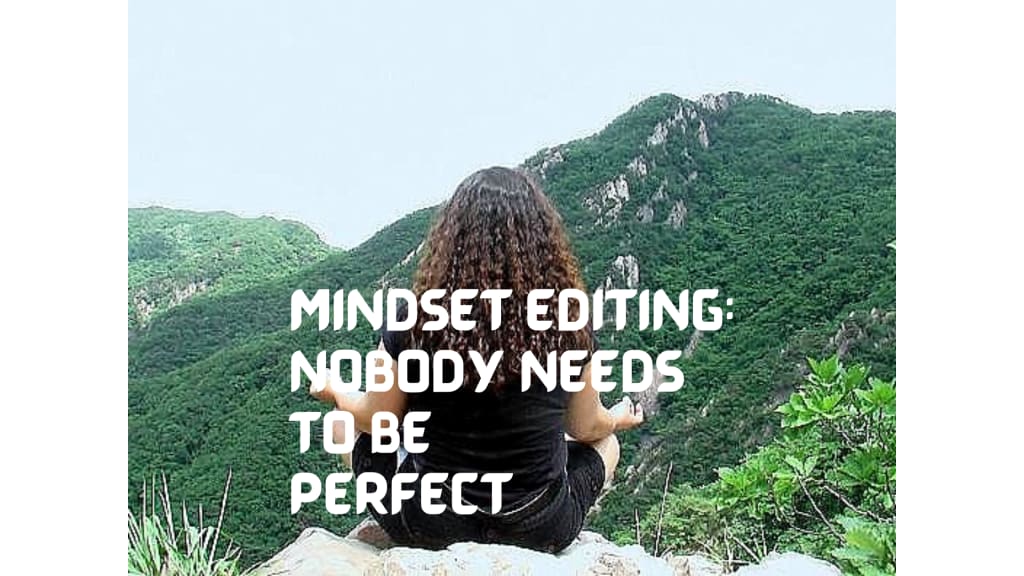 The author a top Mt. Soyosan, South Korea, 2006
Patience, forgiveness and just resolutions.
I'm no writer, per se. I'm just a simple human being, a drop in the ocean of all that exists.
But this past year has offered me the painful experience of really deep self reflections. Dude, I thought I knew the depths of human bullshit but I never saw 2020 coming. I was blindsided by nightmarish realities all while trying to play it cool, as if I had more control in my life than I did.
Being trapped in an apartment with someone you love is both a blessing and a challenge. I already had stress issues before the pandemic but the sleeplessness and anxieties leveled up. There were a couple of times when I had to really set some positive intentions, minute by minute, just to stay sane. To speak from my heart and keep my love first. Lord, I did my best. Luckily, we're tighter than ever and learning to grow the good.
Spending the summer watching the fall of Rome on social media was no help to my wellbeing. Watching people suffer while others victimize with impunity does not add real value to my personal world. I had to stop listening to the "squawk box" of news and pseudo-news. The quieter my environment became, the louder my anxieties grew, phantom wounds of violent injustices resurfaced.
Oh, yes. I have "mommy issues" like a motherfucker. Ask me if I've ever contemplated a uniquely twisted homicide and I will tell you no, but I wouldn't trust me. And in the dark of night, these old horrors kept me dancing, like a kid too scared to argue.
Years have passed. I am in my 5th decade now and have led an unconventional life, to say the least. In my travels I have acquired a pretty astute skill set for avoiding trouble and the people who swirl in it.
I have divorced my soul in this world, and hopefully the next, from someone who hurts me. My skin has scarred over but in my mind, it tears open in response to the thought of her. She is the septic Boogie Man in my closet and honestly, I'm kind of done with it. I've been patient enough with this morbid obsession. I'm bored repeating the same stupid responses to a memory that only justifies a shitty world view. Narcissists exhaust me, even when they're not around.
I'm done with energy vampires and old grudges. I'm done with shame filled fears and insecurities. I'm done with fucking 2020 and the rest of my nightmares. I'm done with a rapist patriarchy legally fucking with my money and my mindset. All of the points that I resist, the collective bullshit so to speak, can stop now. Really. Fuck all the way off. I'm tired, damn it.
I surrender. I see this absurdity for what it truly is.
I surrender this foreboding mindset, like an old tv channel on the dial. I'm changing it. Rescripting it. Clicking my vibe to a higher frequency. I want to live with a brighter, more forgiving paradigm. I want to plug into a world of hope and innovative beginnings based on laws of science, liberty and justice.
I still own my mind. I have title and deed. Free and clear. I'm ready to thoroughly evict soul squatters. It's time to box up the broken bits, forgive the harsher lessons and close the door on bad history before the squatters become permanent fixtures. Get the the fuck out, please exit stage left. My life is not an episode of Emotional Hoarders anymore. This is a design-my-life makeover show.
In 2021, I will venture to keep my mind and world as clean and healthy as I can. Mindset editing on the daily, flipping channels to better programming. My youngest sister, hereafter spelled "stisser", told me to "Marie Kondo the shit out of that mess and let 2021 be a better attempt at letting go."
Yes, letting go of perpetual WTF confusion, old and new. Thank god there's some semblance of leadership waiting to tap into the ring, both governmentally and personally. There are positive choices to be made, plans to be developed, tidying up and progressive actions to be taken. I'm not in control of anything but I do have a say in how I live.
I choose clarity over confusion. I don't have to have all the answers but I need to stop tilting my heart with every uncertainty. Not every match ignites but crying over it defeats the purpose, don't you think?
With a little bit of patience, forgiveness of my Self and others, I think I can make 2021 a great turning point in my life, and perhaps others as well. A year from now, I hope to be standing in amazing gratitude, overwhelming love, and comfortable satisfaction in the knowing that I made my world a better place to live. Perfection is not required.
Goodbye to 2020. Thank you for the lessons I learned.
Hello 2021. May you help me find the joyful roads on my journey.