Beyond the Blues
It was real, I was depressed, it wasn't in my head
Depression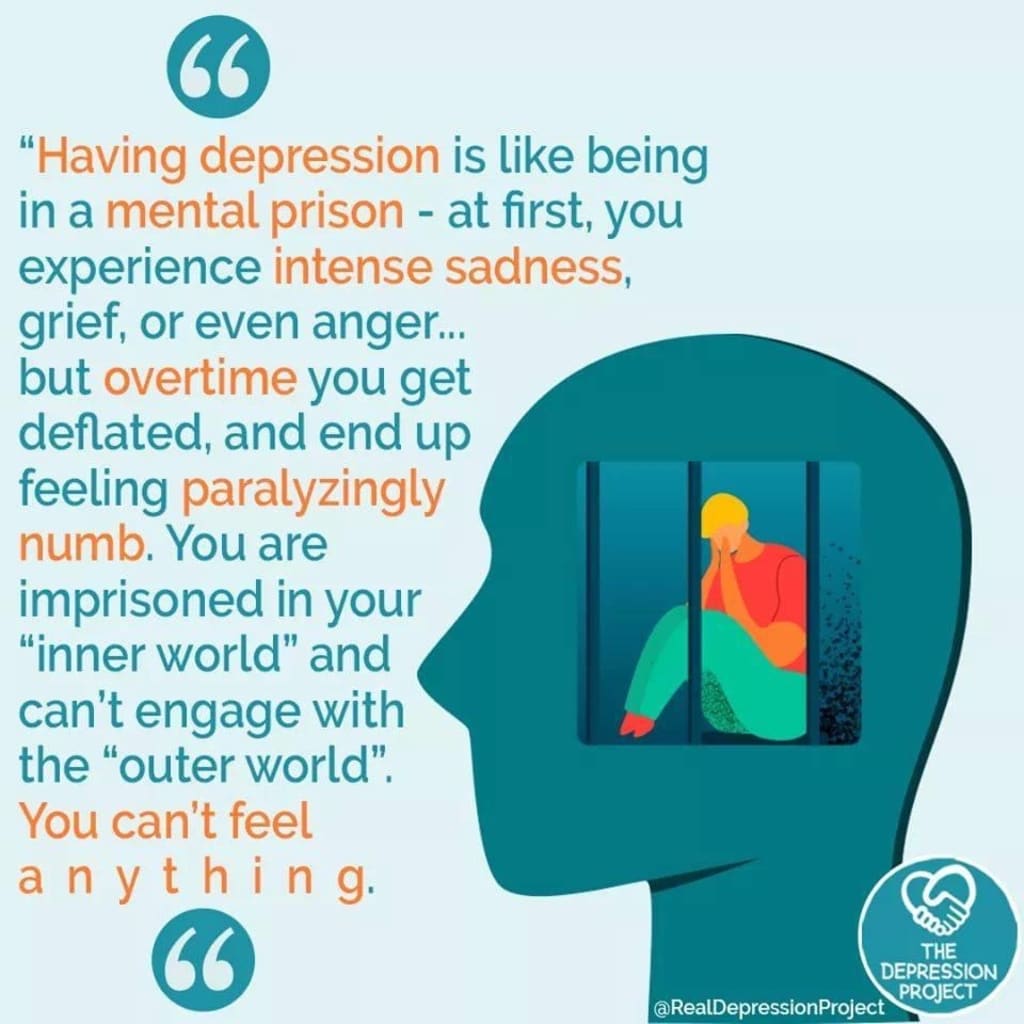 @RealDepressionProject
I had just been discharged from the hospital following a bladder biopsy and got home feeling 'really tired and sad'. This was expected, I had been in the hospital the whole day (8am -8pm). A usually straightforward biopsy had ended with a catheter and having to give countless urine samples after the catheter was removed. It was a nightmare! The next morning, I woke up and I was still feeling 'really tired', it had never taken this long for me to get back to 'normal' after a biopsy. I struggled to leave the bed, to shower and get breakfast from downstairs. At this point, I still had pain, but it wasn't a top priority for me. I made it through day 1, spending most of it in bed (didn't watch any movies etc) I just laid there. I went to sleep with the hopes that day 2 would be a better day.
Day 2 came and there was no improvement. This time it was even harder to leave the house, to eat (I had no appetite) and even phone calls with family and friends who were checking up on me felt like they were too much. I remembered that I had been given a number and could call the hospital if there were any issues. I called the urology department and got an emergency appointment. They checked my vitals, took a urine sample and I waited... The vitals came back normal, of course there was nothing wrong! My urine sample had traces of blood, but this was normal for someone who had just had a bladder biopsy. The doctor asked me how I was feeling and it was hard to describe, I felt "weak, tired, lost interest in everything", I told him I had had a few biopsies before but never felt like this. I had no will to live and wanted to stay in bed all day. He told me "you're going to feel under the weather every now and then because of your health condition." This made sense but raised more questions; "Is this my new 'normal'?" "How will I even do university work?". When you have an undiagnosed long-term physical health condition, new symptoms (physical) can be disappointing but expected.
I thought maybe I could try to force myself to feel 'normal' again by increasing my uptake of high energy foods and doing things I knew would make me happy; got a haircut, had takeaways 2 or 3 times a week, tried to go out for drinks more often (this usually just ended up with me drinking alone in the house), played all my xbox games and got a Netflix and NowTV subscription for movies. But this didn't cut it. After a week or so, I tried to go back to university. I couldn't handle early lectures because I was getting little to no sleep at night and I still had the existing fatigue. I was too tired to concentrate during afternoon classes. I hadn't told the university yet about my health, so I hesitated about disclosing it to my lecturers.
The next couple of weeks were hard, really hard. I got to the point of not being able to leave the house, I didn't have the energy to do so. I stopped texting or picking up calls. The physical pain & irritation had come back, more intense than before the procedure, so my urine frequency was high, and I kept thinking that I might end of needing a catheter ☹! I just emailed my lecturers each time I was not in, luckily the course had a low number of contact hours so my absence was not really noticed. My previous work experience and friends really carried me through the course when I had to teach myself the course content and write assignments. However, I finally worked up the courage to tell my tutor and he referred me to the student support for therapy sessions. This was my first time seeing any professional about my mental health. It was also the first time someone explained to me that what I was feeling was real, I was depressed, it wasn't in my head. This 'experience' lasted 2 months... 2 months of hardly leaving the house, poor sleep, feeling tired, not eating much, poor attendance at university and because I saw the urologist more than my GP I didn't have any contact with any health professional during this period.
Fast forward 2 years since this 'experience', "it's a blessing for me to be able to speak about this". I still experience episodes of mild – severe depression but I'm more aware of my triggers and can manage it better. I'm still receiving treatment for my physical health condition so I always feel like I'm one flare up, biopsy or a cystoscopy away from another severe depression episode – "impending sense of doom". My experience has lessons for universities supporting students with long-term health conditions and care providers delivering care for a (physical) health condition. Mental and physical health should always go hand in hand.