If You Kill Yourself, We Can't Watch Heathers Together
A letter to my friend who took his life, after decades of using friendship humor about suicide to cope.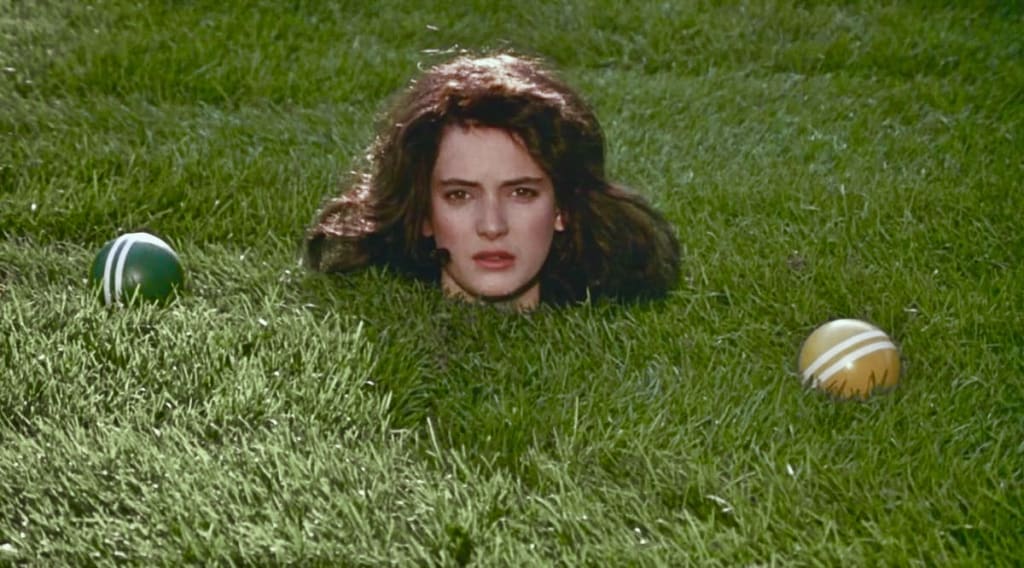 Dear JJ,
It was Tuesday when I found out, 2:26pm to be precise.
"Can you call me ASAP?" the Twitter DM read. Of course it was Twitter.
My heart sank. I hoped for fixable bad news — that you had finally fallen off of a balcony and gotten injured, or that you had been in jail for a wild story you'd tell me later. Anything but this. Not like this.
Before noon on Wednesday, I was staring at the corner's report. Cold and clinical. That document couldn't be about you. I must have double-checked your name and birthday at least ten times before I accepted the hard reality. This was you. I slammed my computer shut and didn't touch it for the rest of the day.
You stopped being missing, and started being dead.
So many of us were searching for you. Your absence was noticed immediately. We missed you for weeks, and now, brokenhearted, we will miss you for the rest of our lives.
Thanks, I hate it.
You broke our commitment to keep living. You broke a pinky-swear promise, dammit. And for that, I'm equal parts angry and sad. Not just at you. I broke our commitment, too.
I'm angry at myself for letting you forget that we made a promise a long time ago. A promise, and secret, it seems you kept. I guess that's what happens when two people who are experts at keeping secrets go through difficult things together.
Since you were sixteen, I played gaybie momma to you. How many times did I force you into a really good hug, not one of your pat and gos? How many times did I curl up with you on that horribly uncomfortable futon? Because a boy broke your heart, or the world got too stressful and depressing, and we'd hug the tears away.
How many times had I played momma before you found me passed out in my room, surrounded by empty prescription bottles? When you took on the role of motherly love and helped me collect my broken pieces.
"Listen, betch… we can't watch Heathers together if you commit suicide."
That's what you said the next day. You hugged me for a long while in silence, and told me that you loved me. We pinky-promised over a commitment to living, a plan to avoid suicide. We agreed never to make a plan without talking about it beforehand. I remember sobbing and snotting all over your shirt. You didn't complain once.
You did spend the next month in the apartment singing, "Teenage suicidddde…" Reminding me that I was well past my teenage years, and when my next therapy appointment was happening. You kept me laughing and organized when all I wanted to do was die.
Two years later, after I moved in with that awful guy you warned me about, you signed me up for a Heifer of the Month farm newsletter. And sent me a "Happy Suicide Awareness Anniversary" text. You really outdid yourself on that one, and I will never stop laughing about it.
Why didn't you let me do that for you?
Why didn't you let any of us do that for you?
You know we would have. Maybe that's why you didn't let anyone know.
Brilliantly innovative, heartbreaking, and wickedly funny …
That's how Hedwig and the Angry Inch, one of your favorites, is best described. It also best describes you, my lovely, sweet and salty friend.
We all wish you were here to see how loved you are, how loved you'll always be. Hope you're hearing the prayers I've asked ordained religious friends to send up, or down, or around, to you. I know how much that pisses you off, so I'll keep doing it. And there's nothing you can do to stop me.
Anyway, there's a lot of planning to do for your friend memorial. I'm checking-in with as many of the people you love as I can. You left a tall task, but I'll manage. We're going to keep Journeys with Jakey as a traveling memorial. He already has an Insta and four international trips planned. Your little bear is going to cost a small fortune in safeguarded diva shipping. I'll bring the bill with me when I get wherever there is.
I'm thinking a JJ Movie Madness Marathon is also in order. I watched Heathers by myself the other night. Everything was fine, until the credits rolled; the end felt too final this time around. Maybe it's time to bring in additional movie buddies… Don't kvetch, everything in your honor will have the highest standards. So, don't go throwin' a cosmic fit, or drop an airplane on my head because your shindig is on a quick and tight budget.
Btws, going to need your guidance from the other side. Push my ancestors out of the way, stay front and center for a while. And please don't watch me in the bathroom! You know that all-seeing-spiritual shit freaks me out.
Okay, I love you.
kthxbi
~~~
Learn more about me and support my writing at lauragentle.com
About the Creator
Copywriter, equality advocate, cancer+endo fighter. Odd Hollywood-Hillbilly Hybrid.
Learn more about me:
Reader insights
Be the first to share your insights about this piece.
Add your insights