I remember being thankful for my abusers.
And now I am just thankful for all the lessons.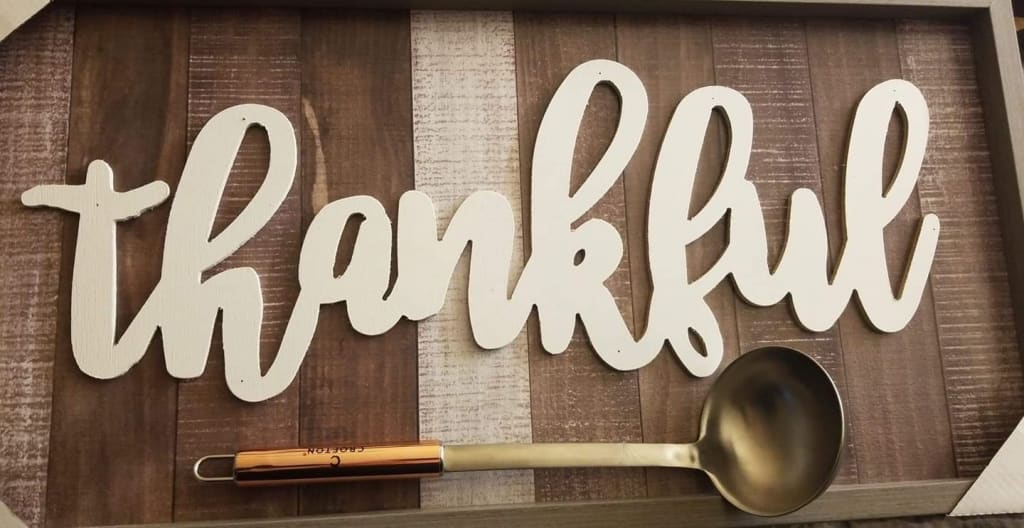 Far back, the earliest memory I had of this feeling was clutching to my mom's faded black scrunchy for her hair that I stole as comfort while I went away for the weekend with my father camping.
It was my first time going camping and sleeping all night in a tent with my father, whom I had visitations with on weekends post-divorce as a toddler. It was my first time away from Cathy. She was busy with her fiance, doing what I found out later was getting married in a courthouse without me.
I held onto that scrunchy to smell it and comfort me to sleep. It smelled like her lipstick and perfume. And though I remember not crying that whole weekend, I had cried a lot about leaving.
My parents were each a nightmare in their own way. Both mentally ill and untreated, but self-medicated with substances and bad relationships. I had no clue growing up what was actually wrong. So most often I thought their odd behavior was just, well, them.
And me. I remember thinking it was me. That was confirmed when I finally told a counselor in middle school that my mother was a drinker.
She asked me, "what do you think makes your mother drink?"
My 11 year old mind, "stress."
Her, "and do you think you stress your mother out."
YES, JANICE.
I FU*KING DO.
Thank you for clearing that one up for me.
Me.
☆☆☆☆ Thankful.
I was thankful I had a roof to live under, even though the rent was being taunted and caring for a woman that blacked out and tried to harm everyone on the regular.
I was thankful I had food, though I snuck and binged on sugary treats and cereal for years because my mom barely cooked or went food shopping. And when she did, I was thankful for bologne, yogurt, wheat bread, and 45c packets of flavoring for rice. Chicken rice. Broccoli rice. Overcooked or raw rice.
Anything she provided. Thankful.
Like the unhealthy reminders of my weight, my looks, my messy hair, and my eyes like my father's.
Funny thing was, I had her eyes. The one thing I got from her. But she usually did not even notice.
I missed a woman who was right in front of me for 16 years because I was just thankful to have a mother.
☆☆☆☆☆☆☆☆☆thankful.
I was so thankful when a boy I really liked finally felt the same. And began to date me, in spite of what anyone else thought about me. I was not weird alone anymore. We were weird together. Marching to his own beat was so attractive to me. So I marched his too.
I was just so thankful to finally find a rhythm and call it love.
But that name did not apply to the way he treated me. What he expected of me. What he did behind my back. And what he did when I was no longer of use.
When things got too real.
It was me.
I got too real.
Real-life happened and I became pregnant.
And I was convinced we would have a plan.
I was thankful to have him until I chose commitment and he chose to run.
I remember keeping his jersey after it was over.
Crying to sleep wearing it, belly poking out underneath with my hand cupped under my waistline to feel the kicks.
I wish I could have been thankful then that I had escaped and survived it. Him. Them.
☆☆☆☆☆☆☆☆☆☆ thankful.
I was a "daddy's girl" like most daughters are and I remember a time when I really enjoyed seeing Charlie. That stopped around age 8. Once the new marriage took place with my mother, he got weird.
His bond with me was like I was a pawn in his chess game. He had no idea how to play chess. We lost a lot.
I kept feeling excited and so thankful to have what Charlie gave me.
Freedom.
Freedom to walk around with friends for hours.
Freedom to take the bus with change from the jar and show up in the city with girl peers to go meet guys. A secret for them but an open truth for me. One I had no clue was even a risk.
After all, I was thankful I could be independent.
Charlie supported it.
☆☆☆☆☆☆☆☆☆☆☆ thankful.
I was thankful I got out of the abuse from my parents and into a home with my Aunt and Uncle. That I could have 4 years to go from minor to young adult and go through Community College.
I then applied for a four year school and campus housing. I picked a major. A second major. A minor. A second minor. An internship. A job. I even applied for an RA position, though i was so thankful in the end that one thing did not pan out.
I was SUPER BUSY. Always smiling. Always creating in my spare nights and weekends.
I did not know it then but art and writing were my coping skills for my extreme anxiety and PTSD. Everyone would say "wow, after all, you say you have been through ---> you turned out so level-headed."
I felt thankful I had it all together.
Disassociation left me filling a never-ending itinerary. Passion was fueled by the void.
I was thankful for the void because it allowed me to paint and draw. To let out my raw emotions.
☆☆☆☆☆☆☆☆☆☆☆ thankful.
I was thankful when I met a guy during college who wanted to take it sloooowww. He wanted to be my friend. Then take me on dates. Then start to date. Eventually met my child. And would walk me to my classes. Show up at my events.
I was thankful.
Thankful he wanted to kiss me and hold me in his arms. Thankful he looked down when he talked and was quiet.
Not arrogant or aggressive or loud.
If he had a rhythm, it would be a quiet whisper. Like the wind.
Four years, between two schools---> I was so thankful.
For the church I found through him. For the people I met and the independence I fostered.
The apartment I got on my own and the life I was building at my College.
I was thankful. I was becoming a woman. A strong and independent woman.
A strong single mother.
All 4 years I was known as a strong single mother.
Even though I had a boyfriend.
Because just like the wind, he was always coming and going. As he pleased.
And when he did a no-show for a while and then said he was confused, I was thankful.
I was smart, driven, passionate. Succeeding.
I was the PERFECT PARTNER to be with for someone who was not sure what to do with their life.
I would help him. Guide him.
I would capture the wind and direct it.
I was thankful in the end, even though it really hurt.
Thankful that he ghosted and then finally said it was over.
Because it was really hard being known as a loner and ACTUALLY being alone around the person I had thought I loved.
☆☆☆☆☆☆☆☆☆☆☆ thankful.
In the last 5 years, I have met a partner who has matched me in so many ways and yet been my exact opposite in mindset and experiences.
An entrepreneur. Independent. Strong. But not overpowering. Not a wind.
He was my thunder.
The thunder that came crashing and bursting into my life. And the one who when the storms come in my life would just hold my hand in it and watch through the window.
I have had to learn how to be thankful.
Thankful for the abuse and past I endured.
Thankful for the hyper-vigilance and fears. The diagnosis of PTSD.
The validation of finally knowing what my problems are and where they stem from.
I am thankful for my art and writing because after coping came facing all the problems.
So I repurposed my creativity into a way to tell the stories.
The words that make me who I am.
Strong and resilient.
A challenge taker.
I have found a way to be thankful for the conditions because I have learned a better way of living through having to manage them.
My anxiety has actually given me a great need to simplify my life. To flow. To show patience. And to set boundaries. It not only manages my anxiety but I am able to navigate life in a way that brings me joy instead of misery.
My depression, though it felt like a storm, made me have to be alone.
ALONE.
Isolated from everything mentally and sometimes physically. Only then was I able to be alone with myself.
To face me.
And be thankful.
To find my own rhythm.
PTSD has made me realize that I am a time traveler.
I get to travel, when I harness it, all over my life. I get to relive the past. And yes, it was scary at first. But then I realized that going back and taking control in the flashbacks is possible.
Because they are not real.
I have released the fear of being like my parents. I do not have schizophrenia or bipolar disorder. But I can actively put myself into a memory or flash now.
And as I work on it, I visualize.
I rewrite.
☆☆☆☆☆☆ thankful☆☆☆☆☆☆☆
I am so thankful I am a writer.
I always have been.
And now I get to redefine these emotions.
My own identity.
And my future.
I want to always remember to be thankful.
Because the journey has felt like 4 lifetimes.
All the moves.
The different caretakers.
The different obstacles.
Now I get to write number 5 exactly how I want it to be.
It sounds funny but I love to smell my kids scent as they fall asleep.
This little family I have made.
A familiar scent that I can pour all my love into.
All the ways I want to be as a woman, wife, and mother all stem from them.
As I re-parent and parent.
And every night, as I kiss their little faces good night.
Fu*k.
I am just so thankful.
trauma
Mental health blogger, content creator, and creative writer. I write about trauma, mental health, and holistic wellness to empower other trauma survivors. Follow my blogs @Jadedsaviorblog @Startthrivingnotsurviving linktr.ee/jeangrey888
Receive stories by Jaded Savior Blog in

your feed