Forgetting the Unforgettable
Forgetting. The loss of a memory—or in this case, the loss of one's self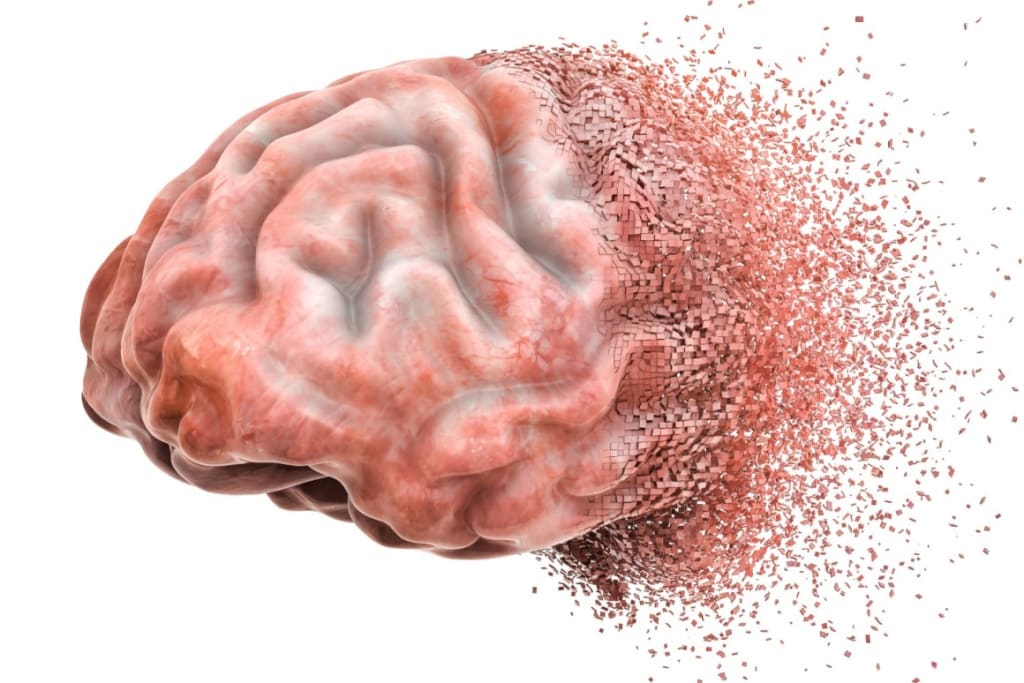 I don't need to tell you that it is the seventh biggest killer in the world for you to know that it is one you would never want to get. I shouldn't need to get into details for you to decide that any possible fate or death would be more merciful than living with this. Death is scary, but when your life is flooded by the anguish caused by dementia, many would rather choose death. I don't blame them. Anyone that has a disease which causes the irreversible deterioration of the neurons within their brain until everything they ever loved or cared about is gone has a right to choose how long their suffering should last. Sadly, life isn't that simple.
A woman whose family requested she remain anonymous (and for the sake of this post be known as June) was diagnosed with early onset Alzheimer's in 2009. Her family had been jointly looking after her since diagnosis. June's daughter, a mother of three, explained how the disease doesn't just affect her mother but had impacted her relationship with her own children. Before the illness, she stated her family had one day out a week together, but after her mother began deteriorating, her life became consumed by her care. If her children do agree to go out with her, she now finds upon the mention of bringing their grandmother, the kids quickly change their minds. "It's like looking at a stranger every time I see her," she expressed. "It pains me knowing how such a respectable woman folded into a shell of who she was before." Yet, despite all, she never gave up on her mother.
June is part of the one in twenty people aged over 65 living with dementia in the UK. Considering the UK retirement age, this means that many would develop dementia without having retired. People like June would have worked their entire life anticipating retirement only to be diagnosed with one of the most horrifying diseases just as retirement was within reach. By the age of 80, that statistic rises dramatically to one in six elderly people living with a form of dementia—this figure only continues to increase. Worst still, currently only 43% of those living with the condition get a diagnosis, leaving over half of those suffering from this illness undiagnosed and lacking the vital medication needed to delay this process. Despite this, dementia still receives eight times less funding than diseases like cancer.
The illness isn't only horrifying for the patient, but the entire family suffers. In many cases, the carer of the patient grows ill after the patients passing due to the stress. In June's case, she struggles to sleep. Each night after getting into bed, she will begin to wander around the house. Having progressed so far into this illness, she has injured herself when left alone, leaving her family sleep-deprived and caring for her for long days. She's all her family think about. Whilst June is living to forget, her family is forgetting to live.
In the UK, processes such as euthanasia are illegal. Yet 51% of people say that they would break the law to help a person suffering from a terminal illness. At least with this option, they can choose a merciful death if their suffering becomes too much. With dementia, it's not as simple. Possible? Yes. If the patient illegally left the country to proceed in this process, it would be possible. Understandably, however, with any illness synonymous to madness, insanity, derangement and lunacy, it is clear that the laws won't be as simple around undergoing the process. If a dementia patient wants to end their suffering, they must go through with it whilst they're still considered 'sane.' That is never easy when a person can be suffering for years before doctors even consider a diagnosis. Unlike most illnesses, these patients do not have the choice of a way out. This is why it is vital for a cure to be found for this disease.
My own grandmother was diagnosed with dementia nine years ago and I know firsthand the pain of knowing that I'll never get to know my grandmother for who she was. I feel selfish because I want her with me, yet I feel guilty because all the time she's with me, she's suffering from a life she doesn't deserve. To her, I am nobody. Just someone present at the time with no real significance. I don't blame her when she tells me she wishes it would end, because if I was in her position, I would do the same.