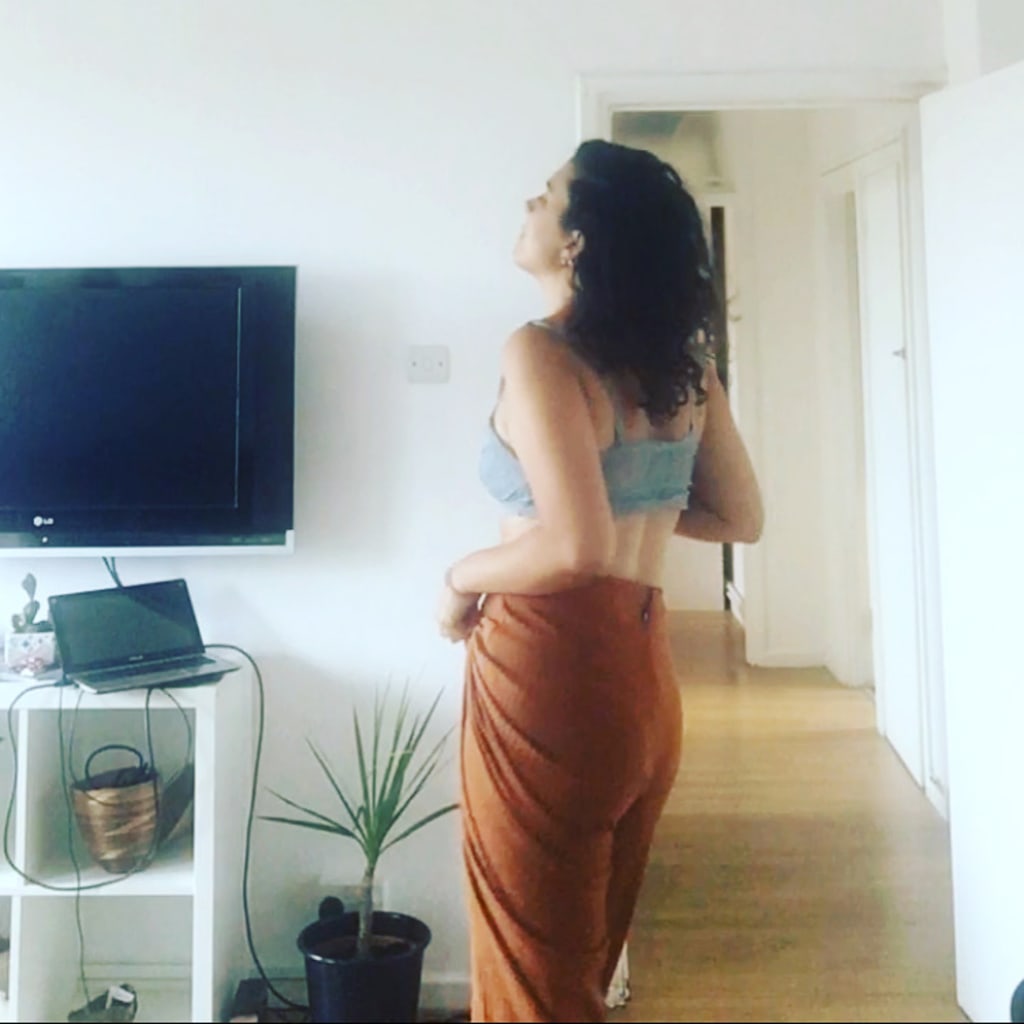 My room has been set up as an anxiety free space.
White walls, green plants, white and clean bedsheets, inspiring paintings, meditation music, all wrapped by an essential oil smell.
There is also room for studied absences. The absence of toxic memories, the absence of any reminiscence of painful moments and my favourite, the absence of curtains. One day I washed them and never put them back. I realised the sunlight kissed me every morning. For some people it could be annoying, mostly when there is greyness in it, but from the very first morning I took it as a message to embrace every day as a new opportunity, a new chance to say to the world I'm here, I'm strong, and even if it takes me a while to stand up and walk, I'll do it.
And I do it.
I open the main door and I walk away. When the anxiety free space is not free of anxiety anymore, I take Flavia with me and we walk together, we walk until it is over, at least, until the next day. We fight together.
But let me first introduce you to Flavia.
She|Her, Flavia, allow me to say my anxiety is (un)fortunately a sensitive and sensible woman, lives in my chest and asks me for walks every day, even when we are in bed together discussing what is life about and ordering a take away. Even when we watch series and have chocolate, and it is raining outside, she wants to walk, and we take that care of each other, that I cannot say no. We wash our faces and even if sometimes I put her a bit of mascara, we always wear some comfy clothes and shoes, we never know how long the walk it is going to be.
I'm so thankful I have met Flavia. Flavia has brought so many things in my life, the awareness of who I am, who I want to be and how, but she is so overwhelming, she brings me all this knowledge, all in once, that sometimes I want her to go away and the only way is walking, and breathing, and walking, and breathing again until she leaves my body, probably until the next day, sometimes she comes back before sleeping, she likes to hug me in the night and sometimes she just can't resist, and I hug her back. Sometimes she hugs me that strongly that it is difficult to sleep, but we always try, because we know otherwise the next day it is going to be a difficult day.
I know when Flavia asks me for walks, she wants exactly the same than me, she wants a break, we live together in each other bodies, but we need our own space. So we keep walking.
As every relationship, we didn't know how to deal with each other. At the beginning, I even tried to kill her with every kind of Flavia killer I knew. I feel so sorry I couldn't deal with it in any other way, I didn't know her, I just wanted to kill her.
But now we walk. We walk together.
As I said, she brought me knowledge in every single aspect of my life that…voilà, she also taught me how to walk.
One day, we started walking together when she saw I wasn't enjoying it, she always knows how I feel. She then told me, now, look at the next person who will cross your path in the eyes and take everything you could take from it. So, I did it. My path crossed with an old, white hair, black skin woman. Her wrinkles wrapped her deep and dark but bright sight and I inhaled a whisper of hope and energy, I even smelled it. My soul vibrated for the first time that day. My soul vibrates every time I remember those wise and kind eyes. Flavia smiled and let me enjoyed that moment. We walked in silence for few minutes. We crossed our favourite park, Brockwell Park, we enjoyed London skyline together and then she left.
I remember that day, she left me just for few hours, the time I came back home, had a shower and prepared dinner. But she is always hungry and loves my cuisine. So she just popped in to the living room, sat on the table, had dinner and went to bed. Sometimes she lets me have a smoke and a glass of red Spanish wine just after dinner. Oh God, she knows how I really love that moment for myself. In the meantime, she is also happy reading a book and waiting to hug me again in bed, as almost every day.
That was a Saturday. On Sunday she decided to stay all day and she knows how toxic is that for me. So around 5pm she said "I think you need a walk". So again, this time no mascara but a book, we walk to the park.
I think she is in my life to make it somehow better, even if difficult. Thus, she looked at me again and said, I think you should read your book, but at times, just take a breath and look around you.
I started reading my book and ignoring her presence, I could perfectly have read fifty pages in one go but a ring necked parakeet couldn't stop claiming my attention.
I stopped, I looked up at it and I started laughing, it had a funny look. I looked around and London was covered by a pink light. Flavia left.
Flavia didn't come back that night even though was Sunday. Between you and me, it was a relief.
Eventually, Flavia came back and taught me more things, but that weekend she taught me how to properly walk, even if during the walk I sometimes sit.