Five Rules of Adventure
A tale of choices, cookies, and treasure found in our darkness.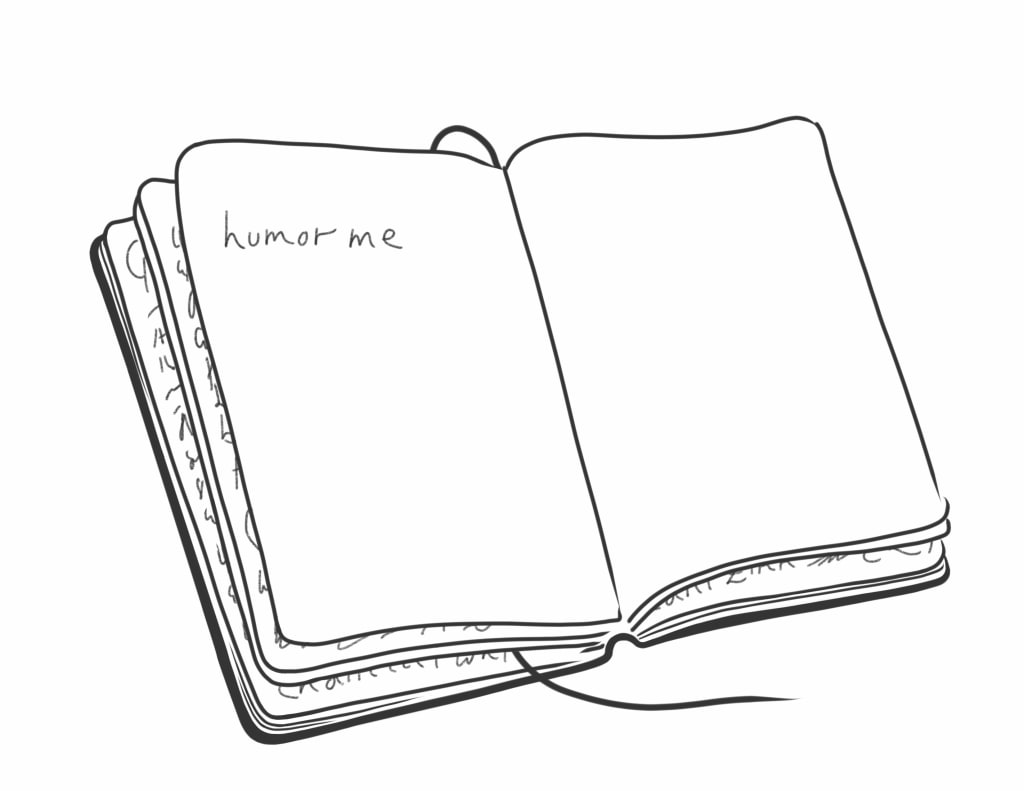 Original art by Alyssa Piro.
01.
"He was a bit of a closed book."
- Go to Page 2.
____________________________________
02.
As you rifle through your late father's meager but neatly organized possessions up in the family attic, you come upon a little black notebook under a stack of old photo albums.
The notebook's pages are numbered and filled with your father's handwriting. Page 1 opens with the words, "He was a bit of a closed book."
You are now looking at Page 2.
On the inside of the back cover, in a little pocket, is an old photograph of us on a beach: you, dressed as a brave explorer; Mom, beautiful as ever; and I.
If you're reading this, I am gone.
Hopefully, the ceremony was not terribly tedious?
- Go to Page 3.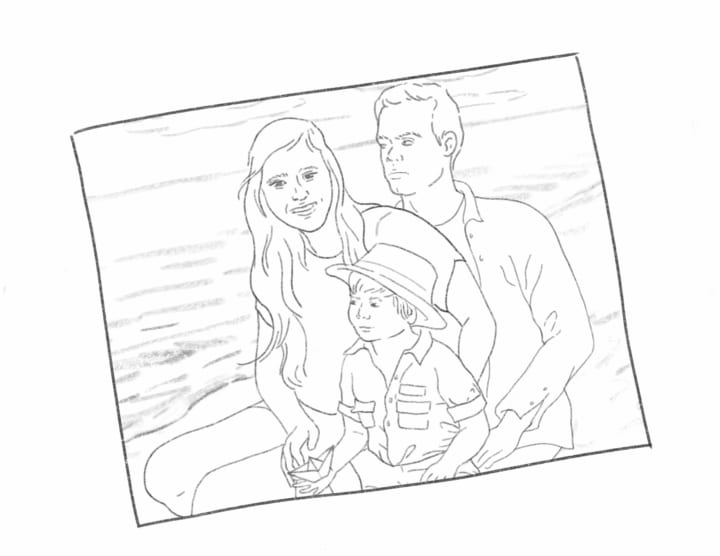 ____________________________________
03.
There is nothing I can say that's going to change the past for you and I. No magic words to twist the reality of things. Mom's love was the compass that steered us in the right direction; once she was gone, we headed straight towards the shallows.
Looking at this photograph now, I smile. You once aspired to be a courageous pioneer who uncovers the secrets of the Unknown; did your dream come true? Are you proud of yourself as a person?
Please rest assured—I'm not proud of myself. I've missed every opportunity to be the father you needed. Now that I'm no longer here, the only thing I can do to make up for never giving you a true father-child experience, is invite you on an adventure.
Behind the baseboard that doesn't quite look like the others, you will find enough money for a round-trip flight to Chiang Mai, Thailand.
A trusted friend of mine once told me in confidence that somewhere in Chiang Mai, on the grounds of a hidden temple, lies a treasure.
This book, compiled based on my friend's instructions, will guide you to it.
However, you must know that there are five rules to this adventure, and the first one is really important—consider it my dying wish, if you will:
Rule #1 — Don't Skip Ahead.
Will you humor me?
- Go to Thailand: Page 4.
- Take flight money and skip the trip: Page 22.
____________________________________
04.
Great choice, and surely not an easy one to make.
***
As you wait for your flight to Chiang Mai to board, what thoughts run through your head?
I myself have never been amused by airports, but your mother felt differently.
Celeste always found them to be a most exciting part of the journey—as if you're standing on the Verge of the Unwritten, as she eloquently put it: "Nowhere else do you get to resign control and feel the vastness of possibilities open up before you."
It is too bad that we seldom went anywhere together.
Are you boarding yet?
- Go to Page 5.
____________________________________
05.
A few connecting flights later, you arrive in Chiang Mai with a rolling carry-on and swollen feet, still wondering what possessed you to go on a transpacific treasure hunt in your mid-40's.
You get your tourist visa stamped and head to the exits. Once you step foot outside, you are instantly overtaken by the tropical heat and the unparalleled attentiveness of taxi and tuk-tuk drivers.
I'm told that Thailand is called the Land of Smiles; is that an accurate description?
"Sawasdee Khrap!"—cheerfully exclaims one driver and bows to you with his palms pressed together. You return the gesture. Switching to English, he asks you where you're going.
Where to?
- Explore the hidden temple Wat Pha Lat: Page 8.
- Hostel Khemthis: Page 9.
____________________________________
06.
Monastery Pha Lat was built in the fourteenth century on the site where King Kuena's elephant had stopped and rested, before continuing up the mountain and ultimately perishing on the grounds of what became Chiang Mai's most grandiose temple—Wat Phra Tat Doi Suthep.
Unlike its big brother, Wat Pha Lat is a serene and secluded place. Beautiful Buddha shrines and viharas are cradled by lianas under the evergreen canopy of the jungle, and a quiet waterfall runs down towards the city from an old pagoda.
Contrary to what I've led you to believe, kid, I have stood where you are standing.
I have sat on the sloping rocks overlooking the city and tried to tune out everything within and beyond me; everything but the waterfall trickling down the hill.
I have stayed until dark and watched the ghostly mirage of stars project their voicemail message onto eternity—until the monks awoke me from my unintended trance, fed me, and gave me a bed to sleep on.
Indeed, the recognition of one's own capacity for change ought to be the most painful of epiphanies.
Which brings me to:
Rule #2 – Do Not Take Things For What They Seem.
- Look for treasure: Page 11.
- Hostel Khemthis: Page 9.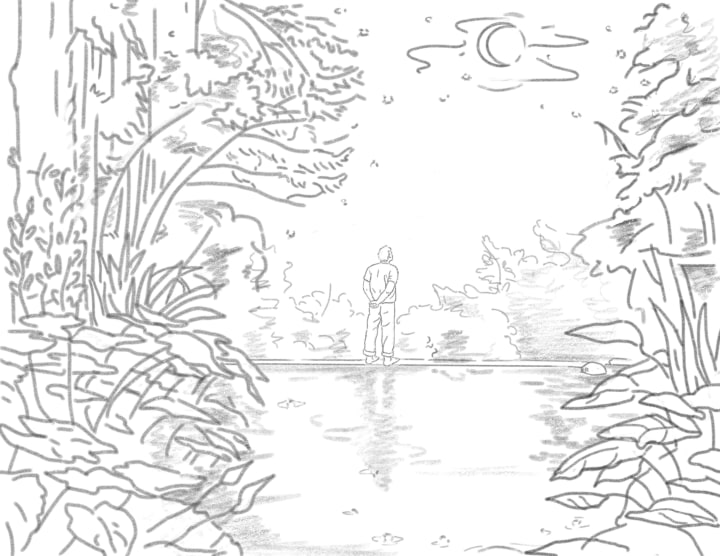 ____________________________________
07.
Hungry, angry, and exhausted—but not giving up—you return to the base of the Monk's Trail and hail a taxi to the hostel.
After a good night's sleep and a nice breakfast, you can search the Temple again with a clearer head.
- Go to Page 9.
____________________________________
08.
You don't beat around the bush, do you? I wouldn't either.
***
The cab driver skillfully maneuvers along Suthep Road through a chaotic yet harmonious stream of cars, tuk-tuks, motorbikes, and bicycles, heading north-west of the airport to Doi Suthep mountain—the city's most recognizable and awe-inspiring landmark.
Passing shopping malls, parks, and lively street markets, the common road turns into a narrow serpentine path leading you to the foot of the mountain, to what looks like a portal into deep forest.
"Temple Wat Pha Lat?"—you ask.
"Up, up, thirty minutes"—says the driver with a smile, pointing at the jungle's entrance.
"Kop Khun Khrap"—you thank him as he leaves you with your carry-on, hungry and starting to sweat, wondering how stinky you are about to get at the end of a half-hour uphill climb.
Did I not warn you to bring mosquito spray?
- Hike the Monk's Trail: Page 10.
____________________________________
09.
The driver knows where to go. Situated by a canal, fairly close to Doi Suthep mountain in a nondescript nook off the main road and surrounded by lively street food stalls, Hostel Khemthis seems to be a community staple where travellers and locals come to gather for an impromptu drink and a chat.
Chanthira, the hostel's owner, greets you with a bow and a kind smile. A beautiful Thai woman in her sixties with wrinkles in the corners of her eyes, she walks you to your room and hands you a key with an elephant-shaped keychain.
Dog-tired from travels, you take a cold shower—just your luck!—and immediately fall asleep as your head hits the pillow.
I will see you in the morning.
- Go to Page 12.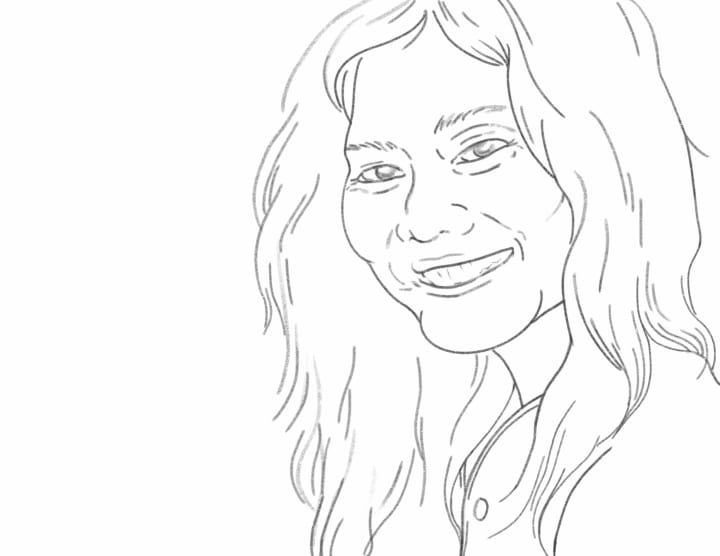 ____________________________________
10.
The path along the scenic Monk's Trail—aptly named so because the monks hike it to and from the temple—gets moderately steep, and you have to be careful not to trip on a tree root or slip on a rock.
Luckily, the trail is mostly shaded, and save for the plentiful mosquitoes, is a perfectly pleasant way to experience the jungle.
You follow the orange strips of the monks' robes, thoughtfully wrapped around the trees to aid navigation, until emerging at the base of a glorious staircase decorated with two pearly white nagas—mythical part-snake, part-human creatures—guardians of man's unity with water and earth.
The statuesque serpents don't seem too pleased with the unexpected visitor as you cautiously make your way up the stairs to the temple.
- Go to Page 6.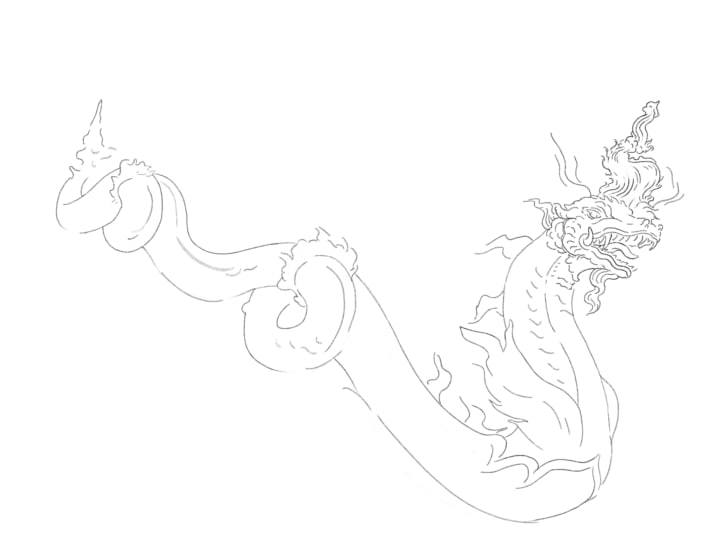 ____________________________________
11.
You wander around the temple grounds aimlessly, getting progressively annoyed at your father's deceitful ploy.
Why did he lie? After two decades of absence from your life, why drag you across the world on some phantasmagorical treasure hunt? Slapping his knee and cackling muffledly from six feet under—what does he hope to gain from this?
Perhaps, you should try again tomorrow.
- Give up and fly home: Page 22.
- Hostel Khemthis: Page 9.
____________________________________
12.
Your eyes snap open and slowly come into focus on the ceiling lamp's intricate spiral pattern. It was not a dream; you are, in fact, in Thailand.
You get up and look around, trying to take in the unfamiliar setting. The room is unassuming but homey and well-maintained, with all the necessities that an average traveler may require: a twin bed, a mini fridge, and a coffee maker. The window faces a courtyard with a garden, where local kids play hide and seek under the watchful (but indifferent) green eyes of the neighbourhood stray cats.
There is a big map of Chiang Mai on the wall with the hostel's location circled in red, along with several other places of interest—temples, restaurants, bazaars, massage parlours.
There is a complimentary pack of cookies at the coffee station, but that just won't do for the adventurer of your caliber—your growling stomach is yearning for a proper meal.
You check the map for nearby recommendations.
- Café on the Hill: Page 16.
- Eat cookies and head to the Temple: Page 14.
____________________________________
13.
On the way out, you notice a wall of photos of smiling café patrons posing with the staff; some of them quite famous.
But there is one photo that stops you in your tracks: you, dressed as a brave explorer; Mom, beautiful as ever; and I.
Same as the photo you are carrying in your notebook.
On the pin holding it, hangs a key with an elephant-shaped keychain to Room 9.
How did our family photo end up in a place like this, on the other side of the world? You wonder, if I had been here before… what else have I lied to you about?
- Grab the key and return to hostel: Page 15.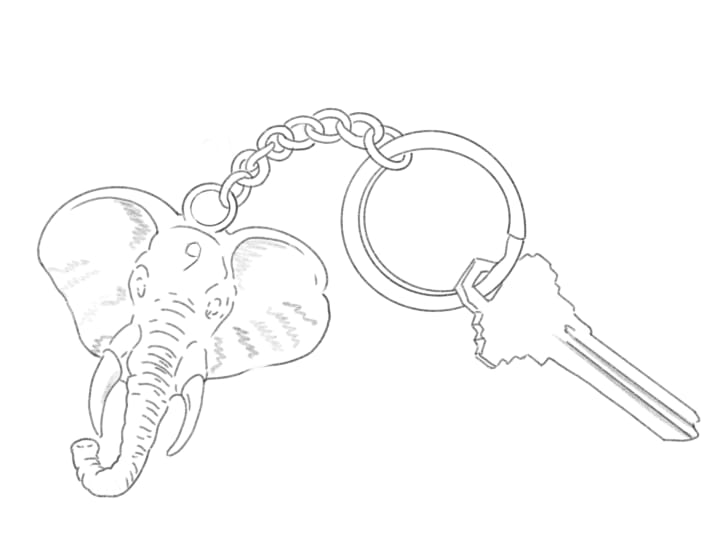 ____________________________________
14.
You grab the cookies as you head out the door—no time for gluttony, the treasure awaits!..
A passing glance at the packaging, and your heart sinks to the bottom of your stomach:
"The Hidden Treasure of Chiang Mai."
It was all a sham.
You have taken time off work and family duties and flown thousands of miles to Southeast Asia… for a pack of mass-produced, albeit decent, hostel cookies.
It does make for an amusing anecdote, doesn't it? You ought to give me that.
- Café on the Hill: Page 16.
____________________________________
15.
Back at Hostel Khemthis, you try to put on your best casual face and sneak by Chanthira, who gives you a warm—if slightly intrigued?—smile, as you head down the hall to the living quarters with the mysterious Key 9 burning a hole in your pocket.
6, 7, 8… 9.
You put your ear to the door; doesn't sound like anybody is inside.
You look around to make sure nobody sees you, and carefully put the key in the lock…
- Open the door: Page 18.
- Ask Chanthira about the key: Page 19.
____________________________________
16.
Your mother would love this place.
Café on the Hill looks like it was built by a magical Rainforest labour brigade from salvaged trees, strangely shaped rocks, and layers of reinforced palm leaves as the roof. Blending in perfectly with the surrounding scenery, it resembles a treehouse in the middle of the jungle.
The waitress, a young woman named Daw, brings your Kai Jiew omelette—"Enjoy!"—as you take in the magnificent panoramic view of a rice field on the outskirts of the city.
…Or maybe not. Perhaps, Daw wasn't the waitress, you ordered a different dish, visited a different establishment, or dismissed Rule #1 altogether and skipped ways ahead.
Like any parent, I have made the mistake in the past of trying to control your encounters with Life; to impress upon you the pattern of my own subjective prism; to make sure that everything is done by my book.
Well, I have no say any longer.
Rule #3 — You Always Have a Choice, And Your Choice Has an Impact.
- Skip to the end: Page 22.
- Look for treasure: Page 13.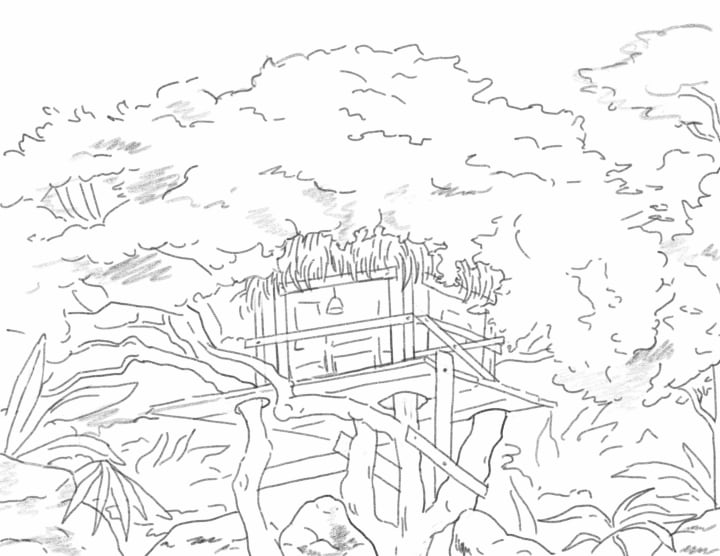 ____________________________________
17.
You don't have much to pack for your flight home, because you barely unpacked your suitcase in the first place.
Admittedly, this whole endeavour has proven rather fruitless.
You have nothing to show for your adventures aside from a couple of souvenirs, a useless key, and a terrible jet lag.
…Knock, knock.
- Answer the door: Page 20.
____________________________________
18.
The key doesn't turn.
This path has led you nowhere.
***
Chanthira seems to appear out of thin air beside you, making you jump up and just about die of embarrassment.
"Do you need help?"—she asks with a subtle wry smile and a squint in her eyes.
"No, sorry, haha, wrong room"—stuttering and stammering, you slide by the omnipresent matron of the hostel and slink back to your own quarters.
That went well.
- Pack your things: Page 17.
____________________________________
19.
Not willing to risk getting in trouble with foreign authorities, you decide to come clean to Chanthira. You go back to the lobby and put Key 9 on the counter in front of her.
"Hi, um, I found this… somewhere, perhaps someone lost it?"—you ask, watching closely for her reaction.
"Oh… no, not here"—the lady is difficult to read, but sure enough, a hint of an emotion flashes on her face; was it joy? anger? nostalgia?
What did she mean by "not here"—that the key does not belong to the hostel, or that she doesn't want to talk in front of people?
"Kop Khun Kha"—Chanthira thanks you and goes back to the reception.
- Pack your things: Page 17.
____________________________________
20.
You open the door—it's Chanthira.
"May I come in?"
***
Choices.
We make loads of them.
Some can be inarguably identified as "good" or "bad", like getting up early to make breakfast for your partner (good!) or slapping your own kid across the face when they are trying to get your attention (bad).
Some, however, can be ticking time-bombs wrapped in Christmas packaging.
After Celeste died, the choice to crack open a bottle- or two, or five- felt like a good one at the time. It put me in a certain limbo of ambiguity, where facts would get washed out, sinking pain to the bottom and drawing to the surface feelings of hope—hope that it was nothing but a bad dream.
By the time I escaped that sensory dissolution chamber, you had run away from home.
***
The oneness of man and water.
Feeling like the victim of your own choices is akin to floating in false hope at the bottom of a glass—it is a strange place of comfort, one that does not necessitate action or evoke personal accountability.
Selfishly, we pity ourselves and drown in our own failings.
Selflessly, we make peace with them and sail into the wind.
Rule #4 — Do Not Dwell On Your Choices.
- Go to Page 21.
____________________________________
21.
Two decades ago, a man arrived at the door of Hostel Khemthis.
Soaked head to toe from October rain, you could say that he looked "damaged on delivery".
He booked Room 9 provisionally, asking to remove all liquor from the mini refrigerator as his only stipulation.
After a painful yet epiphanous pilgrimage to the Hidden Temple, he would stay in his room for days and days, and Chanthira—bless her heart—would bring him chicken skewers on rice. A striking beauty with hazel-green eyes, she seemed to relate to his subdued internal battle on an instinctual level.
One night, she stayed with him.
***
Chanthira tells you not of your father's true nature that somehow got missed by every soul that he had hurt, but rather of her own fleeting and subjective encounter of a man who had decided that his life was worth living; who had stood on the Verge of the Unwritten and taken a wobbly step into the blinding sterility of a blank page.
She had built a life and a business of her own and did not plan to leave Thailand, nor did I seek to stay and impose the burden of my recovery on such a lovely person.
It was not until recently, when I wrote to inform her of my ailing health, that I found out she had a daughter—Daw, whom you may have met at the Café on the Hill; your half-sister.
This is when I decided to create an adventure for you.
***
All this talk of epiphanies and spiritual revelations—and yet, I never wrote to you due to the immense guilt that I carried until the very end, when I finally reached the top of my proverbial mountain; guilt for not being present, for raising my hand against you, and for betraying my loyalty to your mother.
All the effort it took to manufacture this superficial experience, when all I ever wanted to say was…
I am so, so sorry.
- Forgive your father: Page 22
- Not forgive: Page 22
____________________________________
22.
Whatever was your choice—please know that I respect it, and I am proud of you.
***
Celeste always dreamed of an adventure trip to Thailand, yet I saw no benefit in spending our savings on the intangible—the homebody that I was.
And then, in a blink of an eye, she was gone.
When I regained my faculties, I took our rainy day funds and embarked on the trip by myself, taking our family picture with me. It was not the experience I anticipated, but it changed my life nonetheless.
There is a little chest under a floorboard of the attic. Use your key, if you have it, to open the lock; inside, you will find $20,000.
Use the money as you see fit, but please, if you haven't already, do your family a favour and take them on an adventure. Go on a treasure hunt—together. You will never come to regret the decision to share the joy of exploration with those you love:
Rule #5 — Never Say No to an Adventure.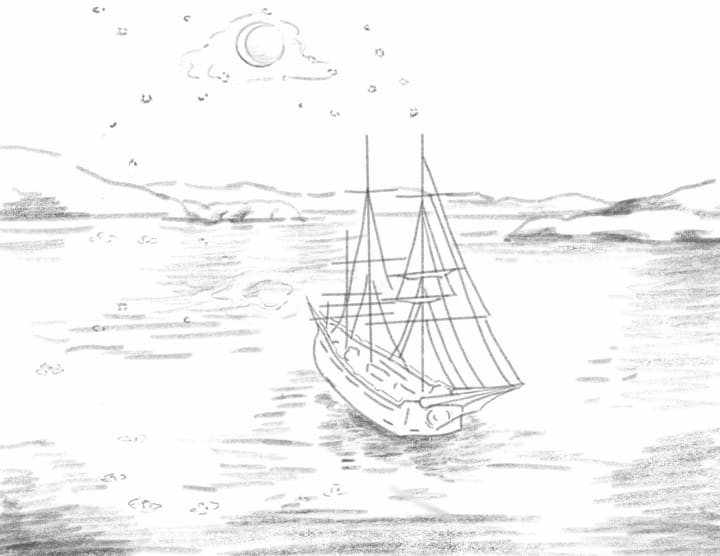 P.S. And if your children ever ask you what grandpa was like, just tell them:
- Go to Page 1.
humanity
I am a strength coach based in Toronto, Canada.
Having dabbled in varying methods of self-expression throughout my life- writing, film, music, coaching- I strive to evoke in myself and others the inherent creativity of the human soul.
Receive stories by Nikita Emtsov in

your feed