Behind the Scenes
Demi Is No Less of a Role Model After Relapsing - This Is Why
Demi Lovato has been an inspiration to many by speaking up about important issues, and despite relapsing, will still continue to be a role model for generations.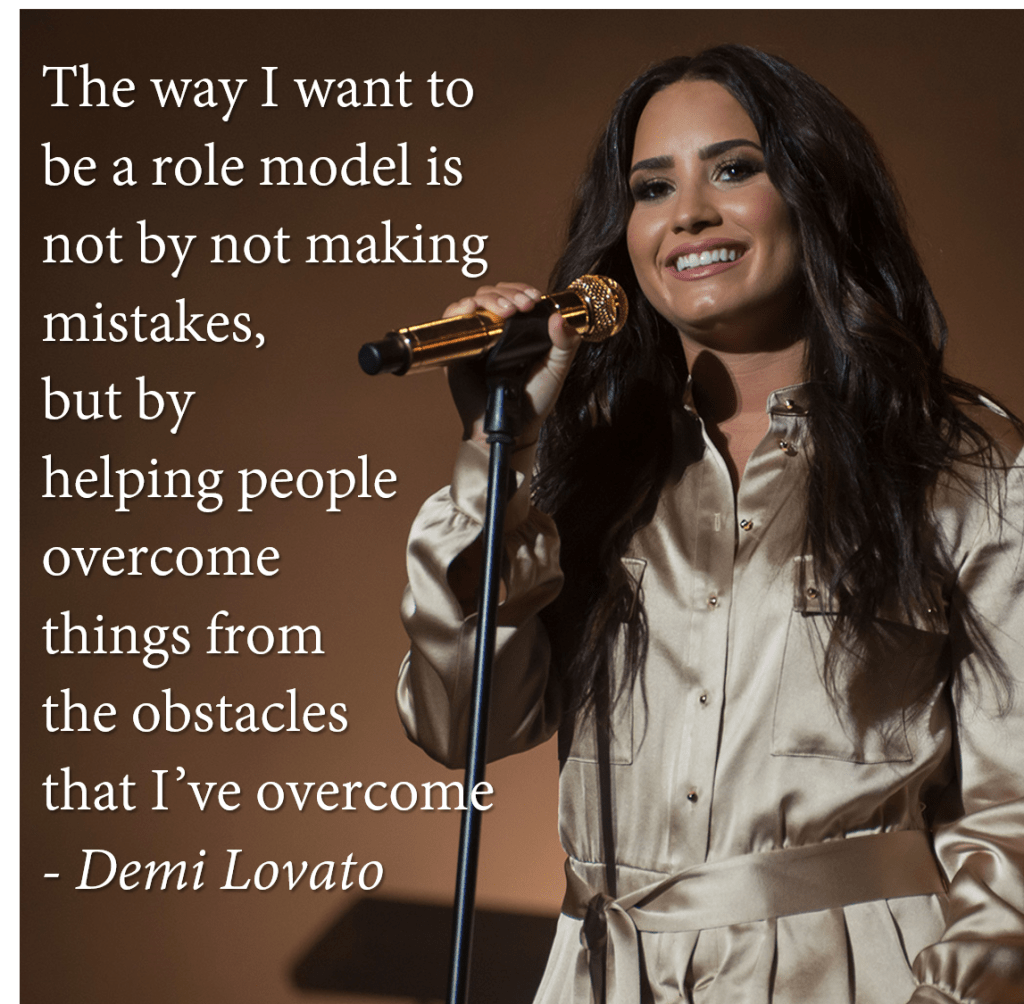 The day I was seeing Demi's 'Tell Me You Love Me' tour I was excited to say the least. So excited that I broke my usual rule of containing my endless love and admiration for Demi, and instead couldn't stop talking about the recent release of her single "Sober" and how devastated I was for her. My mum, being the ignorant and judgmental woman that she is, responded by saying, "Well she's not a very good role model then is she." What my mum doesn't understand is that Demi is only human, and in a society where young people are overwhelmed by social media's unattainable image of perfection, doesn't that make her the perfect role model?
My mother, alongside much of the general population, doesn't understand that struggling with a mental illness, dealing with an addiction, and relapsing after a long battle doesn't make you wrong. It doesn't make you a taboo topic. It doesn't make you any less of a person. It makes you human, and a strong one at that.
As the news broke of Demi's overdose, people seemed to strategically overlook the achievements of the six years she had spent fighting for her sobriety. People forgot that beneath the fame and talent, Demi is only human, so instead made a spectacle of her for cheap views or retweets.
Yet, the millions of Lovatics who have looked up to Demi throughout the years continue to support her. They recognise the battle Demi has been through. The realise how vulnerable she has made herself to be a voice for those struggling. They see the strength she has given to so many. They feel the love she has worked so hard to spread worldwide. They know that they are lucky to have such an open and honest role model to look up to, that she is special.
It is important that whilst Demi is working on her own recovery and health, we encourage others to learn more about her accomplishments, so that she can continue to save people who need to hear her story.
Firstly, Demi is a major advocate for mental health awareness and funding. After being treated at a rehabilitation facility, Demi has been very open about her diagnoses of substance addiction, eating disorder, self-harm and bipolar disorder, including her 2011 documentary Demi Lovato: Staying Strong, where she opened up about the struggles she had been facing with behind the scenes. As a result of speaking up, many of her followers say that she encouraged them to get help or saved their lives. In 2013, Demi released a book called Staying Strong: 365 Days a Year which consists of 365 pages, each with a different meaningful quote, one for each day of the year. In the same year, she was awarded for her advocacy work for mental health at SAMHSA's National Children's Mental Health Awareness Day, where she emphasised the importance of reaching out to someone and was praised for the impact she has had in supporting young people overcoming challenges.
Also in 2013, Demi partnered up with CAST Recovery to produce the Lovato Scholarship Program in an attempt to provide funding for treatment of those who cannot afford it. It was decided for the 'Future Now' tour in 2016 (with Nick Jonas) that CAST Recovery would be brought along as part of CAST on tour, where fans were offered therapy and attended talks by motivational speakers before watching the show. This was a really successful initiative and received positive reviews by those who experienced it. Alongside her work with CAST Recovery, she also spoke at the Democratic National Convention to raise awareness for mental health in 2016, was awarded the Artistic Award of Courage at the Open Mind Gala in 2017 for raising awareness and reducing the stigma of mental health, and became a Global Citizen Ambassador for her work supporting the mental health of thousands of children displaced within Iraq. Additionally, in October of 2017, Demi released her documentary Simply Complicated, which gave an open and honest insight of her struggle with addiction and eating disorders, and how she's been dealing with issues throughout her [at that time] five years of sobriety.
In addition to her advocacy on mental health, Demi has also voiced her opinions on LGBTQ+ rights and has openly provided support for the community. In 2014, she was named the LA Pride Parade Grand Marshal, and also filmed her "Really don't care" music video (ft. Cher Lloyd) at the same event, which included couples of the same sex being intimate. In the same month, Demi was the lead performer at the NYC Pride Parade, where her performance received a lot of attention due to the two male dancers kissing on stage, one of whom was fully naked other than president Putin's face covering his genitals in protest of the anti-LGBT population in Russia. Demi went on to become the face of the Human Rights Campaign's America for Marriage Equality later that year. In 2016, Demi performed at the Billboard Music Awards wearing a gender-neutral bathroom sign on her outfit, to symbolise the equal rights of transgender and gender fluid individuals. Her and Nick Jonas also cancelled their tour dates in North Carolina in protest of their anti-LGBT law being passed. Furthermore, Demi was awarded the GLAAD Vanguard Award for making a difference in promoting equal rights for the LGBT community in that year, donated money to LGBT charities in light of her five years of sobriety in 2017, and was also nominated for a British LGBT Award in 2018.
Demi herself has also proposed that she is open to a relationship with a female, as well as with males. In 2015, she released her song "Cool for the Summer" which featured the lyrics 'taste for the cherry', leading to many listeners suspecting she was talking about sex with another woman. On the Alan Carr show that year, when asked about these lyrics she didn't deny its potential meaning and sustained the idea that she is open to bisexual relationships. Then during her documentary "Simply Complicated", she talks about her idea of being open to love of all types, and if that connection forms with a woman, then she is completely fine with that. After a number of rumoured relations with a woman, during one of her shows on the 'tmylm' tour during 2018, she and Kehlani, who is an openly queer singer, kissed and danced together on a double bed during an intimate song. On this same tour, she also asked the audience to participate in a 'kiss cam' segment, even if their neighbour was of the same sex, encouraging fans to support fellow fans of whom are in LGBT relationships.
Bullying is a large issue that Demi had to deal with throughout her childhood, where she has even admitted that classmates had made and signed a petition encouraging Demi to kill herself, as well as constantly calling her fat. Even before needing to receive treatment in 2010, before her subsequent issues were made public, Demi still stood up for children experiencing bullying. Often in interviews she would talk about the importance of preventing bullying in schools and for the victims to speak up and talk to someone. In 2012, Demi took part in a 'Mean Stinks' campaign aimed at eliminating bullying by girls in young people. On a similar note, Demi has also been a voice of body positivity for women and young girls. She embraces a curvier figure, encouraging others to do the same and make a change in the fashion industry standards. She also initiated a #nomakeupmonday on her Instagram, posting picture of her natural beauty every Monday and encouraging others to shares theirs too in order to feel comfortable and beautiful in our natural skin.
Demi has been a part of many campaigns and programs in support of a number of different causes, all in aid of helping people. In 2009 she was part of Disney's song 'Send it On' in support of environmental organisations and then in 2011 she was part of the 'Make a Wave' duet with Joe Jonas which won an award at the Do Something Awards. Then in 2012, Demi participated in the 'Teens for Jeans' campaign, ran by the Do Something organisation, which aimed to collect jeans for homeless teenagers. Demi has also visited patients during their time in the hospital, such as in 2014 she visited children as part of the Ryan Seacrest Foundation and in 2016 she visited the LA Children's Hospital as part of #MakeMarchMatter, supporting children's health month awareness. She has visited Kenya twice, firstly on her birthday in 2013 and again in 2017, where she supported Free the Children (now known as the WE movement) to help provide education for children. She has been awarded by Unite4 at their 2014 Humanity Awards. In 2017, Demi paired up with Fabletics to release a limited edition range in support of the 'Girl Up' campaign to fund programs for girls from marginalised communities. Demi has also been very open about her title as a feminist and the importance of equality for women. For example, in her documentary 'Simply Complicated', she talks about her belief that it is okay and normal for females to engage in causal sex, as well as to want to enjoy their body. In 2018 she released a song with Christina Aguilera called 'Fall in Line' which highlights the sexism in the industry and encourages empowerment of women. Also in 2018, Demi performed as part of the 'March for our Lives' rally as part of supporting the anti-gun violence movement.
Need I go on?
Evidently throughout her career, Demi has participated in standing up for a huge number of important issues. Whether it is her advocacy for mental health awareness, her support for the LGBTQ+ community, her willingness to be open and honest with her fans, her desire to prevent bullying or harm towards anyone at all, or even just the meaning behind her lyrics, it is clear that she has provided a voice for so many. If that's not the requirements of a role model, then what is?
She may have overdosed, but anyone who has suffered with substance abuse knows how hard it is to stay sober on a daily basis and that six years is an amazingly long time to avoid relapse. Just like when she admitted to leaving the MET Gala to attend an AA meeting to maintain sobriety, her relapse teaches people that relapse happens, and its okay. The response to her song 'Sober' is evidence of the number of people who relate to her experiences. Demi isn't providing a bad example by struggling with her addiction, she is providing a loud voice for the many sufferers hiding behind the stigma engrained within society. Whilst her relapse is saddening for her fans to hear, and her near-death overdose sent a wave of fear throughout the globe, she has once again provided relief to those who feel defeated by relapsing, displayed the scary truth behind substance abuse and the effects it can have, and expressed her belief that recovery is possible by admitting herself to a treatment facility. For those afraid to speak out or ask for help, these could be the lessons they need to hear to make that first step. A role model.
Besides, even if all her hard work or her music doesn't cause you to admire her, EVEN IF you disagree with everything she stands for, that still doesn't entitle you to spread hate about her or ANYONE. There really is just no need for it. There's enough negativity in this world.