Blue slushie
Bought at the mall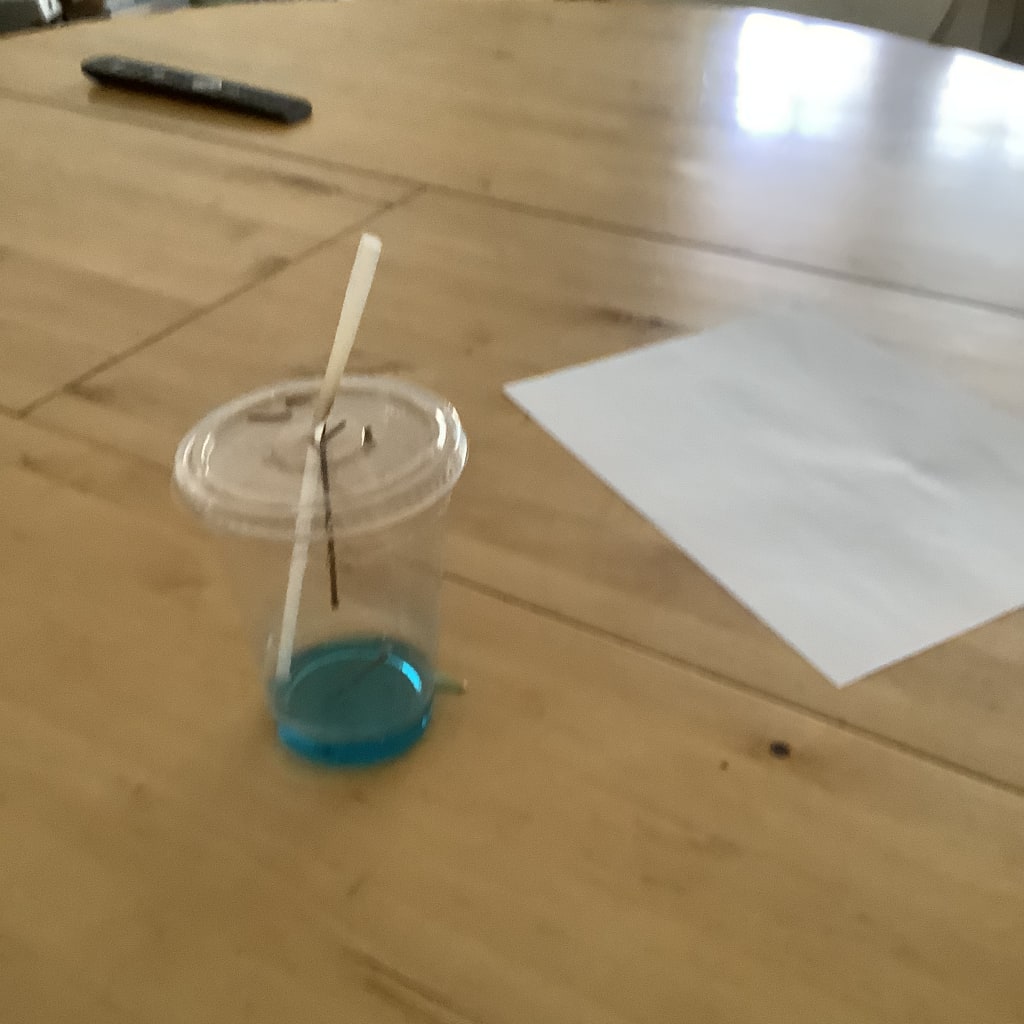 Blue slushie
Fame pAin shame the darkness in my eyes keeps me awake , vaping on my tool grey smoke blowing from my nose , my dad comes in my room says he is getting raw bacon ,boil potatoes in a pot frying stripes on the grill , need some more veggies (brocoli) to balance the deal .Still hungry grabs some more popcorn and a light blue slushie. Goes to the mall , the sun is shining through the glassY roof a brown dog goes woof ! Says he likes my class , I pet him his owner not too happy bout it , I'll pass. A yellow guy maybe , still hungry Wendies or The golden arches ? Guess I'll save some of my purple bills , I have sushi at my place . White rice fish and crab. My favorite condiments , I'm extatic. Watching the nba it's the Phoenix suns with the orange jerseys , CP3 drains a deep three OMG , the crowd goes wild the game won by 1 .The confetti are dropping on the sweaty players they rejoice, i can see it all from my bed trought the pixels of my screen. Wow technology ! Kinda tired starts counting sheeps comfy in my bright Multicolored ikea sheets. One last look at my painting before falling asleep. I'm I dreaming , nope I wake up and go take a leak , sitting on the toilet I'm also defecating . Still sitting on my throne someone knocking on the door its my mum she passes me a Cripsy shrimp onigiri . I'm not really hungry but still wants some oranges , my favorite , I grab a teal plate and start peeling. Remembering walking in the forest surrounded by amber trees, stress and anxiety flowing away as the autumn leafs fall around me. My brother ask me do to the laundry , goes down in the basement the machine starts roaring the cloathes going round and round as my thought differ I start thinking about that girl that blocked me , pink thoughts around my head follows me , i queue up some Lil uzi , headphones on , neon guts playing I'm my ears I feel nostalgic, magic , light purple llama pianiata from that game I used to play, I'm a geek ! She said I tweaked maybe I'll stick to gaming on my ps4. Even thought I only saw her 3 times. 2 time in the rain and once in the backseat of a cop car.
(I ended up in the asylum because of her, she said I was scary and maybe crazy )
Done with my day , take my meds , go to bed.
This time I'm dreaming , weird spaces weird places , dark pine forest , dark grass and a haunted house.All I see is a shadow of a black cat everything swaps before My eyes , can't get a good look at the feline, wish it could be mine .I'm greeted by large rocky orange linear forms , a labyrinth of the mind. For what reason was I beeing show these magnificent visions idk , my perception and cognition falls apart as I'm transported into a roller coaster with red rails riding trought the light blue sky going wayyy to fast , up and down . No clouds
But that's the way I like it!
...
Uhh it's going abit too fast right nowww wooooaaaah I hang on the best I can ...!
Wakes up.
« Yeah huh yeah huuh yea ah » Kanye West says in his song 30 hours the bonus track.
- [ ] After this tremendous day I decide to go sell my t shirts on the beach..
Lu as Vincent
- [ ]
Reader insights
Be the first to share your insights about this piece.
Add your insights