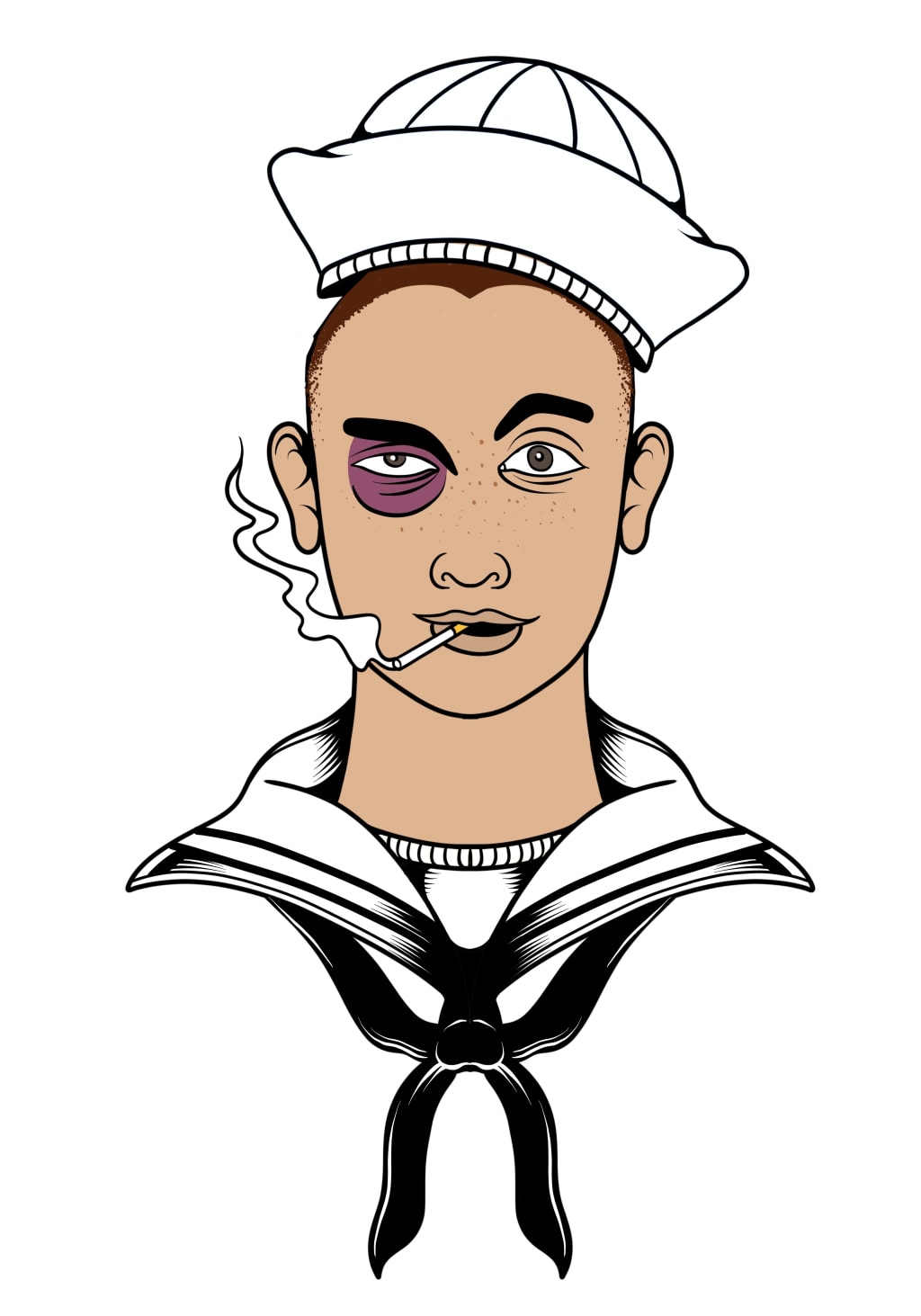 @frankinsteeze
I wrote this script after reading the screenplay for one of my favorite movies, Forest Gump.
I have turned in into a first person/screenplay format and will be available for sale soon at my website frankinsteeze.com.
Add me on instagram @frankinsteeze
BASED ON A TRUE STORY
INT. HOSPITAL - NEW YORK CITY - DAY
ELEANOR GREGOR lies back in her hospital bed, holding her newborn baby boy. JOHN DILLON leans in, gently taking his son's hand.
ELEANOR
Welcome to the world, Frank Scott Dillon.
John and Eleanor divorced when Frank was four. Eleanor always was a free spirit and a few years later she moved to Maine to live with her new husband HERBIE, a quintessential tough guy who'd crush beer cans on his forehead and make cracks about your ugly shoes and lack of muscles. The first time FRANK met him he asked him to squeeze his bicep, it was rock solid.
It was tough for JOHN raising FRANK and his siblings alone those years, but he did ultimately remarry his girlfriend ANNIE after five years of dating.
CUT TO:
INT. FRANK'S BEDROOM - DILLON'S HOUSE - DAY
FRANK, now ten years old, performs rap along with the music.
John storms into the room.
JOHN DILLON
Fucking Frank!
Frank stops rapping.
JOHN DILLON (CONT'D)
Why can't you just be normal!
FRANK
I want to be a rapper.
John shakes his head, slamming the door behind him as he
leaves.
CUT TO:
EXT. SCHOOL YARD - DAY
CHILDREN play tag and jump rope, as Frank and a few other
students linger in a quiet corner. Frank distributes weed in
exchange for cash.
He waves goodbye and heads home.
INT. DILLON'S HOUSE - DAY
Frank enters the house where John is waiting for him.
JOHN DILLON
Where've you been?
Frank shrugs, heading to his bedroom.
FRANK
Hustlin', why you sweatin' me?
John shakes his head.
JOHN DILLON
What's with him?
CUT TO:
EXT. SCHOOL YARD - PRIVATE SCHOOL - DAY
SISTER COLEEN ushers the children into the building. She frowns, as she sees a boy lying on the other side of the street.
She walks across to find FRANK (13), sleeping on the curb with a bag of Cheetos on his chest.
SISTER COLEEN
Sweet Jesus, Mary and Joseph.
FRANK
Nah, my name's Frank.
Sister Coleen drags Frank to his feet.
FRANK (CONT'D)
My Cheetos!
Sister Coleen leads Frank back into the school grounds.
CUT TO:
INT. PRINCIPAL'S OFFICE - DAY
Frank sits in front of the PRINCIPAL. The man slams Frank's thick file against the desk.
PRINCIPAL
You're expelled!
CUT TO:
INT. OFFICE - HOLLISWOOD PSYCHIATRIC HOSPITAL - DAY
Frank sits in front of a large desk with his father. A DOCTOR in his fifties, glances at Frank's reports.
DOCTOR
You've been diagnosed with ADHD and borderline personality disorder.
The Doctor looks up at Frank, who doesn't react to the news.
The man glances at Frank's father.
DOCTOR (CONT'D)
I think it's best that he stays here with us.
CUT TO:
INT. HOLLISWOOD PSYCHIATRIC HOSPITAL - DAY
John gives Frank an awkward hug, leaving the young teenager behind.
CUT TO:
INT. HOLLISWOOD PSYCHIATRIC HOSPITAL - DAY
The Doctor guides Frank to his new room. Frank glances inside and sees his new roommate, FLOYD.
DOCTOR
Frank, this is Floyd. I'll let you boys get acquainted.
Frank enters the room, walking over to his bed. Floyd watches him. They stare at each other for a few awkward moments.
Floyd points to the wall behind him.
FLOYD
Do you like my drawings?
Frank looks up at the wall covered in large smiley faces painted in shit. Frank crawls further back on his bed, away from Floyd.
FLOYD (CONT'D)
We can paint your wall.
Frank leaps from his bed and sprints down the hallway. He chases after the Doctor. The man turns around.
FRANK (screaming and crying)
I want to go home.
DOCTOR
I'm sorry young man but you're staying with us for a bit.
Frank freezes in the hallway as the Doctor walks through the large double doors that lock behind him.
FRANK
Fuck.
CUT TO:
SIX MONTHS LATER
INT. DILLON'S HOUSE - DAY
Frank enters the house for the first time, after being kept in the Psychiatric Hospital. Frank's father and brothers welcome him back with awkward hugs. Frank is left in the lounge room alone, as his brothers leave for a party. Frank goes upstairs to his bedroom. He lies down on his bed, appreciating his comfortable mattress and privacy.
Frank's older brother enters his room, playfully tackling
Frank on the bed.
BROTHER
Welcome back.
FRANK
Thanks.
BROTHER
How was it?
FRANK
Pretty fucked up.
Frank's brother checks his watch.
BROTHER
I gotta head out to a party, I'll catch ya later.
FRANK
Yeah.
Frank's brother leaps off the bed, dropping his bag of coke.
Frank doesn't see it as he rolls over and falls asleep, blissfully unaware.
THUMP.
Frank is hit in the back of the head from his father.
JOHN DILLON
What the fuck is this?
John holds up the bag of coke.
FRANK
That's not mine.
JOHN DILLON
You haven't been back for an hour and you've got drugs in your room.
FRANK
I swear to God, it's not mine.
JOHN DILLON
You're trying to blame it on one of your brothers?
John shakes his head, squeezing the bag in rage.
JOHN DILLON (CONT'D)
This household was perfect before you came home. As soon as you step into this house, there's drugs. Fucking hell.
John storms out of Frank's bedroom, slamming the door.
Frank tries to relax and fall back to sleep. He tosses and fidgets, agitated by the confrontation.
FRANK
Fuck this!
Frank slips out his bedroom window.
INT. DILLON'S HOUSE - NIGHT
Frank slips through the front door, drunk. He staggers into the kitchen. He opens the fridge looking for food. He vomits into the fridge.
John enters the kitchen, his face red with fury.
JOHN DILLON
You're going back.
FRANK
What?
JOHN DILLON
I'm sending you back to Holliswood
FRANK
No, I just got out. I don't want to go back.
JOHN DILLON
I don't fucking care. You're going. Clean up this fucking mess.
Frank slides down the cupboard doors, drunk and miserable. He
hits his head against the cupboard door.
FRANK
Fuuuck.
INT. DILLON'S HOUSE - DAY
Frank frantically packs his bag; a change of clothes, pack of cigarettes and his stuffed monkey, Bongo.
Frank runs down the hallway into his brother's room. He searches through the desk drawers, snatching money. He turns to leave when he sees a large jar of coins.
Frank smirks, grabbing the jar and emptying it.
FRANK
This is what you get, butthead.
He shoves the money into his pocket and grabs his bag. He runs out the door, not bothering to lock it behind him.
INT. SUPERMARKET - DAY
Frank enters the supermarket and walks over to the Coinstar machine. He shoves the coins in to the machine and eagerly waits.
The machine flashes $72.25 before spitting out cash. Frank
shrugs taking the money.
INT. BUS STATION - DAY
Frank hands over the cash to the TICKET TELLER.
FRANK
One ticket to Maine, please.
The Ticket Teller looks around Frank.
TICKET TELLER
Where's your parents?
Frank glances over his shoulder, panicking. He sees a random WOMAN across the room.
FRANK
Mom, hold up, I'll be right there!
Frank glances back at the Ticket Teller with a fake smile.
FRANK (CONT'D)
She's right there!
The Ticket Teller eyes Frank suspiciously, as they hand him a
bus ticket. Frank snatches up the ticket and quickly walks off.
INT. BUS - DAY
Frank sits at the very back of the bus, adjacent to the restroom. He stares ahead as two SMALL CHILDREN, sing loudly, kicking the chairs in front of them.
SMALL CHILDREN
(singing)
On the road again. I just can't wait to get on the road again. The
life I love is makin' music with my friends.
Frank glances at their MOTHER who stares gloomily out of the
window. Frank takes a deep breath and stares ahead again; not
long now.
10 HOURS LATER.
Frank is fast asleep on his fold down table, his face covered in blood from his picked acne. He wakes as the bus comes to a stop.
EXT. BUS STATION - PORTLAND, MAINE - DAY
Frank exits the bus, shielding his eyes from the high noon sun. He sees a payphone next to Denny's Restaurant. Frank inserts the few coins he has left.
HERBIE
Hello.
FRANK
(into phone)
Mom?
HERBIE
Frank?
FRANK
Yeah, is mom there?
HERBIE
Your mom's at work.
Frank shifts awkwardly.
FRANK
Oh.
HERBIE
Your dad phoned, he's wondering where you are. I told him, that you weren't here. I didn't expect you to come.
FRANK
Please don't phone him back.
HERBIE
I won't.
Awkward silence.
HERBIE (CONT'D)
Where are you? I'll come pick you up.
FRANK
I'm near Denny's.
HERBIE
See you soon.
Frank hangs up the phone and walks over to the wall of Denny's and slides down. He pulls out a cigarette and lights it.
A FEW MOMENTS LATER.
A white Ford Bronco comes screeching around the corner. It comes to an abrupt stop in front of Frank. Herbie leans out the window, wearing a biker's skull cap.
FRANK
Nice Doo-rag bro.
Herbie scowls at Frank.
HERBIE
It's a skull cap bro.
Frank slips into the car, cautious to not get too close to Herbie, who's still glaring at him.
Herbies' demeanor changes when he sees Frank's face.
HERBIE (CONT'D)
Holy shit Frankie, we're going to the doctor now. Your face looks
like it hurts. I've never seen acne so bad.
Frank stares down at his fingernails, they're covered in blood.
HERBIE (CONT'D)
Are you going to speak? You haven't said a word yet, you look like shit. Don't think you're not cleaning up the blood. Freddy Kruger looking ass motherfucker.
FRANK
Did you speak to my dad?
Dennis looks out the window, before driving off.
HERBIE
Yes, he knows you're safe. Let us first deal with your skin.
EXT. DOCTOR'S OFFICE - DAY
Herbie pulls into the dirt driveway. Frank looks around; there's nothing for miles.
FRANK
We're going into the barn?
Frank points to the large barn in front of him.
HERBIE
This is it, Dr. Barnett's office. Do you have your insurance card on you?
FRANK
No, I got nothing.
Herbie shakes his head.
HERBIE
Get out.
Frank opens the car door, a pack of cigarettes falls from his pocket. Dennis sees it.
HERBIE (CONT'D)
What are you, like twelve?
FRANK
I'm fourteen.
Dennis ignores Frank and opens the door to the doctor's office.
DENNIS
Just, just get in there, Frank.
INT. DR. BARNETT'S OFFICE - DAY
Dr. Barnett gently moves Frank's face side to side.
DR. BARNETT
You have severe acne.
Dr. Barnett let's go of Frank's face and sits at his desk.
FRANK
No shit, motherfucker.
DR. BARNETT
Excuse me, I can clearly see you're in physical and mental pain. Are
you on any type of medication?
Frank lists off the medication he takes. Dr. Barnett shakes his head as he writes each one down.
DR. BARNETT (CONT'D)
These are some strong psychoactive substances. How do you function?
Frank shrugs.
FRANK
It's been a day since I last taken them.
Dr. Barnett sighs.
DR. BARNETT
Well you are going to, if you haven't already, begin having some withdrawal symptoms. I'm taking you off all of your prescriptions. We'll see if that has any effect of your skin condition. Perhaps the acne is stressed induced because of the narcotics.
Frank is confused.
FRANK
Narcotics?
Herbie interrupts.
HERBIE
You're going to take him off his prescriptions? He's not going to kill me in my sleep, is he?
Dr. Barnett chuckles, glancing over at Frank.
DR. BARNETT
No, I don't think so.
FRANK
My dad is not going to like that I'm not taking my medicine.
HERBIE
Psh, don't worry about your father. I'll take care of it.
Frank relaxes, sliding back in his chair.
INT. ELEANOR'S HOUSE - DAY
Frank walks outside to the back of the house where his mother, Eleanor, is barbecuing hamburgers. She looks up and grins, dropping the barbecue tongs.
ELEANOR
Frankie!
She runs over and gives Frank a tight hug and a sloppy kiss.
ELEANOR (CONT'D)
Everything is going to be alright now. Come, I'll show you, your new room.
She pulls Frank back inside and upstairs. She leads him into his new bedroom. Frank walks around the room, beaming.
FRANK
I love it.
Eleanor takes in Frank's face.
ELEANOR
Poor thing, Noxzema face wash will clear your face up in no time.
Frank takes in the moment as his mother cradles his face in her hands.
ELEANOR (CONT'D)
Come, we eat!
INT. ELEANOR'S HOUSE - NIGHT
Frank eats his hamburger as Eleanor argues on the phone.
ELEANOR
Didn't he just get out of a fucking psych ward? I can't even pronounce these narcotics you have him taking. It's killing him!
Eleanor throws her hands up in frustration.
ELEANOR (CONT'D)
I'll take my chances! Goodbye!
Eleanor slams the phone down, her face red with fury. She glances over at Frank and softens. She gestures Frank to come sit with her in the lounge room.
Eleanor takes Frank's hand as they sit down.
ELEANOR (CONT'D)
What a piece of shit he is.
FRANK
Do I have to go through this rehab bullshit?
ELEANOR
Watch your fucking mouth, Frank.
FRANK
Sorry.
ELEANOR
Tomorrow, I'm enrolling you in the high school.
FRANK
A regular high school?
ELEANOR
It's a normal school, for normal kids.
FRANK
I'll be taking a normal length school bus there, correct?
ELEANOR
Unless you want to ride a bike?
Eleanor hugs him, as Frank smiles in relief.
SERIES OF SHOTS
Frank now with long hair, sits in his new bedroom listening to Jimi Hendrix.
Frank's 1984 Hatchback Plymouth Horizon zooms down the road, windows down, The Grateful Dead blasting from the radio.
Frank watches on as he gets a tattoo.
Frank hangs out with stoners, the jocks and weirdos at High
School. Each group accepting of him.
Graduation day, Frank is surrounded with fellow classmates
as they celebrate.
CUT TO:
INT. FRANK'S COLLEGE ROOM - NIGHT
Frank is surrounded by his college friends as they party.
Frank is high on psychedelic drugs, making out with a girl
just as the door bursts open.
SECURITY enters the room, students panic, fleeing the scene.
Frank is left facing the large towering security guards.
EXT. / INT. CAR - DAY
Frank leaves college, bag in hand, beer in the other. He gets into his car and downs the rest of the can, before driving off.
He sings along to Jimi Hendrix as he swerves along the road.
Blue and Red lights flash behind him.
FRANK
Fuck.
INT. ELEANOR'S HOUSE - DAY
Frank lies on the couch, no motivation. Dennis walks in to the room.
HERBIE
Can you drive down to the store and pick us up some milk?
Frank stares at the ceiling.
FRANK
I can't, remember? I lost my driver's license.
Herbie grumbles as he walks off, grabbing his jacket and keys.
Frank sighs, watching Herbie drive down the driveway.
FRANK (CONT'D)
(to himself)
I gotta get out of here.
INT. JOHN DILLON'S HOUSE - DAY
Frank is back at his father's house. John tries to be polite, but it's awkward.
JOHN DILLON
What do you have planed?
FRANK
I'm gonna find myself a job.
JOHN DILLON
Good, good. That's a good decision.
CUT TO:
INT. VAN - MANHATTAN - DAY
Frank drives down the busy streets of Manhattan, taking in the exciting culture. He pulls over in front of the store and jumps out of the van. He walks to the back and collects the newspapers and delivers them to the store. He walks back out and bumps into a PEDESTRIAN.
PEDESTRIAN
Hey mouth breather, get the fuck out of my way. Frank nods to the grumpy New Yorker.
FRANK
I love you.
Frank jumps back in to the van.
CUT TO:
EXT. STREET - NEW YORK CITY - DAY
A stoned Frank rides his bike through the busy street, blissfully unaware of the loud noises and stressed crowds surrounding him.
He stops at the intersection, his instrumental music from his Ipod drowning out the continuous honking of cars. Frank catches the eyes of a BUSINESSMAN the same age as him.
Frank glances down at himself.
CUT TO:
INT. DENNY'S - DAY
Herbie sits opposite Frank.
HERBIE
You should get in touch with a recruiter. Navy might be a good fit for you. Plenty of adventure. My nephew was in the navy and his life has done a one eighty turn around.
Frank shrugs.
FRANK
I guess it wouldn't hurt.
EXT. RECRUITMENT CENTER - HARLEM - DAY
Frank arrives in front of the large building. He takes one last drag from his joint, flicks it and enters.
INT. OFFICE - DAY
The RECRUITER stares at Frank, who fidgets nervously.
RECRUITER
You need to quit smoking.
Frank nods.
FRANK
Yep.
RECRUITER
You'll also need to drink a lot of water in an attempt to flush out the cannabis, so you can pass a urinalysis.
Frank blushes.
FRANK
How-how did you know?
RECRUITER
I know weed, when I smell it.
They stare at each other for a second. The recruiter glances back at his paperwork.
RECRUITER (CONT'D)
I'm going to schedule you to take the ASVAB test for tomorrow.
FRANK
Ok.
RECRUITER
Make sure you're here on time.
Frank nods.