A Personal Tale of "Millennial Depression"
Definition: constant comparison, the insatiable quench for connection and intimacy, the need for validation.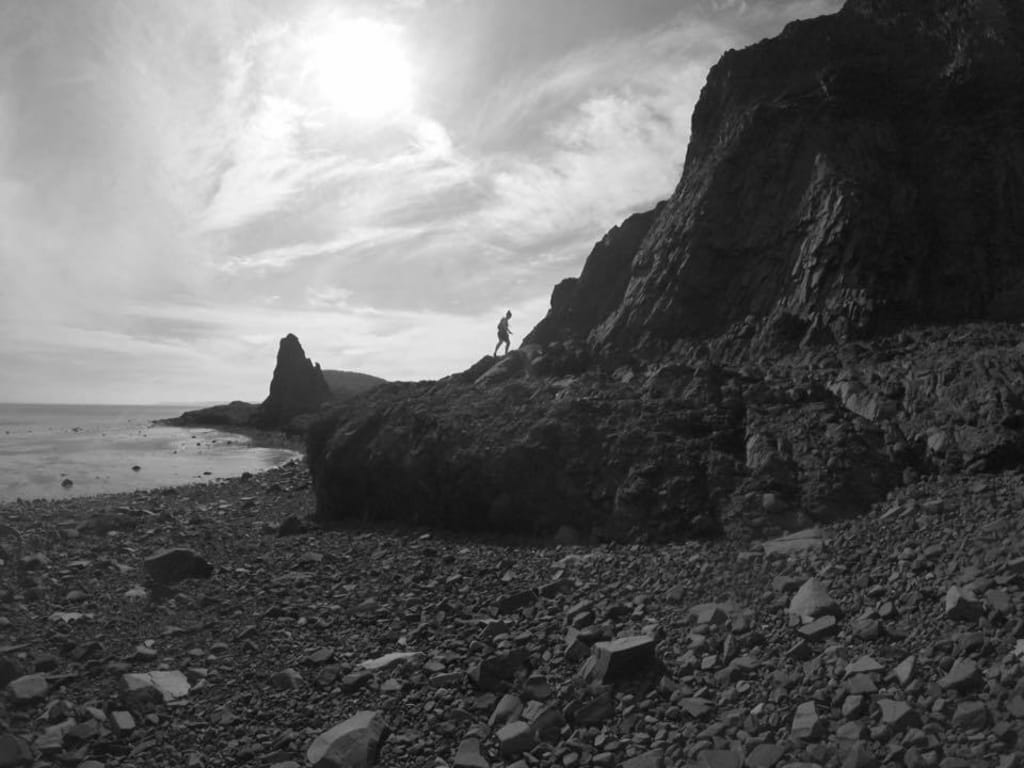 Growing up, I was a kid who craved attention. Looking back now, as a 26-year-old millennial battling mental illness, I seek to peel back the layers and delve into the question of, "why?" It is indeed an important question to ask, as my seemingly constant need for validation is a large part of the personal struggles I fight daily.
I was homeschooled from grade one until grade seven. It makes for a good and humorous conversation starter now, and it provided me and my two siblings with an interesting childhood, no doubt. There were pros and cons, of course, but I don't know that I would change it. It shaped me in ways that I don't think would have been possible in the regular school system. For example, the limited structure—maybe an hour to two of actual schoolwork per day (at most), oftentimes none—instituted the power and joy of creativity in us. My mom would tell me, "Choose something you are interested in, write about it, and hand it in when you're done." I credit her with giving me the gift of loving to write. She kept most of our projects, and this past Christmas I tore through rubbermaids full. Many of them are quite ridiculous—the most entertaining was my "Plymouth Rock Chicken Book for Dummies," complete with an egg chart, how to butcher chickens, and how much I would sell them for, etc. Looking at these pieces of writing, these pictures, it filled my heart with joy, made me shed a tear or two. I thought back to that young kid, so innocent, who could be pleased with simply going outside to see her chickens. With so few hours spent on schoolwork, and only five TV channels and zero video games, we spent much of our time outside, learning to enjoy and appreciate our surroundings. We ran around our five acre property, hatching chickens, playing hockey on the pond, mucking stalls, weeding and harvesting the garden. These are a few positives of being homeschooled, but there were also negatives. We didn't spend much time with kids our own age, with the exception of hockey and a home school-Christian-cult of sorts whom we would see every other week. And so, I think when I was finally around kids my age, because I craved connection, I overdid it- tried to impress people, tried to stand out, tried to be seen. This would take a few forms- throwing tantrums, being obnoxious, even faking injuries while playing hockey.
Flash forward to a young 20-something Olivia, picking up and moving three provinces away on a whim. That was almost three years ago. I quit a job that was making me miserable and drove across the country, not sure what I was looking for, but knowing something had to give. I left a place (Niagara) I had spent six years, a place I had turned into an adult. Here, I graduated University, graduated college, worked three jobs at once, came out, had my first girlfriend, had my first breakup, made some amazing friends. And I left it all, and I left my family. After six months in Halifax, I started second guessing my decision. I was working a retail job and I had no friends. I was ready to pack up my car again, and tail between my legs, flee back to Ontario. But I joined a hockey team, and, similar to how it has been the rest of my life, that's how I made friends.
Up until a year or so ago, I had never truly struggled with mental illness myself. Of course, it has touched me personally with many loved ones. It is always something I was aware of. And I think I knew I was susceptible. I had anger issues growing up as well as these attention seeking behaviours. I have also always been emotional, open, and I had always been vulnerable. "Had," that's the key tense. About a year or so ago, the relationships around me starting to crumble and I began to realize the frailty of life and the tragedy of different types of loss. First, I suffered my first real loss- my grandfather passed away. I also witnessed death—a stranger died right in front of me, my hand frantically searching for his pulse. I nearly lost my mind after a serious sports injury shut me down for almost two years. Due to this, I lost friendships. Those ones I had formed, they all began to disintegrate, and this "attention seeking" behavior, this need for validation, was a big part of that. These friends, the friends I no longer would have, they scarred me. They pointed out things about my character- some true, and some just cruel. My need for validation? It is because I have never been able to validate myself. And suddenly, that susceptibility to mental illness, it hit me full throttle. Alone. Nobody to validate me. Nobody to connect with. And then I lost a young friend tragically, and I thought—well, I panicked—"it could be over just like that, and I could die utterly alone."
Millennial Depression- it is the constant comparison, the quench for connection and intimacy, the need for validation. How many hours do we spend a week scrolling through Instagram or Facebook mindlessly, or so we think? But we are scrolling through pictures of happy couples, these groups of friends going out seemingly every weekend, people travelling the world, and your highschool friend(s) who bought a house, got married, had a baby- maybe all in the same year! And we are doing this in our bachelor apartment, alone on a Saturday night, over and over and over. It slowly gnaws at us until it has eaten away to the bone. Suddenly, we dwell on how alone we seem to be, and we keep on scrolling, maybe even painfully reminiscing about friendships lost. We become closed off and we may even isolate ourselves in order to try and protect our broken hearts.
But, not all is lost. Nay, in our day and age, there are opportunities for instant and meaningful connection at our fingertips- and no, I am not suggesting Tinder (my thoughts on that are for another post entirely). Facebook events, local Instagram accounts, Meetup groups, hipster cafes that double as bouldering gyms, etc. Personally, it came back to activity and sport for me. As is typical of many millennials struggling to make it financially, I decided a second job was a good idea. And so I returned to personal training at a gym on a part-time basis, and I've been there for a year now. I don't know how I would have gotten through this past year without it, and without the wonderful people there, honestly. As I recovered from my shoulder surgery and was forced to take a lengthy hiatus from actual sport, I did not spend much time around my rugby team. Then winter came along, and I was still not back to sport, not lacing up the skates. But, I was still at the gym. I still saw my regular bootcampers, still bro'ed out with the trainers. On good days, it doesn't even feel like a second job. But when my mental illness strikes, when I'm falling into my darkest place, when I feel painfully alone and hopeless, when I am vulnerable and cannot protect myself from my own thoughts, well, then teaching those lovely people is a struggle. But I push through it because that's how I have seen my own personal heroes battle through mental illness.
A millennial is an identity vaguely given to two groups: Generation Y (born between 1981-1991) and Generation Z (born between 1991-2001). Regardless of what year you were born though, if you can relate to anything I have written above, I'm sorry. I'm sorry you have to go through this, I know it's painful on many days. You may have some wonderful days, though, but can't seem to find any consistency. Try, as tough as it is, when you do have those good days, those magical days, to soak it in.
This I know now to be true: A lot can happen in a year, and most of this is uncertain. The only certainty is that the good, bad, and the ugly will occur. However, we must not fear the dark, we must not hold back on experiencing joy- when it is within our grasp, when it is right in front of us- for fear of it backfiring. Because soaking in the good, that's what sustains us through the bad and the ugly.
I would like to offer you some advice, if I can.
Seek help if things are spiraling out of control—both professional and medical.
As alone as you feel, I can almost guarantee you are not TRULY alone. You have people that love you, even though you cannot see it much of the time. And although it is so hard to be vulnerable now that you have been burned, don't shut yourself down completely. You have to be careful of who you open up to, yes, but intimacy and love is such an important part of life and happiness.
Join a sports team, an inclusive gym, a club, anything of the nature. If you are scared, that's normal, but do it anyway—I bet there are at least a couple other people in the room who are as nervous as you. We are not in this alone, my fellow millennials. Oh—cue my health professional plug—exercise is medicine!!!
Volunteer. Giving back to the community and to those less fortunate than us is a way to receive validation in a healthy way. You will also meet new people, be invested in your community, and your heart will be filled with joy.
Find a hobby that allows you to draw on your creativity. And don't tell me this, "I don't have a creative bone in my body"—all of us have creativity in us. My older sibling is an amazing artist, and as I do, I always compared myself to them. But, I realized, I am creative in my own ways. One of these ways is by writing. Preferably, if you can find a creative outlet that allows you to look deeply into yourself, on your own, do that. For me, again, that's writing. Creativity is an expression of our originality. It helps us remember that what we bring to the world is completely original and therefore, CANNOT be compared. And without comparison, harsh words like "ahead," "behind," "best," "worst," they lose their meaning, and they lose their sting.
Now for the cheesiest suggestion, and the one you probably roll your eyes at: it will get better. The sun will rise—no, wait, I don't like that. How about, "There is no night so long that it prevents the sun from rising"? Yeah. That's good... I didn't come up with that one, by the way, so shoutout to Jim Morrison. But it's true—the darkness will come, and it may come a lot for some of us, but then when we are privy to a beautiful sunrise, do we ever appreciate its beauty!
depression
I live in Dartmouth, Nova Scotia, and spend many days exploring this beautiful province & reminiscing about past experiences. I owe my love of writing to homeschooled days on the farm, where I wrote lots and just got to be a kid.
Receive stories by Olivia Petras in

your feed