The spicy delights of a Bloody Mary
Forget brunch: cocktail hour's the time for this drink, and you can be creative with your hot sauce, too
Hemingway thought it was "worthless" to make less than a pitcher of Bloody Marys. While I agree in spirit – pun intended – in practice I make do with a glass. Why did lockdown call up a craving for a Bloody Mary? Maybe because I could tell myself it was almost more of a snack than a drink (and healthy at that! Tomatoes! Celery!) but maybe because a Bloody Mary makes me think of my Mom, who loved them and taught me to drink them. I lost her over a decade ago, my dad a couple of years before that; but they are present to me whenever I'm in the kitchen, and as I mix my Bloody Mary I can hear my mother's ice clink in her glass.
She'd make hers around 6 pm; the sun is over the yardarm, she'd say. My dad didn't drink, and when I was in my early 20s I didn't either, but as I got older it was a ritual we shared when I was back home in the New York apartment I'd grown up in. I suppose a Bloody Mary is usually associated with brunch, and there's nothing wrong with that; I'll write elsewhere, perhaps, why the whole idea of brunch has never really floated my boat. I like cocktail hour, which is a way of marking time, of saying: now the day has ended, now the fun begins. I don't know about you, but I'm finding that in these virus days, time is harder to mark, so cocktail hour becomes more and more important. But perhaps you don't like to drink cocktails, or any alcohol at all. Well, here's a secret about the Bloody Mary: leave out the alcohol – flavourless vodka – and you've still got a terrific drink.
It's a perfect Covid-19 beverage, and not just because of the vitamins in the tomato juice. The Bloody Mary is endlessly adaptable to whatever spicy delights you have on hand, presuming tomato juice and vodka are in the mix. You can buy Bloody Mary mix – Big Tom's is pretty good – but I can't really see why you would, since you miss out on the fun of making it yourself. You don't even need a cocktail shaker: I make mine in a Mason jar and then just stick a straw right into the jar.
A shot or two of vodka, depending on how the day has gone
A glass of tomato juice or – wait for it – V8
A big fresh squeeze of lime or lemon (I like lime)
Some grated fresh horseradish, if you've got it; but a half-teaspoon or so of horseradish from a jar is fine, as is creamed horseradish – go for it!
Some vigorous shakes of Worcestershire sauce, but be creative: Hemingway said: "Lea and Perrins is usual but can use A1 or any good beef-steak sauce"
Got some Tabasco? In that goes too. I like the chipotle Tabasco; you can also use Sriracha sauce. Whatever floats your boat. Wasabi? Why not?
Celery salt (I have just googled "what is celery salt?"), black pepper
Throw it all into your jar, including the squeezed lime or lemon. Plenty of ice. Lid on. Give it a good old shake, you are James Bond, you are Tom Cruise in Cocktail, you've got through another day and you've earned this spicy, tangy, delicious moment. Here's mud in your eye. Oh – and here's my Mom, long before I knew her, singing in a nightclub. Isn't she something? Oh yes, indeed she is. Cheers, Mom.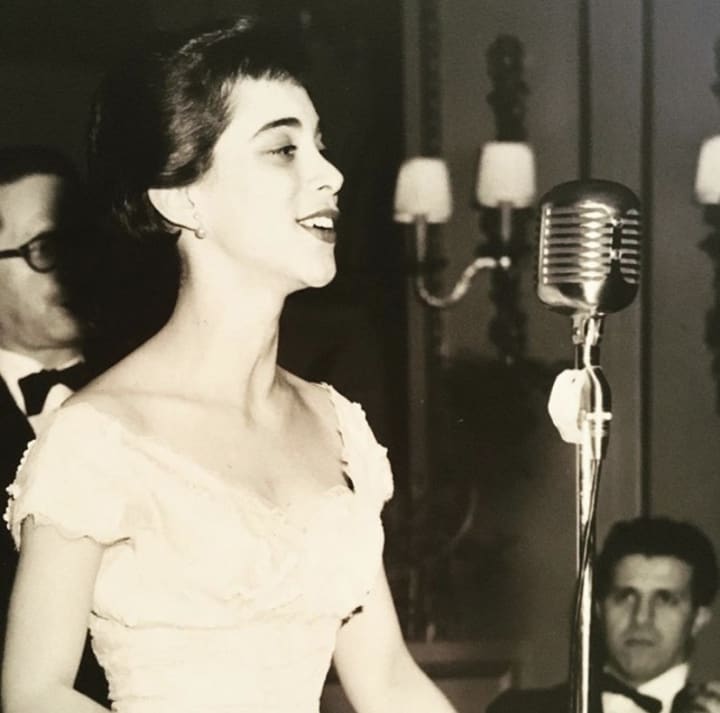 About the Creator
Lead Editorial Innovator, Vocal. Author, critic, friend, parent, cook. New book: Chief Engineer: Washington Roebling, The Man Who Built the Brooklyn Bridge. Twitter: @EricaWgnr, Insta: @ericawgnr
Reader insights
Outstanding
Excellent work. Looking forward to reading more!
Top insights
Easy to read and follow

Well-structured & engaging content

Masterful proofreading

Zero grammar & spelling mistakes

On-point and relevant

Writing reflected the title & theme
Add your insights