Sci-Fi Barware You'd Love to Own
These sci-fi barware products will bring out your inner geek, and get you compliments.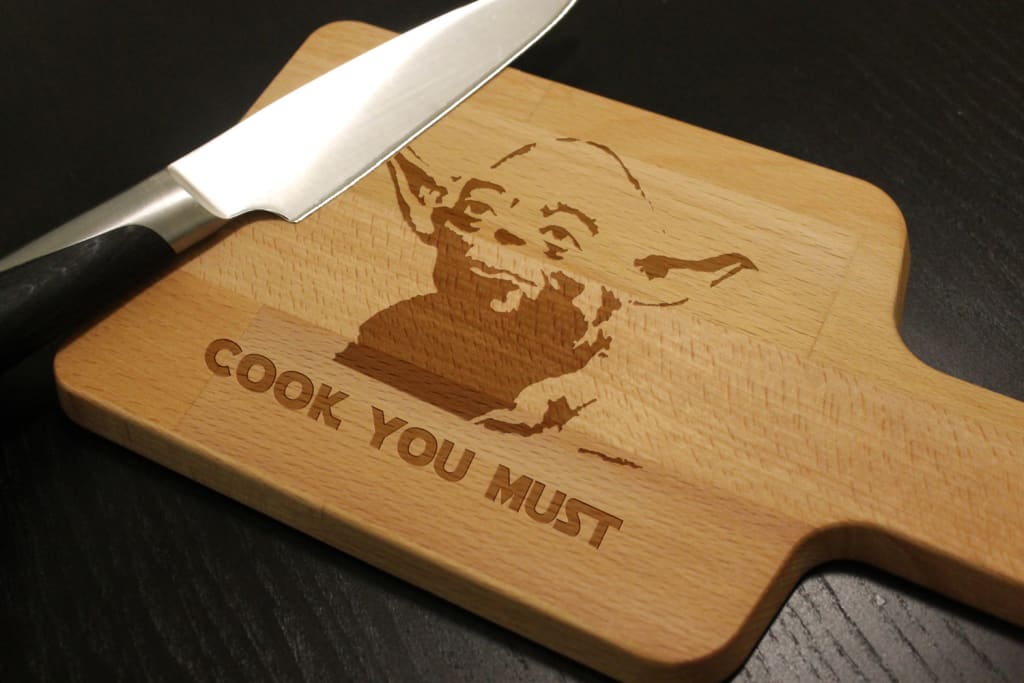 There's something about science fiction and drinking that just seems to magically go together - and that's why sci-fi barware sets seem to be taking off in popularity. As barware artisans, culinary companies, and party supply groups started to pick up on the demand for geeky barware, drinkers now have more awesome options than ever to stock their bars and kitchens with.
As a geek party host, chances are that you want to put your best foot forward with a bar that will wow your friends. These fantastically sci-fi themed drink sets will allow you to do just that - without having to travel to a galaxy far, far away to do so.
You don't have to be on a spaceship in order to boldly go where no one has gone before. In fact, all you need is this bottle opener, which happens to be conveniently shaped like the Starship Enterprise D.
Unlike other bottle openers that are Star Trek-themed, this licensed bottle opener not only is comfortable to fit in the palm of your hand, but also makes cool sound effects every time it's used to crack open a new bottle.
Even if you don't watch Star Trek, the sound effects alone make this a sci-fi geek must-have.
No sci fi barware set would be complete without geek-approved coasters. These Star Wars themed coasters are made of high quality wood and are cut using specialize engraving techniques. Favorite characters like C-3PO, Leia, and Chewbacca are included in this slick six piece coaster set.
Every coaster is different - just like the friends you invite over.
Sci-fi mugs never looked so tropical thanks to whoever came up with the brilliant idea of coming up with these cute glasses. This trio of "Geeki Tikis" allow you to sip Blue Hawaiians out of tiki glasses in the shape of your favorite Star Wars heroes and villains.
Currently, two series exist of Geeki Tikis from the Star Wars collection. Our favorite would have to be the Ewok. It's so cute!
Are you a sci-fi fan who's more of a Trekkie than a Star Wars fan? If so, then your coaster set of choice should definitely be this collection of coasters based off of the transporter pad in classic Star Trek.
Each of these stylish "pads" has an LED light that plays a transporter sound and makes drinks glow a space-age green when the glasses are first placed on them. Expect to see geeks get jealous when they see this barware at your place!
Fans who have played the original Zelda game on the original hardware probably can recount at least one moment where the game froze up, and they had to blow on the cartridge in order to continue saving the princess. Well, creators at ThinkGeek came up with a cool way to pay homage to that classic cartridge problem - using their cool drinkware.
We can't guarantee that this hydration cartridge will help you save any princesses, but it will make you feel awesome. We're just going to go out and say that anyone who got this for us as a gift would be our hero, okay?
Our hearts broke when we saw Han Solo frozen in that one classic Star Wars scene. But, as heartbreaking as it was, it still looked amazingly cool. If you want to get a sci-fi gift that actually will remind you of this scene, this Han Solo fridge is it.
This fridge isn't just a fridge, though. It has multiple settings that allow you to keep food cool or warm, depending on your needs. So, if you think about it, it's actually a pretty cool and useful item - and therefore, you're totally justified in buying it.
Most people wouldn't really think about a cutting board as barware, but guess what - it is! Where else would you be able to cut lime garnishes, place cocktail shakers, and possibly work on your garnish game?
If you already have the Star Wars wooden engraved coaster set, then this Death Star cutting board will definitely round out your geeky bartending kit in an awesomely cohesive way. After all, no one said that sci-fi barware has to be mismatched, right?
There's something about geek barware and Star Wars that just go hand in hand, isn't there? One of the other cool sci-fi bar gadgets you can get is the Death Star ice mold, which, as suggests, molds ice into the shape of everyone's favorite doomsday fortress.
Spheres are great for drinks since they tend to melt slower than a typical ice cube will, so it's not like this won't improve your drinking experience.
If you're more of a solo drinker, then most of the gifts on this list will not really be up your alley. However, the same can't be said for this adorable C-3PO metal can cooler - which is perfectly portioned to keep a single beer nice and cold.
It's a simple concept, and it looks cool. What more can you want?
Love the idea of having a single can cooler as a coaster, but don't like the idea of having the Jedis win? Well, why not have the ultimate Dark Side ambassador as your can cooler model instead? This Darth Vader can cooler brings out your sci-fi fan, but keeps things looking badass. We can't complain.
This beer bottle opener begs you to use the force for good - such as opening up that new craft beer bottle you've been eyeing for months. Cute as a button and twice as useful, this beer bottle opener is a great yet affordable gift for the Star Wars fan in your life.
One of the newest trends to hit bars across the nation are cocktails that come with an ice pop as a stirrer. You can add your own sci-fi twist to this trend by making your garnish be an ice pop out of a light saber using this cute kit.
The kit's machine washable, intuitive in use, and also makes them perfectly portioned for bigger drinks. Enjoy!
About the Creator
Ossiana Tepfenhart is a writer based out of New Jersey. This is her work account. She loves gifts and tips, so if you like something, tip her!
Reader insights
Be the first to share your insights about this piece.
Add your insights