Beginner Bartender
How to Use Bitters in Your Cocktails
Looking to spice up your cocktails? Learn how to use bitters in all of your cocktails.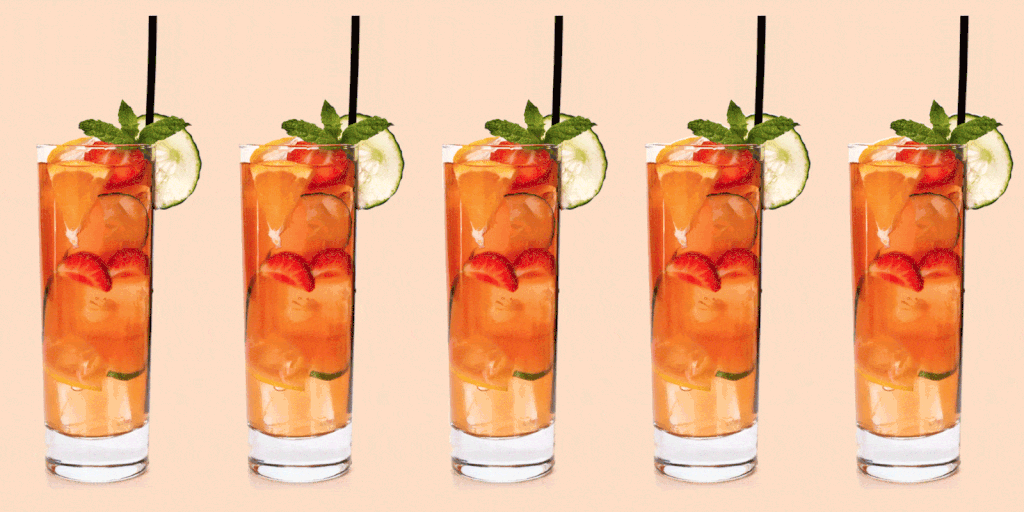 When it comes to signature cocktails, there's a wide range of flavors, aromas, and even appearance, from the apple martini to the classic cosmo. And if you have your very own bar right at home, you can even whip up some great tasting cocktails. Like I said before, there's a wide variety of cocktails, and this including throwing in some bitters.
What are bitters? Bitters in cocktails are like adding the vanilla extract in cupcakes, lemon zest in pie, or chocolate chips in cookies. They basically give off a punch of amazing flavor as well as sweet smelling aroma. In fact, they even make cocktails taste even better with a bit of bitter added into them. And if you think adding bitters in a cocktail sounds complex, it really isn't. Check out a few bitters and see how to use bitters on your own.
Hopped Grapefruit Bitters by Bittermens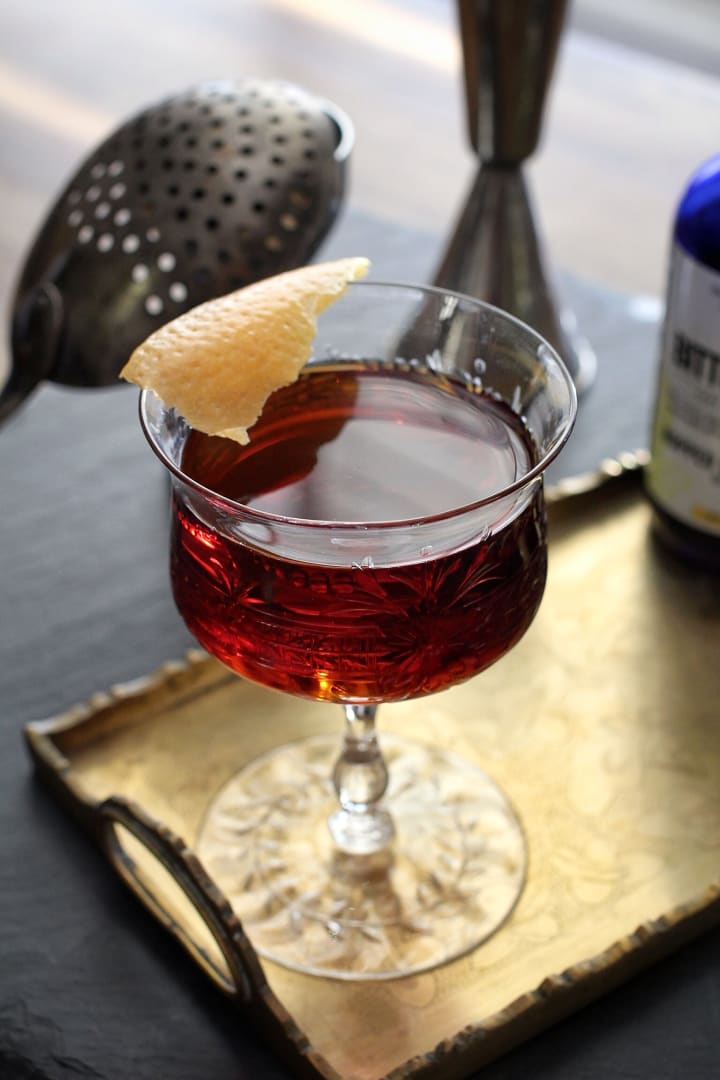 If you love grapefruit and die over the flavor in cocktails, then this bitter and you are meant to be. The flavor and delicious aroma of grapefruit mixed with the most noble of hops comes Bittermens' grapefruit bitter. This bitter is also perfect for whipping up brunch cocktails. This is how to use bitters to make a Peg Leg.
Peg Leg
1 oz Rum, Plantation 3 Star
3/4 oz Rum, Lemon Hart 151
1/2 oz Simple syrup
1/4 oz Demerara syrup
3/4 oz Lime juice
1 ds Grapefruit bitters
1 Grapefruit peel
Celery Bitters by Scrappy's
With a touch of celery seed accented with a bit of citrus comes Scrappy's popular celery bitters. This bitter should be in the shelves in most private home bars, because it can be used to make numerous cocktails and drinks. And the aroma to this bitter is very aromatic as well as sweet from the citrus. This is how to use bitters to make an Oxford Comma.
Oxford Comma
2 oz Gin, Plymouth
3/4 oz Dry vermouth
1/2 oz Green Chartreuse
1 t Maraschino Liqueur
1 ds Celery Bitters
1 twst Lemon peel
Pimento Aromatic Bitters by Dale DeGroff's
Dal DeGroff's Pimento Aromatic Bitters is beautifully handmade from a blend of Pimento berries with Allspice berry and a touch of anise as well as other sweet smelling herbs. This bitter is used to make many of the popular cocktails we know such as Pia Coladas, Sazeracs, and others that include whiskey cocktails and rum. This is how to use bitters to make a Sazerac.
Sazerac
2 dashes Pimento Bitters
1 ounce (30ml) Rye Whiskey
1ounce (30ml) Pierre Ferrand Cognac
Splash of absinthe
1 small sugar cube
Orange Bitters by The Bitter Truth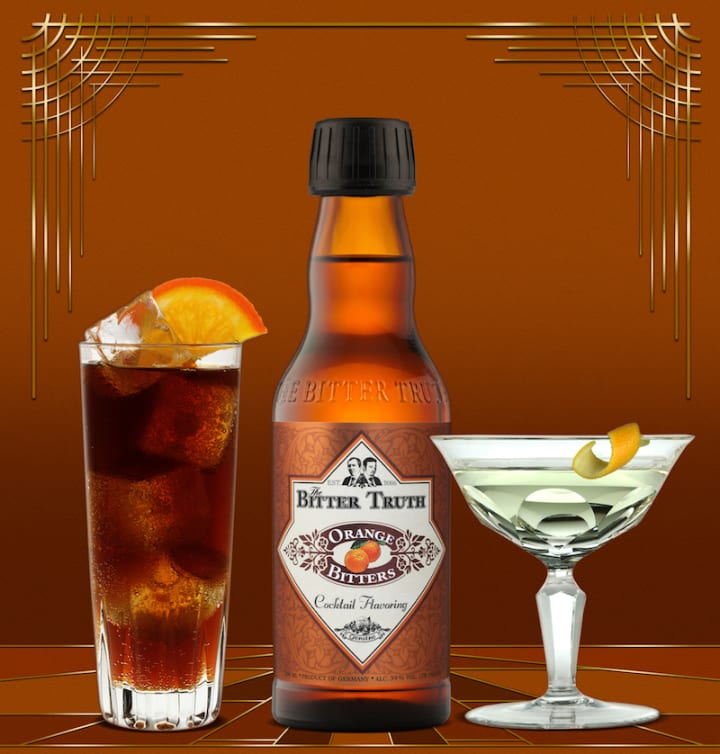 Orange bitters are among the well-known bitters and can be used to make many fruity, delicious cocktails. It consists of orange peels and multiple herbs and spices for a punch in flavor and strong, delectable scent. You can use orange bitters in different types of spirits like whiskey, vodka, gin, and rum. This is how to use bitters to make a Blue Collar Cocktail.
Blue Collar Cocktail
2 oz Rye
1/2 oz Sweet vermouth
1/4 oz CioCiaro
1/4 oz Maraschino Liqueur
2 ds Orange bitters
2 ds Bitters, Angostura
1 twist Lemon peel
Aromatic Bitters by Angostura
According to Angostura's website, "A cocktail cabinet without Angostura is like a kitchen without salt and pepper." While Angostura's bitters may be among the best bitters to get your hands on, this specific bitters is definitely one that you should already have. With intense flavor and delicious-smelling aroma, the aromatic bitters is just layers of herbal essences that's perfect for whiskey and rum cocktails. This is how to use bitters to make a Manhattan.
Manhattan
2 oz Rye whiskey
1 oz Sweet vermouth
5 drops Angostura bitters
1 cherry garnish
Lemon Bitters by The Bitter Truth
The Bitter Truth is also among the well-known brands for their bitters, and their lemon bitters is a hit on the market. With a delicious aroma of hot lemon tea with honey, the bitters fresh, fruits with some spice. It also has sherbet flavors that intertwines with coriander seed and a touch of toasted cardamom. Bartenders usually lean towards The Bitter Truth's lemon bitters when whipping up great cocktails. This is how to use bitters to make a Jalisco Fizz.
Jalisco Fizz
50 ml (1 1/2 oz) Tequila Blanco
20 ml (2/3 oz) fresh Lime Juice
20 ml (2/3 oz) Cream
10 ml (1/3 oz) Agave Syrup
2 dashes The Bitter Truth Lemon Bitters
Egg White
Soda Water
Shake long and vigorously with ice & strain into a long drink glass. Put soda water on top & stir carefully.
Chocolate Bitters by The Bitter Truth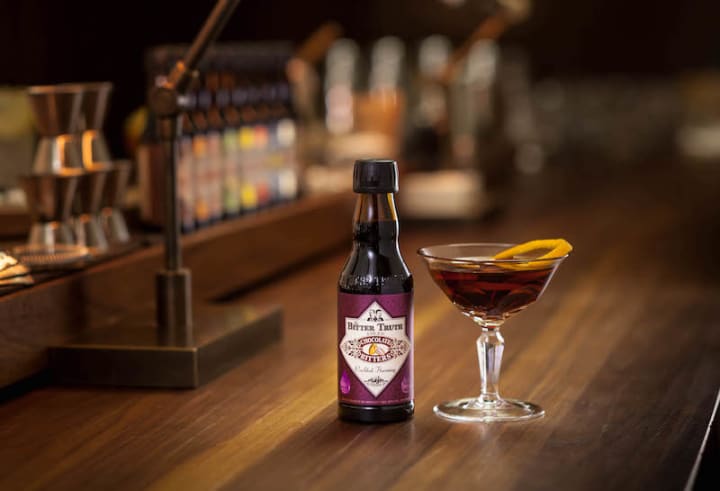 Here's another bitters from The Bitter Truth, their chocolate bitters. Chocolate bitters, you ask? Believe it or not, this is actually a huge hit when it comes to creating delicious cocktails. Rich with cocoa butter and dark chocolate with hints of vanilla, cinnamon, and bitter tones, this bitter is ideal for mixing with aged spirits such as whiskey, brandy, tequila, and even rum. Don't be fooled by the chocolatey flavor, I guarantee this bitter is the best part to any cocktail that it's involved. This is how to use bitters to make a Chocolate Martica.
Chocolate Martica
30 ml (1 oz) Aged Jamaican Rum
30 ml (1 oz) Cognac
30 ml (1 oz) Sweet Red Vermouth
5 ml (1/6 oz) Maraschino Liqueur
2 dashes The Bitter Truth Chocolate Bitters
Stir with ice & strain into a cocktail glass.
Peach Bitters by Fee Brothers
Peach bitters are one of my favorites, because I personally love the sweet flavor and appealing scent that are used in cocktails. This bitter is perfect to use for cocktails like Coronation, Xeres, as well as used to substitute bitters in martinis. As a fruity mixer, you can never go wrong with Fee Brothers' Peach Bitters. This is how to use bitters to make a Pride and Passion.
Pride and Passion
1/2 oz. Lemon Juice
6 leaf (leaves) Mint (muddled)
2 oz. Passion Fruit Juice
1 oz. Orange Juice
1/2 oz. Agave Nectar
2 dash(es) Fee Brothers Peach Bitters
1 oz. Heavy Cream
1 1/2 oz. Scorpion Mezcal Silver
Lavender Bitters by Scrappy's
Seen to be bright, sweet, and remarkable in taste, Scrappy's Lavender Bitters can be your next favorite bitter to add into your best cocktails. Made with all natural ingredients and no artificial flowers and herbs, this lavender bitter is packed with delicious aroma as well as flavor. This is how to use bitters to make The Lusty Lady.
The Lusty Lady
2 oz Gin
1/2 oz Lime Juice
1/2 oz Simple Syrup
1/8 oz Cranberry Juice
1 Egg White
2-3 Dashes Scrappy's Lavender Bitters
Shake until frothy and serve up with brandied cherries.
Cherry Bark Vanilla Bitters by Bittercube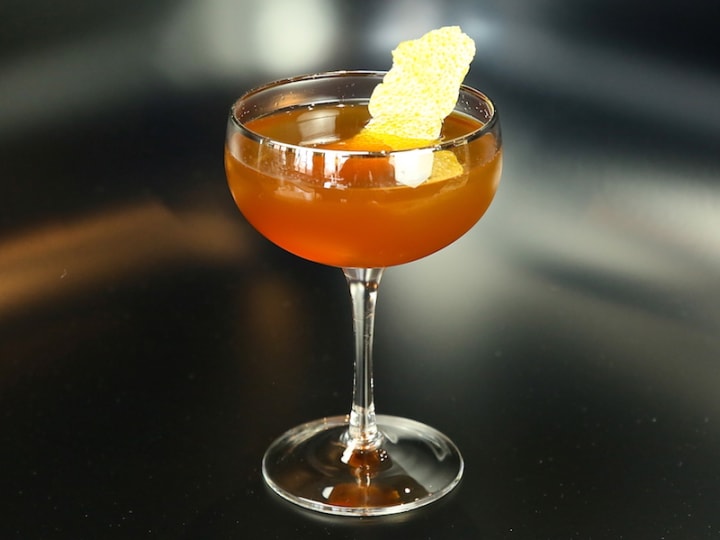 I'm ending this great list of bitters with Bittercube's Cherry Bark Vaniella Bitters that's also a must-have when owning a home bar. With its woodsy aroma, the bitter extracts scents of cocoa and bitter almonds and in flavor, vanilla, fennel, and star anise. This cherry bark vanilla bitter makes all cocktails taste much better and gives off a delicious scent to them. This is how to use bitters to make a Toronto.
Toronto
1/4 oz Demerara syrup
1 3/4 oz Willett 3 Year Rye Whiskey
1/4 oz Fernet Branca
2 dropper/dash Bittercube Cherry Bark Vanilla Bitters
Orange disc as a garnish.