Beginner Bartender
Easy White Sangria Recipes
Red sangria is notoriously easy to make, but these easy white sangria recipes show that your sangria preference doesn't have to require a day at bartending school either.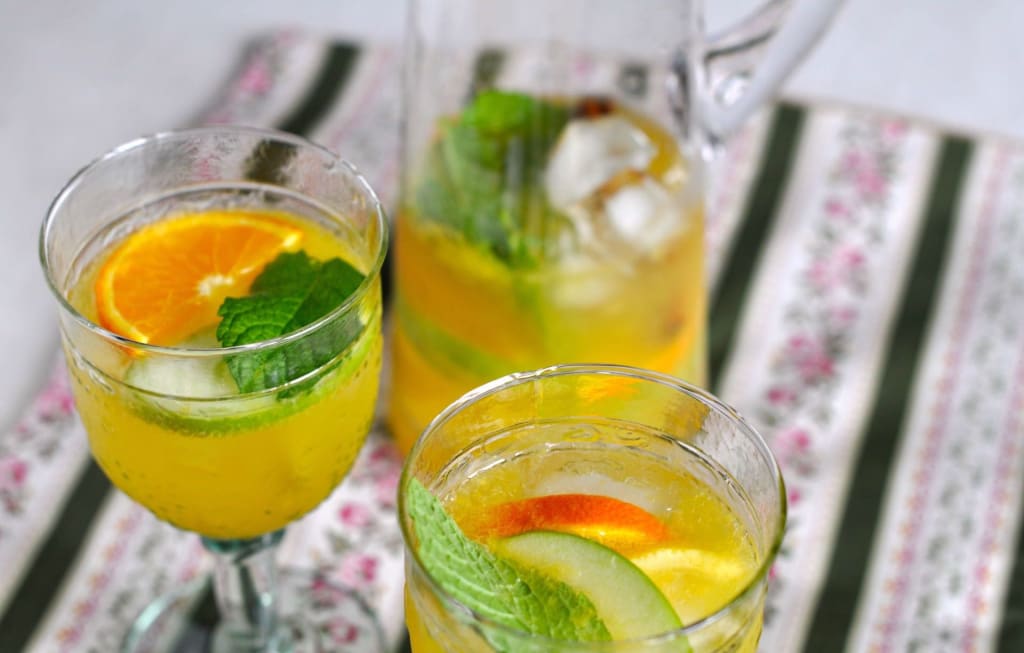 Though red sangria has long been the favorite sangria of choice in restaurants, white sangria is slowly gaining popularity. White sangria is typically a bit lighter in flavor, slightly fruitier, and at times, a bit sweeter than red sangria.
The biggest difference is that most white sangria recipes tend to be more involved than a red sangria recipe. That's not to say, though, that there aren't white sangria recipes that are easy to make.
Fans of white sangria can rejoice! These easy white sangria recipes prove that all sangria can be made equally painlessly.
Easy and Tasty Overnight White Wine Sangria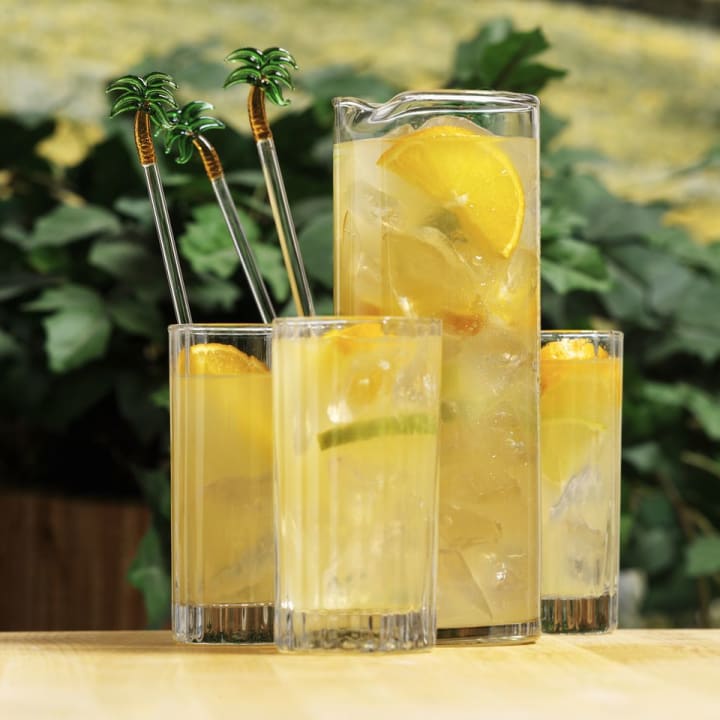 As most of us know, traditional sangria was not just wine. It was wine and a bunch of other liquors. While a traditional pitcher of sangria will not always be workable, this recipe for Overnight White Wine Sangria comes in pretty close in terms of awesomeness.
As long as you can squeeze citrus fruits and keep a pitcher in your fridge overnight, this sangria is doable. You can't get easy white sangria recipes that are easier than this. It's got a great flavor — and also has a surprisingly strong kick of Brandy to help get the party going.
Easy White Wine Sangria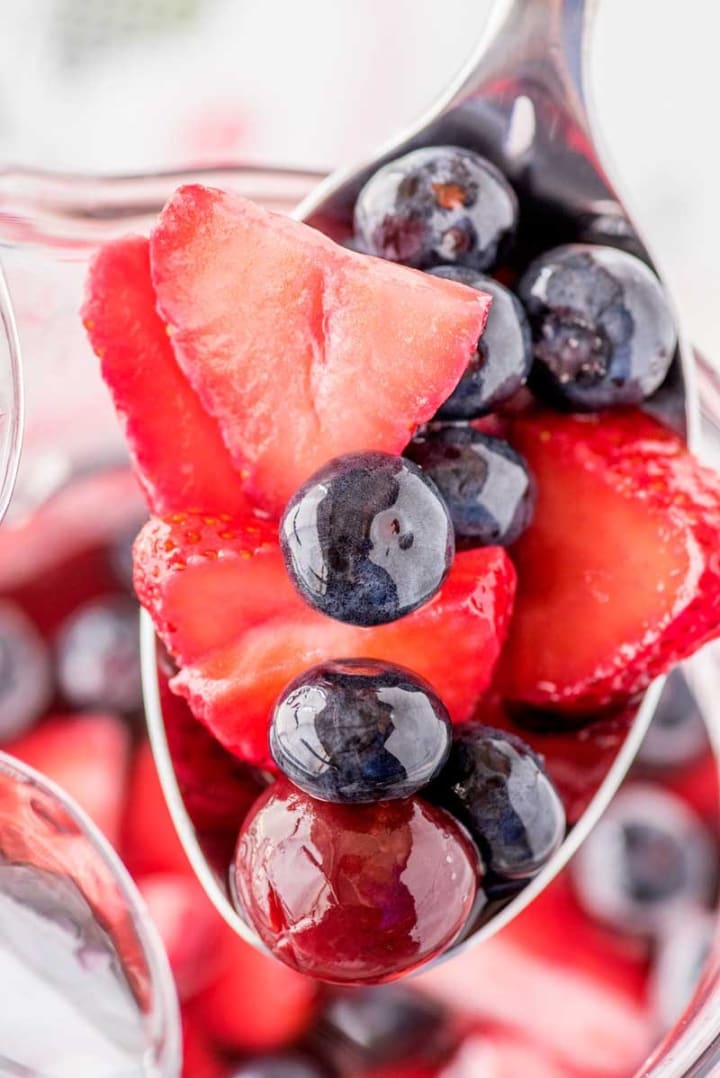 A little bubble here, a little blueberry pop there — some white sangrias are just so much more flavorful than you'd expect them to be. Such is the case with this wonderfully Easy White Wine Sangria, and many other easy white sangria recipes.
Our advice with this one is to make a point of letting the berries soak for a bit longer than an hour. The longer they soak, the more the Triple Sec gets soaked into them...and the better an alcoholic treat you have.
White Peach Vodka Sangria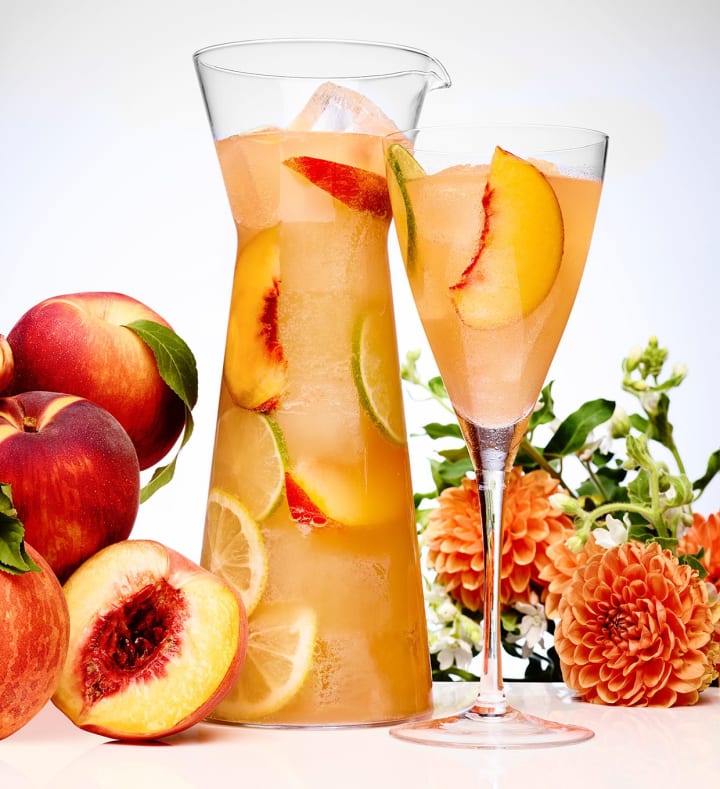 One of the most popular twists to a classic sangria recipe is the inclusion of peach-flavored liquor. Most of the time, you'll notice that Peach Schnapps is the preferred liquor — but not this time. We found a number of easy white sangria recipes involving vodka, and one really stood out.
This recipe for White Peach Vodka Sangria uses peach vodka to make a very potent white sangria that will get you tipsy quick. Despite it being a vodka-infused sangria recipe, you won't feel the typical burn. Rather, it's a really refreshing recipe with just a hint of sweetness.
We love it, and so will you.
White Lightning Sangria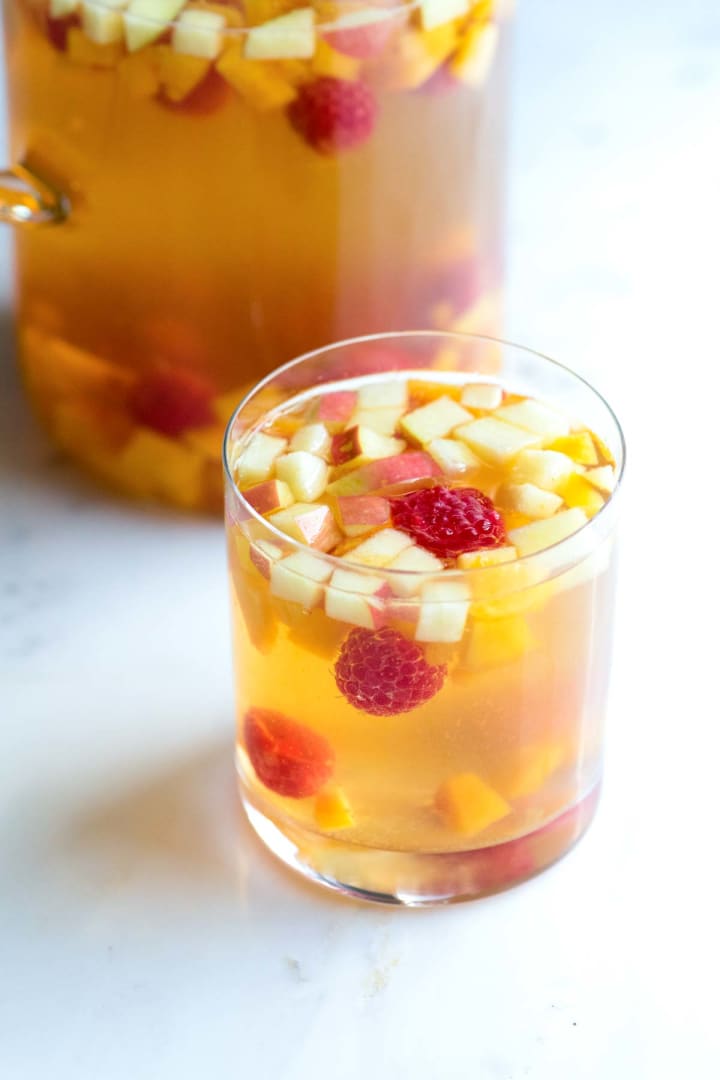 Most of the easy white sangria recipes you'll find on the net keep alcohol content low, but not this one. As the name suggests, White Lightning Sangria will get you tipsy in a flash.
We could blame the white wine, the vodka, or the fact that you'll want to keep drinking it once you start. It's hard to tell why this gets everyone buzzed so quickly, but it's not hard to tell why it's one of our favorite white sangria recipes on this list!
Two Ingredient White Sangria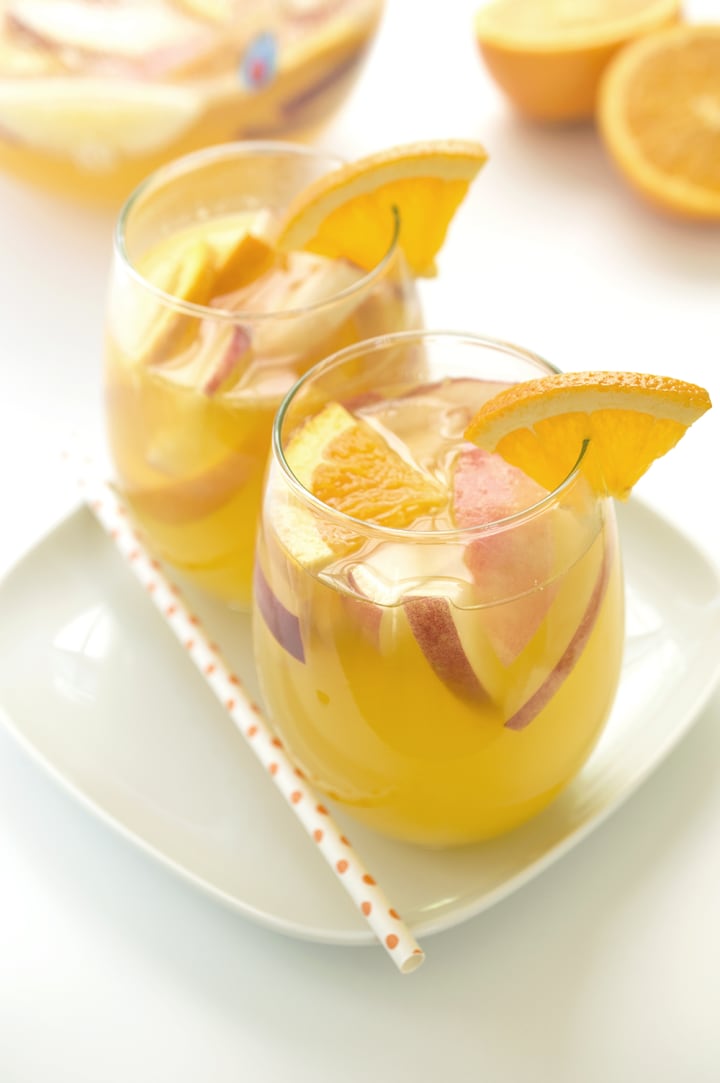 There are a bunch of easy white sangria recipes out on the net that use simple techniques, but require a ton of ingredients. Not this one. Instead of using more ingredients to pack in flavor, this super-simple recipe for Two Ingredient White Sangria just literally involves mixing two things together.
If you are low on bar supplies, or just want to make a quick cup of sangria for yourself, then this is one of the best white sangria recipes we've found for you this summer.
Champagne White Sangria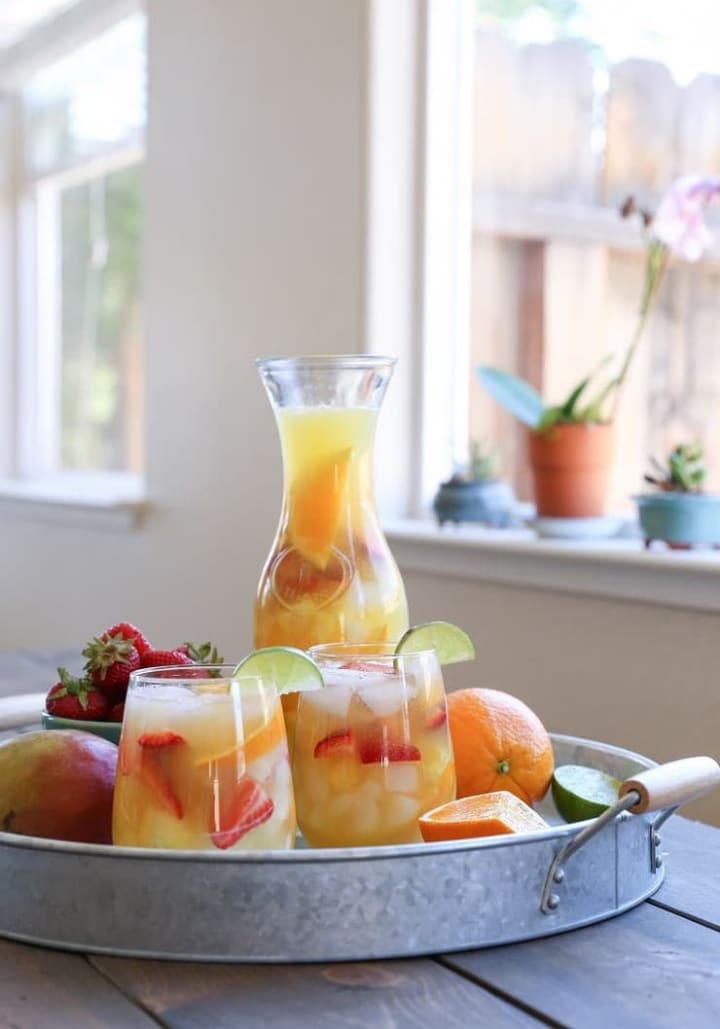 If you've been reading up on sparkling wine, then you already know that a little bubbly pairs well with just about anything. This includes, of course, sangria recipe. The bubbles in Champagne add natural fizz and help get the alcohol to your brain a little bit faster.
Overall, this recipe for Champagne White Sangria is a great choice for people who want to enjoy a more sophisticated twist on traditional sangria recipes.
Mint Citrus Lemon Lime Sangria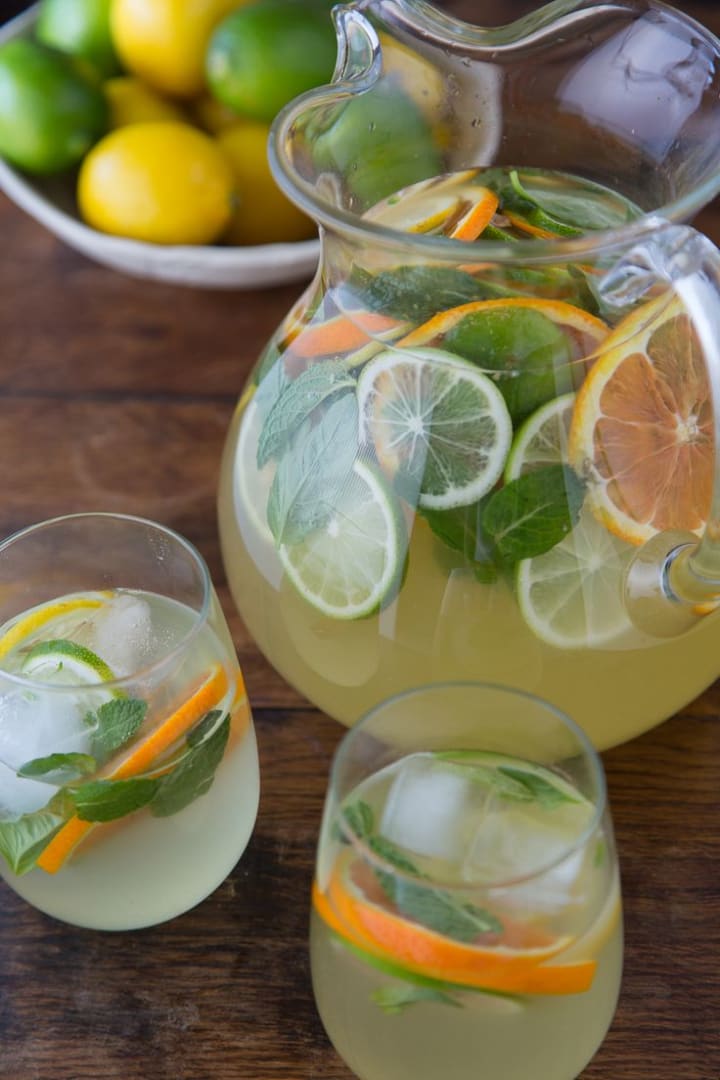 Mint was never really part of a traditional sangria recipe, but that doesn't mean it's an unwelcome ingredient in the right sangria batch. This recipe for Mint Citrus Lemon Lime Sangria sounds complicated but really is all about making deliciously cooling white sangria by the glass.
If you want to kick the ease level up a notch, we suggest buying ready-made simple syrup, and continuing the recipe using that rather than making it from scratch. You can barely taste the difference, and that little tweak makes it one of the most uniquely easy white sangria recipes we've found yet.