Best Wine Glass Decorating Ideas
Don't know what to do with your old wine glasses? Consider trying out any of these creative wine glass decorating ideas to deck out your living space!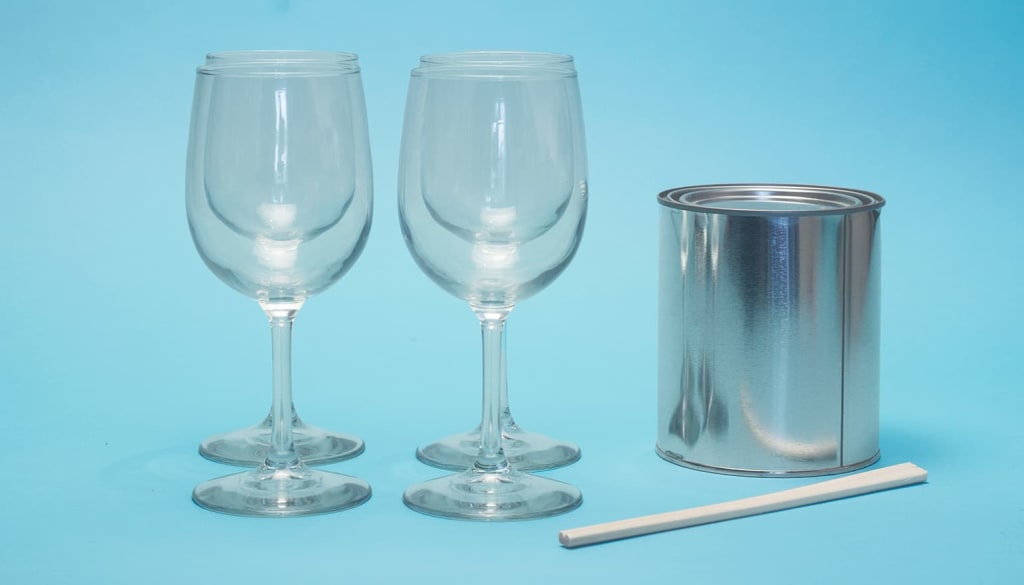 Wine glasses are the best simply because they can be used to enjoy my favorite beverage in the world. It's wine, by the way, and wine cocktails. But wine glasses can actually be used for so many other things rather than for drinking. And there are a lot of people out there who get creative with wine glasses. When they come across a new set of wine glasses, what do they do with the old set? Some people toss them out (always recycle though!), give them away to someone in need of wine glasses, or...
They use them to decorate their tables or living space! I know, it's pretty hard to picture what to do with wine glasses, but if you put your mind to it, your wine glasses can turn into stunning decorations. The glasses can be used as a form of pottery for plants, centerpieces on dinner tables, and even dessert stands believe it or not! So, if you have wine glasses laying around the kitchen that you don't use anymore, use them as decoration! Check out these brilliant wine glass decorating ideas to give your living space a touch of artistry.
Wine Glass Candle Lampshades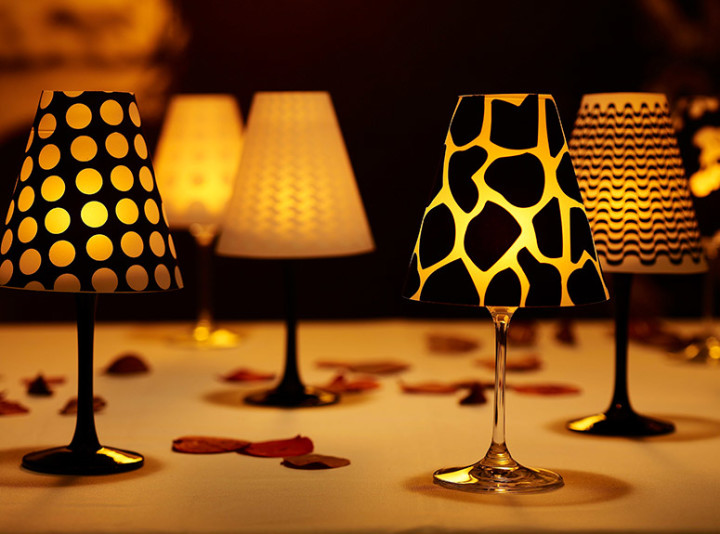 I'm starting off this list of the best wine glass decorating ideas with this really cool idea. In need of tiny lamps for the dinner table or to simply have on the table outside in your backyard? You don't have to waste money on buying any when these Wine Glass Candle Lampshades is all you need for that DIY backyard project that's easy to do!
It's so simple to create, you don't even have to ruin your old wine glasses. You can also use your favorite wine glasses, if you choose to. What you need is sheets of vellum, scissors, decorative bladed scissors, decorative paper punch, a glue pen, wine glasses, tealights or LED batter-operated tealights, and candle putty. Once you've put it all together, you've got yourself stunning little lamps to give you a starry dinner table while hosting a dinner party or just having family over for dinner.
Light Candle Centerpiece with Seashells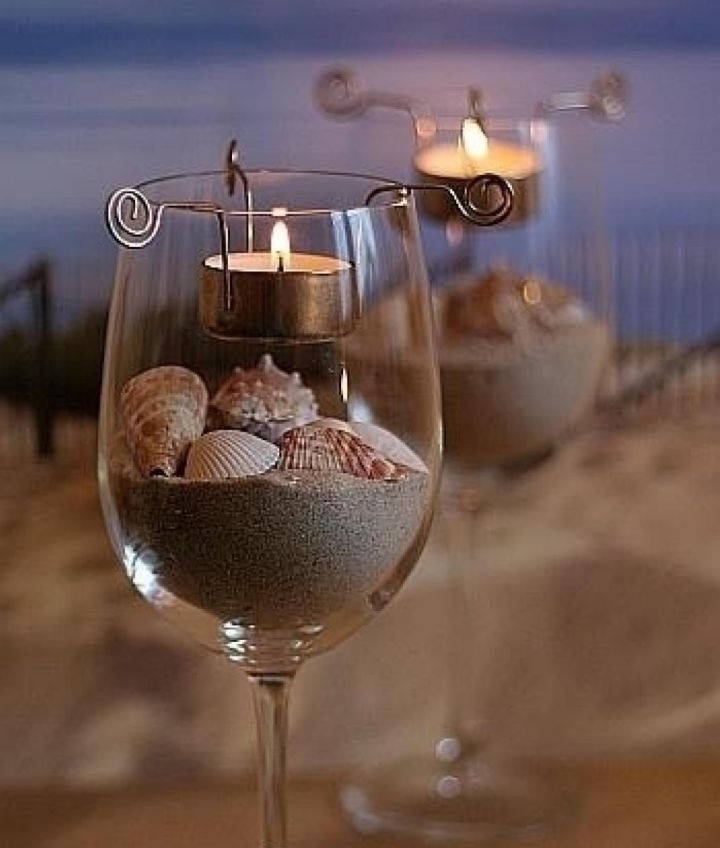 But seriously, spending money on centerpieces is the biggest waste of money. Especially when a great idea like the Light Candle Centerpiece With Seashells exists. If you're a beach bum and love everything about summer, then I've discovered the perfect centerpiece idea to construct for your coffee or dining table.
Similar to the previous project, you don't need many supplies to create this either. All you need is your old large wine glasses, tea lights inserts, tea lights, sand, and seashells! Bring the tropics straight to your home with these beautifully decorated table centerpieces. Nothing says summer like wine glasses filled with sand, seashells, and stunning evening lighting.
Wine Glass Chandelier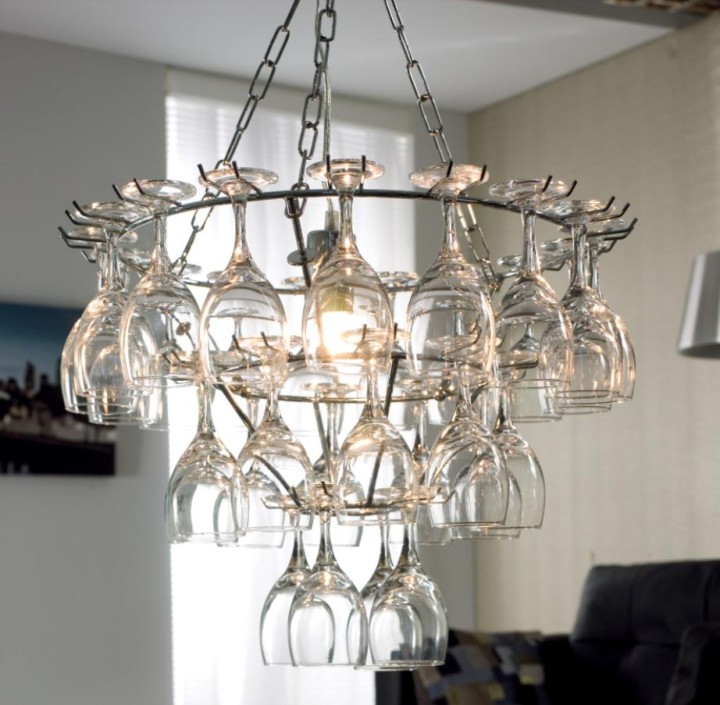 This one's a challenge, but I believe in you. Among the all-time coolest wine glass decorating ideas you can create, this Wine Glass Chandelier is certainly extravagant. If you own a home bar, I guarantee this chandelier can be your most popular decoration to have out. It's a fricken wine glass chandelier! It can't get any cooler than that. However, you have to be careful putting this together and hanging it.
Even though this idea sounds pretty complex, it actually doesn't require much material. In order to create this magnificent chandelier, you'll need a light fixture, stemware, a wire, needle-nose pliers, and black aerosol paint. Yes, that's literally it. But make sure you follow through with the instructions to nail the project. Once you make it work, be prepared to be amazed!
Wine Glass Terrariums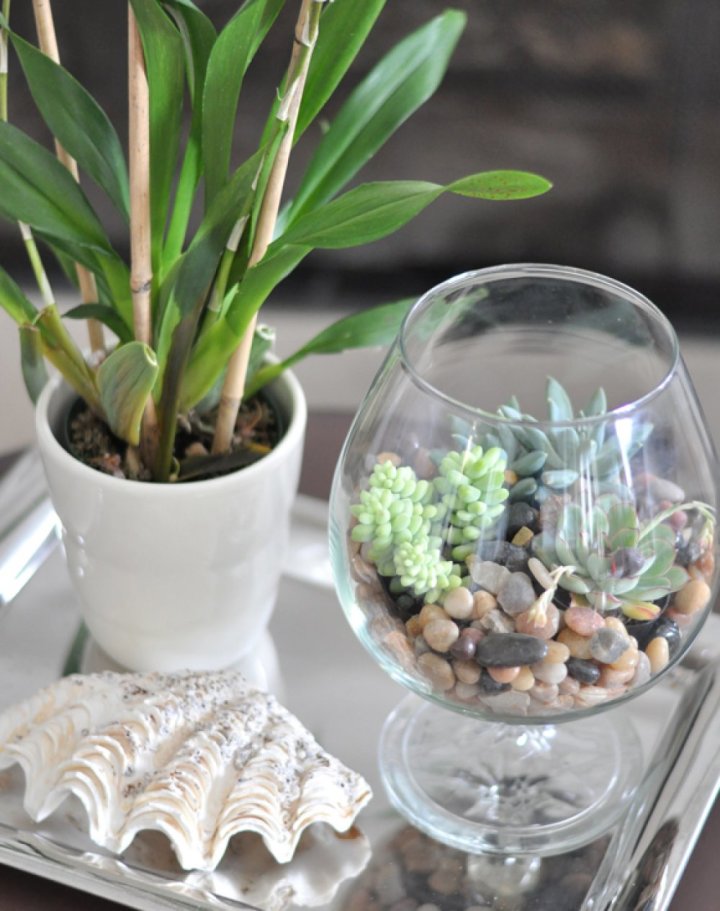 Who doesn't love the sight of little succulents in tiny potteries? You can place them anywhere in your home. From your living room coffee table to the kitchen counter and your bedside table, having tiny potted plants can still definitely give off color and life in the room. But wouldn't it be better to actually see the layers of soil and full profiles of the plants? Well you can now with one of the cutest wine glass decorating ideas ever—Wine Glass Terrariums!
You can now have a bunch of succulents laying around the place by using your old wine glasses as a home for them. The supplies are simple; what you'll need is wine glasses, potting soil, sand or gravel, and succulents! You can basically create your very own succulent garden right at home. Don't forget to water them frequently!
Colorful Dessert Stands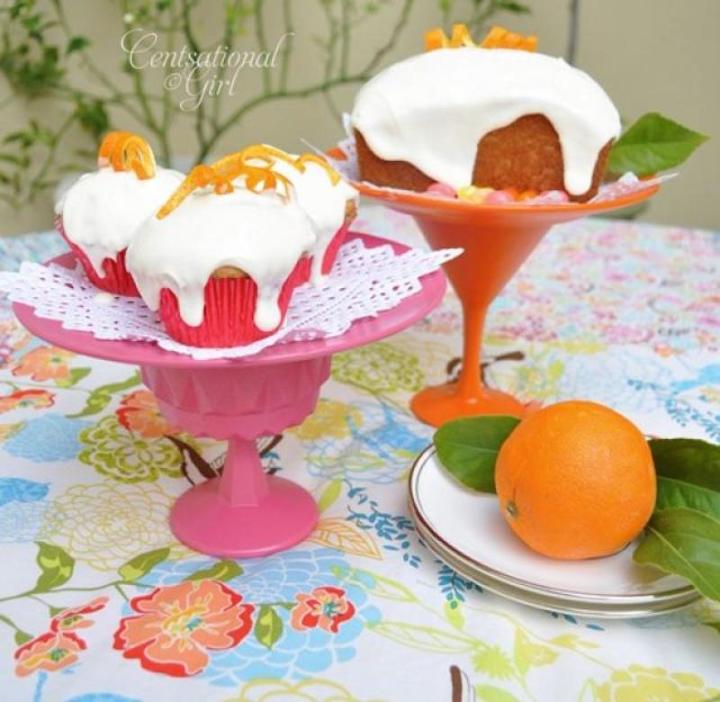 Ever wanted to show off your cakes and other desserts during a dinner party with dessert stands that you don't have? There are a lot of dull-looking cake stands out there with little to no design on them. Dessert stands should look just as fabulous as the desserts themselves! And this Colorful Dessert Stand DIY idea can fulfill your creative dessert stand needs.
Always show off your baking creations on stunning pedestals with one of the coolest wine glass decorating ideas. And all you need to create your own stands is with five supplies. Get your hands on miscellaneous stemware and dessert plates, household silicone sealant, frosted glass spray paint, colored spray paint, and paper doilies. When it's finished, all of your desserts will look mouthwatering and stunning when placed on these super colorful and decorative dessert stands.
Bejeweled Wine Glasses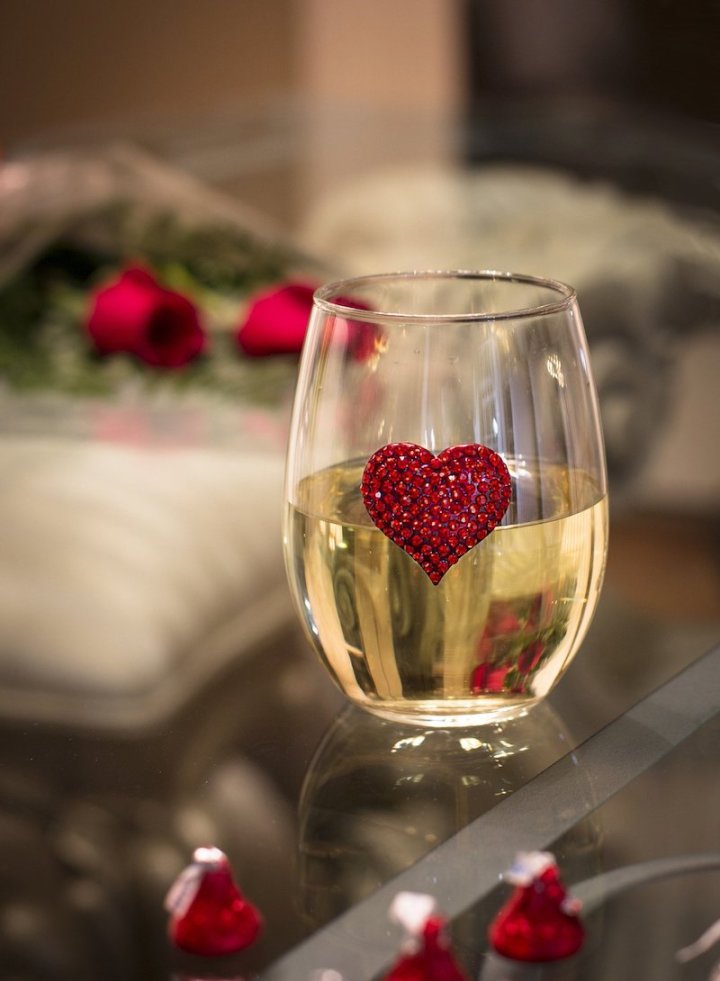 Our dining tables can use a bit of sparkling centerpieces to give off that luxurious look, right? But high-end looking decorations can be expensive. However, they don't have to be. From the best wine glass decorating ideas, you can create on your own are these Bejeweled Wine Glasses! Either use them as centerpieces or as drinking ware, these studded wine glasses are all things luxurious.
To make the pieces, you'll need to get wine glasses, glass mosaic beads, double stick foam tape, and scissors. You can also use jewels in between the mosaic beads on your wine glass for a more sparkling effect. Plus, placing a tea light in the glass can be the perfect addition when using these as centerpieces!
Floral Wine Glass Wedding Centerpieces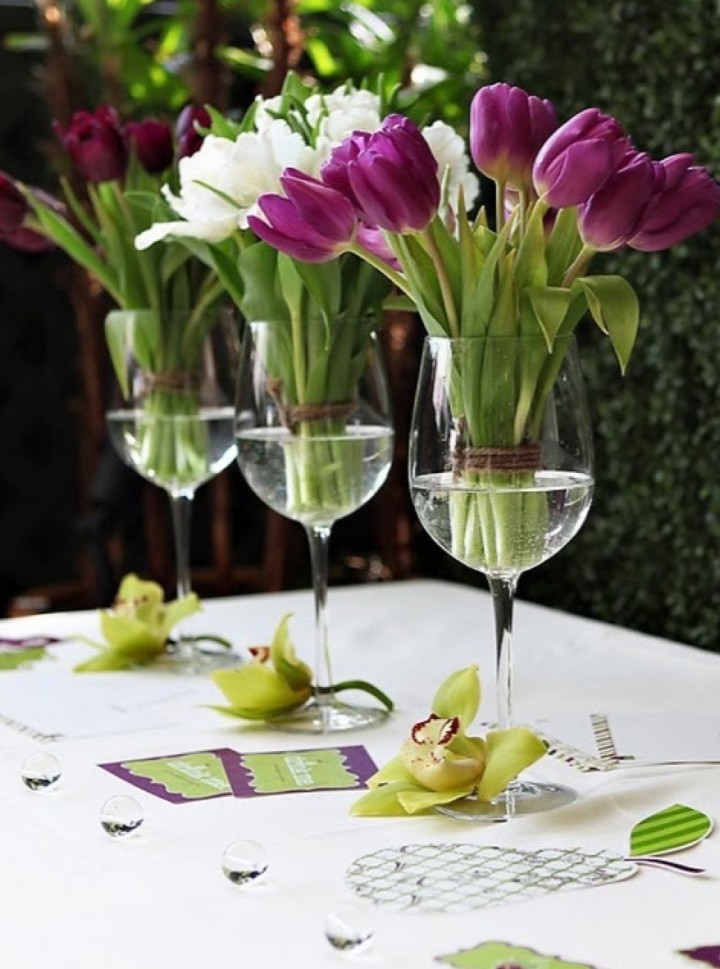 On a budget and can't spend a penny more for your wedding? These Floral Wine Glass Wedding Centerpieces are truly gorgeous and you can fill them with any types of flowers that fit your wedding. You can also use this idea for dinner centerpieces when having company over. They're the best way to use your old wine glasses and the best way to have flowers around, too.
The supplies are easy to gather, just grab your wine glasses, any choice of flowers, and water. You can also throw in a few pearls or crystals into the water for a bit more decoration and creativity. And even possibly surround the bottom of the wine glasses with more flowers or petals!
Wine Glass Bird Feeder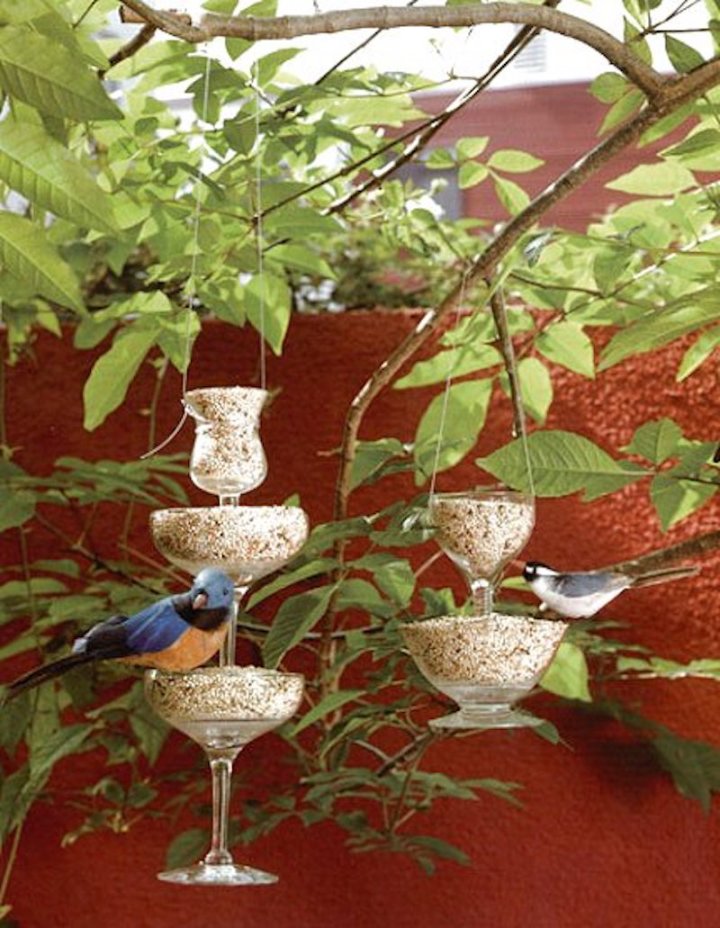 From the absolute best wine glass decorating ideas ever is this Wine Glass Bird Feeder! You can now properly recycle and give back to nature by using your wine glasses as a bird feeder. The little feathery creatures flying around your area can nibble on feed from your old wine glasses and they'll never wear out.
All you need to create this adorable bird feeder is wine glasses, string, and bird feed! Hang this anywhere in your front or backyard and, literally in moments, you'll find birds flapping over for supper. But when it does start to get pretty windy, take them down temporarily to prevent a mess.
Winter Wonderland Wine Glasses Candle Holders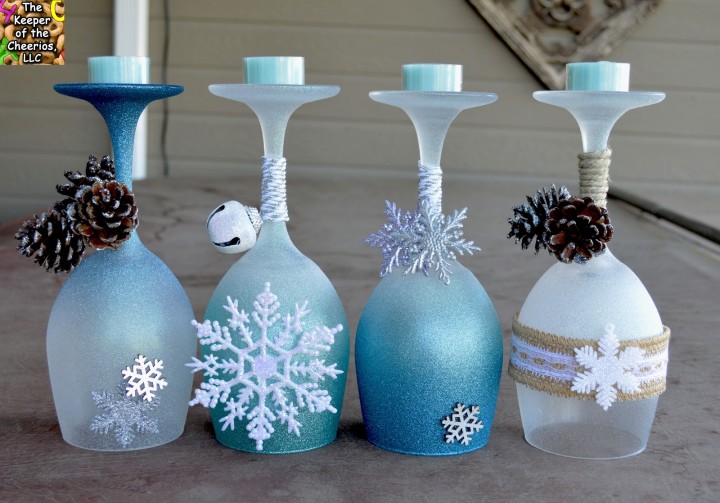 The colder seasons are still among us and these Winter Wonderland Wine Glasses Candle Holders are a beautiful way to express your love for winter! Give your dinner table, coffee table, or anywhere else a touch of winter with these candle holders. Not only do they come out gorgeous, but you'll be drenched in compliments whenever you have company over.
As a gift or for yourself, what you'll need to gather is wine glasses, glitter blast spray paint, burlap, hemp, pine cones, bells, snow flakes, and a hot glue gun. The whole point is to get creative with this, so you can decorate it with as many pieces and colors you want. And don't forget the candle on top! These are also seen to be one of the best homemade Christmas decorations.
Wine Glass Candle Holders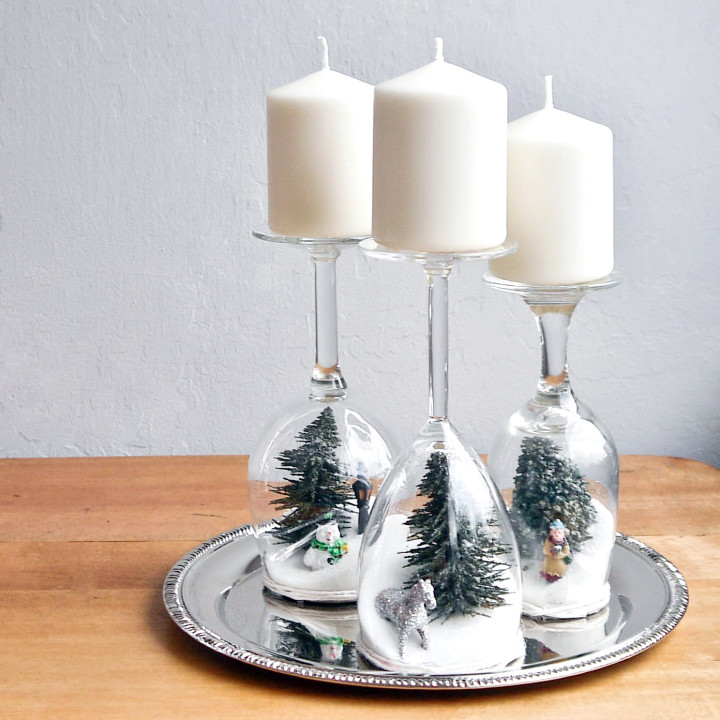 Lastly, but certainly not least among the most creative wine glass decorating ideas ever are these Wine Glass Candle Holders. Since Saint Patrick's Day is getting closer, these are the perfect candle holders to place on the dinner or coffee table! Or you can still create these holders for any other holiday. The cool part is that it doesn't even look like you used your old wine glasses for these!
In order to create these candle holders, you're going to need wine glasses, small silver cylinder candles, lime-green paper napkins, silver or metallic ribbon, and broad lime-green organza ribbon. Once you've put it all together, it'll look at though you bought these candle holders instead of creating them yourself. You can also use any other color material other than the ones listed.