Best Rated Hard Seltzer Brands
Ever wonder what the best hard seltzer brands taste like? We sipped to find out.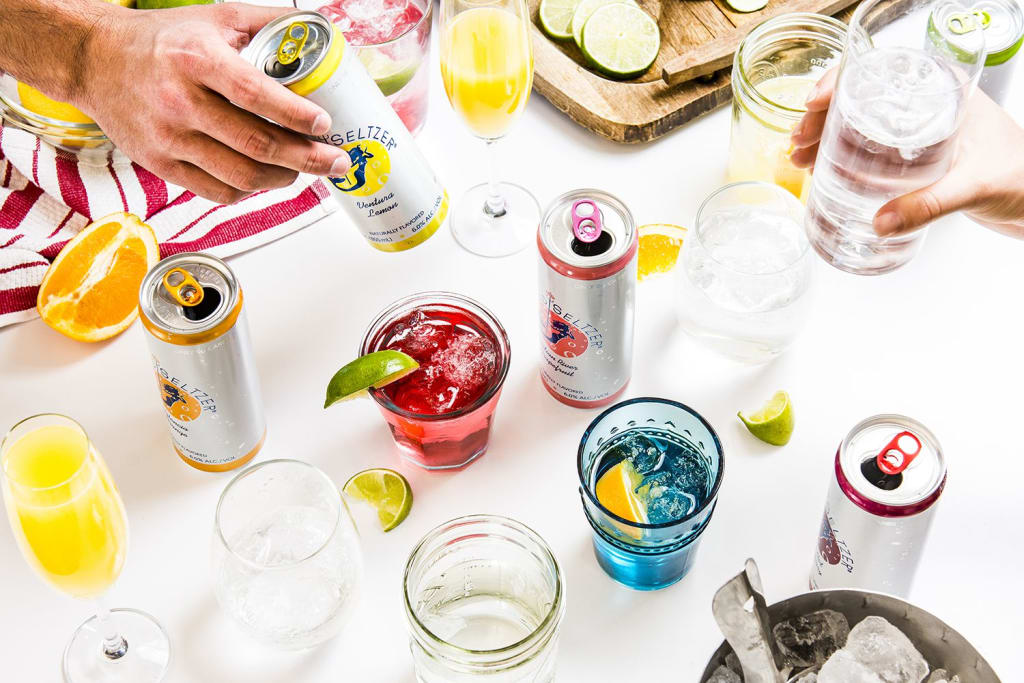 Hard seltzer is the newest, trendiest thing on the market. Its popularity comes from the fact that it's an alcoholic beverage that gets you buzzed, has low carb counts, and still manages to taste crisp and refreshing. (Basically, it's a lot like LaCroix in that sense.)
Though the invention of hard seltzer is actually pretty novel, tons of new brands have started to offer up their own rendition of the cocktail. We decided to find out which are the best hard seltzer brands on store shelves.
If you're tired of drinking vodka cranberries, try some of the offerings from the best rated hard seltzer brands.
Naturally flavored, gluten-free, and with a very respectable five grams of carbs in each can, SpikedSeltzer has gained a strong reputation for being one of the best rated hard seltzer brands on the market right now.
This is a seltzer that has a notably fruity flavor and has become a go-to for cocktail mixing. If you're looking for a crisp but flavorful sip on a hot summer day, this is a good choice.
"This is such a refreshing alternative to beer, easy to sip on for long days in the sun and you can almost convince yourself you're hydrating! I like the different flavors in this variety pack, but make sure to squirrel away the grapefruit ones for yourself and don't share them :)" — Erin Abraham
People who want to get a little naughty on their diet would probably find Nauti to be one of the best hard seltzer brands on this roster. That being said, it has a slightly artificial taste to it and has been known to be a little "filmy" to the touch.
However, it's low carb, refreshing, and just a pinch sugary. Those who dislike the taste of hard alcohol will be the ones who enjoy this brand's flavor the most.
"Can't even tell it's alcoholic. And it's fucking delicious." — Eric B.
Henry's Hard currently ranks as one of the best hard seltzer companies to delve into both classic and exotic seltzer flavors alike. However, that's not what makes them great. The real perk here is the fact that they are ultra-low calorie. In fact, they beat out most of the lowest calorie light beers by clocking in under 100 calories a pop.
Hard seltzer need not be hard on your waistline, and Henry's Hard proves that point perfectly. Each can of this stuff has around 88 calories, making it a guiltless indulgence for dieters who just want a little buzz. It's one of MillerCoors's newest offerings, and for a mainstream brewery company, it's pretty damned impressive.
"Impossible to rate..... so refreshing.... legit tastes like seltzer...." — Arms M.
White Claw isn't just one of the best hard seltzer brands out there; it's also the first. As in, they invented hard seltzer. No White Claw, no hard seltzer. For that reason alone, it's hard to imagine a list that doesn't involve White Claw on it.
This seltzer is the one that started it all—and yes, it's good enough to start a wave of copycats as a result. It's not cloyingly sweet, but it packs a powerful punch. It comes in diet-friendly 100-calorie cans for your waistline's benefit.
"White claw in my opinion is the best hard seltzer out there. Not too sweet and malty." — Tonya Choktrakunchai
Yes, the classic vodka company also happens to boast a bragging right as far as being one of the best hard seltzer brands to hit the mainstream too. The real big perk here, aside from the classic Smirnoff flavor style, is the fact that it's done by a company that makes it easy to find them in almost any liquor store.
Like you'd expect from a company like Smirnoff, these hard seltzers are known for having a clean but powerfully sweet taste that makes them ah-mazing on a hot summer day. It really tastes more like a cocktail than seltzer, but that's not a bad thing if you think about its 90-calorie count.
"A low-cal cosmo as a fizzy drink? Here the berry notes come across on the strong side, and the sweetness is a little overbearing at times compared to the more subtle Orange Mango. Fans of sweeter sodas may find this more appealing than me." — Drink Hacker
Fans of artisan flavor profiles typically call Press Sparkling one of the best hard seltzer brands out there. This company has become pretty famous for mixing together exotic flavors to create unique flavors not typically found in most other hard seltzers.
Their most popular option seems to be the Pomegranate Ginger flavor, which adds a warm, spicy kick to an otherwise simple yet tropical beverage. It's a lot like drinking one of the highest ABV light beers, minus the malty taste. Yum!
"Ginger gives it a nice punch. Pomegranate is a decent flavor. Probably the "strongest" tasting of the Press options. I like it the best." — Lori G.
Truly Spiked & Sparkling has earned their cult following by creating incredibly light and refreshing hard seltzers. If you listen to their loyal Instagram followers or diehard fans, they're one of the best hard seltzer brands ever conceived.
This brand, which is actually a subsidiary of Boston Beer, is known for having a very heady batch of drinks. If you love seltzers that tiptoe close to being cocktails with a lighter, carbonated kick, you're going to see why Truly Spiked is so popular almost instantly.
"A dirty G&T, very fizzy with a bit of lime zest that hits the palate. Surprisingly refreshing, with almost no discernable alcohol character to it. If I was going to drink a "hard seltzer," this is probably what I'd choose." — Drink Hacker
Huzzah for indie brands! Though Briggs is not as well-known as Smirnoff or Truly Spiked & Sparkling, it managed to gain a very devoted audience among connoisseurs. Delicious!
At 140 calories per can, this isn't going to be one of the best hard seltzer brands for dieters. However, the rich taste featuring all-natural flavors and gluten-free ingredients makes this drink one for the ages.
"A definite original...great taste, great stuff!!" — Blake
Spritzers are known for being carbonated, lightly flavored, and lightly alcoholic in nature. Itz Spritz is a company that definitely tries to live up to its name by creating delightfully refreshing seltzers in a variety of different flavors.
One thing that stands out about about Itz Spritz is the fact that they aren't obsessed with making sweet seltzers. Rather, they're more about creating hard seltzers that have a satisfying pop of flavor to them—a lot like what you'd expect from the best Champagne cocktails.
"Elderflower & tart lemon aroma that follows through nicely. Remiscent [sic] of wine. Floral. Lemon not as tart as expected. Not sweet. Complex." — Nicole L.
M.I.A. HRD WTR is one of the best hard seltzer brands for people who like to make a statement with their drinks. Their whole brand is built around modernizing what we consider to be an alcoholic beverage—and also changing the way we see alcohol.
People who like M.I.A really like M.I.A. That being said, it's a bit stronger in flavor than others and that can be a bit overwhelming for sensitive palates. It's a lot like licorice in that sense; it seems people either adore it or hate it.
So, if you have a quirky palate, you might find your new favorite drink in M.I.A HRD WTR.
"Honestly, I hate carbonated waters, but this would be amazing on a blistering hot day! Can't wait for a hot Florida summer day to try it out." — Sam E.
alcohol