Best Canned Moscow Mules
Canned Moscow Mules are portable and potent, which is precisely the kind of canned cocktail you want when you're on-the-go!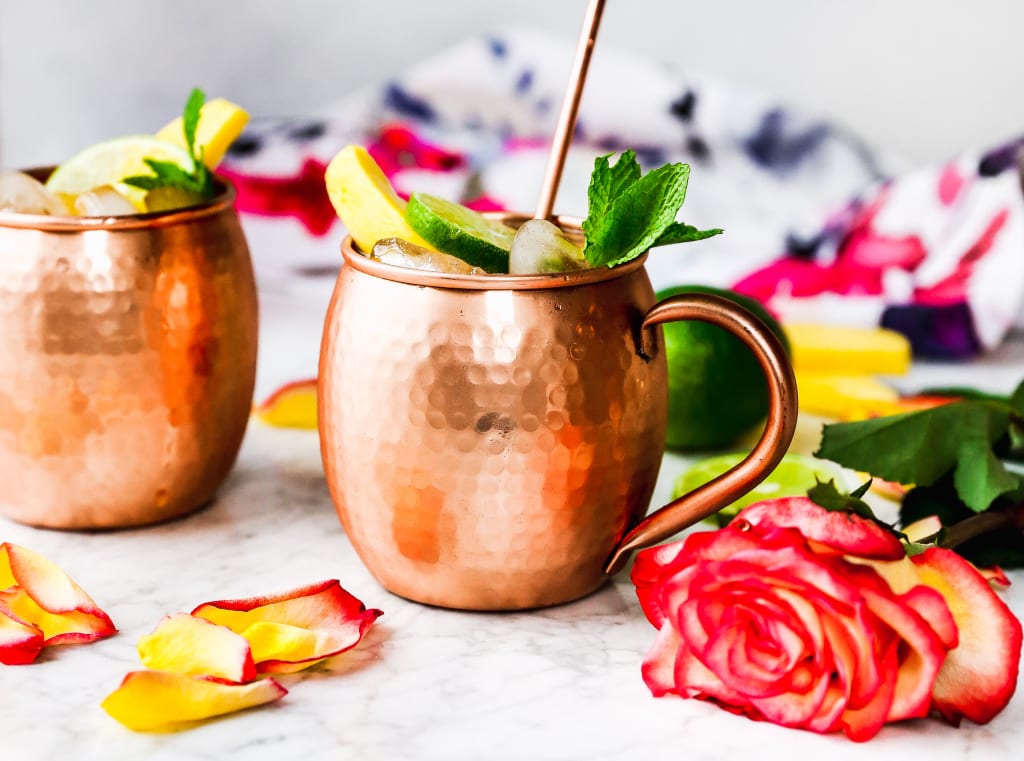 How would you like to take your favorite classic cocktail to your favorite lazy river spot this summer? Maybe you want to take a 6-pack along to the next tailgate party. Perhaps you want to sit in the backyard, relaxing with the cocktail that always mellows your mood. Canned Moscow Mules are here to save you. Instead of mixing up to-go glasses, carry bottles or cans with you. You don't have to be at home to enjoy your favorite easy vodka cocktail recipe. In addition to canned beverages, discover top-shelf mixes that allow you to celebrate the history of the Moscow Mule by whipping up a batch in a blink.
Straight up, Punching Mule's Moscow Mule only has a 7 percent ABV. That's plenty for a bout of leisurely sipping, but in case your cocktail hour antics are a bit more hardcore than that, just know that there are other canned Moscow Mules with higher alcohol contents. That being said, you won't miss the excess in this Mule. In fact, the low ABV allows you to focus on the other flavors, such as the natural ginger, pure sugar, and lime juice. Punching Mule's recipe contains Elevate vodka, a brand known for working with water that comes out of the Rockies. FYI, it's a gluten-free option, too.
Not only does Mule 2.0 offer one of the most flavorful cocktails on the market, but it's also one of the most well-known. You can grab a 4-pack of the long, slim cans. Their copper color is a nod to the OG Moscow Mule, which is best-served in cold copper mugs. The lime flavor is intense, but a hint of lemon mellows it, and the ginger adds the perfect zing. The mix of citrus and spice smooths out the 8 percent ABV. Fans of the canned cocktail often recommend adding the mid- or top-shelf vodka of your choice to make it a tad bit stronger.
Okay, granted, this isn't a canned Moscow Mule, but it gives you the ability to mix up your own in a flash. Put out an entire pitcher or put together one glass at a time. Thanks to the infusion of ginger and lime, all you need to do is add ginger ale, club soda, or—for a stronger bite—some ginger beer. Put your Yeti cup to good use as a portable cocktail shaker. Alternately, you can also add maybe half a jigger of the Smirnoff to any of the canned and bottled cocktails on this list.
Smirnoff offers more than just a pre-mixed Moscow Mule. Get your fix without having to mix a single ingredient yourself. In the brand's Mule, you get hints of the lemon-lime flavors found in the original Smirnoff Ice, but more lime than lemon, of course. Throw the bottles in the fridge, first—or stick the pack in the freezer for a while to get it super frosty. This cocktail comes in at 5.8 percent ABV per bottle, but although that's a comparably low ABV, Ices pack one heck of a punch. They taste delicious, which lulls you into a false sense of "drinking more."
With a name like that, how can you resist picking up a pack of these canned Moscow Mules? If you're into grain neutral spirits and want to avoid anything with malt liquor, this one's for you. GingerHead comes out of the Midwest, where it's distributed by the 88 East Beverage Company. As classic cocktails continue to come back into fashion, expect to see more of them. At 8 percent ABV, GingerHead is one of the most robust ready to drink Moscow Mules.
Ballast Point's Moscow Mule is as close to authentic as you can get in a bottled mix. The beer used as a base is kettle-soured, creating a tart tang on the tongue that's reminiscent of ginger beer just because of the way it makes you pucker. A bright dose of ginger and a sprinkle of lime zest round out the flavor profile. A chilled bottle on a hot day is the perfect refresher.
Joia Spirit's version of the Moscow Mule is for people who want a little something more from their Mules. The 7 percent ABV cocktail boasts the flavors you expect, namely the ginger and lime, but Joia Spirits bring something else to the table—or the can, as it were. From the first sip, you'll notice the sweetness of apricot. It softens the ginger and hides the bite of vodka, so be careful—you might be tempted to guzzle them one after another.
Oskar Blues brings us one of the finest canned Moscow Mules in existence. Why? Because it features handmade vodka, and that makes all the difference in a vintage cocktail like this one. Real ginger root emphasizes its authenticity, as does the subtle sweetness of pure cane sugar. Its ABV is 7 percent, as well, so a can or two will give you a relaxed buzz. Keep that in mind because the taste will tempt you to keep drinking.
Crafthouse offers a ready to drink concoction that proves how delicious bottled and canned Moscow Mules can be. You may have to pour it yourself, but the brand's reliance on fresh ginger and real ginger beer is worth the extra effort, such as it is.
Now, obviously, you can drink all of these Moscow Mules straight out of the bottle. Still craving an authentic experience? Then you need one of the best copper Moscow Mule cups out of which to drink. Place it in the fridge or freezer in between cocktail hours so that you can drink a cold, frosty Mule at any time.
New canned Moscow Mules emerge all the time, and it's not hard to understand why. The classic cocktail is ideal for anyone who enjoys vintage drinks or vodka. It's not too potent, but the flavor combination is such a palate-pleaser that you can rarely stop at just one can or bottle. Buy yourself a 4-pack or a 6-pack, and you don't have to limit yourself. What's your favorite ready to drink Moscow Mule?
About the Creator
Wannabe bartender and whiskey connoisseur. Enjoys exploring new food pairings for any type of drink. Sometimes I travel to different countries with my friends... :)
Reader insights
Be the first to share your insights about this piece.
Add your insights