Best Boxed Wine to Take on the Go
Say goodbye to the bottle! These are some of the best boxed wines for any and every occasion.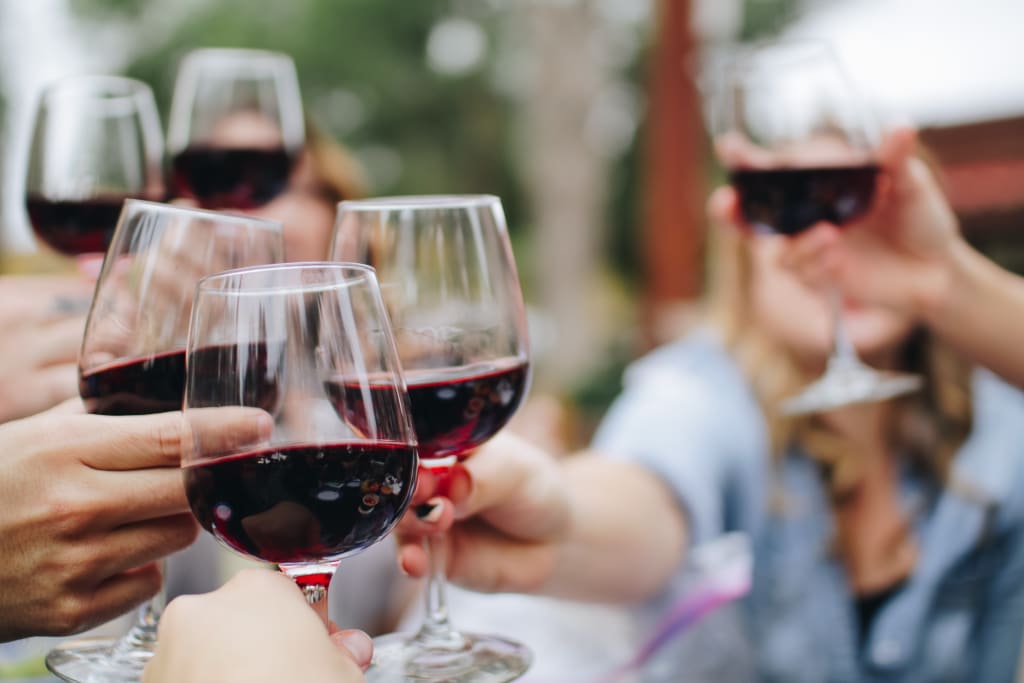 Photo by Kelsey Knight on Unsplash
Whether it's a romantic picnic with your loved one or a potluck dinner with a dozen friends, wine is still the go-to, never-miss beverage of choice.
Most wine has only one major flaw: its packaging. Glass wine bottles are classic and often beautifully designed, but they can also be unwieldy and heavy. Plus, of course, we've all experienced the ultimate tragedy: making one false move and watching in slow motion as our half-empty glass bottle of cabernet sauvignon tumbles to the ground and shatters (along with our hopes and dreams) into a hundred pieces.
Thankfully, we now live in a much less dramatic age, with shatterproof and spill-proof boxed wine. Just a few years ago, the best boxed wine you could get was little more than rancid grape juice. This sort of wine was suitable for a depressing night in, but not something you wanted to be seen drinking, let alone something to offer your friends.
Today, however, we have access to a whole new world with producers such as Naked Grape and Bota Box creating boxed wines with full, complex flavor that holds its own against bottled wine. Not to mention, boxed wine is often much more environmentally friendly than its glass-bottled counterpart.
The right wine ticks all the right boxes for any situation, so I've compiled a list of some of my favorite boxed wines to help guide you in your quest for a perfect pairing. Next time you need to pick up a bottle for any occasion, consider bringing a box instead.
To kick off our list is a classic wine from one of the best boxed wine producers around. Black Box has solidified itself as a premium option for wine enthusiasts by embracing the advantages boxed wine has over its glass bottled counterpart. If you're still skeptical, by the way, consider the storage method. Even with a quality wine stopper, bottled wine is frequently exposed to the air, shortening its fresh lifespan. In boxed wines like Black Box, however, the wine is stored in a vacuum sealed bag within the box, and dispenses via a convenient spout. Aside from the immense convenience, this design prolongs freshness.
This first offering from Black Box, a California-based winery, is a crowd-pleasing cabernet sauvignon. This is one of my favorite boxed wines simply because of its universality. It isn't going to rock any boats with its flavor profile, but will satisfy just about every palate at just about any event you can think to bring wine to which, let's be honest, is pretty much every event ever.
This chardonnay is one of Black Box's best white wines. Personally, white wine isn't my first choice for casual drinking. However, the beauty of wine is its ability to complement a good meal. Sommeliers at high end restaurants put together precise pairings for each course, paying careful attention the the aroma, undertones, and other minutiae in a quest for the perfect culinary experience.
As much as I'd like to be, I am definitely not qualified to be a sommelier. I do, however, do my best to find the best boxed wine for any given meal. If you're trying to get into that boat as well, my best advice is to pay attention simply to the color of your food and compare it to the color of your wine. Red meats, for example, call for red wines. Likewise, a white wine like this Black Box chardonnay is an excellent choice for lighter foods like chicken or fish. Easy enough?
Pinot noir is an excellent middle ground between bold red and supple white wines. It is made with red grapes, but it is among the lightest red wines around.
Like most pinot noir wines, this Black Box offering is fruit forward, especially on the aroma. Expect notes of berries and dark cherry on the nose as well as the tongue. The delicate, mildly acidic flavors make this one of the best boxed wines for casual drinking as well as for pairing with food. Speaking of which, this pinot noir would be exquisite alongside a light, herby dish. Think tapas or a charcuterie plate.
Shifting gears to another excellent boxed wine producer, we have the Bota Box RedVolution. Bota Box is another California winery, and RedVolution is their flagship red blend.
I don't know why red blends get so much hate. There are a lot of cheap blends out there that are simply gross, but there are also tons of truly delicious red blends. Any winery worth its grapes can put together a dynamite blend suitable for any occasion. By using multiple types of grapes, they are able to accentuate the best qualities of each varietal in a unique way, and Bota Box's RedVolution is no exception.
The RedVolution is quite sweet, so if you're one of those people who hate dry wines (which is totally okay), this may be the best boxed wine for you. The flavor is otherwise great, so those of you who avoid sweeter wines may also find this boxed wine worth a sip.
Pinot grigio is typically a very user-friendly varietal, and Bota Box's is no exception. This boxed wine is relatively sweet, but pinot grigio's unmistakable characteristics are still present. You'll find light fruit notes, especially pear and peach, with just a subtle citrus undertone. It's completely inoffensive in the best ways. As far as food pairings go, this is one of my favorite boxed wines to pair with spicy food.
If you're a big white wine drinker, Bota Box's pinot grigio is the best boxed wine to keep on hand in case of emergencies such as an unexpected visit from a close friend or an emergency decision to read a good book on your back porch.
Bota Box's Cabernet Sauvignon option definitely gives the Black Box version a run for its money. It's sweeter and lighter in body, but the underlying flavors are quite rewarding. Expect to find dark berry and cherry notes on the forefront, but beneath that, a lovely woody undertone of cedar.
Bota Box is also arguably the best boxed wine company when it comes to environmental awareness. Their products feature boxes made of 90% post consumer fiber bonded by cornstarch instead of glue, their wine bags are BPA-free, and the entire package is 100% recyclable. These days, it's more important than ever to make a conscious effort to be more environmentally friendly. I hope more boxed wine companies take this page out of Bota Box's book.
With the simply-named Original House Wine brand, we finally move out of California and into Seattle for this Sauvignon Blanc. Like most white wines, sauvignon blancs are crisp and refreshing. Original House Wine's take is actually pretty sweet for a sauvignon blanc, which is usually a dry wine. However, what really defines a good sauv blanc is its marked acidity compared to, say, a pinot grigio.
This wine has acidity in spades, actually to the point of almost sourness—in a good way! The sourness accentuates the tropical and grapefruit flavors of this sauvignon blanc. Because of its sourness and acidity, this is one of the best boxed wines to pair with seafood, especially tropical fish.
Rather uniquely, Original House Wine offers 375ml cans of its products as well, just in case you're not in the mood for the full 3L box.
Here's another pinot noir offering: one of my favorite boxed wines, and potentially the best boxed wine on this list for my palate. Compared to Black Box's pinot noir, Original House Wine's is earthier and warmer in a really rewarding way. There are some berry overtones here, but this wine is not overly fruit forward and acidic. Instead, the flavor features chocolate and spices.
Don't let the tasting notes fool you: Original House Wine pinot noir is still a delicate wine, perfect for a romantic evening. The earthy undertones allow it to stand up against savory food pairings such as seared duck breast or filet mignon.
This Spanish sangria is a bit of a dark horse on this list, but Beso Del Sol has earned its spot here. If you're not sure what sangria is, it's a sort of wine punch. There are probably millions of sangria recipes featuring red and white wines, various fruits (especially citrus), and often added sugar or a slew of other secret ingredients. Making your own sangria is rewarding and can be a fun activity with friends, but there is no shame in opting for this tasty, pre-made version.
This sangria is a no-frills, crowd-pleasing beverage perfect for a hot summer day. You wont find as many complex tasting notes here, but you shouldn't be looking for them either. If you're at a barbecue or a pool party, you just need something easy drinking with a refreshing sweetness and a mercifully low ABV. Beso Del Sol sangria is the best boxed wine for that, any day of the week.
For some reason, it feels like merlot has been slighted recently. It's a popular ingredient in red blends, but most people seem to pass it over in favor of a cabernet. Personally, I think this is a travesty: merlot is delicious, and Fish Eye merlot is especially good.
This merlot features bold fruit flavors, with plum being the most prominent, and an enticing touch of smoke lingers on the finish. This is definitely the best boxed wine if you are enjoying a hearty meal any time of the year. Fish Eye merlot's robust flavors will pair beautifully with dark chocolate, robust cheese, and just about anything savory and meaty like burgers, lasagna, or mushroom risotto.
For the last winery on this list, we're heading back to California to visit Fish Eye. Compared to the other chardonnay on this list (from Black Box), this is a much more standard take on the popular varietal. Fish Eye's offering is much less exotic compared to the bright, almost tropical notes in the Black Box chardonnay. Instead, this is a very well-balanced and versatile wine: dry, with very subtle pear notes.
If you're going to a picnic this summer and have no idea what to bring, this Fish Eye chardonnay is probably the best boxed wine for the job. It'll pair with just about any meal you'll come across, from salads to light pasta dishes to roasted chicken or pork. You can't go wrong with this easy drinking chardonnay.
Reader insights
Be the first to share your insights about this piece.
Add your insights